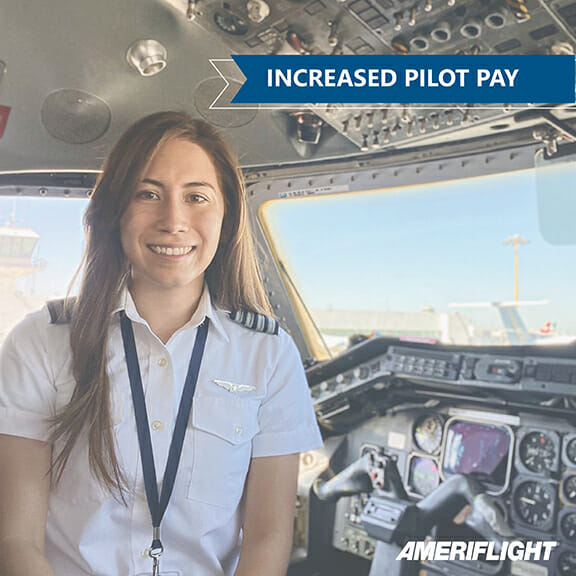 Ameriflight announced significant changes to its pilot pay program. Pilots will receive an industry leading compensation package, including substantial increases at all steps of the pay scale and a six-figure retention bonus plan. First year, entry level Captains will now earn $76,500 in base salary while flying for the nation's largest Part 135 Cargo airline.
Details of the new compensation package include up to a 49% increase in first year, base pay and a retention-based bonus program which pays $100,000 over the course of four years. These valuable enhancements, which are effective immediately, apply to current and future Ameriflight pilots.
"As we prepare for the rollout of our new Saab 340B fleet and peak season, it is critically important to ensure we attract and retain the industry's best pilots who will not only support our growth, but ensure our customers continue to receive exceptional service for years to come," said Ameriflight Chief Executive Officer Paul Chase. "We recognize that skilled pilots have many employment options available. Ameriflight is able to offer quality Turbine PIC time to pilots at just 1,000 TT. That combined with fast aircraft transition times, our industry leading pilot pathway programs, and this new compensation package, I'm confident we will continue to remain an employer of choice."
Current and future Ameriflight pilots will receive:
Immediate pay increases at all steps of the pilot pay scale, to include:

$76,500 base salary for first year BE99 Captains
$87,006 base salary for first year BE1900 and SA227 Captains
$97,091 base salary for first year EMB120 and SAAB340 Captains

Opportunity to opt-in to 4-year, $100k bonus plan:

$40k paid at 24 months of revenue service
$60k paid at 48 months of revenue service
In addition, current and future Ameriflight pilots will continue to receive:
Pilot career pathway programs with UPS Airlines (UPS FlightPath) and United Airlines (Aviate)
Full medical, dental, and vision benefits
Company-provided life insurance
401(k) – 50% contribution match up to 5% of pay
Vacation (80 hours first year)
Per diem where applicable
Paid training (includes training wages, transportation, lodging, per diem)
Reimbursement for Pilot Medical Certificate
Company-paid type rating
ATP-CTP Reimbursement Program
Ability to bid specific base, equipment, and route
Jumpseat privileges with CASS partners, including UPS, United Airlines, FedEx, Allegiant, American Airlines, PSA, Envoy, Piedmont, JetBlue, Southwest, Spirit, Compass, Horizon, Republic, SkyWest, Atlas Air, Southern Air, and more
Known Crew Member (KCM) privileges
Full details on the new pilot pay scale can be found at w3.ameriflight.com/pilots. Pilots who wish to be considered for a position at Ameriflight can do so by filling out an application equivalent to experience at www.ameriflight.com/careers.