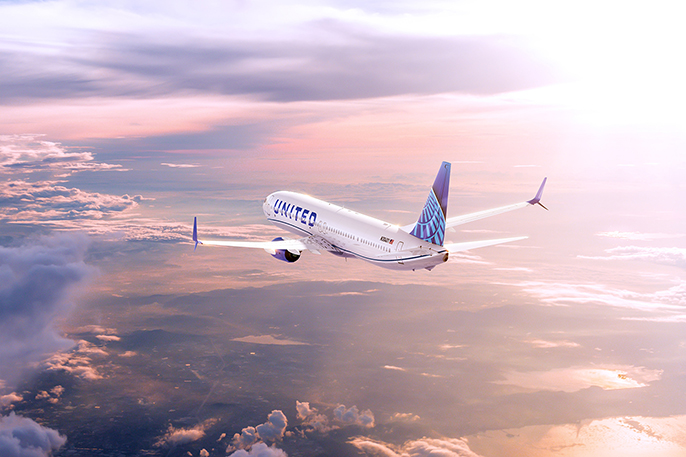 Viridos' technology extracts algae oil from algae for potential future production of sustainable aviation fuel
United has invested in more future SAF production than any other airline1
Viridos investment is first by airline's new UAV Sustainable Flight Fund since its launch
United wants to turn microalgae into SAF through the first new investment of its recently announced UAV Sustainable Flight FundSM since its launch: algae biofuel company Viridos. This $5 million investment will support the production of sustainable aviation fuel (SAF) made from algae, an abundant and scalable resource that can be grown and harvested without impacting the food supply chain.
Viridos specializes in the bioengineering of microalgae and its proprietary technology accelerates the amount of oil that can produced from microalgae. This algae oil could then be used to scale the future production of SAF.
SAF is an alternative to conventional jet fuel that, on a lifecycle basis, reduces greenhouse gas (GHG) emissions associated with air travel compared to conventional jet fuel alone.¹ SAF is made from used cooking oil and agricultural waste, and, in the future, could be made from other feedstocks, including household trash, forest waste, or algae. To date, United has invested in the future production of over three billion gallons of SAF – the most of any airline in the world.²
"SAF is proven, scalable, and the best tool we have to reduce our carbon emissions from flying, but we face a significant shortage of available feedstock," said United Airlines Ventures President Mike Leskinen. "As the global aviation leader in SAF production investment United remains committed to reaching net zero carbon emissions, without relying on traditional carbon offsets, by 2050. Viridos' algae-based biofuel technology has the potential to help solve our supply problem without the need for farmland or other agricultural resources and marks our inaugural investment in our new cross-industry UAV Sustainable Flight Fund."
Viridos, a biofuel company focused on decarbonizing industries, is leading the bioengineering of microalgae and has already achieved seven times the oil productivity compared to typical wild-type algae. This creates an opportunity for potentially scalable and more sustainable production of algae oil, that could later be used to produce SAF. Based on current estimates, SAF created by Viridos' algae oil is expected to have a 70% reduced carbon footprint on a lifecycle basis when compared to traditional jet fuel.
Viridos' bioengineering technology combines several important and unique attributes contributing to better scalability and sustainability compared with traditional jet fuel production:
Surface area oil productivities of Viridos algae far exceed any traditional oil crop, achieving high algae oil output on comparatively small areas.
Viridos algae are grown in vessels containing seawater. This allows contained deployment in hot and dry locations without taxing scarce freshwater and arable land resources, while eliminating runoff.
Viridos algae have extremely high oil contents facilitating downstream processing to algae oil.
Viridos algae oil is a quality plant oil allowing existing bio-refineries to process the oil with high yield.
"By establishing production sites to grow Viridos-engineered microalgae in saltwater, we are creating the foundation for a biofuel future that moves away from fossil fuels without competing for precious resources such as fresh water and arable land. We are excited to have the support from United Airlines. Together we can build the ecosystem needed to bring algae biofuels to the market," said Oliver Fetzer, Viridos Chief Executive Officer.
About the UAV Sustainable Flight Fund
The UAV Sustainable Flight Fund is a first-of-its-kind investment vehicle that is designed to leverage support from cross-industry businesses in order to support start-ups focused on decarbonizing air travel through SAF research, technology and production. The fund is starting with more than $100 million in investments from United and inaugural corporate partners Air Canada, Boeing, GE Aerospace, JPMorgan Chase and Honeywell. To date, nearly 6,000 United customers have contributed to supplement United's investment in the fund while purchasing tickets.
The Federal Government Recognizes the Value of SAF
The 2022 Inflation Reduction Act includes the largest governmental climate change investments in U.S. history – a new blender's tax credit specifically for SAF along with other critical incentives for clean energy and carbon capture – that will help spur an increase in SAF infrastructure and supply while lowering costs for SAF consumers.
The U.S. military currently uses nearly five billion gallons of jet fuel annually and the Department of Defense will use a jet fuel blend containing at least 10% SAF by 2028 because of the 2023 National Defense Authorization Act.
And according to the U.S. Department of Energy, the country's vast feedstock resources are enough to meet the projected SAF demand of the entire U.S. aviation industry.
United's Commitment to Net Zero Emissions by 2050
United aims to be 100% green by reducing its GHG emissions 100% by 2050, without relying on traditional carbon offsets. In addition to the UAV Sustainable Flight Fund, United has launched a SAF purchasing program called the Eco-Skies Alliance and established a venture fund – United Airlines Ventures – to identify and invest in companies and technologies that can decarbonize air travel. These strategic investments include carbon capture, hydrogen-electric engines, electric regional aircraft and air taxis.