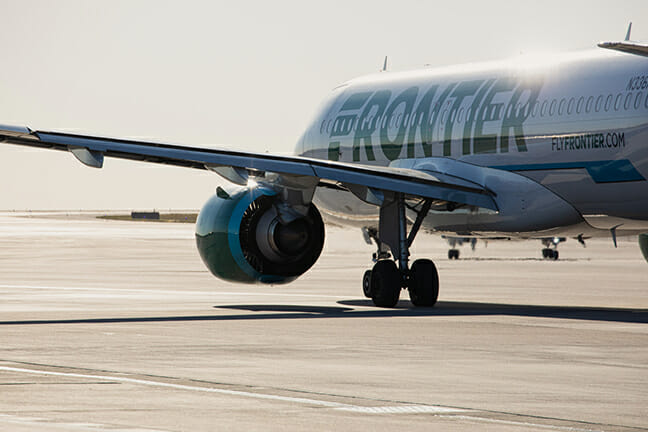 12-Month Access to Unlimited Flights on Sale Now; Pass Can be Used to Fly to Any U.S. Destination Frontier Serves
Ultra-low fare carrier Frontier Airlines (NASDAQ: ULCC) today launched its new all-you-can-fly GoWild! Pass™, offering passholders exclusive access to unlimited flights between Frontier's U.S. destinations, including Puerto Rico, for one low annual price.
The GoWild! Pass is on sale now for travel starting May 2, 2023 and is valid for a 12-month period.
Here's how it works:
1. Buy the GoWild! Pass
2. Login to your FRONTIER Miles account
3. Search & Book on flyfrontier.com the day before flight departure. Your pass will be valid for one year beginning May 2, 2023. For each flight, you'll pay $0.01 in airfare plus applicable taxes, fees, and charges at the time of booking. When you book, you can also purchase options like bags, seats, and other ancillary products, for each flight to customize your travel.
4. Fly!
5. Repeat and book an unlimited number of flights for as long as your pass is valid
Today and tomorrow, a limited number of Go Wild! Passes will be available at a special introductory price of $599 per person on a first-come, first-served basis at https://www.flyfrontier.com/deals/gowild-pass
"The GoWild! Pass is a terrific opportunity for people with flexible schedules who can hop on a flight on short notice and take advantage of the huge number of airplane seats that go empty each year," said Barry Biffle, president and CEO, Frontier Airlines. "We invite our passholders to explore new cities, visit friends and family, and fly from snow to sun and back as often as they like with the freedom and flexibility of the GoWild!™ All-You-Can-Fly Pass."
GoWild! Pass holders will enjoy access to a variety of benefits on Frontier, including:
· An unlimited number of flights
· Flights available 300+ days a year
· Access to all U.S. destinations, including Puerto Rico
· Travel that will keep your miles from expiring
· One low annual price for pass access to 12 months of travel
· Confirmed bookings the day before flight departure
Important things to know about the GoWild Pass:
– Flights will be available to book and fly starting May 2, 2023
– Flights can be booked and confirmed the day before flight departure
– Flights must be booked at flyfrontier.com
– Flights are subject to blackout periods
– Flights do not include any add-on products like bags or seats
– Access to all U.S. destinations, including Puerto Rico
– Taxes, fees and charges apply at the time of booking
– A fare of $0.01 will be charged for each segment booked
– Flights and seats are subject to availability; last seat availability is not guaranteed
– Travel is not eligible to earn miles or status
– Travel qualifies as activity and will extend your Frontier Miles expiration
– The GoWild! Pass is non-transferable. The passholder is the only allowed passenger to travel with GoWild! Pass privileges
– Your Pass will automatically renew for successive one-year terms unless you cancel
For full terms and conditions (including blackout periods) and to purchase the GoWild! Pass, click here https://www.flyfrontier.com/deals/gowild-pass