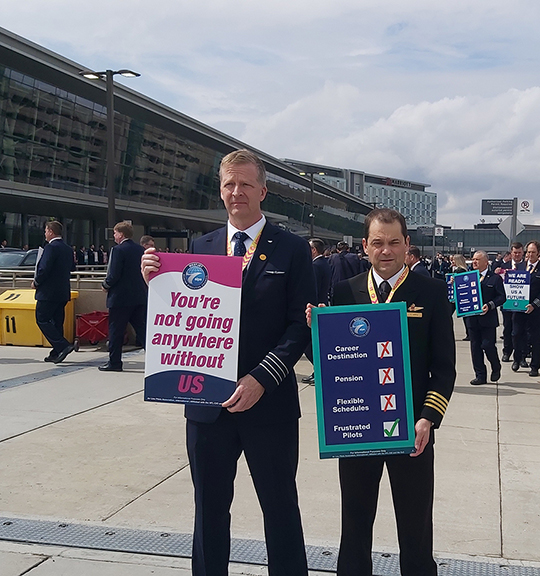 WestJet pilot leaders from the Air Line Pilots Association, Int'l (ALPA) today voted to approve an Agreement-In-Principle with WestJet management, following more than 9 months of negotiations on a new pilot contract. A membership vote on the agreement will begin in the coming days.
"After months of tough negotiations with management, we are pleased to announce a Agreement-In-Principle that goes a long way to recognizing the value and expertise we bring to our airline every day," said Capt. Bernard Lewall, chair of the WestJet ALPA Master Executive Council (MEC). "This contract will also help solve many of WestJet's pilot attraction and retention issues, benefiting everyone involved from our company to our passengers and fellow employees."
Since having their first arbitrated contract forced upon them in 2018, WestJet pilots have fallen even further behind their North American counterparts with regard to critical contract provisions, including job protections, career advancement, compensation, and scheduling flexibility.
The WestJet ALPA leaders believe this contract delivers on the goals of better job security, enhanced compensation, and more flexible schedules to allow for a better work/life balance consistent with collective agreements other ALPA-represented pilot groups are signing with their employers.
"When I started at WestJet 18 years ago, it was seen as a career destination," noted Lewall. "For the past several years, we have unfortunately been nothing more than a training ground for pilots looking to leave for better opportunities. This contract will change that and make WestJet a career destination once again." 
Throughout negotiations, WestJet management repeatedly touted its growth strategy. If ratified, the pilots will send a strong message that they remain committed to being a major contributor to WestJet's success and help the company recognize its growth strategy.