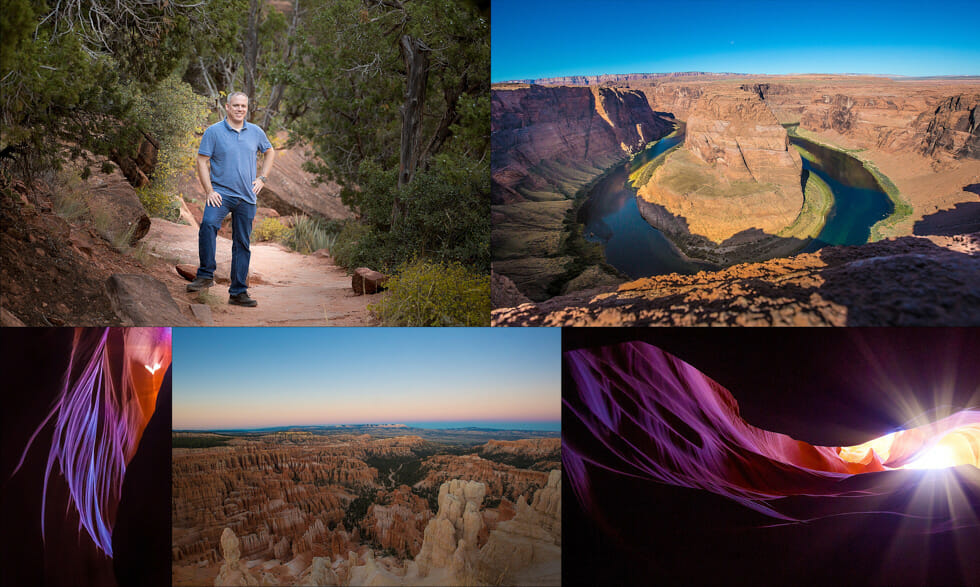 Dear Readers,
Last month, NBAA held its Business Aviation Convention & Exhibition (NBAA-BACE) in Las Vegas. Our photo editor, Melody Hood, and I had the pleasure of attending NBAA-BACE, but before the event, we took a short road-trip to see some amazing sites.
We landed at LAS around 8:30a.m. on Sunday and drove to Zion National Park in Utah, about a two-hour drive. Zion was incredibly beautiful! After a few short hikes, we had dinner at a little restaurant at the foot of the cliffs. After dinner, we drove two more hours to Page, Arizona. Unfortunately, it was dark as we drove through several incredible mountain passes so we missed some amazing views.
The next day we took a short drive and hike to Horseshoe Bend, where the Colorado River has cut through the plains over thousands of years and created this remarkable site. A few hours later, we visited Antelope Canyon. If you haven't visited here yet, you need to add it to your bucket list! This remarkable walking tour is breathtaking, but don't stop to take photos for too long because the crowd and your tour guide will push you along. We were only able to book a tour for the Upper Canyon, not the Lower Canyon, so it looks like we will have to go back! These tours sell out quickly so make sure you book online in advance.
After unsuccessful attempts to get a Lower Canyon tour, we began our drive back to Vegas. On a whim, we decided to make a slight detour and head toward Bryce Canyon, which is only about two hours out of the way. We drove the same route we took from Zion, only this time it was daylight and we saw the amazing rock formations rising from nothing and rolling landscapes with views for miles. Every so often, we would see a house and imagine living there with these amazing views and incredible outcrops just steps from your door.
Just when we thought it couldn't possibly get any more beautiful, we arrived at Bryce Canyon, another truly amazing location that needs to be on your bucket list! We watched the sunset from the rim of the canyon that is almost 9000' above sea level. The temperature was around 36°F. A sunrise would have been the better view, since we were looking east. There's always next time.
As we drove back in the nearly pitch black of night, we had to stop to take some photos of the Milky Way. This required a tripod, long exposures, a remote trigger and zero light pollution. While we saw several shooting stars, we only captured a partial one during one of our 30-second exposures. After a three-hour drive, we arrived in Las Vegas just past midnight.
The next day was all about NBAA-BACE. I have been to many exhibitions, conventions and job fairs, but the booth displays at this event far exceed anything I had ever seen before. Check out our photo tour of NBAA on page 54 to get a sense of what I mean.
For the second day of the convention, we had planned an air tour with Grand Canyon Scenic Airlines (featured this month). We were picked up at the hotel around 6:30 a.m. and rode their bus to Boulder City Airport. We were confirmed and booked on our scheduled flight in the newly renovated terminal. Kippy Aldridge, GCSA Director of Training with whom I had been communicating for months, met us. Kippy introduced us to our pilots, Captain Jeff Schutt and Captain Miles Jacobson. Captain Schutt was receiving his yearly line-check during our flight, a very common practice in the airline world.
Our flight lasted about 45 minutes, and once again I was amazed at the beauty of the landscapes. (Check out the feature piece to see the photos we took.) When we arrived back at Boulder City Airport, Jake Tomlin, the President of GCSA, met us for some quick photos and gave us the entire history of GCSA, all of which you'll have to read in their feature on page 38. After our history lesson, we boarded the bus and headed back to Vegas, where we spent two more days attending NBAA-BACE.
This month's letter is long, but I had so much to share! If you haven't seen these places yet you need to go! I know we will be heading back to explore more, but for now back to work!
Be Safe,
Craig D. Pieper
Publisher, Aero Crew News
Craig Pieper is the Publisher and Founder of Aero Crew News. Craig is responsible for the content, layout design, website design and organization of the material and people producing the material for the magazine. He obtained his Bachelors of Science in Aeronautical Science, along with a minor in Aviation Weather, from Embry-Riddle Aeronautical University in 2001. Craig is also a Captain for a regional airline with a type rating in the Embraer 145 and has logged over 6,000 hours of flying time since his introductory flight on November 14th, 1992.