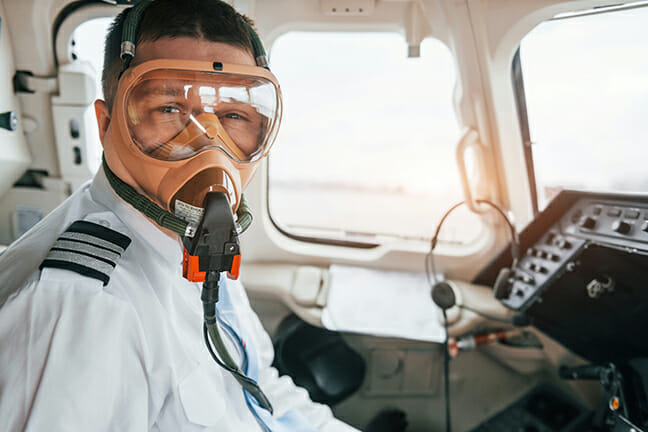 Various types of aircraft oxygen delivery systems and oxygen mask products have been developed over the years. It is imperative to have a comprehensive understanding of oxygen equipment, whether for commercial or general aviation. This equipment may be the first line of defense in the event of decompression, a smoke event or carbon monoxide poisoning.
Aircraft owners and operators need to understand that oxygen equipment must be kept clean in accordance with manufacturer guidelines. Dirt particles can contaminate containers, regulators, masks, and valves impeding function. Likewise, compliance with mandated inspections is critical, as it ensures the equipment is properly operational. Understanding that turbulence may cause equipment may become loose during flight, places additional emphasis on verifying its security prior to departure.
The most common types of oxygen delivery systems are continuous flow, diluter demand and pressure demand. Continuous flow systems are considered wasteful, as the flow of oxygen is constant whether the individual is inhaling, exhaling, or pausing between breaths. On the other hand, diluter demand systems are viewed as more efficient because they are designed to provide oxygen only during inhalation therefore conserving oxygen. Pressure demand systems provide oxygen to the lungs under positive pressure allowing flight at altitudes greater than 40,000 feet, when mere breathing of oxygen is not sufficient.
Modern transport category and turbine-powered aircraft incorporate quick-don masks for their oxygen delivery systems. Regulatory guidance requires these masks to be donned with one hand within five seconds while accommodating eyewear. These masks are typically rated up to 40,000 feet and are located with unrestricted access for the flight crew. Their usage is commonly directed by a memory-action item. Pilots are required to test the operation of the masks prior to flight, in addition to certifying the available oxygen in the system.
Explosive decompressions are typically violent events, in which visibility within the fight deck is severely restricted. Smoke events pose a similar challenge. The priority must always be to immediately don oxygen, followed by establishing crew communications. The primary concern is preventing the loss of useful consciousness. It is imperative to continue the use of oxygen until a safe altitude is reached, while coordinating, with all available resources, the most appropriate course of action. Prior to the descent, consider terrain in the vicinity, including MEA, MSA, OROCA, and grid MORA for your specific location. As part of an effective risk-management approach, brief passengers of the location of oxygen systems and their proper use prior to flight. Doing so will allow the crew to focus on flying and regaining control rather than being distracted by those particular duties.
From a flight safety standpoint, it is incumbent that operators have detailed knowledge of the equipment on board the aircraft, when to use it, as well as its limitations. Preparation during the preflight planning phase, accomplished through briefings and equipment familiarization, allows pilots to anticipate and manage the relevant threats.