Research shows widower's grief can damage their health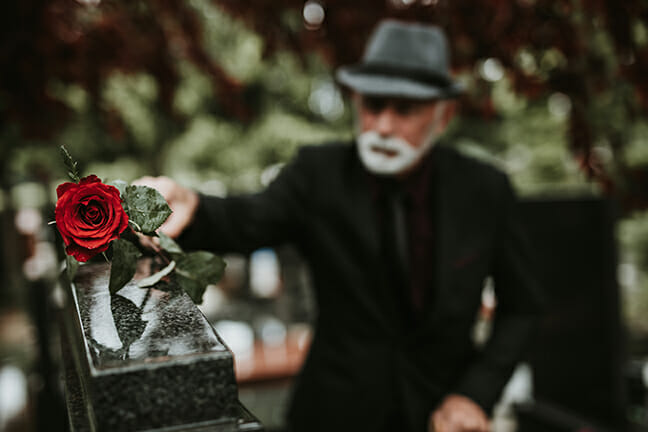 Have you personally known or heard stories of the romanticized couple who have been married for more than 40 or even 50 years? Then one day, you hear the unfortunate news that one spouse passed away and shortly thereafter – sometimes within hours, days or weeks – you hear that the other spouse has died.
A few famous examples of this phenomenon are:
Musician Johnny Cash died four months after his wife, June, died in 2003.
President George H.W. Bush became seriously ill after his wife, Barbara, died.
Kate Spade's father died a day before his daughter's funeral.
Quarterback Doug Flutie's mother, Joan Flutie, died of a heart attack one hour after her husband, Dick, died of a heart attack.
Harold and Ruth Knapke died 11 hours apart.
Jeannette and Alexander Toczko each died within 24 hours.
Studies have shown a strong link between grief and the impact on the immune system. The phenomenon, known as the "Widowhood Effect was examined in a study in 1995. A 2014 study published in the Journal of Public Health found that people whose spouses had just died had an increased chance of dying within three months following their spouse's death.
There is no denying that death and the grieving process are extremely difficult. These times are full of complexities. Widowed spouses, who can be dealing with their own health issues, may lose the will to live without their partner.
It is important to help the widowed take steps that encourage healing. Here are a few ideas:
Provide space to express their grief. Feeling this loss is normal. Embrace their emotions, tears, cherished memories, and stories, etc.
Grief has no timetable. Go at your own pace. Everyone copes differently. Don't pressure yourself to "move on."
Find a support group or counselor. This can help process grief in a healthy manner.
Gift a book about grief. It can provide insight on what they are experiencing and what to expect.
Encourage healthy habits. Eating healthy meals, drinking plenty of water and getting enough sleep are imperative. Staying in contact with their doctors is also a good idea.
Remind them of what they have to live for. Living one's life to the fullest is a great way to honor their spouse through family, friends, charity, legacy aspirations, and favorite activities.
There is no magic wand that ensures a widow's happiness or health, though the support of others is vital in the times ahead.
Knapp Family Wealth partners with families beyond their evolving financial needs.
If you have any questions, schedule a "Ask Me Anything" 30 Min Call.
James C. Knapp, AIF®, BFA™, CPFA®
Securities and advisory services offered through LPL Financial, a Registered Investment Advisor, Member FINRA/SIPC
The material and opinions expressed in this material are for general information only and are not intended to provide specific advice or recommendations for any individual. There is no assurance that the views or strategies discussed are suitable for all investors or will yield positive outcomes. Investing involves risks including possible loss of principal. Any economic forecasts set forth may not develop as predicted and are subject to change.