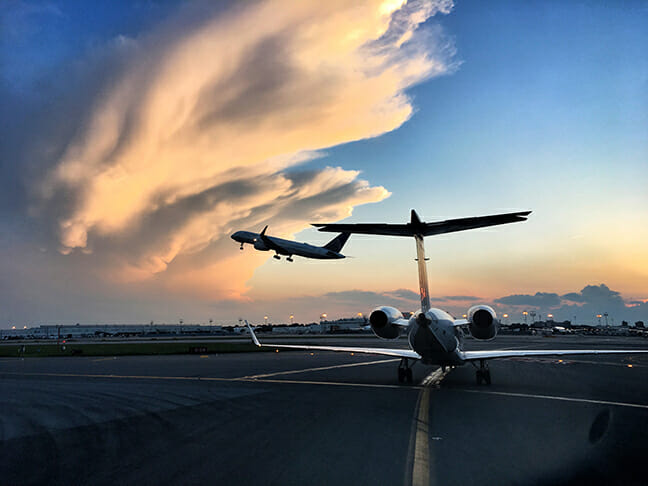 We are all photojournalists. We carry amazing equipment in our pockets and have the ability to capture a moment in time that is worth keeping and sharing. In that spirit and knowing how we all are deeply enamored with aircraft and the skies above, Aero Crew News is pleased to launch the 2023 Photo Contest with the theme, Aircraft at Dawn or Dusk. Ready. Aim. Click. Send. Win!
Our theme this year has been inspired by those photos we all have – amazing skies framing aircraft we all love. Fortunately, the shot does not have to have been taken in 2023, but the judges will be looking for a beautiful dawn or dusk sky featuring any aircraft. (If you step outside your house and see a fabulous sky, you could launch your drone to compete! Birds and paper airplanes are not aircraft, however.)
PRIZES (including cash) are being developed over the next few weeks, so keep an eye on our continued announcements for updates. (Sponsorships are available*) What we do know is that the Grand Prize Winner will have their photo on the cover of the June 2023 issue of the eMagazine and it will be featured on our website. Bragging rights matter, right? There will be a total of 15 winners: A grand prize followed by three runners-up and ten honorable mentions. All winning photos will be featured in our pages.
Click here to submit your photo or copy and paste: https://aerocrewnews.com/go/2023PC.
*Sponsorship opportunities are available through January 15, 2023. Please contact Publisher Craig Pieper at Craig.Pieper@AeroCrewNews.com.
2023 Aero Crew News Photo Contest Official Rules
Photo Contest Terms & Conditions
https://aerocrewnews.com/2023-aero-crew-news-photo-contest-official-rules/