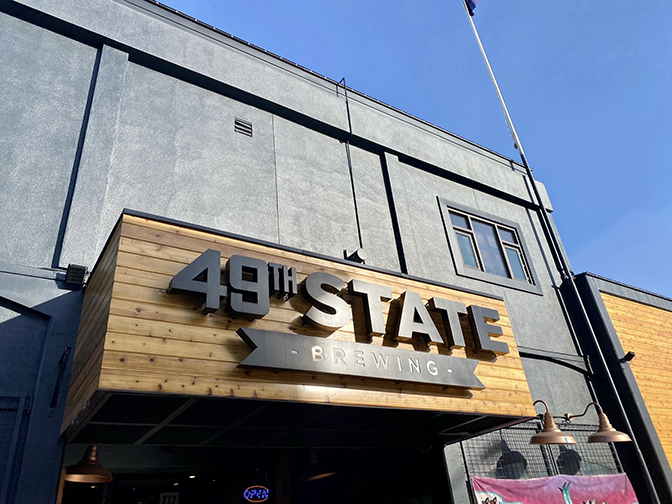 What's a yak?
This month, I was lucky enough to be sent to Anchorage with plenty of time to visit a local brewery restaurant that I had heard so much about – Forty Ninth State Brewery. Originally located at the foot of Denali National Park in a three-door bus barn, their brewed their beer one barrel at a time perfecting their lineup. Word traveled fast about what was brewing in the north and fans of the suds would travel from all over to taste the new offering. This tradition continues today as the brewers still create small-batch brews before introducing it to the public in large quantities. There are three locations in Alaska where you can enjoy some of the unique cuisine and delicious beers: Anchorage, Denali, and in the airport (ANC) located in concourse C, pre-security.
The downtown-Anchorage brewpub has scenic views in a large, 30,000-square-foot space. It has that Alaska rustic charm with a friendly staff. To complement their beer selection, they also have one of the largest whiskey and scotch menus I have yet to see. Unfortunately, I was too close to heading off to my next destination to partake in any of these libations but I did enjoy a home-brewed root beer, which was flavorful and not over-the-top sweet.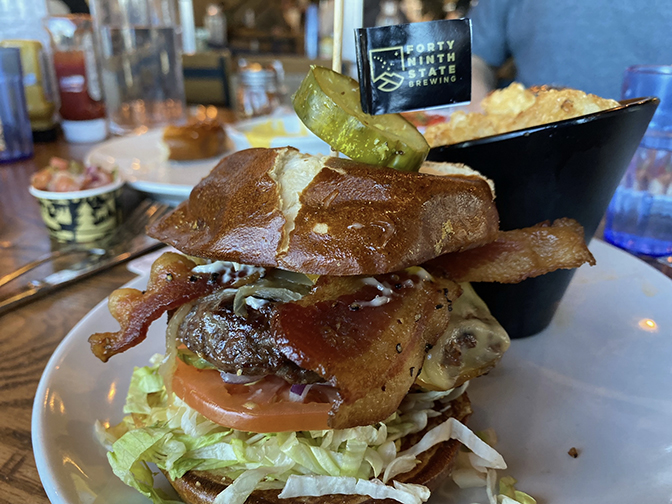 My server, Vivian, was extremely helpful as I navigated their massive and unique menu. As the only restaurant in America to serve it, she said "Try the YAK." I had to ask her once again what she said because I thought she sneezed or stepped on her own toes. Honestly, I had never heard of yak and had no idea what it was. "What's a yak?" I asked. She informed me that the brewery has a relationship with a farm with a yak herd just for their menu. I decided it was probably best not to look too far into it and just give it a try. I ordered the popular half-pound yak burger, a cup of seafood chowder and a Bavarian handmade pretzel.
For the starter, the pretzel was unbelievable! It had a nice crispy exterior and the inside was so soft and fluffy. You can taste the love that goes into making this massive bar snack. I was lucky enough to have some friends along for the adventure to share. Next came the chowder. It has fresh king salmon, Kachemak Bay halibut and baby clams. There would never, ever be any sharing of this soup, not even a little slurp! Sorry, not sorry, mi familia, it is that good! The chowder is hearty and, as a slightly larger portion, could easily be a meal on its own.
Now for the main course! Indeed, this was mystery meat to me. The yak burger, which was massive, served on a pretzel bun, was a juicy well-seasoned burger with beautifully caramelized onions, applewood bacon and smoked gouda cheese. I was impressed with the flavor of the yak meat, which I describe as slightly sweet, beefy flavor. This sustainable meat for Alaska was delicious from the first bite. I would recommend this burger all day! Or, if you need something lighter and still want to give yak a taste, try the yak-a-dilla.
I highly recommend swinging by and trying out their unique menu of food and brews. While I was there, I heard about Augtoberfest which was created because September and October are a little too late in the year for large outdoor festivities. They host lots of events from ax throwing to stein-holding competitions at this truly statewide event with attendees coming from all over to enjoy the traditions of community and brews. I may have to send a few pizzas to our scheduling department to ensure that I revisit during the event.
Anchorage
717 W. 3rd Ave
Anchorage, AK 99501
www.49statebrewing.com