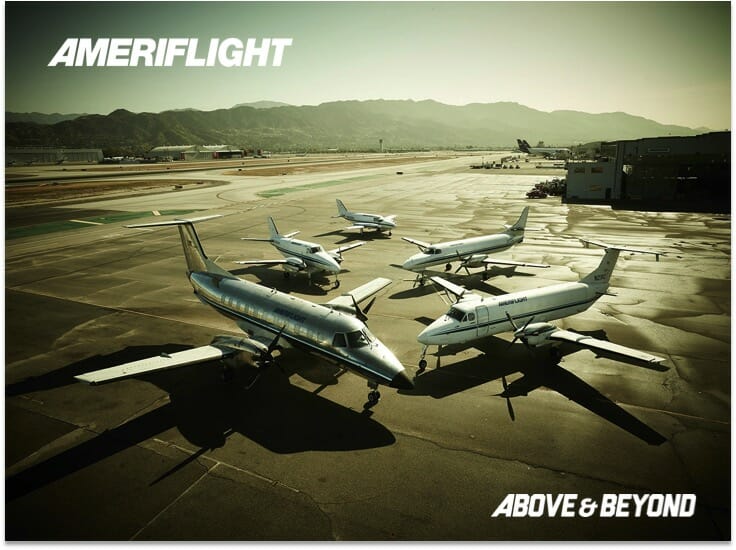 INTRODUCTION
Ameriflight, LLC and our subsidiary Wiggins Airways form the largest airline operating under Part 135 of the Federal Aviation Regulations.  We serve major international integrators, manufacturers and freight forwarders throughout North America and the Caribbean.
Ameriflight is UPS' largest feeder operator, we are DHL's largest domestic feeder operator and a significant service provider for FedEx.  In addition to small-feeder operations, we transport products used for medical imaging for two of the world's largest manufacturers
Combined, Ameriflight and Wiggins operate 215 aircraft over 100,000 hours per year, crewed and supported by a talented and dedicated team of employees.
Operations schedules and tracks flights and coordinates with our customers. The Flight Department hires, trains and manages a roster of approximately 225 pilots. Maintenance and Quality Control oversee more than 140 technicians and support personnel who maintain our aircraft in accordance with FAA regulations and manufacturers recommendations.
Flight operations are supported by Parts & Purchasing, which controls a parts inventory of over 15 million dollars, Line Service, Ground Handling, Accounting, Administration and Safety.  Ameriflight is one of the few Part 135 airlines that has a dedicated and independent Safety Department.  Our Recruiting Department searches for talented pilots and mechanics and the Human Resources group assists employees in personnel administration and employee relations matters.
MISSION STATEMENT
Ameriflight is the industry's premier air logistics solution, providing unparalleled service and value for customers, the highest dedication to safety, and a passion for excellence reflected in our workforce.  This is the Ameriflight's Mission Statement and they accomplish their mission by employing more than 700+ aviation professionals throughout North America and the Caribbean.
AMERIFLIGHT'S KEY AREAS
We break our organization into 4 key areas.  The Operations team is the point of contact with the customers, they schedule and track flights, run the daily operation and ensure the customer's needs are met.  The Flight Department hires, trains and manages a roster of approximately 225 pilots located at 19 bases.  A dedicated Technical Operation Team maintains and ensures the quality and reliability of more than 210 aircraft.  They have more than 140 technicians and support personnel who maintain the fleet in accordance with FAA regulations and manufacturers recommendations.  The final area is a Team of back office professionals that handle everything from Parts & Purchasing, Line Service, Ground Handling, Accounting, Administration and Safety.  One very unique thing about Ameriflight is that it is one of the few Part 135 airlines that has a dedicated and independent Safety Department.  This is not a requirement for 135 operators but Ameriflight's dedication to safety has made this a vital part of their organization.
AMERIFLIGHT IS THE STANDARD BY WHICH ALL 135 CARGO CARRIERS ARE JUDGED. 
Our airline has a fleet consisting of seven aircraft types with cargo capacities ranging from 1,700 to 8,000 pounds.  The total aircraft count is just over 210 and growing, as they continue add Embraer Brasilia (2 more by year end) and Bandeirante (1 more this year) aircraft.  This diversity gives them flexibility to meet our customers' ever-changing needs.
AMERIFLIGHT'S AIRCRAFT TYPES
• Cessna C208 Caravan
• Piper PA 31 Chieftain
• Embraer EMB-110 Bandeirante
• Beechcraft 99
• Fairchild SA227 Metroliner
• Beechcraft 1900
• Embraer EMB-120 Brasilia
THE SMART CHOICE
The Ameriflight Recruiting Department searches for talented pilots and mechanics.  Due to industry demands Ameriflight and Wiggins are seeing high turnover rates, just like all other part 135 and 121 regional carriers.  This has led to them hiring 180 pilots this year.  They continue to recruit for 2015 and anticipate hiring an additional 20 Pilots.  In 2016 they are projecting to hire 240 pilots due to attrition and growth.
When it comes to recruiting and retention Ameriflight has been very active in developing a career path for our pilots.  We recognize that a number of pilots who come to Ameriflight will eventually move on as they progress in their careers.  Ameriflight believes that it must create a great place to work for our pilots all while helping them advance in their careers.  One way to help them with their long term goals is to speed up the time it takes to go from being a student pilot to flying for a major airline.  The common path that many pilots choose is flight instructing or buying blocks of time and eventually getting hired at a 121 regional, eventually making Captain and then if all goes well getting hired at a major.  Ameriflight has created an alternative to that long difficult process.
Is there really a way to speed up the process of qualifying for a U.S. airline job without having to buy flying time to reach the 1,500 flight hour hiring threshold?  Is there any way to expedite the appearance of big-jet airline captain's stripes on your sleeve? One way is via a unique partnership between Ameriflight LLC, the largest Part 135 cargo carrier in the U.S., and Allegiant Air, the country's fastest-growing Part 121 carrier.
Ameriflight offers a unique step up the aviation career ladder from typical entry level flight instructing, traffic watch, banner towing and similar jobs.  With a nearly 50-year operating history, exceptionally thorough training, high flight standards, and an operation that spans the conterminous U.S., Alaska, Canada, Mexico, Central America, the Caribbean and South America, Ameriflight offers a wide variety of domiciles and incredibly rich flight experience.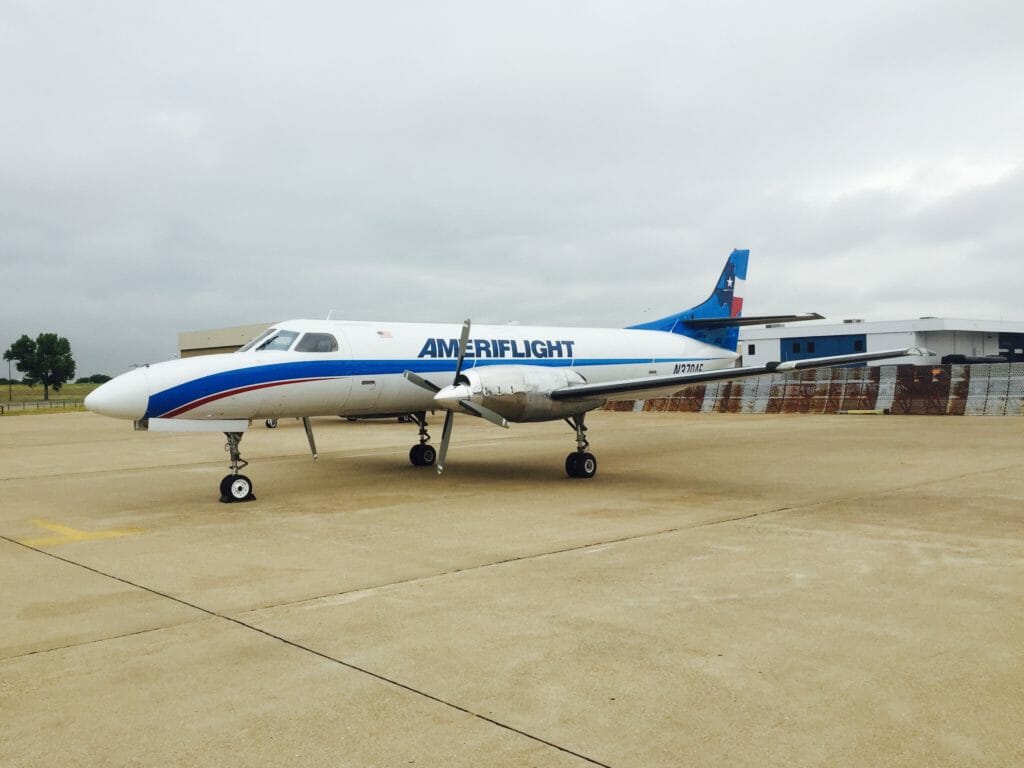 Over 85% of Ameriflight and Wiggins fleet is turbine powered, and the majority of pilots hired are hired directly into the left seat as a Captain.  Since we operate under part 135 of the regulations they are able to hire Captains at 1,200 hours total time.  At 1,200 hours our pilots can start building multi-engine turbine PIC time and operate in a time-critical scheduled operation.  Our pilots experience all types of weather from New England winters to hurricane avoidance in the south and east to high-density altitude flying in the west and low minimum IFR operations in a wide variety of locales.  All while taking command of cargo load planning and real fuel requirements.  This with real airline operating procedures.  To go along with this we offer a sequence bid system to determine flight assignments, rapid advancement through aircraft types, including type rating training, generous pay and a good benefits package.
Starting wages at Ameriflight is $44,000 a year and advances quickly to $90,000 a year. This is real airline flying and real world flying experience.   Airline training captains have often been heard to comment that they love to train Ameriflight pilots, because our pilots know how to fly on instruments and operate in the air traffic control system.  Three years of flying with us typically meets the flight hour requirements for regional and major airlines, and provides a breadth of experience available in few other places for pilots at this level in their careers.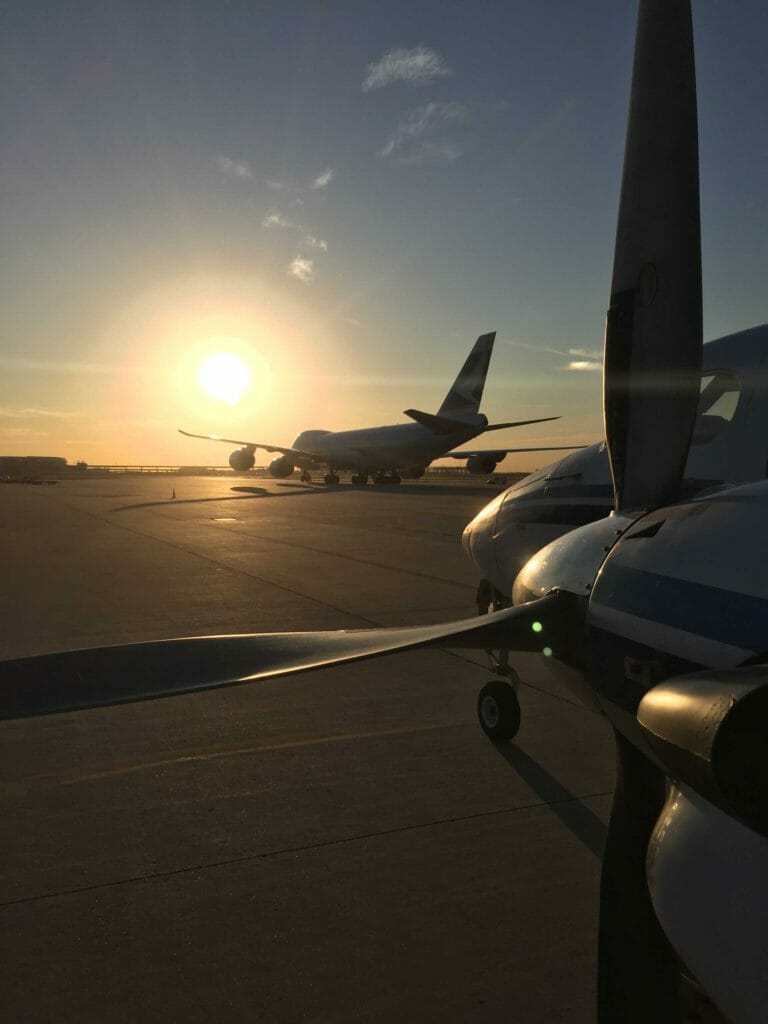 HOW TO APPLY
In order to join the dynamic team with Ameriflight, all pilots will need to complete an application at http://ameriflight.hrmdirect.com/employment/job-openings.php?search=true&  To learn more about our airline please visit our website http://w3.ameriflight.com/ or email your questions to recruiting@ameriflight.com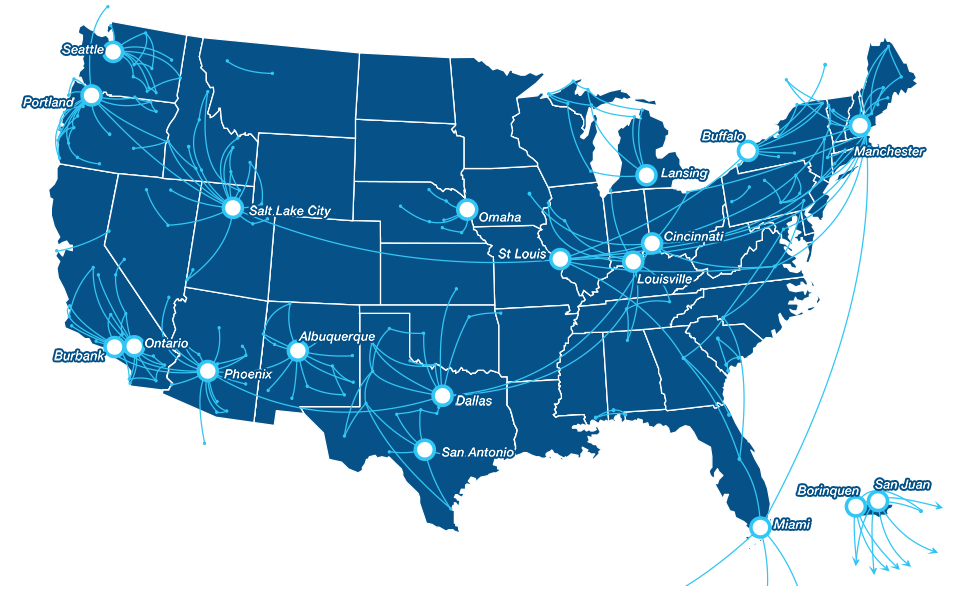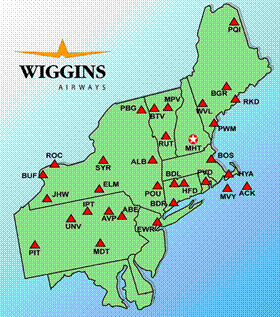 ---
Interview with Brian Lander, Chief Pilot
---
Pre Interview:
Craig: How do you select applicants to be brought in for an interview?
Brian: We look at the candidate's online application and other documents they may have sent, and determine if the candidate fits our profile and has potential to be a successful employee in a single-pilot IFR environment. We look for a number of factors to increase the probability that they are successful in the training process and on the line, flying the customers' cargo.
C: What can an applicant do to increase their chances of being called for an interview?
B: If a candidate can show us that they are instrument proficient, and have meaningful flight time in the past year, they are typically given the opportunity to interview.
C: How critical is it to attend a job fair to get an interview? 
B: Not very. We launched a new website last year and a brand new Applicant Tracking System last month. They are proving to be successful at capturing candidates that meet our qualifications. However, it is helpful to attend job fairs where we can meet the pilot in person, and gauge who they really are.
C: What is the best way to prepare for an interview with your company?
B: Brush up on basic IFR procedures, and ensure you are comfortable in the IFR environment. The number one hurdle candidates must overcome in training these days is instrument proficiency.
Interview: 
C: Do you recommend that applicants get to your headquarters city the day before and get a hotel room for the night?
B: We typically conduct interviews over the telephone.
C: What kind of questions can an applicant expect to be asked?
B: They will be asked basic IFR procedure questions and recency of experience will be explored. They will be asked about flight times and employment history as well. We will ask the candidate about their career goals, aspirations in aviation, accomplishments, and what they know about Ameriflight and the job itself.
C: Can you give me some examples of the TMAAT questions that you like to ask?
B: We will ask the candidate about a time they experienced adversity in the workplace.
C: If the TMAAT question being asked does not apply to that applicant can that question be skipped?
B: Yes.
C: What are some of the biggest mistakes that applicants make during the interview process? 
B: One of the biggest mistakes pilots make during the interview is showing up unprepared or without current documents required for employment as a pilot.
Written test:
C: Is there a written or computer test?
B: No.
Simulator Evaluation:
C: Do you have a simulator ride?
B: A simulator ride is conducted by a member of the training department or an Assistant Chief Pilot if the candidate is lacking sufficient currency. With our operation being nationwide, we are typically able to schedule a simulator evaluation close to the candidate.
C: What type of aircraft is used for the simulator evaluation?
B: Depending on location of simulator evaluation, the simulator is typically a light-twin aircraft.
C: What types of scenarios should you expect in the simulator evaluation?
B: Basic "/A" IFR navigation, some emergencies, weight and balance calculations, holding procedures, instrument approaches, and basic flight planning.
C: What are you looking for in the simulator evaluation?
B: A pilot who is confident and proficient in the IFR system, and one who can calmly evaluate abnormal situations and take appropriate action.
C: What are the biggest mistakes applicants make?
B: Lack of instrument scan. Hurried mistakes.
Post Interview:
C: Do you tell applicants they are hired in person that day? 
B:  Yes. We make every attempt to hire pilots same day.
C: If not, how long do applicants have to wait to know if they are hired?
B: Wait times longer than a few days are abnormal.
C: How soon can an applicant expect a class date after being hired?
B: We conduct Basic Indoctrination classes once per month. We can place candidates in class up to two weeks before class begins.
General:
C: How many pilots does your airline expect to hire this year?
B: 285
C: Can you explain the ATP-CQP class that your company offers?
B: We partner with ATP's Higher Power program in the Dallas area to complete the ATP-CTP requirement.
C: Do you have a hiring bonus? Is there any specific criterion to qualify for the bonus?
B: We award signing bonuses for meeting Part 135.243c requirements, prior Part 135 experience, and holding type ratings in aircraft that Ameriflight operates.
C: Does (Ameriflight) have a pilot referral program?
B: Yes, we have an internal pilot referral program.