Advertise With Us
---
Updated: February 5, 2022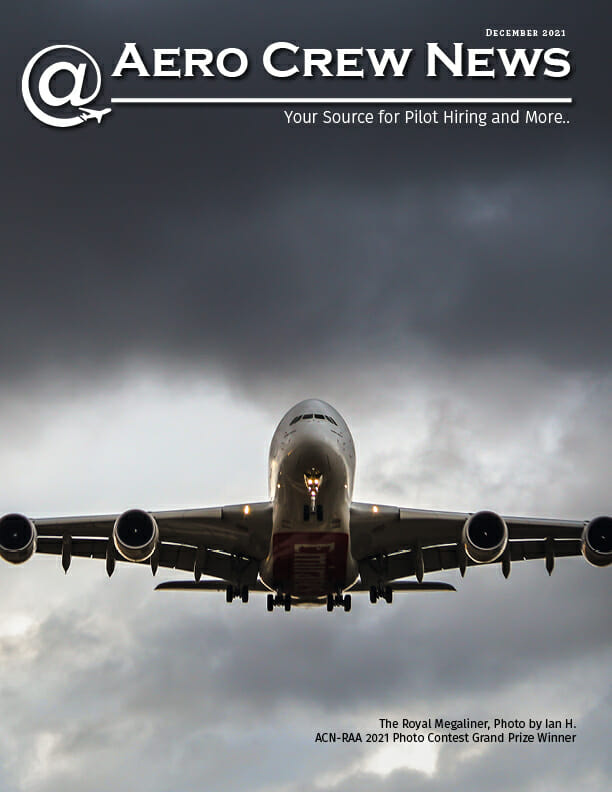 Features
In 2015, Aero Crew News was conceived by pilots
for pilots. In the first few years, our cover stories/
features were dedicated to airlines and charter
companies seeking pilots. Since then, our scope has grown and our features now encompass everything from flight schools to our annual photo contest. The objective with our features is to educate and inform our readers on a wide variety of aviation-related topics they'll find useful in the pursuit of their futures in aviation.
Columns
Aero Crew News has several regular monthly columns, which include Perspectives, a column created by Professional Pilots of Tomorrow (PPOT). This column is dedicated to helping pilots transition from student pilot to airline transport pilot. The Fitness column is there to help encourage healthy living on the road and ways to add exercise into your daily life. Baggage is another healthy-living column that focuses on your mindset to help readers cope with the stresses that life on the road brings. Squall Line focuses on weather phenomena that our crew members may encounter while on a trip. Knowledge Base is included to educate or refresh our readers in their knowledge on a variety of aviation skills. The Careers column is designed to help pilots prepare for all the aspects of their interview of a lifetime.
Aviator Bulletins
We offer the opportunity for anyone to submit Aviator Bulletins (AB) to Aero Crew News. These are press releases from any aviation-related company that chooses to submit. There is no charge for submitting an AB. Please email the copy and a minimum of one image to Craig.Pieper@AeroCrewNews.com. Your press release will most likely land in Aviator Bulletins.
The Grid
What has come to be known as The Grid, started as a spreadsheet comparing the specifics within pilot contracts. It too has grown to become an online "shopping" experience where
crew members can conduct side-by-side comparisons of the contracts offered by their chosen companies. If your company is not listed at https://Www.Aerocrewnews.com/acn-grid/, please email Craig.Pieper@AeroCrewNews.com for a template to start the process. There is no cost to be added to The Grid.
Social Media
Aero Crew News has an enormous presence on Facebook and LinkedIn. Plus, we continue to grow on Instagram and Twitter. In 2021, our social media reach exceeded 12.4 million individuals, with over 4.8 million engagements! Contact Craig.Pieper@AeroCrewNews.com to initiate the process to gain exposure through our social media presence. Aero Crew News is committed to sharing only verifiable information.
---
Stats
Aero Crew News is perfect for the distinctive audience that you are looking for to advertise your distinguishing aviation product, career choice or aviation services.  Aero Crew News has been downloaded over 1.8 million times in over 150 countries since our inception in March of 2015.  Additionally, our articles have been available for viewing online since October of 2016 which generates on average 35,000 monthly website visits. Currently, we send out over 17,000 emails each month and in 2021 we reached over 12.4 million people with over 4.8 million engagements on social media.
---
Aero Crew News is primarily available to the public via our website articles, our PDF download, social media and our monthly email list.
---
Questions please contact:
Craig Pieper:  Publisher / Owner
Or fill out the form below: