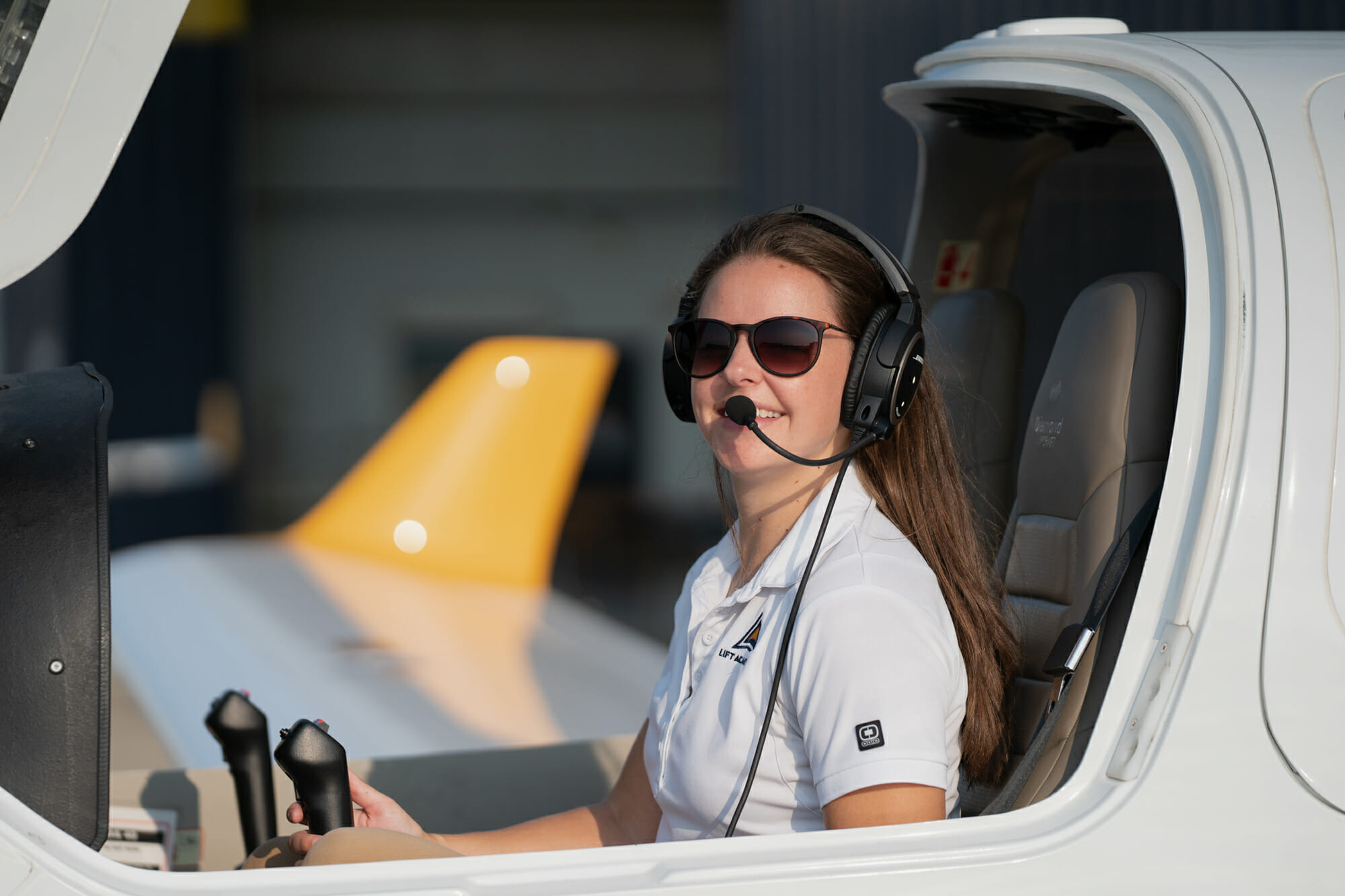 "I wanted to find something that made me love going to work." That's a statement we hear often in the aviation industry, and that's just what made Sarah Hayward, current assistant chief instructor at LIFT Academy, decide to enroll in LIFT after graduating from Auburn University with a Bachelor of Science in Animal Science and Zoology.
Sarah took a discovery flight and was immediately hooked. Sound familiar? She, too, had caught the aviation bug. It wasn't long after that she stumbled upon Leadership In Flight Training (LIFT) Academy in an internet search for flight schools.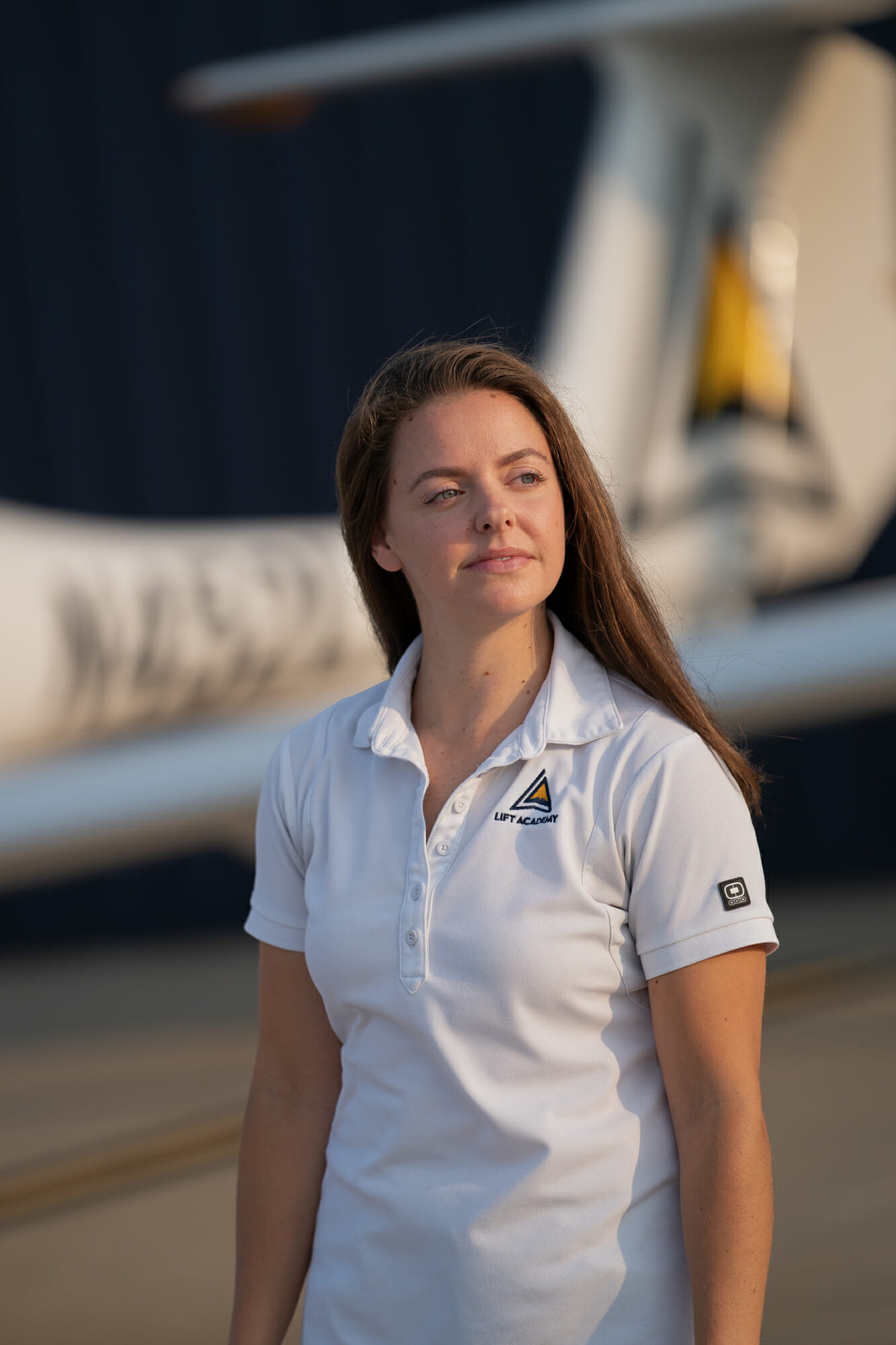 LIFT was new at the time, having opened its hangar doors in September 2018, but it already had created a buzz in the aviation industry, being the only U.S. airline-owned and operated flight school with a flow for its students directly to Republic Airways. Sarah was looking for a structured curriculum, an accelerated training program and an opportunity that would set her up for success in the airline industry. LIFT checked those boxes and then some for Sarah.
LIFT and Republic Airways became trailblazers in the flight and maintenance training environment when they announced their strategy to make aviation accessible and attainable to all who have the will and the skill to fly or maintain aircraft, building and diversifying the talent pool for aviation's next generations. LIFT partnered with the State of Indiana, the city of Indianapolis and the Indianapolis Airport Authority to clear the runway for this new aviation training program in Indianapolis.
Three months after its initial announcement, LIFT welcomed its first class of students to begin flight training, all eager to pursue their dreams of becoming an airline pilot.
"I had always wanted to fly, but I had a great career in finance that I couldn't convince myself to give up until I found out about LIFT. With the airline-structured curriculum, the pace of training, the job waiting for me at Republic Airways and the professionals I'd be training with, LIFT was what finally brought me to my decision to train full time to get to the airlines as soon as I could," Mike Droese shared.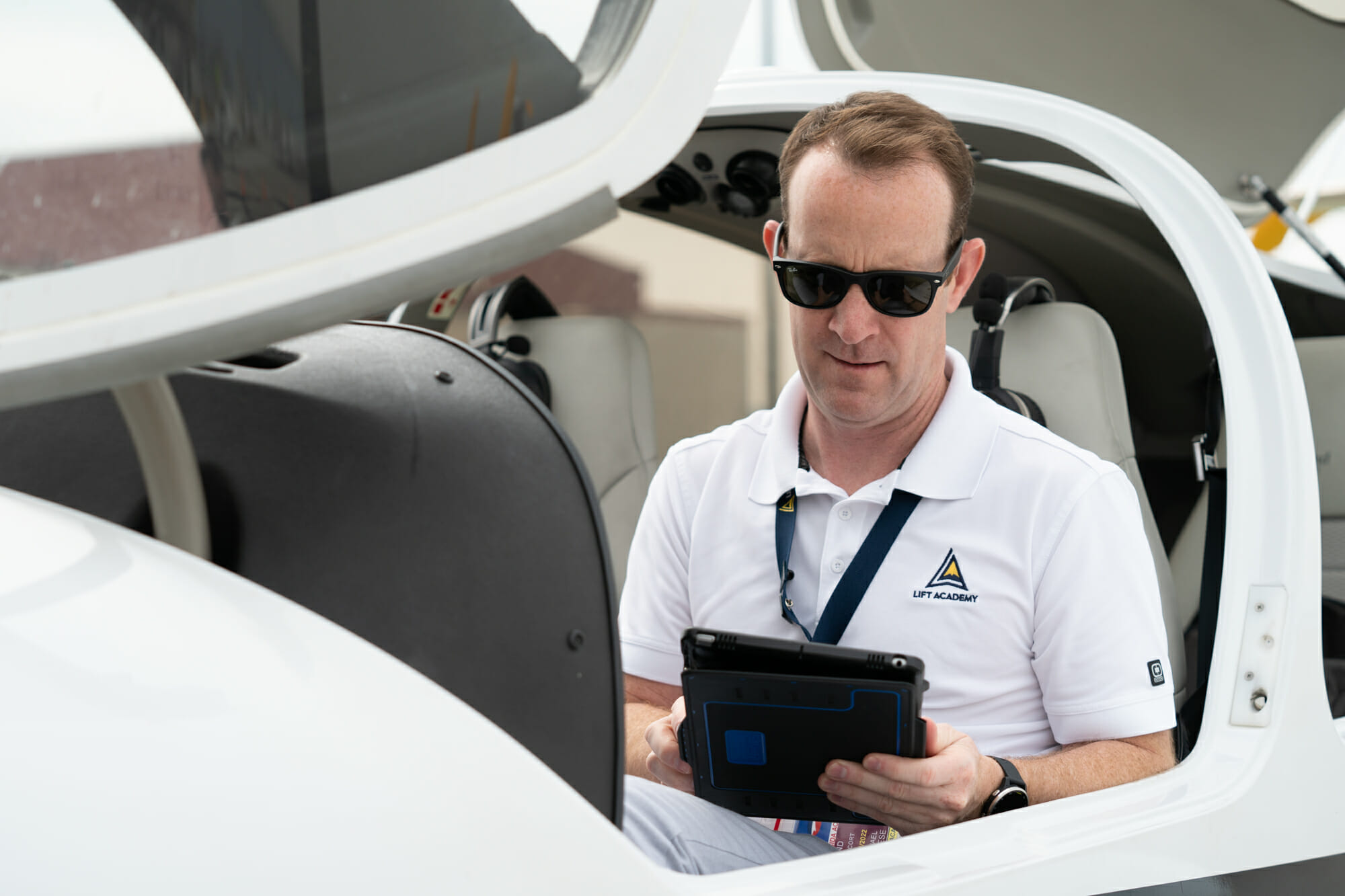 Mike was a vice president at a global investment bank before he became a full-time student at LIFT Academy. Mike is also one of LIFT's first students to complete their training and time building for the Air Transport Pilot license and transitioned to Republic Airways as a first officer this past summer. In two and a half years, despite a global pandemic that slowed down the industry, Mike has transitioned to an exciting and fun second career and is flying Republic's Embraer fleet.
LIFT students come from an array of backgrounds—some come straight from high school or from the military while others, like Sarah and Mike, have changed careers to pursue their passion. LIFT attracts students from all over the country, with nearly every state in the U.S. represented in its student population of nearly 300. What's the draw?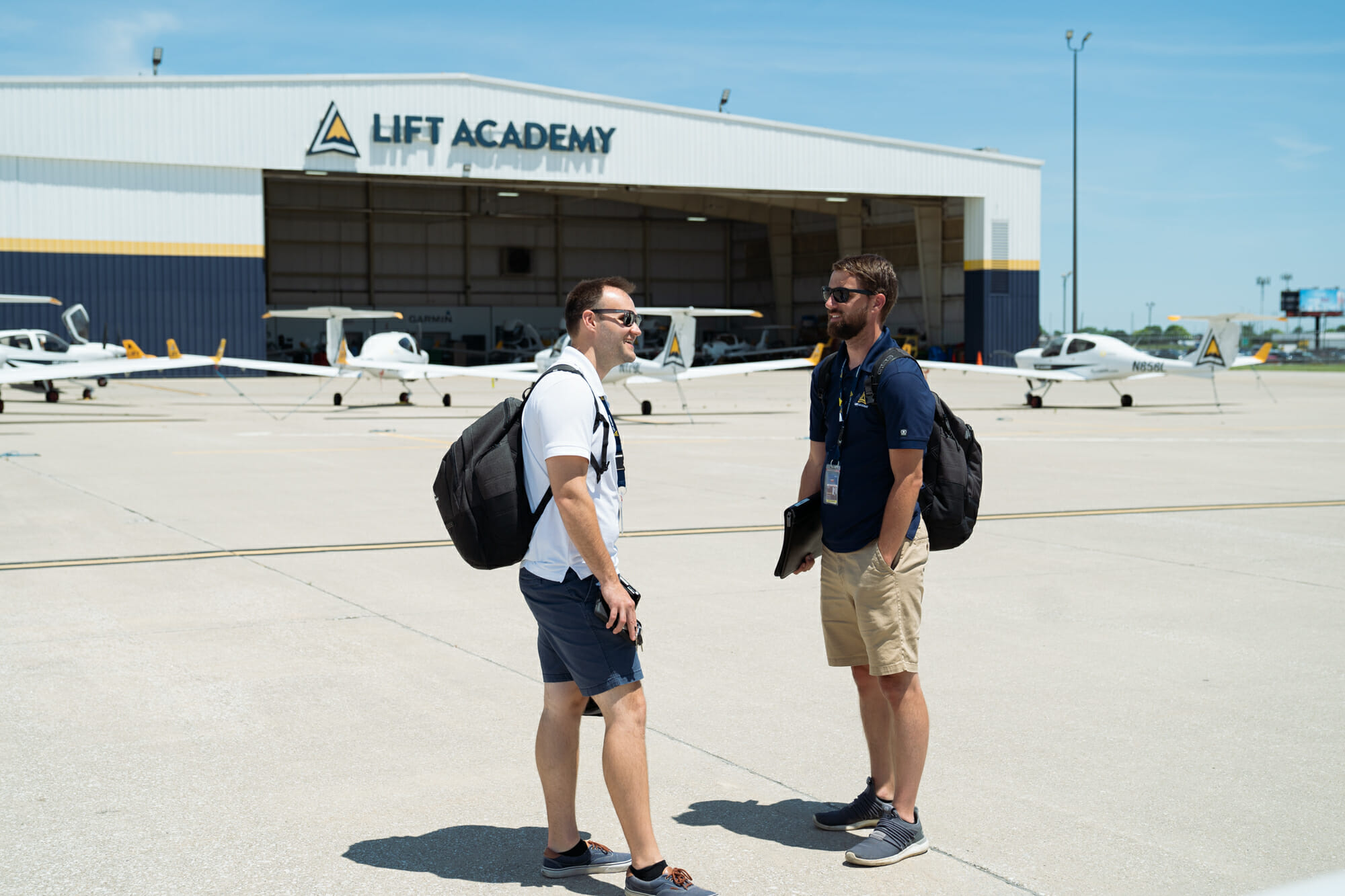 LIFT has set itself apart from its competition from the day it first launched its marketing campaign. Imagine a flight school creating its first marketing video and not featuring a single plane—that's LIFT. With a tagline Explorers Wanted, LIFT wanted to appeal to a crowd that never considered a career in the sky, broadening the talent pool of aviators to include those seeking the lifestyle that aviation offers, never realizing before that their calling is becoming an airline pilot.
Technology
Beyond its marketing, LIFT knew it could distinguish itself with its focus on innovation and technology within flight training. In addition to its brand-new fleet of more than forty Diamond Aircraft Industries DA40NG and DA42VI aircraft, LIFT found ways to make nearly every portion of its training program tech-focused. All aircraft are equipped with Garmin G1000 avionics to get students accustomed to glass cockpits from day one. All students receive an iPad on which they use Jeppesen charts, see their schedules on Flight Schedule Pro and complete digital learning through LIFT's proprietary CBT (Computer-Based Training) curriculum.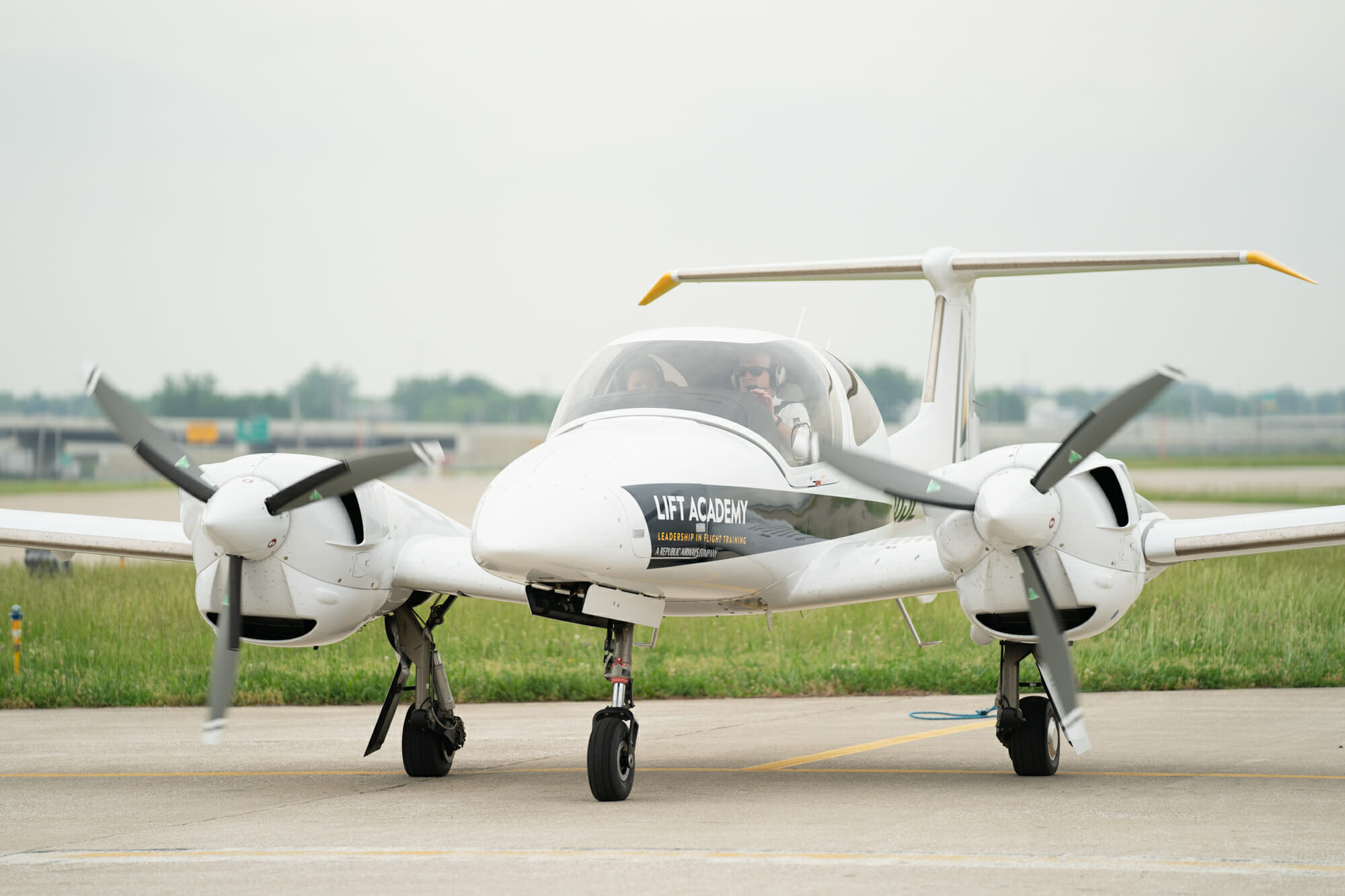 The curriculum is customized to and aligned with LIFT's airline-focused flight training and accelerated pace. Since its inception, LIFT has trained its students for airline readiness, and its pilots learn flows, callouts, maneuvers and procedures that replicate the airlines beginning on day one in the program.
The digital, computer-based training takes traditional flight training a step further—creating an interactive experience for its students. The curriculum promotes individualized learning, enabling students to progress through the program while also retaining lessons from previous courses as they accelerate through their flight training.
In less than three years, the staff and flight instructors planned content, scripted lessons and prepared quizzes for full private pilot and instrument curricula as well as received FAA approval for its use in training its 300 students.
"We have a very talented group of instructors and a small-but-mighty staff who knocked this training development out of the park," Ed Bagden, Associate Director of Flight Operations and Safety shared. "We put a lot of work in to make this a professional product that we're already working on expanding to include commercial courseware by the end of the year."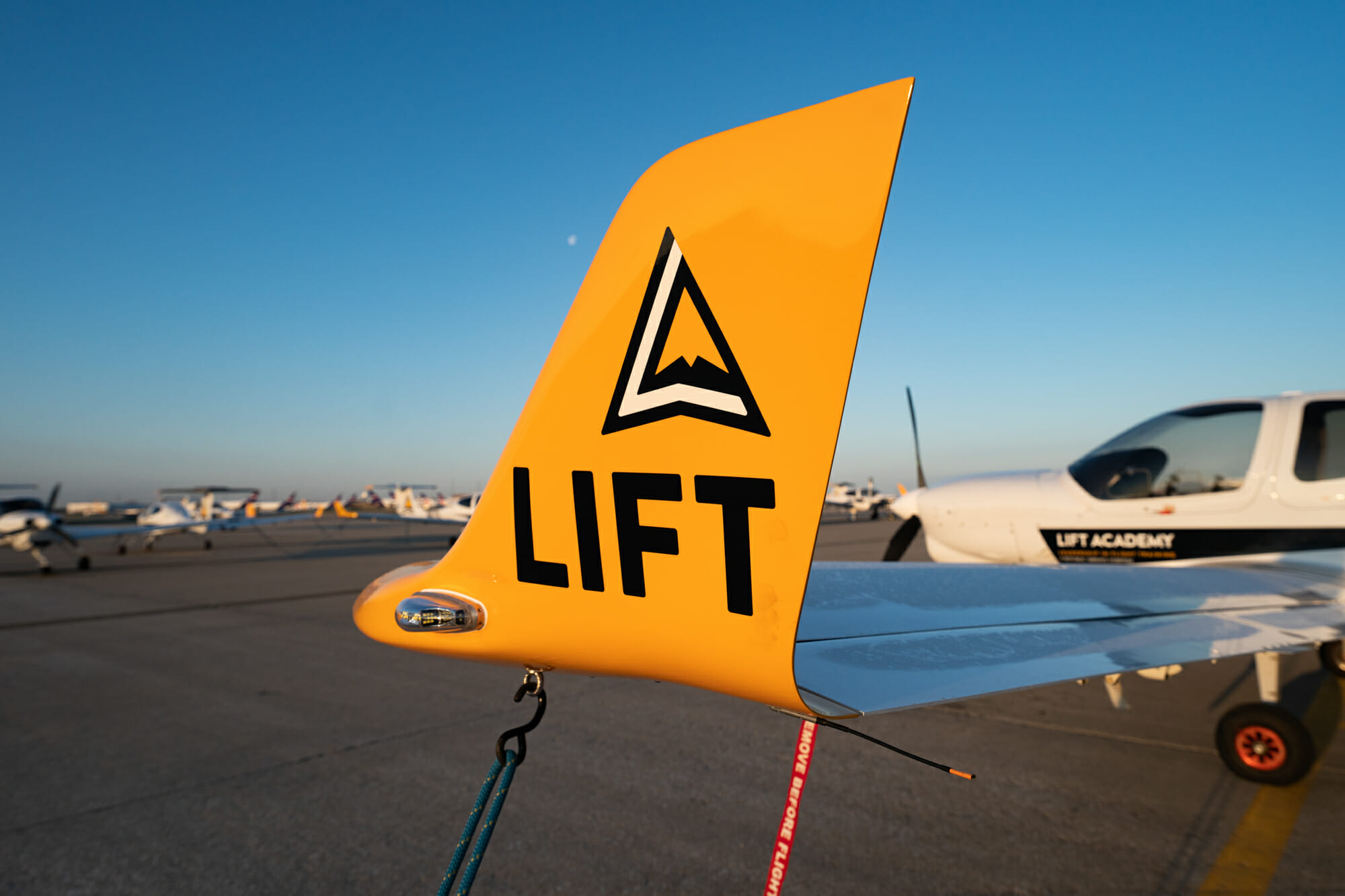 Safety Culture
While LIFT is only three years strong, it operates as though it's a mature, small airline with an airline-grade safety culture and evolving Safety Management System (SMS) that many businesses could view with envy. Due to the support and resources LIFT receives from Republic as well as its staff that has diverse professional experience in the aviation industry, LIFT has had the opportunity to build on a strong foundation of established safety procedures since before it even opened its hangar doors. Students learn callouts and checklists that mimic the airline in the first weeks of training and talk to the IND tower for their departures and arrivals.
"LIFT is unique. We're not training our pilots to pass checkrides or their initial first officer training," Bagden explained. "From the moment orientation begins, we're training them to be the best airline captains."
Safety is reinforced with LIFT's maintenance team which is led by Jim Boothe, a former director of quality assurance at Republic. Jim and his team follow many airline procedures, going above and beyond the standard checklist of maintaining training aircraft. Due to strong partnerships with companies such as Goodyear, Beringer and Diamond's Austro Engines, they have industry resources at their fingertips for additional expertise.
Establishing and maintaining high standards
The strong safety culture is noticed by the FAA as well. From the day Republic announced its upcoming flight school in May 2018 to the day LIFT began its operations in September 2018, LIFT staff completed the paperwork and requirements to meet the FAA's criteria to become a Part 141 pilot school for private pilot through commercial certificates.
Just 24 months later in September 2020, the minimum amount of time required by the FAA, LIFT was granted Examining Authority, and now designated, certificated instructors can conduct end-of-course evaluations in place of a checkride with a Designated Pilot Examiner (DPE). This ensures that LIFT students will have timely completion of the testing event using LIFT's onsite evaluators, and it also provides LIFT the opportunity to have a greater level of quality control over the entire testing process from student to student.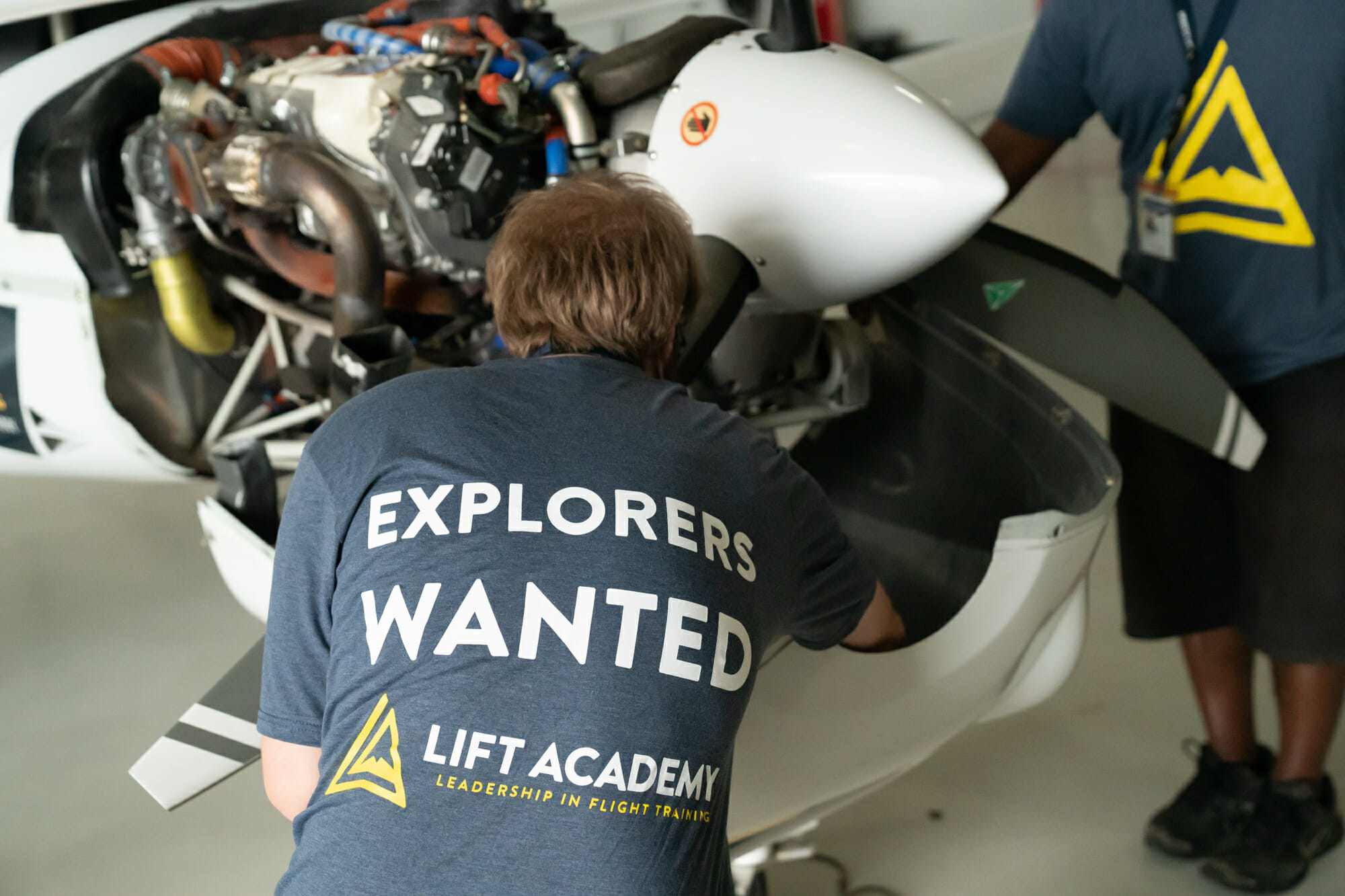 This accomplishment distinguishes LIFT from other flight schools in the U.S. as they join only a few other flight training institutions that have received approval from the FAA for examining authority. LIFT is the only flight school in Indiana with the examining authority from the FAA.
In 2019 LIFT also filed an application with the U.S. Department of Labor to join its apprenticeship program, beginning an aviation maintenance technician apprenticeship program where apprentices are paid through their on-the-job training as they work alongside licensed airframe and powerplant (A & P) professionals. In the program, apprentices learn skills and accrue hours needed to earn the licenses required to become an aviation maintenance technician, working nose to tail on LIFT Academy single and multiengine training aircraft, Diamond DA40 and DA42 planes, as well as Republic Airways Embraer 170/175 EJets that feature GE CF34-8E jet engines.
At the time, the registered apprenticeship program was the only of its kind in Indiana and one of only eight in the United States. LIFT's flight instructor position is also qualified through the Department of Labor as a registered ATP apprenticeship, making LIFT only organization in the United States to offer both the registered Airframe and Powerplant and Airline Transport Pilot (ATP) apprenticeships through the U.S. Department of Labor in 2019.
LIFT's maintenance team also opened a maintenance repair shop at the Indianapolis International Airport this summer for its licensed technicians and apprentices to work on customer aircraft for routine maintenance, inspections and other repair needs. This is another way for LIFT apprentices to gain valuable experience by working on a variety of aircraft under the supervision of licensed technicians.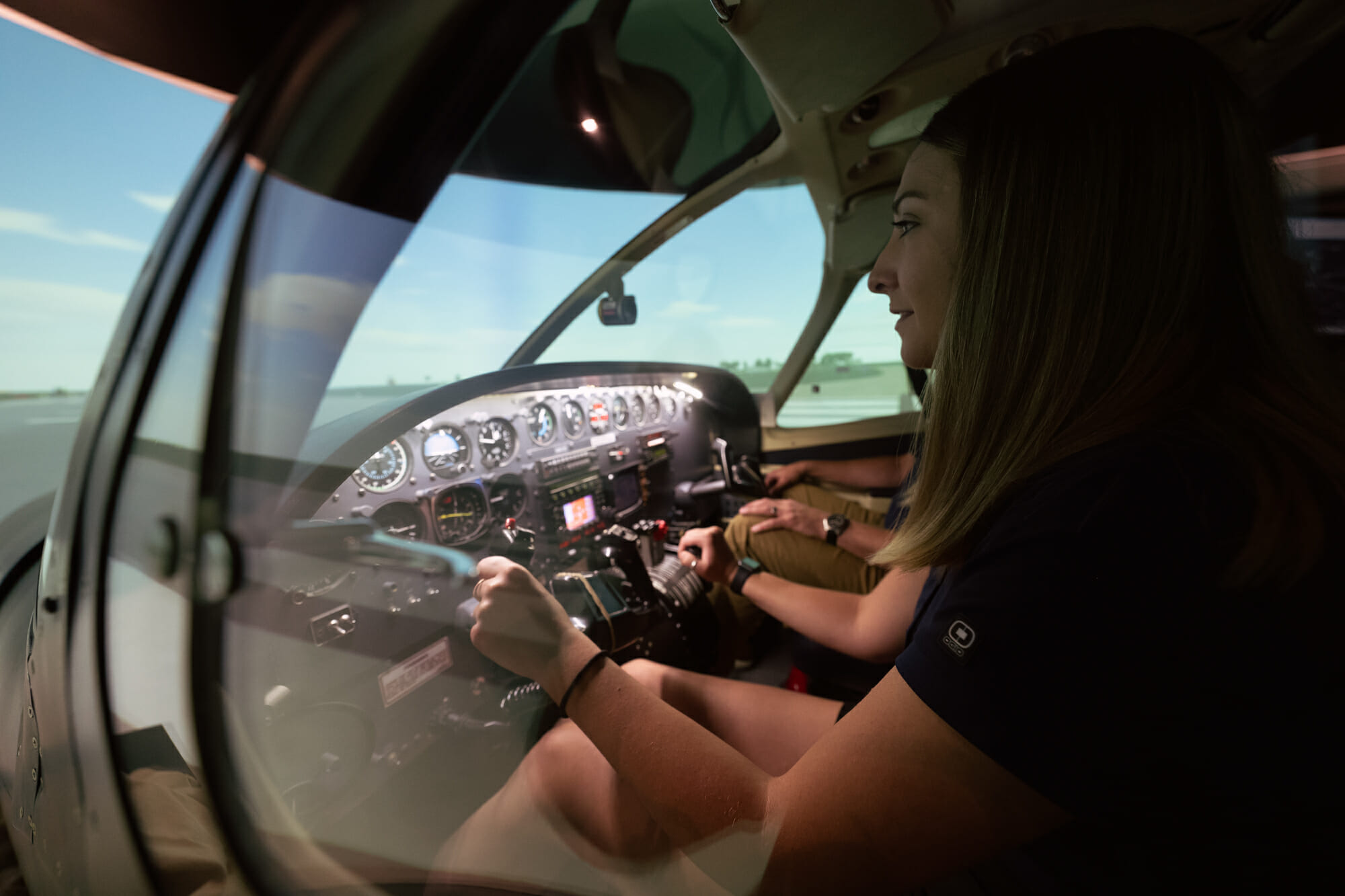 Taking off with Cape Air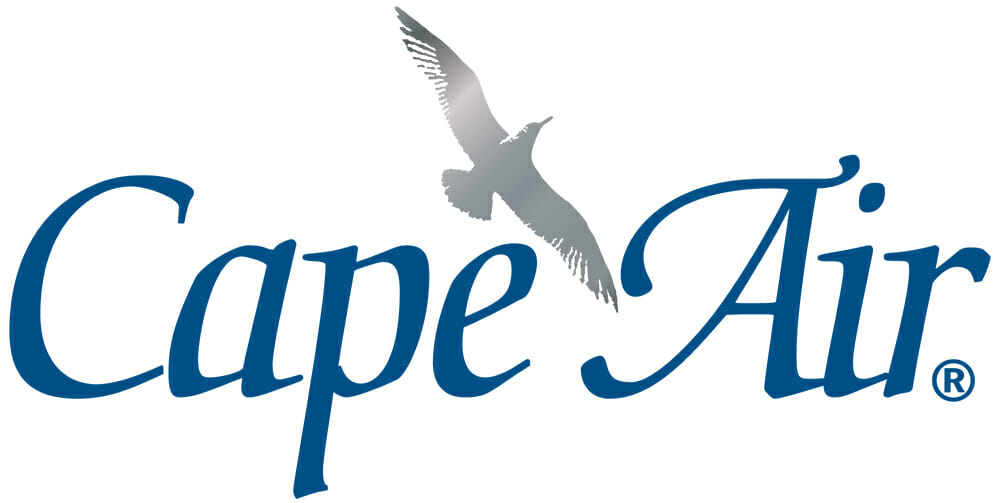 "I have been dreaming of the day I would step into a plane as an airline pilot, and now because of LIFT and Cape Air, I will be doing that much sooner than I ever expected," said Abi Anderson, current LIFT CFI.
Earlier this summer, LIFT and Cape Air announced a strategic workforce development relationship, a flow program for LIFT graduates to fly as a Cape Air First Officer as they build their ATP-required flight hours, before moving to the left seat at Cape Air and then transitioning to a Republic pilot.
This relationship enables LIFT Academy and Cape Air to promote workforce development in aviation and provide greater opportunity for pathways to commercial airline careers. Traditional barriers to flight training and airline careers include cost and accessibility, and this workforce development relationship aims to remove those barriers for its participants. This strategic relationship creates a sustainable, defined pathway for career progression, making aviation an attractive opportunity for those who may not have believed it to be possible before.
"This relationship will enhance our pilot sourcing initiative, an initiative that has been a significant focus for our company over the past 12 years," said Cape Air President Linda Markham. "LIFT Academy's graduates will have an opportunity to benefit from Cape Air's rigorous training program while working toward ATP flight hour requirements. Additionally, Cape Air will have the opportunity to hire skilled pilots from LIFT, where they are trained with airline readiness through every flight hour leading to their transition to Cape Air."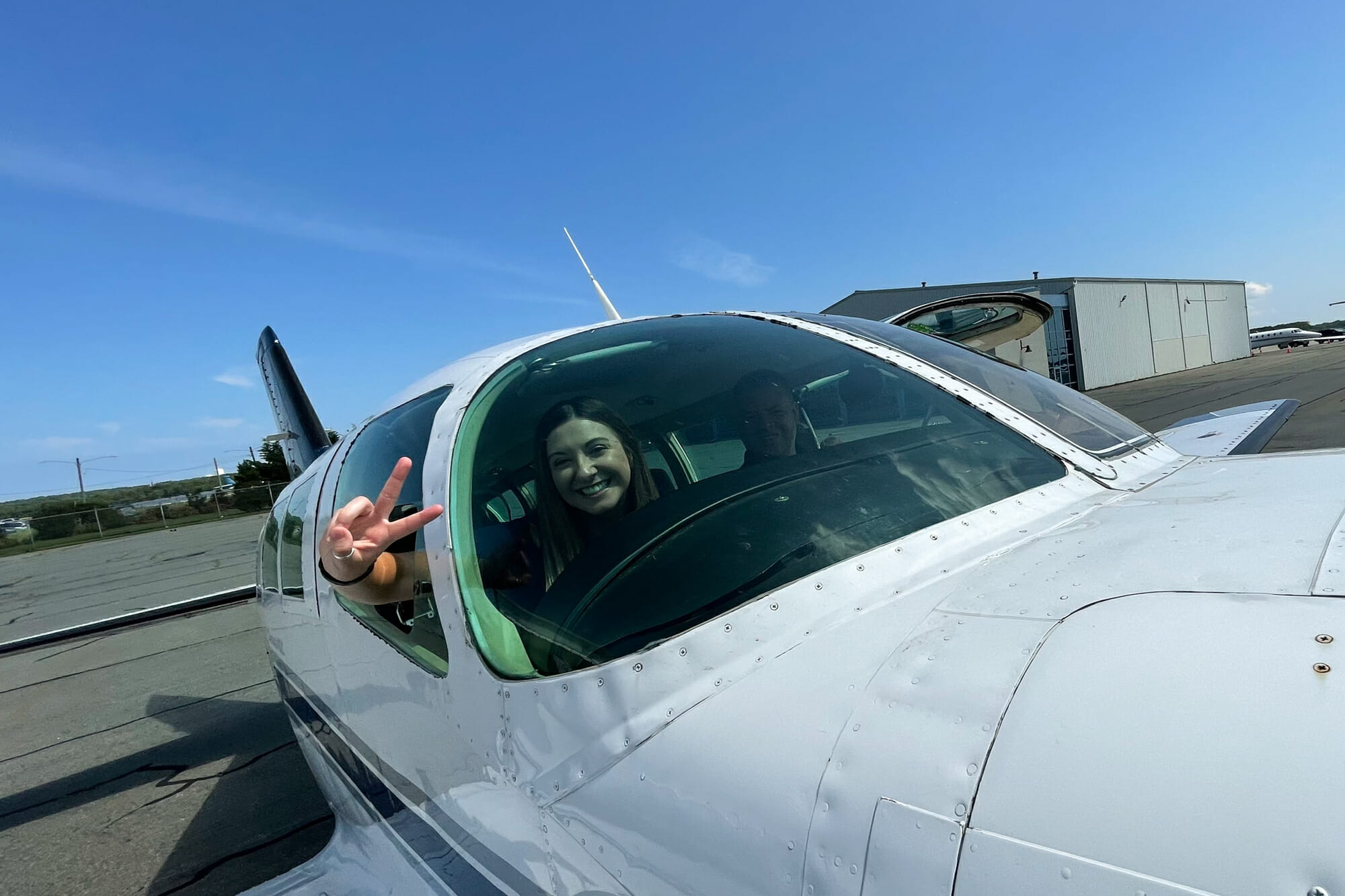 Abi, who is a former American Airlines flight attendant, is among the first LIFT students to receive a job offer from Cape Air to participate in the program once she reaches around 500 flight hours, which could be as soon as this fall.
"I was lucky to visit Cape Air to see their operations, meet some of their training staff and leadership and be immersed into their incredible culture," she shared. "I know LIFT's airline-focused training and G1000 technology within our training aircraft is preparing me in the best way possible to fly with Cape Air, and I couldn't be more excited for the opportunity."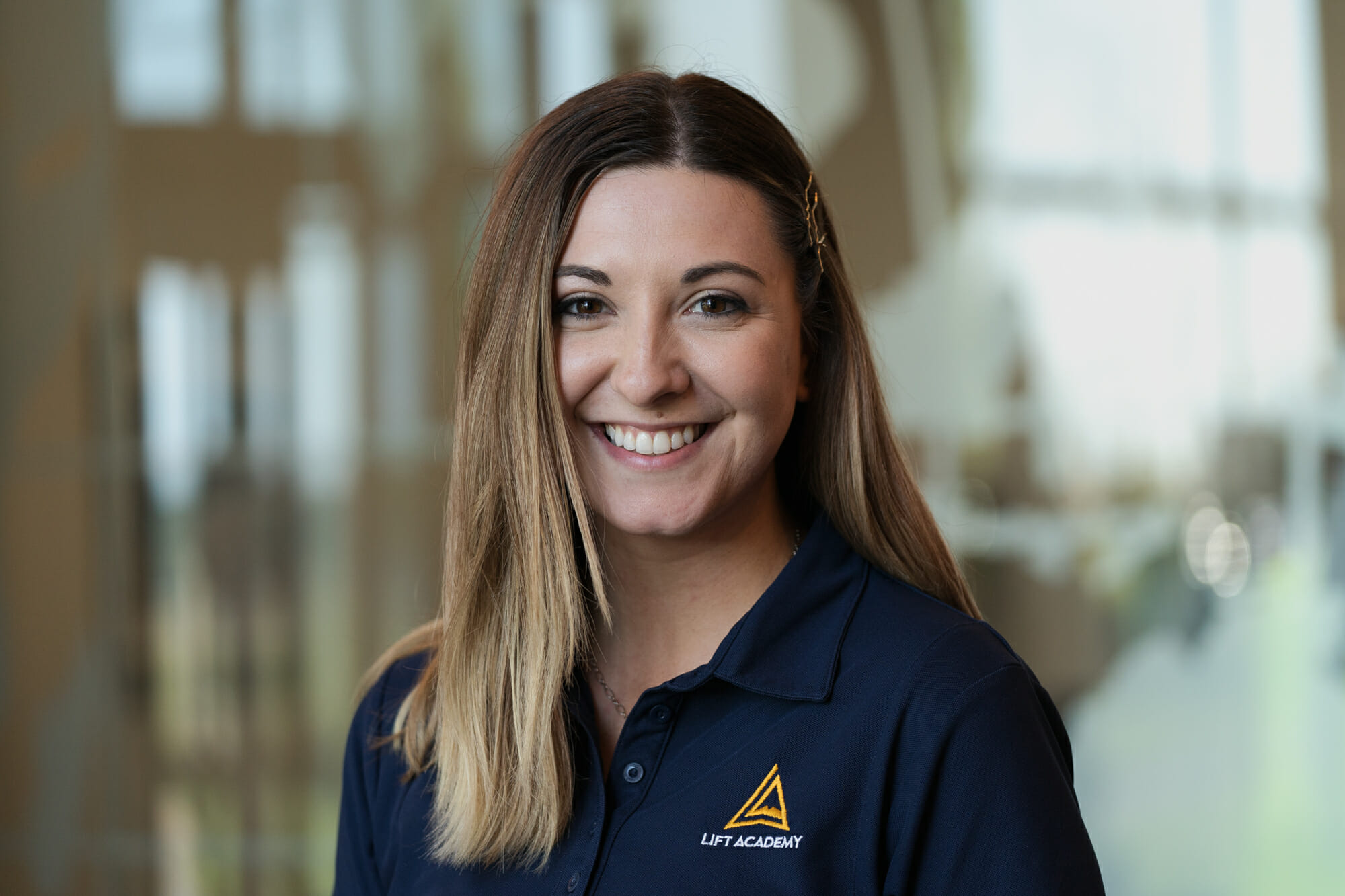 Bringing aviation to the masses
A significant part of LIFT's mission in making aviation attainable and accessible to a more diverse population was to literally bring the magic of flying to people who wouldn't have had the opportunity to experience it otherwise. Knowing not everyone can afford a discovery flight or have the means to get to an airport for the experience, LIFT built the LIFT Lab—a box truck with four virtual reality (VR) computer stations, powered by Dell Technologies and Thrustmaster simulator hardware—to offer a VR discovery flight, customized with guidance from a LIFT flight instructor.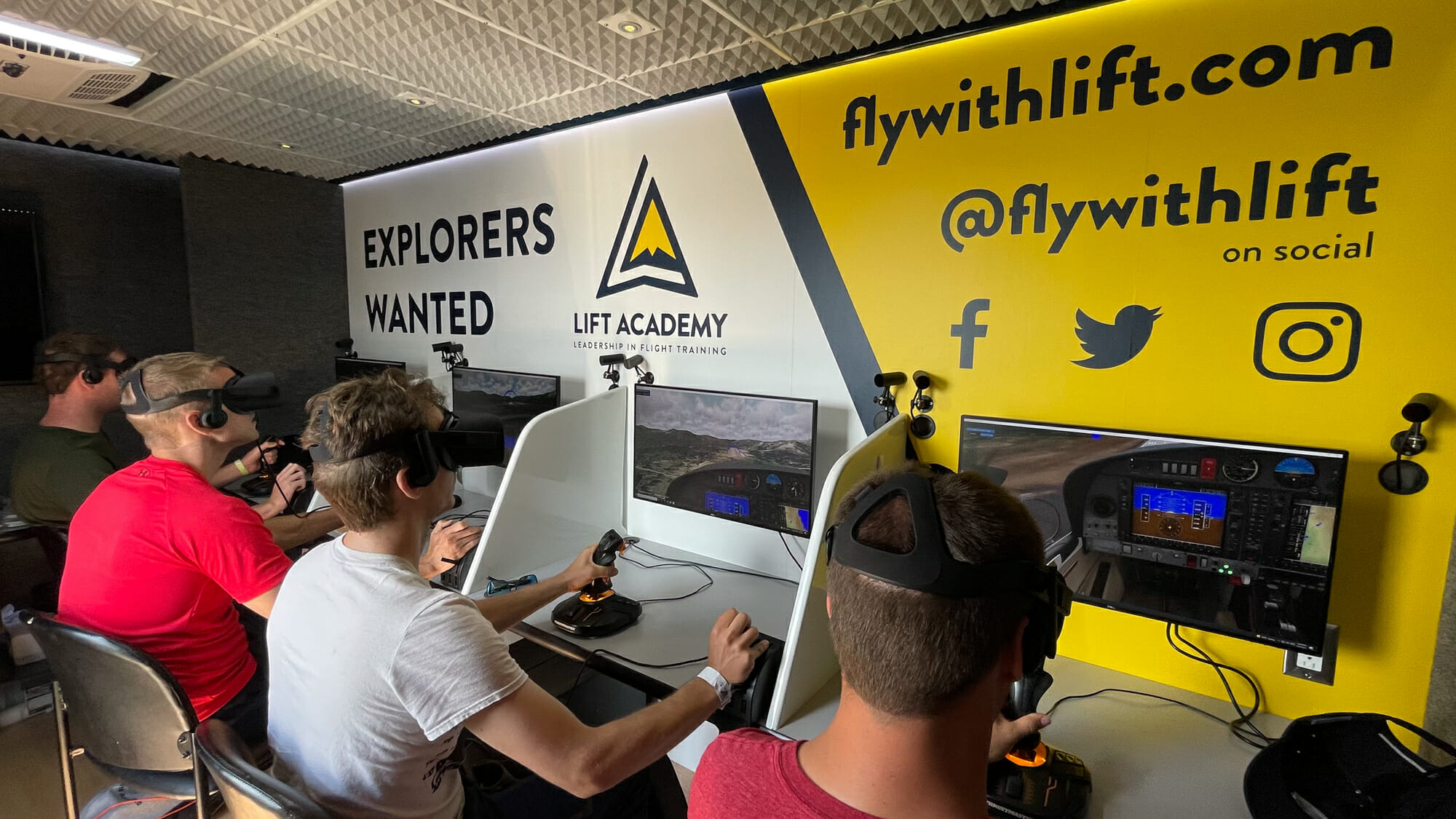 The LIFT Lab can travel anywhere – and it has! From EAA Airventure in Wisconsin, to Sun 'n' Fun in Florida, to Dell Technologies' global conferences in Las Vegas, Rio De Janeiro, Barcelona and beyond—the LIFT Lab has been a spectacle at events ranging from air shows to tech conferences to high school STEM events to Girl Scouts activities.
The LIFT Lab has attracted many students to fly with LIFT, and even more importantly, it has inspired hundreds of children, teenagers and even adults to consider a career in aviation despite them never before thinking it possible. But just like Sarah Hayward, once they "flew" that first discovery flight, they couldn't help but catch the aviation bug.
The LIFT Lab and LIFT's general focus on bringing aviation to the masses has sparked many unique relationships and partnerships with youth and STEM organizations locally in Indiana and nationally.
LIFT has partnered with Project Lead the Way to assist in aviation curriculum building; it has created aviation experiences within Junior Achievement. LIFT has also helped many schools begin their own aviation courses with the help of AOPA's Learn to Fly curriculum and additional resources.
Most recently, LIFT began sponsoring Indianapolis Traders Point Christian School's aviation program – a junior high and high school course elective in which students complete private ground school for school credit and fly 10 hours with LIFT instructors in the DA40NG each year they're enrolled in the program. Students can earn up to 40 hours of flight time at no extra cost above their standard school tuition prior to their high school graduation. This program was built to be scalable for additional schools with focus on schools that serve underrepresented and underserved populations.
Why LIFT?
"When I happened upon LIFT on Google in my search for flight schools, I knew I'd become an airline pilot someday. What I didn't realize was how much I'd enjoy the journey getting there," Sarah said. "LIFT has been the perfect fit for me because of all the things I knew I wanted in a flight school but also for reasons I didn't anticipate."

Sarah continues to say she didn't expect to make such close friends through her flight training but has built relationships that will last a lifetime because of the people training and working at LIFT. She shared that one thing she loves the most is the environment in the hangar and the camaraderie among the students.
"Everyone here is incredibly driven, motivated in their training, but LIFT has a culture where it's fun to learn and fly. The students are so diverse; we all come from different backgrounds, so we learn from each other as well as from our curriculum," she added. "I don't know if you can find this training environment everywhere, but it's what you'll find at LIFT."
Visit www.flywithlift.com to explore more on what LIFT Academy offers and why it's quickly become one of the largest flight training programs in the U.S. You can also reach out to explore@flywithlift.com with questions.
Interested in LIFT Maintenance for general aircraft maintenance servicing? More information is available at www.liftmtx.com.
Be sure to follow LIFT Academy on Facebook, Instagram, Linked In, Twitter, TikTok and YouTube at @flywithlift!