Since the year 2000, AeroGuard Flight Training Center has graduated over 7,000 professional pilots from both the U.S. and internationally, with partnerships with several leading airlines. Through their career-focused, accelerated flight training programs, AeroGuard has become a leader in the industry creating some of the best pilots and setting a higher standard for flight training.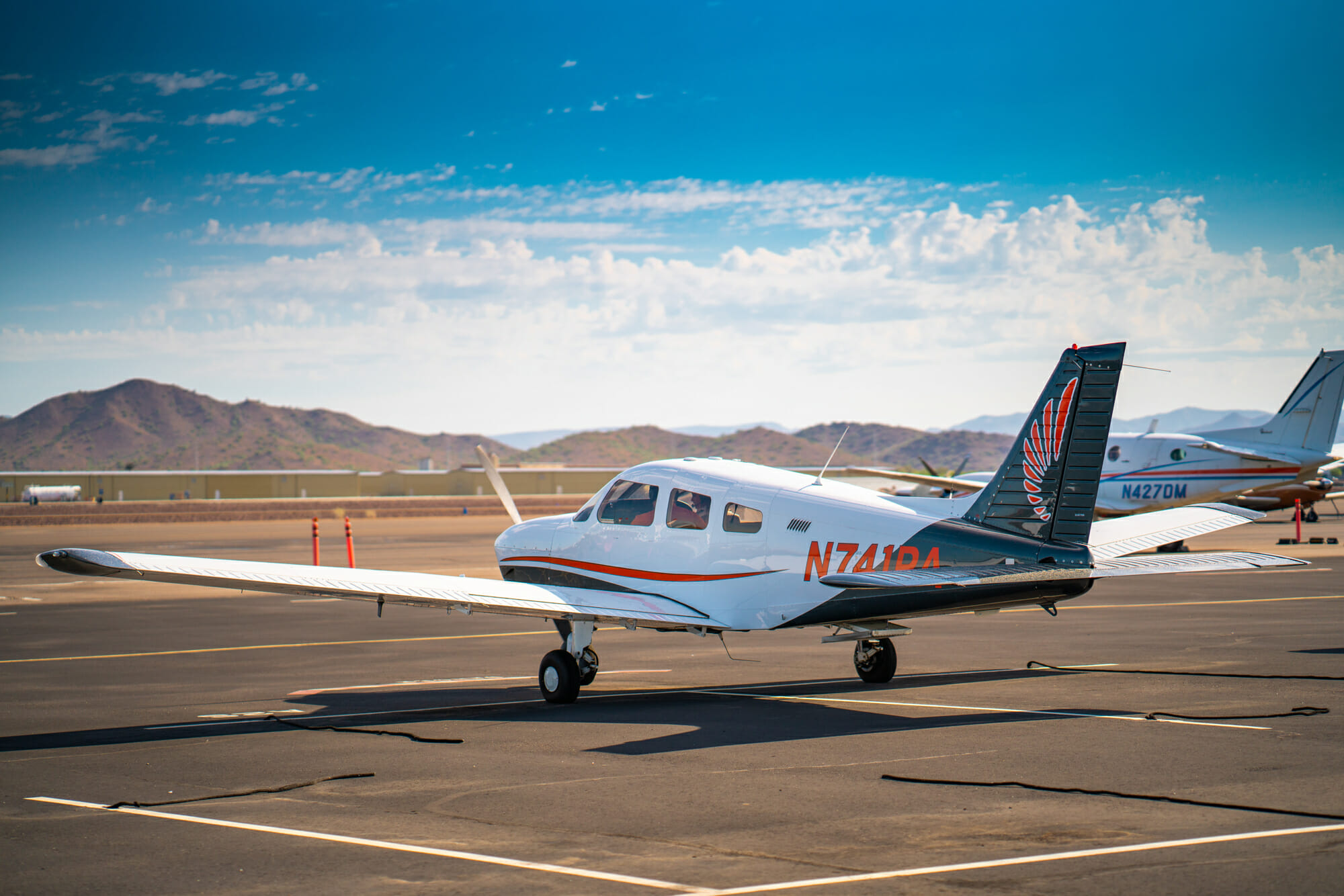 From its first operations training exclusively for a single international airline partner out of its Phoenix, Ariz. location, AeroGuard has grown significantly over the past 20 years, expanding to four additional campuses coast-to-coast in California, Arizona, Texas and Florida, with more than 70 planes today, as well as employing over 250 staff members, serving eight airline partners internationally, plus a strategic partnership with SkyWest Airlines within the U.S. Despite these changes, its mission has stayed the same – to provide the best, career-orientated, training for future professional pilots possible.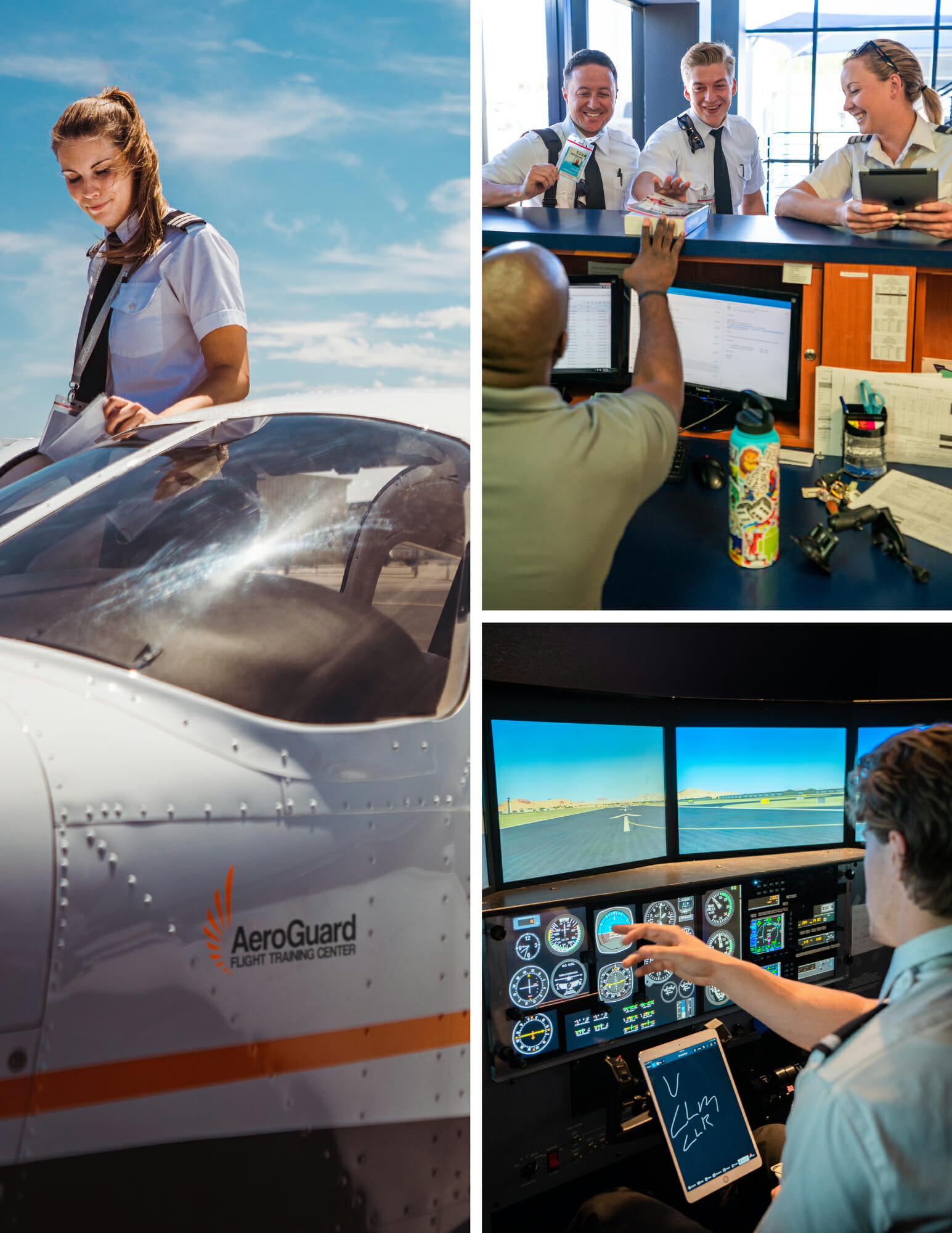 AeroGuard's Flight Training
AeroGuard's mission is to 'Set A Higher Standard' for flight training, with its goal to form the foundation of a long and successful career for its student pilots. This goal means setting a higher standard in everything they do, from safety to high-quality training, to support and mentorship opportunities that go beyond mere technical skill. At AeroGuard, pilots not only learn how to fly and pass FAA checkrides, but how to become professional pilots demonstrating leadership and expertise that make them stand out in the competitive pilot-hiring marketplace. As a result, it's no wonder why so many AeroGuard graduates have moved into successful piloting careers with airlines all over the world.
These facets of an AeroGuard education are experienced by all students, regardless of their program of study, of which AeroGuard has several to suit the various needs of its pilots. These flight training programs include:
Pilot Pathway Program with SkyWest Airlines – The most popular training choice for students is the accelerated flight training program that has been created in partnership with SkyWest Airlines. This program allows students to go from no prior experience to professional airline pilot in as little as two years, with a clear career track from student to instructor to SkyWest First Officer.
With an all-inclusive pricing structure that guarantees the quality of the instruction and education, plus unlimited student support, 24/7 access to flight simulators, ability to audit flights, briefs and ground school, AeroGuard aims to provide students with every resource to train and advance as quickly as possible. Within the first 10-12 months of the program, pilot pathway students earn the 7 FAA certifications and ratings of Private Pilot (PPL), Instrument Rating (IR), Commercial Single and Multi (CPLSE and CPLME), Certified Flight Instructor (CFI), Instructor Instrument (CFII) and Multi Engine Instructor (MEI).
After receiving all CFI ratings, graduates of the program receive a guaranteed interview with AeroGuard to become one of their own certified flight instructors training the next generation of student pilot. This CFI position provides students with a clear path to build the hours needed to receive their ATP certificate, providing an end-to-end solution to become a professional commercial airline pilot, not leaving them to work it out for themselves. Once graduates receive their required number of flight hours, they have a guaranteed interview with SkyWest Airlines for a first officer position during hiring periods, where the pilot will earn their ATP through SkyWest's initial training period
Liberty University Affiliate – AeroGuard's partnership with Liberty University allows students to take advantage of AeroGuard's same high-quality, accelerated training while also earning their bachelor's degree online and obtaining their Restricted ATP. By combining AeroGuard's high quality training and curriculum, with a Bachelor of Science in Aviation from the School of Aeronautics, students will receive a well-rounded education with a university degree that will benefit them through their career, while reducing their required flight hours for R-ATP airline hiring, plus gain access to often critical FAFSA student funding and VA support.
Rotor Transition Program – AeroGuard offers a Rotor Transition Program, also in partnership with SkyWest Airlines, which allows established helicopter pilots to transition to a fixed-wing career. Students in this program experience AeroGuard's focus on quality instruction and education, while transferring their licenses across categories in as little as three months, starting with PPL, then IR and CPLME. AeroGuard also offers a pathway for these students to also build their hours to their required ATP minimums, ensuring they too have long pilot careers ahead of them.
Pay-as-you-go and Accelerated 1-Week Add-Ons – While the focused Pathway Programs offer the most direct path, AeroGuard understands that every student's journey to their career as a professional aviator is different, and joining an accelerated full-time program isn't always possible. For these students, AeroGuard provides its same quality focus and curriculum for students who are juggling other responsibilities. Through its Pay-as-you-go program, or 1-week Add-Ons (available for CPLME, CFII and MEI) students can continue to advance their training while working to finance their training.
International Programs – AeroGuard also offers international students the ability to train thanks to its SEVIS Approval and M-1 Visa authorization. With programs established for students from a range of countries including China, Korea, India, Cambodia, Thailand, and Vietnam, plus partnerships with international airlines, there is a thriving international community at AeroGuard. These student pilots also offer domestic program graduates with a steady stream of students to train, providing CFI jobs and a clear pathway to ATP minimum flight hours.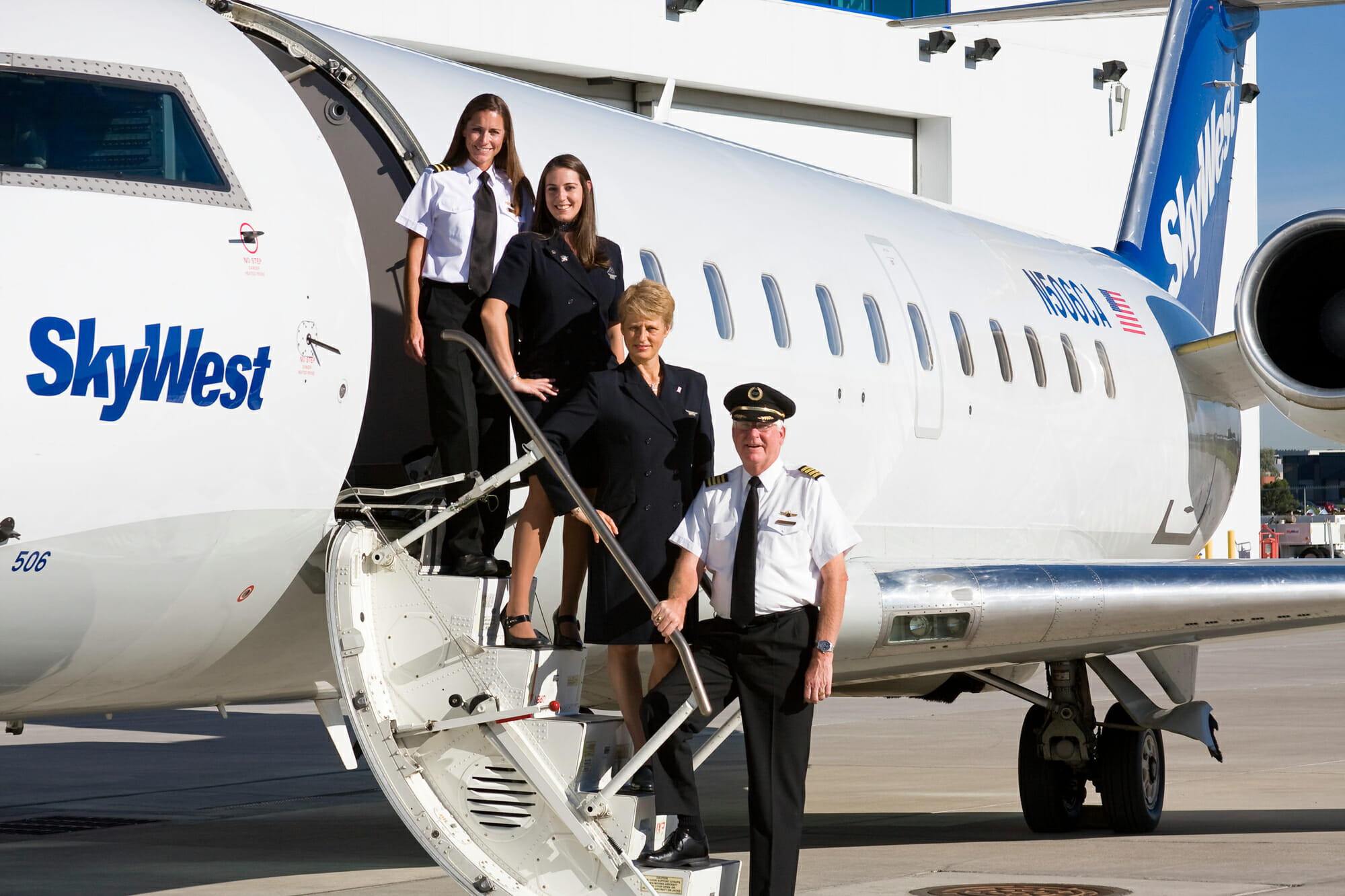 AeroGuard's Airline Partnerships
Given AeroGuard's focus on career-orientated, professional pilot training, their partnerships have grown over the years to now serve eight airline partners both domestically and internationally including a strategic partnership with U.S. based regional airline, SkyWest Airlines. SkyWest Airlines is not only the largest regional airline in the world but was also named to Forbes' list of America's Best Employers in 2021, and this relationship fills a mutual need for AeroGuard graduates to move on to positions with the leading airlines in the U.S., and for SkyWest to continue to hire the best pilots available.
Through this strategic partnership, which started in 2016, AeroGuard graduates receive not only a guaranteed interview for a first officer position during hiring periods, but also mentorship from SkyWest Pilot Mentors during the program, and even seniority with SkyWest starting from the day they start training with AeroGuard.
SkyWest Airlines have also provided AeroGuard with ongoing guidance on the curriculum and training, which AeroGuard uses to ensure their pilots become highly skilled and suitably prepared for the commercial airlines, with long, successful careers ahead of them. With the resulting commercial standards, check airmen program, and SkyWest trained flight instruction management teams, international airline quality is built directly into AeroGuard training.
Through this partnership, AeroGuard also trains a significant number of flight attendants, ramp agents and others from within the aviation industry, who understand how it works and see the daily life of pilots, wanting to enter training to get the career for themselves. For SkyWest employees in this position, they can obtain a leave of absence for this training purpose without losing their seniority.
AeroGuard's Fleet and Expert Maintenance
AeroGuard continues to expand its fleet and resources to support their growing student and campus base. Currently, AeroGuard has over 70 planes in its fleet including 55 Piper Archers and 17 Piper Seminoles, as well as Cessnas used for spin training, and high-performance aircraft used for international training. These planes represent a standardized aircraft fleet so that students are not having to learn multiple types of aircraft at once, while also trying to learn the fundamentals of flight, or having to find switches and controls in different locations. The fleet also represents progressive training with a mix of standard round gauge cockpits and G1000 cockpits for students to learn the fundamentals before moving on to the more complex aircraft. This gives them a strong foundation and well-rounded education understanding a broad range of aircraft once mastered.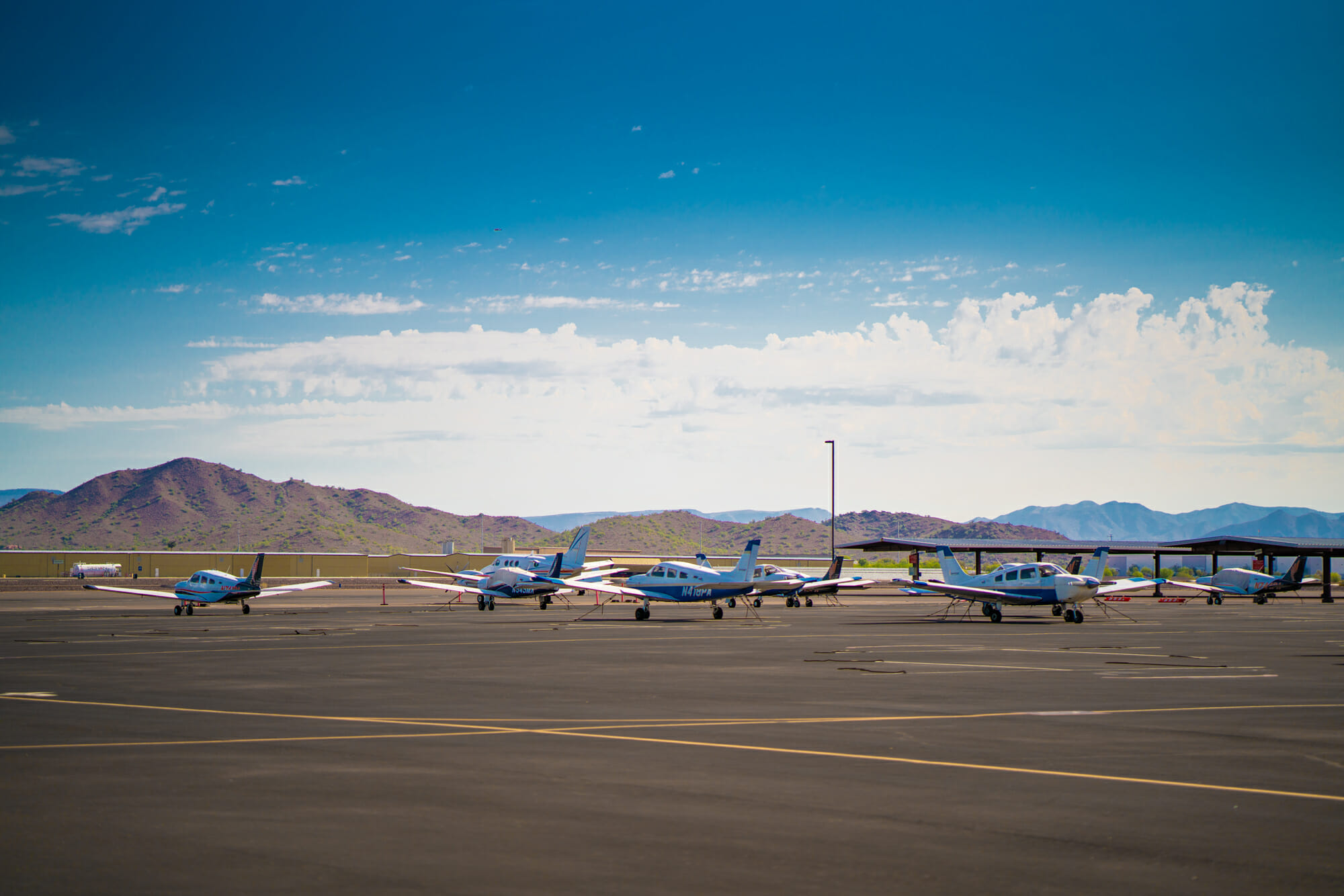 Not only does AeroGuard have a large fleet, but they also maintain them to the highest standards with on-site teams dedicated to keeping their aircraft safe and flying which minimizes cancelled missions and maximizes aircraft availability. This expert, on-site, 24-hour maintenance team does progressive aircraft inspections to examine the aircraft regularly and ensure they are in top condition given the high amount of flight time. The AeroGuard maintenance staff has also earned the FAA Diamond Award of Excellence for the last three consecutive years.
Beyond just maintenance, AeroGuard also ensures a truly safety-first environment and culture. With a Safety Management System (SMS) based on continuous improvement and statistical modelling, Safety Stop Program, as well as stringent requirements for solo flights and an on-ground-duty CFI providing additional eyes and ears for students.
AeroGuard Employees
AeroGuard employs approximately 150 flight instructors, including many graduates of its own Pilot Pathway Program who are working towards their own goals of becoming commercial airline pilots. Due to the symbiotic sides of the AeroGuard business – International and Domestic – there are sufficient instructor roles for domestic program graduates, training international students who return to their home country after they obtain their commercial licenses.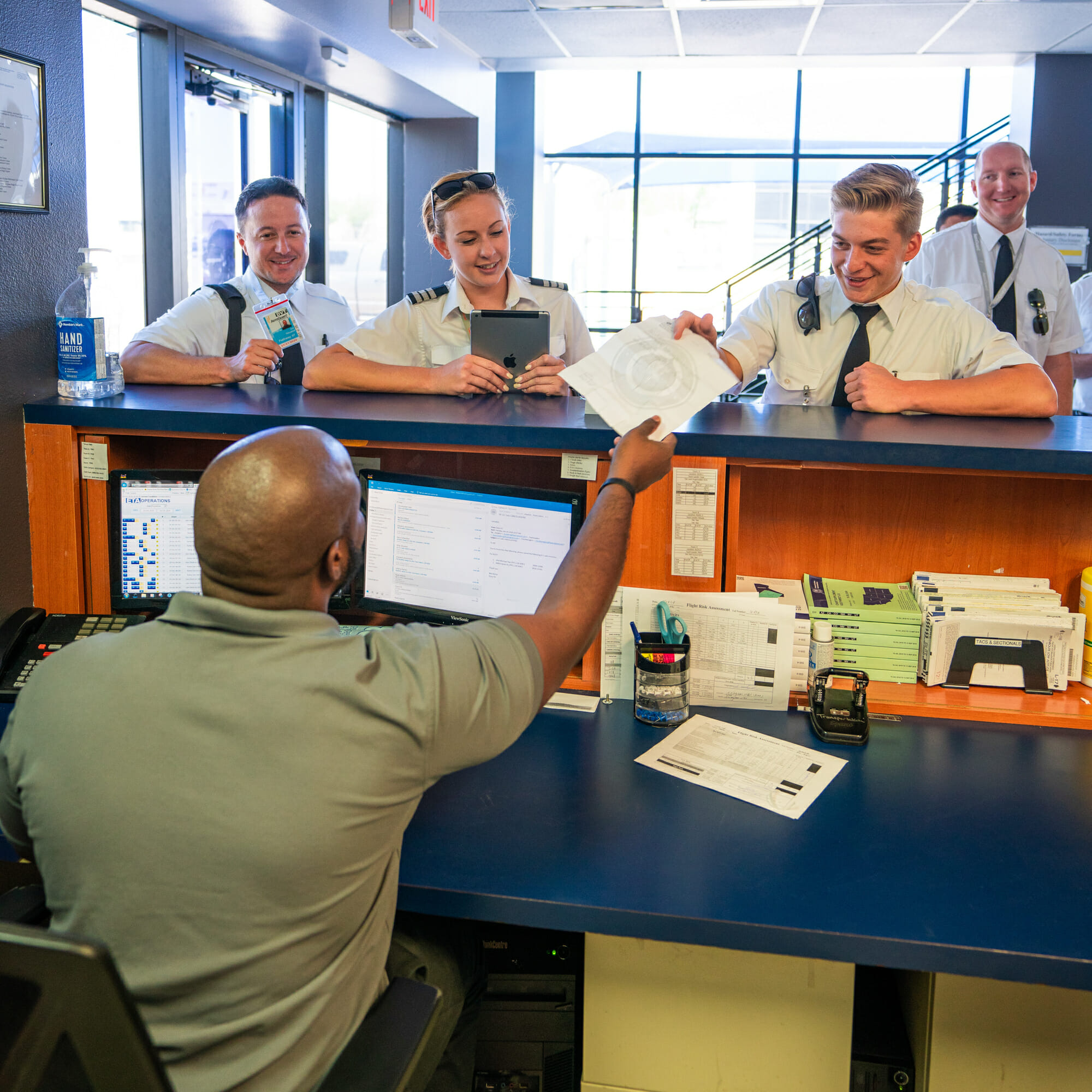 Having instructors who have been trained within AeroGuard's own programs ensures that they have been trained to the high AeroGuard standard and know the curriculum inside and out, having studied it themselves firsthand. In addition, all instructors, both those trained internally and hired externally, go through a stringent standardization process to ensure that all instructors meet the required level. The team of instructors is also backed by a strong, experienced management team made up of training managers and campus directors who provide guidance and support to instructors and students alike, giving them guidance and support. A Check Airmen program also runs continuously to ensure that all instructors remain meeting the high requirements set within the standardization process, and further ensure that all AeroGuard students receive the same first-class instruction.
Other employees across the organization also work tirelessly to keep students training and progressing, with missions going out every day. Over 85,000 flight hours and 130,000 landings in 2020 don't just happen by themselves! In addition to the instructors and maintenance staff there is also the hard-working administrative staff including scheduling and dispatch, who ensure that students remain on-track in their program with the resources they require.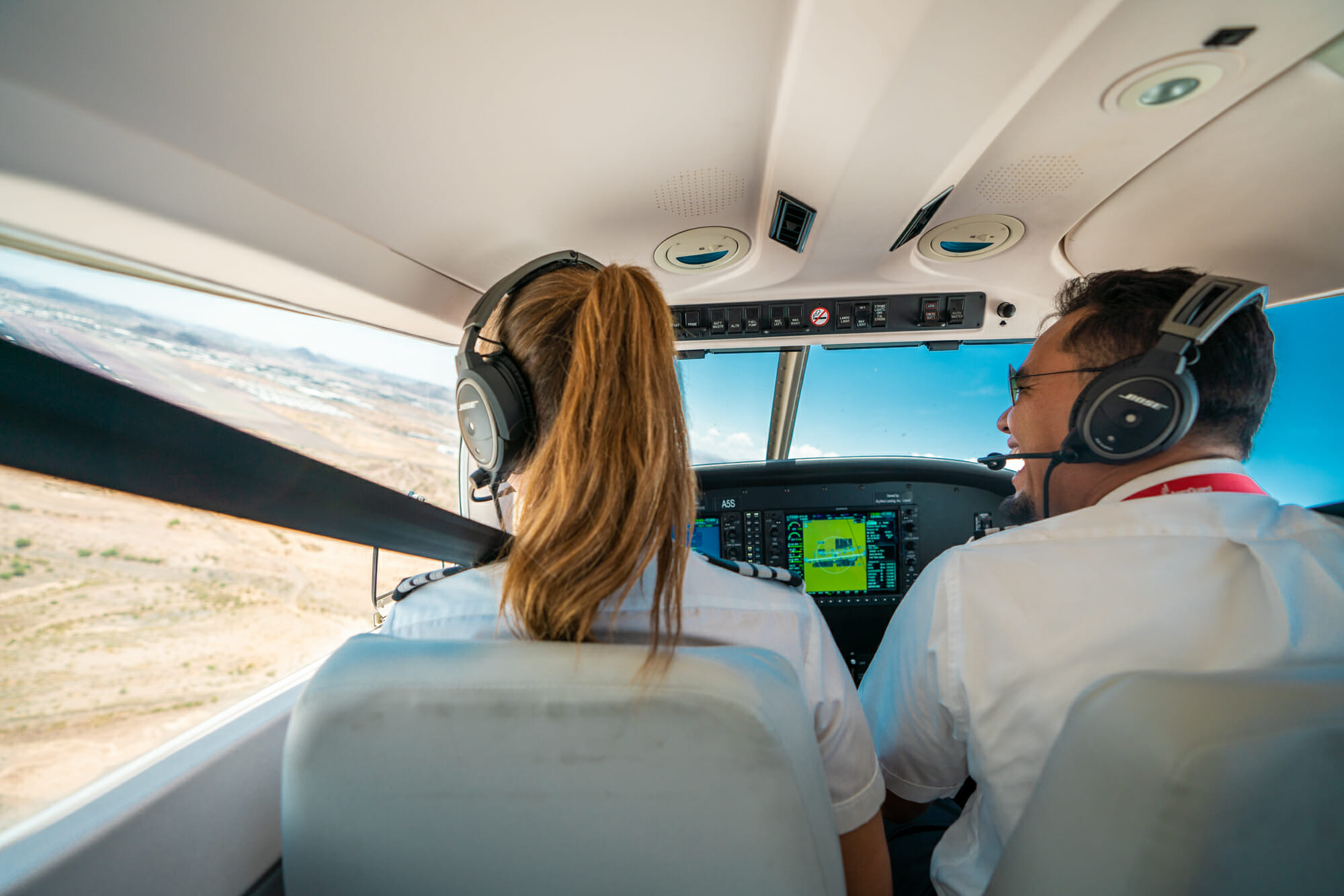 AeroGuard Campus Locations and Student Culture
AeroGuard first started operations out of Phoenix, Arizona at the Deer Valley Airport (DVT) which has grown to be the largest General Aviation airport in the country. Following the student enrollment growth it saw at this location, and the operational restraints, a second location was opened on the south side of Phoenix at the Chandler Municipal Airport (CHD). Both locations offer ideal flight training conditions with 350 days of training per year thanks to the Arizona weather and year-round sunshine. (This is also the reason why the AeroGuard fleet of aircraft offer air conditioning uncommon in other GA aircraft!)
For many students, both international and domestic, moving to Arizona to train in these conditions and progress through their training at a rapid pace is ideal to keep them moving towards their long-term career goals. However in recent years, AeroGuard has expanded their campus locations to reach students in other states who might not be able to relocate to Arizona. By adding locations in Southern California (F70 Airport near Riverside, CA), Texas (GTU Airport near Austin, TX) and Florida (PGD Airport near Fort Myers, FL), AeroGuard has aimed to provide locations coast-to-coast that offer the same high quality training programs, while still balancing ideal weather to facilitate accelerated training timelines, within a mix of diverse airspace.
Additionally, because AeroGuard knows students like to come to their campuses from all over the country, and even all over the world, campuses were also established in selected areas that provide great destinations that offer a wide range of extra-curricular activities. From the desert of Arizona to the vibrant city life of Austin, Texas, from the gulf coast of Florida to sunny Southern California – no matter which campus a student trains, they're sure to find many things to do, including such as professional sports arenas, amusement parks, outdoor activities, museums, music venues – with so much more that's never too far away.
While the conditions at each location do differ, they each offer a range of local airspace from Class B-G for students to experience growing complexity as they continue in their training. Plus, with many other airports nearby, including towered and non-towered, plus controlled and uncontrolled airspace, they also offer a range of approaches to practice and master, as well as designated practice areas for maneuvers.
The five AeroGuard campuses also help students maintain a great sense of community within the larger flight training center. Something that's been heard from students over and over again through the years is that when you become a part of AeroGuard, you become a part of a large family. So many students and instructors have made lifelong friendships by attending AeroGuard and they constantly mention that their favorite part of AeroGuard is the culture and how truly genuine everyone is about helping the students and instructors succeed not only in training, in instructing, and in their career, but in life as well. Here's what some students and instructors had to say about the school:
"I love how AeroGuard is there to help all of their students succeed. The atmosphere of the staff and students here is uplifting, positive and very supportive. The program is also thoroughly planned out which makes it easier for students to study prior to each lesson. I decided to come to AeroGuard because of the school's lesson layouts, classrooms and all of the support provided." – Kathrine Wondra, AeroGuard Student
"I love getting to fly with new people all the time and seeing the amazing growth of the students. I like working at AeroGuard because everyone is always so friendly and willing to help with anything they can." – Shiloh Percy, AeroGuard Graduate and Certified Flight Instructor.
"I like the one-on-one attention given by all of our instructors (at AeroGuard). They all work really hard to help reach every student pilot's goals." – Jake Babcock, AeroGuard Student
"We have a really good community here at AG. I'm always helped when needed and never struggle to find people who can answer whatever random questions I might have." – Lisa Brandt, AeroGuard Certified Flight Instructor
"AeroGuard was the perfect fit for what I was looking for. They hold their students to a higher standard of excellence which in turn produces very skilled and knowledgeable pilots!" – William Farlow, AeroGuard Student
"My favorite thing about AeroGuard is how helpful and supportive everyone is of each other no matter where they are in training! I chose AeroGuard because of how the Pathway Program is set up. I can see the light at the end of the tunnel with reaching my goal of working for the airlines." – Michaela Shackleford, AeroGuard Student
AeroGuard truly is a great family and community; you can see that by looking at their Facebook and Instagram social pages. It is completely filled with them celebrating and supporting the many successes of their students as they cheer each other on!
AeroGuard Supports All Aspiring Pilots
To further support the mission of setting a higher standard in flight training, and furthering the careers of aspiring professional pilots, AeroGuard's online presence also works to inform and educate its audience in all manner of flight training. In addition to celebrating student successes, its online channels share tutorials of common issues student pilots may struggle with or questions that they have, as well as pop quizzes, interesting facts and historical events in aviation. There are also periodic webinars with industry experts covering topics from résumé writing, to hiring outlooks and soft skill competency.
By sharing this knowledge with all, AeroGuard furthers the education of all student pilots and continues to advance the profession of aviators everywhere.
YouTube – https://www.youtube.com/channel/UC-jkHLbnBtBMnvCs87rMupg
Facebook – https://www.facebook.com/FlyAeroGuard/
Instagram – https://www.instagram.com/flyaeroguard/
Through all of these resources, and across its campuses, AeroGuard not only trains pilots to fly and pass checkrides, but to develop into professional pilots, within and beyond the cockpit, with long and successful careers ahead of them.