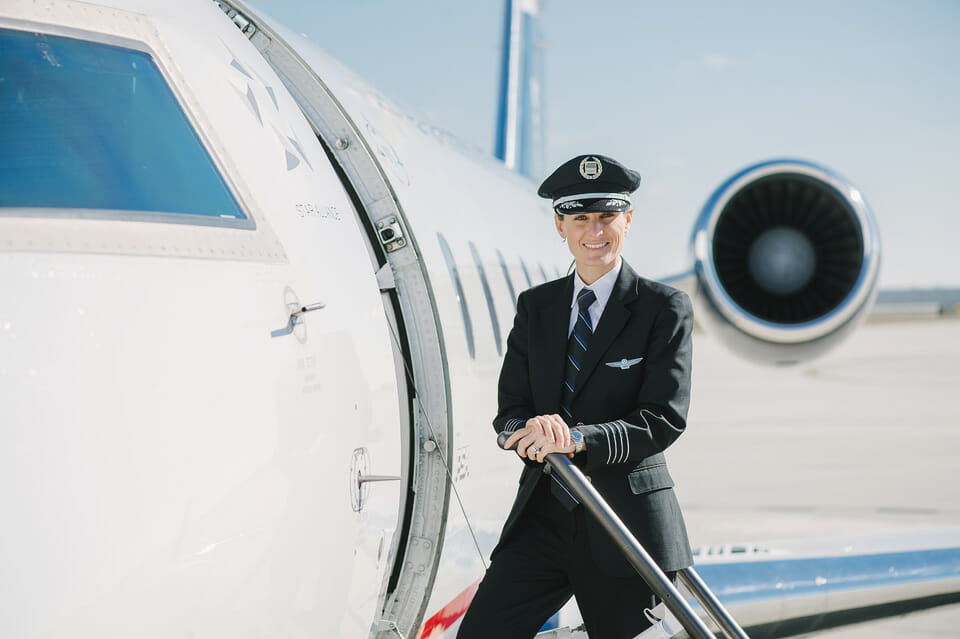 The PSA Story
PSA Airlines has a long history that includes more than a few name changes, but never a change in the commitment to our customers and employees.  The regional carrier went from a small commuter airline, Vee Neal Airlines operating in Latrobe, Pennsylvania, to a wholly owned subsidiary of US Airways Group in 1987 as Jet Stream International Airlines.
In order to preserve the trademark of an earlier acquired west coast carrier, US Airways changed the name of Jetstream International Airlines a final time to PSA Airlines in 1995.
After the acquisition by US Airways, PSA flew under the US Airways Express brand, and operated a fleet of 30 Dornier 328 turboprop aircraft.  In 2003, PSA began its current relationship with Bombardier by integrating the CRJ 200 and CRJ 700 regional jets.  Now PSA is the largest Bombardier carrier for American Airlines and operates nearly 400 daily flights to more than 80 destinations.
In 2013, US Airways and American Airlines' historic merger formed the American Airlines Group, Inc., which announced a large investment in their wholly owned regional carriers.  AAG announced a regional jet order that included firm orders for 30 Bombardier CRJ 900 NextGen aircraft to be operated by PSA Airlines. Additionally, this past February, American Airlines announced that it would continue to invest in PSA, exercising an additional 24 of its 40 CRJ900 NextGen options for PSA service along with transferring 47 CRJ 700 aircraft to PSA – bringing the total committed aircraft to 150 CRJs.
The firm fleet plan put in place by American Airlines makes PSA the fastest growing regional airline in the industry.  To date, the airline includes more than 2,200 employees and will add more than 1,000 more professional men and women to the team.
What does it mean to be the fastest growing regional airline?
PSA's fleet growth has resulted in more than 600 newly hired pilots in the last year and a multitude of career and advancement opportunities for every work group.  In addition to adding 101 aircraft to the fleet, PSA built a new Operations Control Center in the airline's headquarters of Vandalia, OH and opened a new pilot base in Cincinnati, OH along with 2 new maintenance bases in Nashville, TN and Cincinnati, OH.  In 2014, PSA hired 50-60 pilots each month, delivered up to three brand new aircraft each month and continued that growth through 2015.
2016 will bring more aircraft, more growth and more opportunities for the employees at PSA.  In September, PSA and the Airline Pilots Association reached a tentative agreement that if passed, will incrementally double the number of PSA pilots that will flow to American Airlines without an interview.
More Planes, More Options
PSA's current fleet consists of 35 CRJ-200 model aircraft with 50 economy seats, 22 CRJ-700 model aircraft with nine First Class and 54 economy seats and 30 CRJ-900 NextGen model aircraft with nine First Class and 67 economy seats. The CRJ-900 fleet will grow to 54 aircraft by August 2016, and 39 CRJ-700s will join the fleet during 2017. The committed PSA fleet of aircraft is setting a new standard for comfort and convenience in regional air travel.
With PSA's current growth, new pilot hires can expect:
• Reduced reserve time
• Domicile assignments awarded during training or shortly after (Dayton, Ohio; Cincinnati, OH; Charlotte, N.C.;or Knoxville, Tenn.)
• Historically low time to upgrade
• Well-defined career path to American Airlines
• Comprehensive medical, dental and 401(k) benefits
• Travel privileges on American
• Much more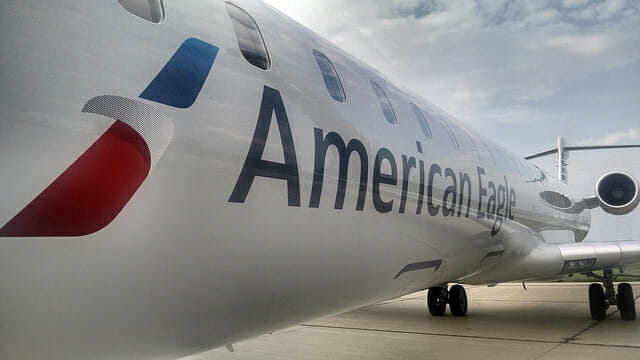 PSA is looking for the most talented, dedicated and enthusiastic aviation professionals to join their team.  In addition to hiring First Officers, PSA is also interviewing for Ground Instructors and Simulator Instructors.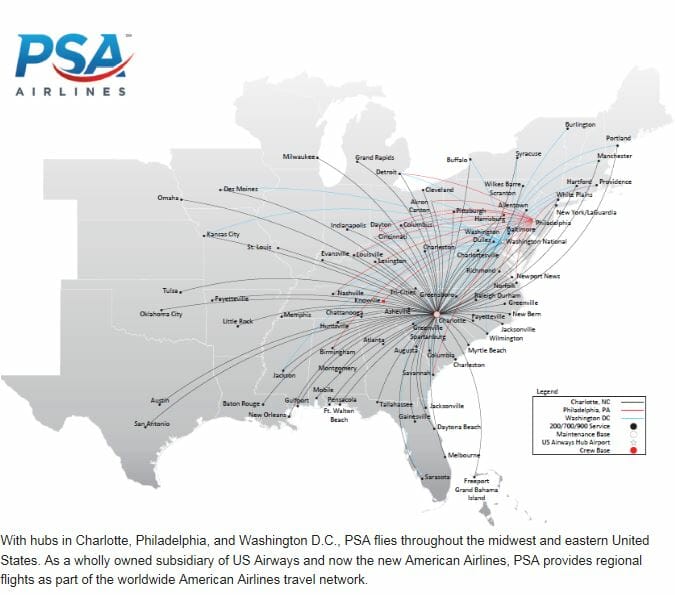 PSA now operates nearly 400 daily flights to more than 80 destinations.
---
Interview with Captain Valarie Zimmerman,
Lead Pilot Recruiter
---
Pre Interview:
Craig: What can an applicant do to increase their chances of being called for an interview?
Valarie: One of the biggest mistakes we see is an incomplete or partial application.   Many applicants omit previous employment information if it is not aviation related.  We may end up not selecting very qualified applicants based on incomplete applications.
C: What is the process once a new pilot candidate applies at PSA Airlines?
V: Once the pilot candidate completes the online application at www.psaairlines.com, the recruitment team is hard at work to review the application within 24 hours.  Once the pilot's qualifications have been reviewed, the recruiting team reaches out via email to coordinate space positive travel arrangements for an interview.  All of the pilot interviews are held in Charlotte, NC at the American Airlines Training Center.
Interview:
C: Can you walk me through a typical day of interviews?
V: The interview day begins with a greeting from the interview team.  We like to take time to introduce ourselves and discuss the growth and opportunities available at PSA.  After introductions and questions, we administer a 25 question written exam.  We then break to individual panel interviews.  The panel will spend some time discussing HR questions, weather, FARs, Jeppesen review and CRM.  There will also be a technical review that will cover instrument flight rules, chart knowledge, aerodynamics and other relevant topics.
Written test:
C: Is there a written or computer test?  
V: There is a 25 question written test.
C: What can you recommend applicants study for the written test?   When is the written test taken?
V: The questions are similar to those seen on the ATP written.  Candidates should also be familiar with instrument flight rules and instrument approach procedures.  The test is completed prior to the panel interviews.  The applicant must pass the test with an 80% or higher in order continue in the interview process.
Simulator Evaluation:
C: Do you have a simulator ride?  
V: No.  At this time, PSA is not administering a simulator evaluation for First Officer candidates.
Post Interview:
C: Do you tell applicants they are hired in person that day? 
V: No.
C: How long do applicants have to wait to know if they are hired?
V: We do our best to notify pilots as quickly as possible.  Once the decisions have been returned, an HR representative will notify the pilot if he or she will be moving forward in the hiring process as early as 24 hours but no longer than 1 week.
C: How soon can an applicant expect a class date after being hired?
V: PSA is starting a new pilot class every other week.  We attempt to offer every successful pilot a class as quickly as possible.  For some pilots this has been as quickly as 1 to 2 weeks but is averaging about 30 days.
General:
C: How many pilots does your airline expect to hire?
V: PSA is looking to hire 1000 pilots in the next 24 months.
C: Does PSA have any kind of pilot referral program?
V: Yes!  Current PSA pilots can earn up to $1000 for each successful pilot referral.
C: How long before a new pilot can expect to upgrade?
V: PSA is experiencing historically low upgrade time right now.  A new pilot can expect to be eligible for upgrade as soon as he or she meets the requirements of FAR 121.436.  For a new pilot without any prior 121 experience, this is averaging about 1.5 years.  Pilots who meet the requirements of FAR 121.436 can expect to upgrade after logging 300 hours with PSA or about 8 months.
C: Can you describe the career path agreement that PSA has with American Airlines?
V:  Yes!  PSA Airlines has a well-defined career path with American Airlines.  American Airlines will interview every PSA pilot in seniority order and hire 4 PSA pilots per month.  The PSA pilots that have interviewed with American Airlines have enjoyed great success under this program.  So far over 60 PSA pilots have moved on to American Airlines.  In September, PSA Airlines and the Airline Pilot's Association reached a tentative agreement that if ratified, will convert this special selection process to a pure flow and incrementally double the number of PSA pilots that will flow to American Airlines.