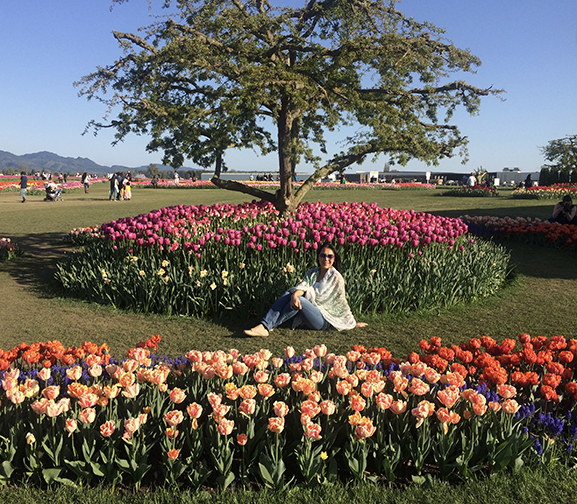 Can we move on to better weather, celebrate spring and talk about flowers?
Tulips are my second-favorite flower. These colorful bulb-shaped flowers are so gorgeous that I can't resist admiring them! So, if you haven't been to a Tulip Festival, put that on your bucket list now and start planning a trip. And, you don't have to go to The Netherlands!
To begin, here are some facts about tulips based on my research:
There are over 3,000 varieties of tulips.
Blooms last for three to seven days and they bloom from March through May.
Tulips are native to Central Asia and Turkey.
The tulip name originated from the Persian word "delban," which means "turban."
Tulips were introduced into Europe from Turkey.
During the 17th century, tulip prices became so inflated that the era came to be known as "Tulip Mania." Subsequently, prices plummeted in one of history's most remarkable market crashes.
The State of Washington is the largest producer of tulips in the U.S.
Tulips are a symbol of the Holland region of The Netherlands which is the world's largest commercial producer of tulips.
Tulips are also edible – used as food during World War II. In addition, tulips can be used as onions and made into wine.
Tulips are the world's third most popular flower. Roses are first with chrysanthemums coming in second.
Tulips come in almost every color, each with a different meaning. For example, red is for love, pink is for good wishes, orange is for happiness, yellow is for friendship, and white is for peace. Blue and black are rare finds.
With proper care, tulip blossoms can last for five to seven days. 
In 2019, I checked off this item on my bucket list – Visit a Tulip Festival. Because my oldest son, Jonathan, used to live in Washington State, I didn't want to miss the opportunity to see the Skagit Valley Tulip Festival in upstate Washington. Wow! I was overwhelmed by the beauty around me and couldn't get enough of it.
The Skagit Valley Tulip Festival features four farms:  RoozenGaarde, Tulip Town, Tulip Valley Farms, and Garden Rosalyn. We visited the RoozenGaarde farm. The festival runs the entire month of April. Admission tickets are $15 per person, and children aged two and under are free. 
Here are some tips to maximize your Tulip Festival experience: If you're coming for more than a day trip, make sure to book your hotel early as most of them are sell out early. Weekend traffic is bad, so consider going on a weekday if possible. Wear shoes that can get muddy and bring an umbrella should it drizzle. Not all food vendors take credit cards, so bring some cash. If you love biking, you can explore the fields on a bike tour. A helicopter ride is also available if you're so inclined and want to view the tulip fields from a higher perspective. Most importantly, you can buy a bouquet of tulips to take home, but picking tulips in the field is prohibited! You wouldn't want to get in trouble. 
Beyond the tulip fields, there is much more to experience in Skagit Valley, like the food trail, breweries, and boundless outdoor activities. The scenic drive alone is one thing you'll love. You may want to spend a few days to maximize your experience while you're there.
Here is a list of other popular tulip festivals around the U.S. that span the continent.
I don't have a favorite color for tulips because it's too hard to pick – I love all of them. Wherever you decide to go, your Tulip Festival experience will be amazing. Take lots of photos – I know you will. And don't forget your iconic Instagram-able shot. Your image in the middle of those stunning tulips with a backdrop of the mountains could go viral. Submerge yourself in the acres of tulips— it feels like paradise!
On the topic of flowers, I don't want to omit acknowledging my top favorite flower. Can you guess? I have a collection of sunflower-inspired items. If you're traveling with me, it's standard operating procedure that we must stop and take a photo of all things sunflower. And you, what's your favorite flower?
Let me end by saying that flowers are most romantic when you receive them from someone, but as botanist Luther Burbank once said, "Don't wait for someone to bring you flowers. Plant your own garden and decorate your own soul."
Happy Spring Travels!