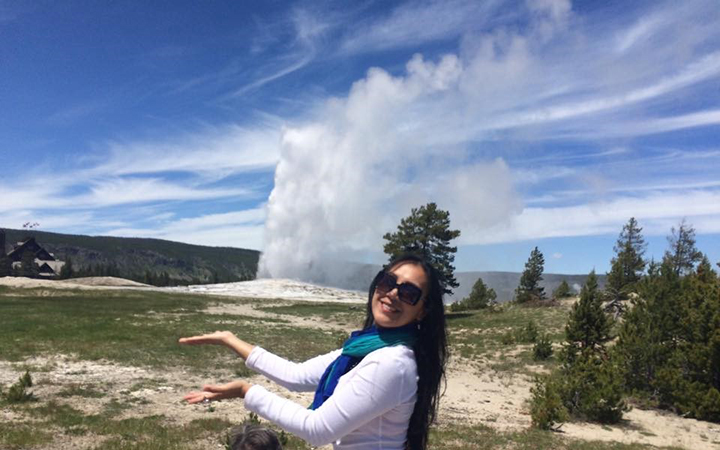 We travel to relax, recharge, escape, celebrate, learn, meet people, and create memories. But we also travel to remember the past.
As a kid, I didn't have the luxury of television. Instead, I had children's books and a subscription to National Geographic Magazine from my mother's pen pal, Carol. So, thanks to their friendship and her generosity, my childhood was equipped with educational materials, including these fancy magazines. The glossy and vibrant pages of National Geographic Magazine were my childhood entertainment. That's how I started developing my interests in travel, photography, and reading, which would later become my passions. I vividly recall seeing beautiful National Parks featured on the magazine pages. Finally, after four decades, those images I enjoyed virtually became real.
According to the National Park Service, Yellowstone National Park has 2.2 million acres of wilderness with unique hydrothermal and geological features. These geothermal areas contain about half of the world's active geysers. The unique thermal features of the park, like Old Faithful, inspired our government leaders to establish Yellowstone as the nation's first national park. 
Geysers are hot springs where water intermittently boils, sending a tall column of water and steam into the air. Geysers are associated with volcanic areas and Old Faithful is only one of the nearly 500 geysers in Yellowstone but only one of the six for which park rangers can predict eruptions. However, over time, the average interval between eruptions has increased. The interval between eruptions averages more than one hour, normally lasts between one-and-a-half to five minutes and expels from 3,700 to 8,400 gallons of water.
Yellowstone National Park has many unspoiled vistas — dramatic peaks and mountains, lush forests, beautiful meadows, pristine rivers, lakes, waterfalls, and unique geysers. Watching Old Faithful erupt is an iconic experience, a favorite of travelers who come to Yellowstone to witness this amazing wonder. It is a park tradition that you don't want to miss.
The park can be accessed from Cody and Jackson in Wyoming, Gardiner and West Yellowstone in Montana, and Island Park in Idaho. Plan your visit well to maximize your experience. Check weather conditions and road statuses before you go. The best time to visit is during fall and spring when the weather is nice. Summer months are the busiest months so you can expect busy facilities, reduced parking, and traffic. Be sure to make advanced reservations for campgrounds and lodging.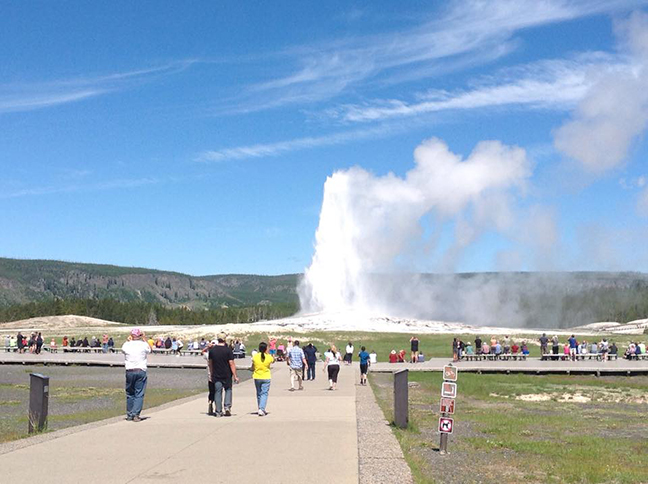 Some of the best things you can do during summer include exploring the thermal basin up close, including those geysers, wildlife watching, hiking, biking, horse riding, camping, picnicking, fishing, boating, swimming, participating in a ranger program, and taking photographs. Yellowstone National Park is a haven for artists, scientists, authors, and photographers. So, get ready for your possible "best photo award." The dramatic sunsets and sunrises reflected on the waters of Yellowstone Lakes can be your best shots. By the way, the Aurora Borealis appears once or twice a year. If you hit it right, you may not need to go to Iceland. It can be your lucky day to witness it there, too. There's a bonus view from April through October when the Milky Way is visible over Yellowstone National Park. Campgrounds are available for bedding down beneath the stars. What an adventure! Stargazing is something I love to do.
If you are looking for a summer getaway, you don't need to leave the country to find amazing view and have awesome experiences in our first national park. To make the very most of your trip, stay as long as possible. But if you only have one day to visit, it's worthwhile to join a group tour as I did. It can be fast paced, but your guides will ensure you see the main attractions.
As the nation's first national park, you may be interested to know a little of Yellowstone National Park's history and interesting facts. Here are ten things you may not know about Yellowstone National Park.
Yellowstone is bigger than two U.S. states. Yellowstone is larger than the states of Rhode Island and Delaware combined.
A veteran of a Lewis and Clark expedition may have been the first non-native to see Yellowstone.
One of Yellowstone's earliest explorers, Truman Everts, was stranded there for 37 days. He eventually recovered and even wrote an account of his ordeal titled Thirty-Seven Days of Peril.
The park sits atop the largest supervolcano in North America.
A painter, Thomas Moran, played a crucial role in Yellowstone's creation.
Yellowstone was originally nicknamed "Wonderland."
The U.S. Army ran the park for over 30 years.
Yellowstone includes the nation's oldest herd of bison.
The park once featured a "lunch counter for bears only" that were the trash dumps attracting black and grizzly bears.
Old Faithful is not as faithful as it once was. A group of early explorers noted that it erupted roughly once every 60 minutes.
It is just fair to say that Yellowstone National Park is a wonderland. I would describe the park as mother nature at its best, a haven of beauty and a paradise.
My visit to Yellowstone National Park in 2015 through Wyoming was a chapter in my 50-States journey. Since then, this park has become my favorite. My childhood memory of virtually visiting national parks, including Yellowstone National Park, through the pages of National Geographic Magazine, was indeed one of my best childhood learning experiences. 
Millions of people visit Yellowstone National Park every year. So be one of us and experience this wonderland, but make sure you wait and watch for Old Faithful to erupt.
Have a fun, memorable and safe summer!