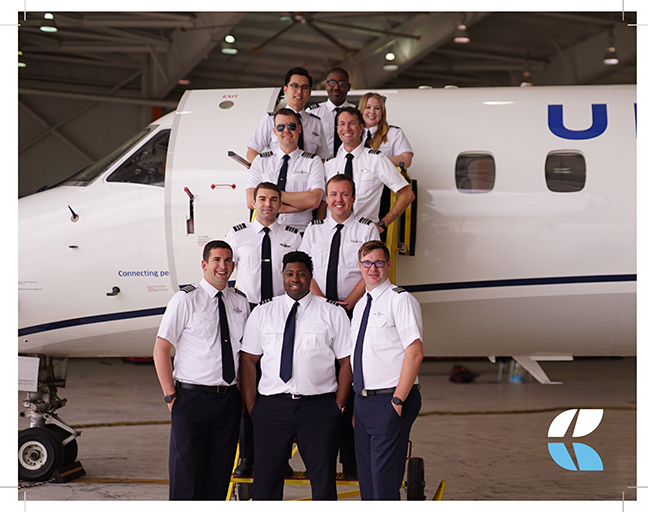 CommuteAir wants to be the next stop in your flying career. While pilots today are faced with difficult career decisions, CommuteAir is offering captains and first officers a long-haul destination. As a company 40% owned by United Airlines, its flight crews have multiple, secure career paths with top-tier compensation to choose from in a changing industry.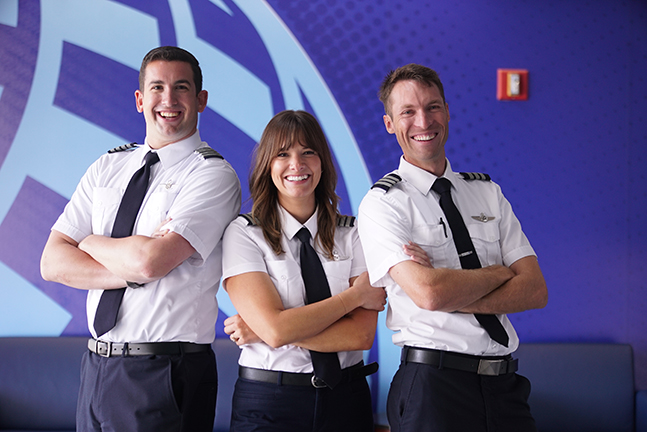 Focused on Quality of Life & Competitive Compensation
Community is everything at CommuteAir. That's why they're striving to offer pilots much more than the standard flying experience. CommuteAir cares about your aviation journey as well as your professional development and understands how important your quality of life is as you work hard building your hours. Fly for an airline that's invested in you today, tomorrow, and into your future.
CommuteAir offers an attractive compensation package: After solidifying a new contract with its pilots represented by ALPA in 2022, CommuteAir released multiple enhancements to pay and bonuses, including a scaled longevity credit that will grant seniority pay for up to 20 years of prior 121 flying experience for both incoming captains and experienced first officers. This means that first-year first officer pay starts at $73.08/hour, and up to $77.14/hour with additional experience. First-year captain pay starts at $101.50/hour and can go up to $149.01/hour with additional years of flying experience.
CommuteAir's bonus package is industry leading. CommuteAir now offers tiered bonuses for all incoming first officers based on their current level of experience – first officers new to commercial aviation can earn a $20,000 sign-on bonus while those with prior 121 flying experience can earn up to $75,000. Direct-entry captains can expect even more when they join the fleet with a combined day-zero bonus of $50,000 and a $75,000 sign-on bonus (paid within 60 days) for a total of $125,000 in bonuses year one. First officers have a $5,000 retention bonus available to them during their first year, while all pilots also gain access to CommuteAir's annual opt-in retention bonus after 12 months of service, $25,000 for first officers and $50,000 for captains. This means that an incoming first officer new to regional flying can potentially earn over $447,000 during a four-year career at CommuteAir (two years as a first officer, two years as a captain).
Compensation isn't the only way that CommuteAir invests in your flying career. All pilots in today's market need a secure and direct career path that will help them achieve their goals as efficiently as possible. As a United Express partner, eligible CommuteAir pilots can opt-in to Aviate and fly with confidence as they work towards the simple 1,600 PIC hour requirement needed to flow to United Airlines. Building that time won't take long with an industry-leading 76-hour minimum monthly guarantee, and commuters can rest easier with up to six commuter rooms available per month.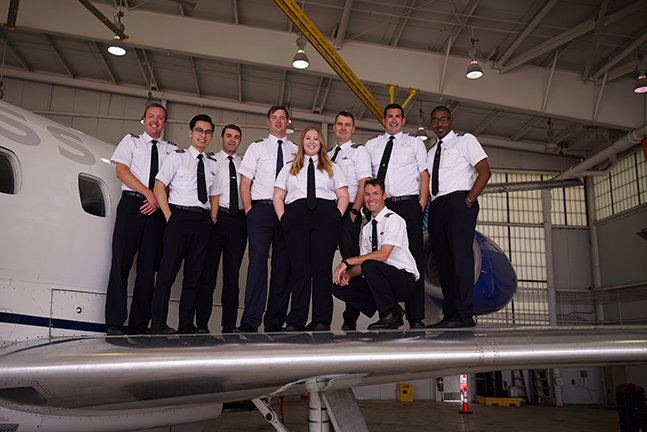 A Regional with a Strong Future
The aviation industry is experiencing a significant surge in demand for air travel, and through its partnership with United Airlines, CommuteAir is dedicated to being at the forefront of meeting that demand. Growing the pilot workforce is crucial to the industry, and CommuteAir is committed to providing the best path for individuals to start and progress their commercial aviation career, especially those dreaming of being part of the United family.
CommuteAir plays a key role in United's strategy for the future. With a fleet of over 100 aircraft and 200 departures per day between three hubs at DEN, IAH, and IAD to over 50 markets, the airline has grown significantly since its early days. Last year, CommuteAir announced plans to add the E175 to its operating certificate to enable future operations.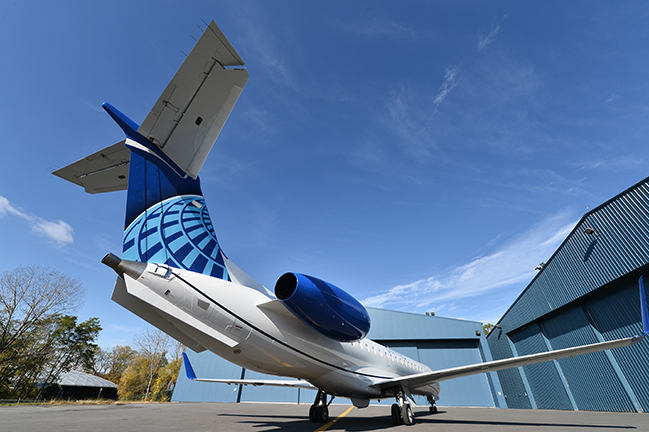 Soaring with CommuteAir
Pilots have multiple entry-points to choose from at CommuteAir as either a first officer or direct-entry captain (1,000 121 hours), but also have flexibility in the direction of their journey.
Aviate is United Airlines' pilot career development program that offers both aspiring flight students and commercial pilots a defined career path to United. Aviate's goal is to attract outstanding people who want to join the very best team of pilots in the aviation industry. CommuteAir pilots have access to this secure and direct path, and by opting into the program, United will treat your interview at CommuteAir as your pathway into a career at United Airlines.
During your journey, CommuteAir offers a host of incentives and opportunities for leadership roles within the airline. CommuteAir's 60,000-square-foot facility in Houston houses three full-flight simulators, offering opportunities for advancement for dedicated simulator instructors, line-check airmen, and ground instructors – all accompanied by significant pay-rate overrides.
While CommuteAir is one of the top airlines to start your career and build your experience, it's also a fantastic long-term destination for established pilots. Top-tier commuter benefits include six commuter rooms available monthly with positive space travel. With 100%-pay protection for canceled assignments, 150%-holiday pay rate, a competitive 401k plan, and vacation accrual with up to 35 days off per year, CommuteAir wants pilots to be comfortable on the ground as well as in the air.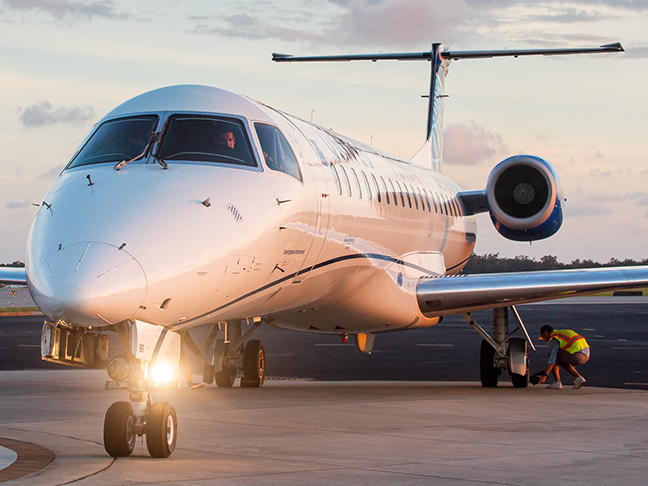 Be Part of a Growing Legacy
With headquarters in Cleveland, Ohio, CommuteAir's humble beginnings as "The Little Airline That Could" in 1989 in Plattsburgh, New York, seems like the faraway past. CommuteAir joined the Continental network in 2000 and has been part of the United family since. The fleet went through the beginnings of a significant transformation in 2015 when CommuteAir entered into the first Career Path Program agreement with United Airlines and began certifying the EMB145. Over the next several years, the fleet experienced explosive growth due to additional investment from United (40%-ownership interest) and transitioned to an all-jet fleet, tripling capacity, and making way to become the sole operator of the 145.
Fly Where it Feels Like Family
CommuteAir places great emphasis on advancing a culture that promotes the well-being of its team and passengers. Culture at CommuteAir serves as the bedrock for its operations, laying the groundwork for stability, progress, and a forward-looking attitude. The team adheres to a high level of performance and reliability in their interactions with one another and their customers and approaches daily interactions with kindness and empathy. Together with United, CommuteAir is guided by our shared "core4 values" of being safe, caring, dependable, and efficient – prioritizing safety above all else, while demonstrating a sense of unity and responsibility towards each other, our customers, and the organization as a whole.
As a vital player in the aviation industry, CommuteAir recognizes the value of making a positive impact on the lives of its stakeholders. To this end, the Diversity, Equity, and Inclusion Leadership Council at CommuteAir, which includes members from all corners and levels of the organization, works to support employees of CommuteAir and the communities they belong to. CommuteAir is proud to support a range of organizations that share its values, such as the Sisters of the Skies, Rotary to Airline Group, National Gay Pilot Association, Organization of Black Aerospace Professionals, Women in Aviation International, Latino Pilots Association and the Professional Asian Pilots Association, to name a few.
CommuteAir's employee-run charity, CommuteAir Cares, also supports employees and their communities by raising money and performing charitable acts for those in need. Employees need only apply for the grant if they find themselves or a loved one in dire need of financial assistance. Over the years, CommuteAir Cares has contributed to numerous organizations including the Marjory Stoneman Douglas High School and both the Hurricane Fiona & the Hurricane Ian Relief Fund, as well as to many employees in need.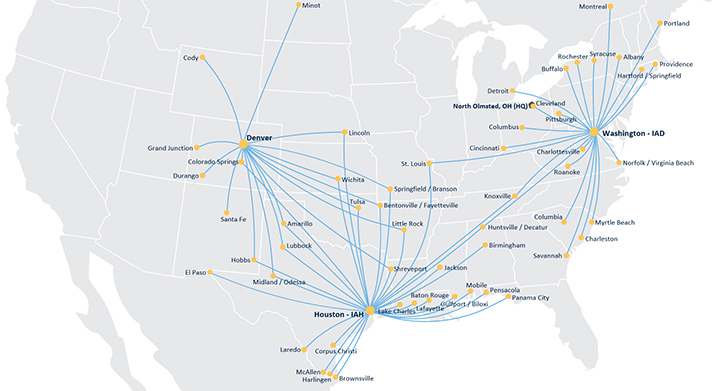 Together We SoarSoar to new heights by taking your flying career to CommuteAir. The community, mentorship, and growth within the airline has created an ideal environment for both new and experienced pilots to thrive. Interview for a future at United for the very last time by applying to CommuteAir today. Visit www.CommuteAir.com/Pilots to learn more about their pilot program