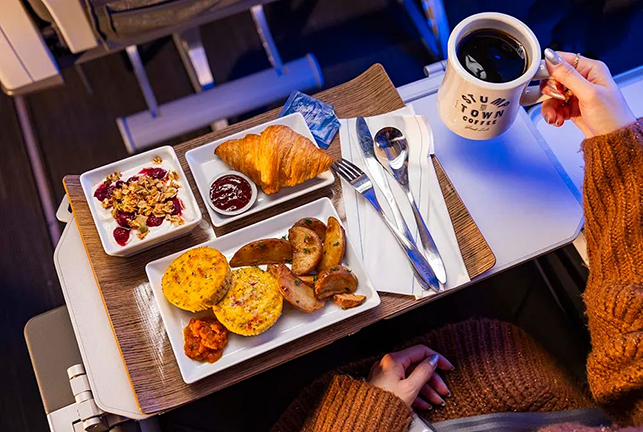 New and returning items in First Class and Main Cabin will bring guests the perfect blend of nostalgia and chef-curated innovation 
Alaska Airlines rekindles nostalgia with 'Greatest Hits' Menu, bringing back beloved inflight meals this winterNew and returning items in First Class and Main Cabin will bring guests the perfect blend of nostalgia and chef-curated innovation 
Alaska Airlines is taking a walk down memory lane by bringing back its most loved dishes starting this month through spring 2024, along with a selection of new seasonal chef-curated meals and a line-up of exciting beverages. 

The 'Greatest Hits' menu is made up of beloved past entrees based on feedback from guests and crew. Of the 35 First Class entrees, two dozen are returning fan favorites, including the Jerk Chicken with coconut curry fried rice and Kalbi Beef in a Korean BBQ sauce.
Celebrity favorite — Alaska's Sesame Chicken and Rice — will continue to be served to our First Class guests through the winter! Actor and comedian Dax Shepard recently posted on social media he "was still reeling" over two servings of the roasted chicken with sesame teriyaki glaze on an Alaska Airlines flight from Burbank to Portland.Alaska is also launching new dishes made of fresh ingredients that are sure to become popular hits among guests, including the Steak & Shrimp and Mediterranean Lentils, available in First Class.Guests in the Main Cabin will also once again have the option to pre-order the Chicken Curry Wrap and the popular Beets So Fly Salad made with a medley of flavors including pickled beets, mixed greens, feta cheese and chicken breast in a Dijon balsamic dressing."Part of redesigning our menu every few months means trying new entrees and saying goodbye to old ones. But there is always a meal that guests can't wait to eat again and don't want to see go. We looked back at what entrees guests and our crews loved the most over the years and built a menu around our top favorite Alaska dishes," said Todd Traynor-Corey, managing director of guest products at Alaska Airlines. Alaska is excited to announce a line-up of new beverages, including an oat milk creamer that will pair perfectly with a cup of freshly brewed Stumptown Coffee. Portland-based Stash Tea will also now be available throughout the cabin, including English Breakfast, Super Mint and Premium Green flavors. These new beverage offerings will be available starting Dec. 1.
 
Remember to easily pre-order your favorite meals as early as two weeks before your flight and up to 20 hours prior to departure in all cabins using Alaska's industry-leading pre-order feature.
ICYMI: Alaska recently announced its partnership with Portland-based Stumptown Coffee to create a proprietary blend designed specifically for enjoyment at 30,000 feet where tastebuds react differently. This unique coffee offering will be available in all cabins by Dec. 1. These beverages join a collection of other premium West Coast products such as Straightaway Cocktails (Portland), Sierra Nevada Brewing® (California), Seattle Chocolate (Washington), Fremont Brewing™ (Seattle), Tillamook®Cheese (Oregon) and Beecher's® Cheese (Seattle).  
 
For the full 'Greatest Hits' Menu, including Alaska Airlines' new winter menu items and beverages as well as returning entrees back by popular demand, click here.