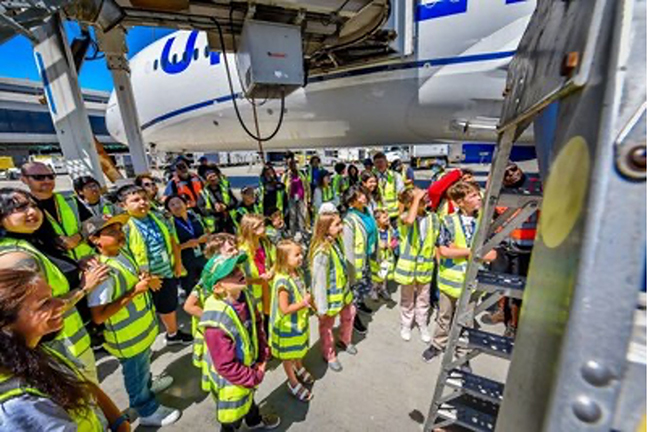 Airline partners with DonorsChoose.Org to help fund local classroom projects in Chicago, Denver, Houston, Los Angeles, Newark, Phoenix, San Francisco, Washington D.C., and across Hawaii.
As millions of students get ready to head back to school, United Airlines is stepping in to help families and educators with the rising costs of supplies and classroom necessities. United will donate $1.25 million to DonorsChoose.Org to fund aviation, and science, technology, engineering, and mathematics (STEM) projects across classrooms in the airline's seven Hub markets: Chicago, Denver, Washington, D.C., New York, Houston, San Francisco, and Los Angeles, as well as in Phoenix and across Hawaii.
"Whether it's using model planes to teach middle schoolers the dynamics of flight or taking a field trip to see how a simulator works, we're proud to help teachers get the resources to inspire the next generation of aviators," said Josh Earnest, United's Senior Vice President, and Chief Communications Officer. "We're proud to team up with DonorsChoose to support teachers who are doing incredible work and changing the lives of students around the country."
The contribution from United will fund all aviation classroom projects currently posted on DonorsChoose.org, and the remaining funds will be used over the next few months during a matching campaign to fund more aviation and STEM-focused projects. If teachers in the selected cities are interested in submitting a project to be considered for funding, they can visit donorschoose.org/teachers.
DonorsChoose.Org connects the public to teachers from public schools who need money to buy school supplies and pay for other program expenses for their students. It was founded by a public high school teacher in the Bronx, NY in 2000. Donors Choose ensures the integrity of funding every step of every project by vetting all requests, purchasing each item, and shipping materials directly to verified teachers.
"United Airlines is helping classrooms launch into the new school year, with resources that will help aviation and STEM students thrive," said Alix Guerrier, CEO of DonorsChoose. "Through this campaign, United Airlines is empowering youth who are tomorrow's scientists, aviators, and engineers. This partnership will foster the beginnings of future careers."
With nearly 100,000 employees worldwide, United offers a wide variety of career opportunities within the STEM field ranging from pilots, aviation maintenance technicians, flight dispatchers, and network planners. As the largest airline in the world, measured by available seat miles, United has embarked on an ambitious growth plan with 700 new aircraft on order over the next 10 years and plans to hire 15,000 employees this year alone.