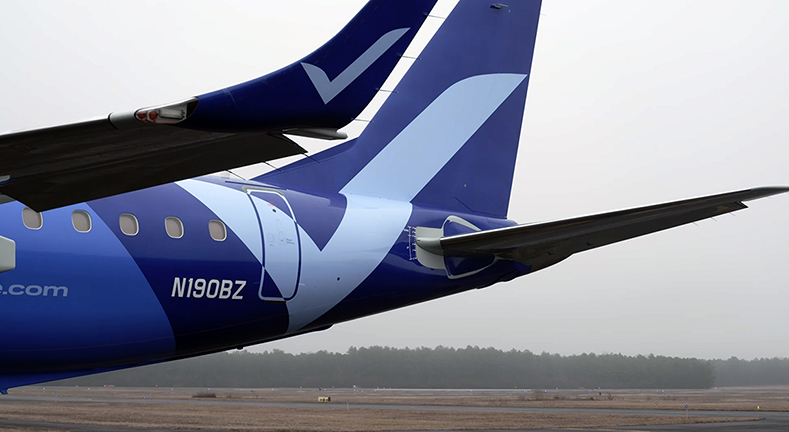 Breeze Airways, the U.S.' only NLCC, or 'Nice Low Cost Carrier,' today announced it will be spreading kindness through acts of charity and good deeds across its network as part of its third annual 'Breeze Kindness Week.'
Starting on World Kindness Day and stretching through Sunday, November 19, Breeze is partnering with airports, sponsors, universities, and its own 1,500 Team Members to spread kindness in big and small ways in several cities.
From stocking a local food pantry in Hartford and partnering with the United Way in Fort Myers to assemble bags of school supplies, to handing out "Nice Cards" with bonus BreezePoints at community events and onboard some of its flights, Breeze is on a mission to complete 1,000 acts of kindness by the end of the week.
"We introduced the very first Breeze Kindness Week in November 2021 when we'd been flying for just six months so it's very exciting to see how much it has evolved and grown in such a short time," said Breeze CEO and Founder David Neeleman. "We believe strongly that kindness is the key to changing how people experience travel. Our Guest satisfaction rating (net promoter score) of 70 and designation as a top five 'Best Domestic Airline' by Travel + Leisure for two years running, is evidence that we are truly on to something."
Herbert "Flight Time" Lang, a former Harlem Globetrotter and three-time Amazing Race participant, will be the "Master of Ceremonies" for the second year in a row. Lang is a motivational speaker and has traveled to more than 90 countries spreading his mantra "Kindness is Free".
"I'm very excited and grateful to return as the official Breeze Kindness Week Ambassador," said Mr. Lang. "My aim is to amplify Breeze's mission to spread kindness across the communities it serves and to share stories of the kind acts I encounter throughout the week."
The airline is encouraging its Guests, Team Members, and business partners to join in on the mission by sharing acts of kindness by tagging @BreezeAirways on Instagram, Facebook, LinkedIn and TikTok with hashtag, #BreezeKindnessWeek. To commemorate the week, Breeze debuted a kickoff video that can be viewed here. 
Breeze serves more than 40 cities and 150 nonstop routes across the U.S. and is on track to fly three million Guests in 2023. The airline's "Nice Low Cost Carrier" (NLCC) business model centers around providing friendly policies such as no change and cancellation fees and free family seating, affordable fares to great destinations from underserved markets, and an elevated experience with premium seating options on a modern and efficient fleet.