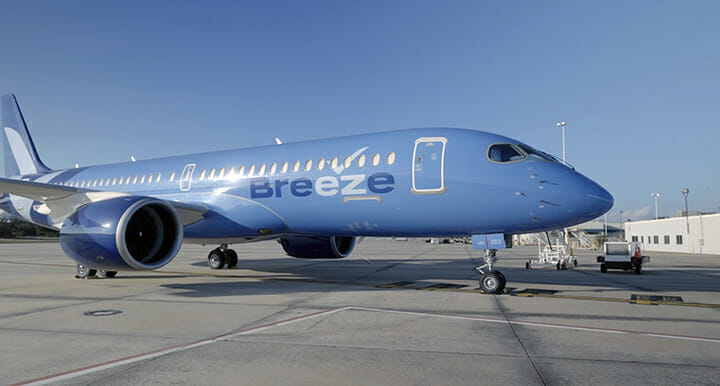 Nonstop to Providence Also Starts May 18, from $49* One Way 
Breeze Airways, the newest, nicest domestic low-fare airline with more than 100 nonstop routes, today announced nonstop service from Richmond (RIC) to Los Angeles (LAX), starting May 18.  Fares on the new route start from just $99* one way, if purchased by January 23, for travel by September 5, 2023. In addition, Breeze is returning nonstop service to Providence (PVD) on the same day, with fares from $49* each way.
From Richmond (RIC):
· Los Angeles, CA** (Thurs, Sun and Tues, starting May 18; Nice from $99*, Nicer from $199 and Nicest from $299*); and
· Providence, RI** (Thurs, Sun and Tues, starting May 18); Nice from $49*).
Breeze already offers eight destinations nonstop from Richmond, including Charleston, SC; Hartford, CT; Jacksonville, FL; Las Vegas, NV; New Orleans, LA; Phoenix, AZ; San Francisco, CA; and Tampa, FL.
"As one of our very first cities, Richmond has responded very strongly and positively to Breeze service and this continued growth is a direct result of that" said Tom Doxey, Breeze Airways' President. "These new nonstops expand our footprint from Richmond to both coasts and give Guests in that community more options to experience our Seriously Nice™ brand of service."
Breeze took flight in May 2021 and has quickly expanded across the U.S. connecting underserved city pairs with fast, efficient flights. The airline's business model centers around offering affordable fares with plenty of perks including no change and cancellation fees up to 15 minutes prior to departure, free family seating and enhanced seating options including Extra Legroom and First Class seats**. Guests can choose from a la carte or bundled options to create a travel experience that meets their needs.
With seamless booking and customized flight features delivered via a sleek and simple app, Breeze makes it easy to buy and easy to fly. Flights are now on sale at www.flybreeze.com and via the Breeze app.
*Promotional fare is only available when booking a new reservation for Tuesday travel. Promotion must be purchased by January 23, 2023 (11:59 pm ET) for travel by September 5, 2023. Price displayed includes taxes and government fees. Fare prices, rules, routes and schedules are subject to change without notice. Other restrictions may apply.
** Routes operated with Airbus A220 aircraft with First Class seating available