Salt Lake City, UT (September 25, 2023) – Breeze Airways, the U.S.' only NLCC, or 'Nice Low Cost Carrier,' is offering its first-ever hybrid promotion combining both a 25 percent discount, on all base fares across all routes, with a 5,000 BreezePoints bonus awarded once the flight is completed.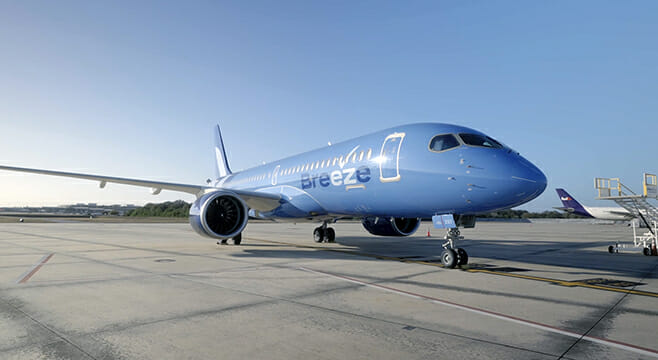 Travelers can book any flight through Thursday, for travel by January 31, 2024, and receive 25 percent off the base fare,* using the promo code SOEXTRA. Additionally, if the value of the trip is $150 or more, they will receive an extra 5,000 BreezePoints – a $50 value – once they fly, to use towards their next flight.
"Breeze is going the extra mile by coupling a deep discount with our first-ever BreezePoints bonus," said Breeze Airways President Tom Doxey. "With our no change and cancelation fee policy, we're inviting travelers to take that trip and then use the extra credit they earn, for another getaway."
Breeze currently serves 37 cities and more than 150 seasonal and year-round routes across the U.S. Its two newest cities – Plattsburgh, NY and Springfield, IL start service on November 28 and December 1, respectively.
Breeze, which was recently recognized by Travel + Leisure readers as one of the Top 5 Best U.S. Airlines, offers its Guests both bundled and a la carte options known as Nice, Nicer and, on flights operated with the Airbus A220-300, Nicest. The Nicest bundle includes two checked bags, priority boarding and Breeze Ascent—the carrier's premium inflight experience featuring 2×2 recliner-style seating and complimentary snacks and beverages, including alcohol.
Breeze doesn't charge change or cancellation fees up to 15 minutes prior to departure and offers other benefits such as free family seating and a la carte pricing. With seamless booking, no change or cancellation fees, up to 24-months of reusable flight credit and customized flight features delivered via a sleek and simple app, Breeze makes it easy to buy and easy to fly. Learn more about Breeze's flight offerings via our site or the app.