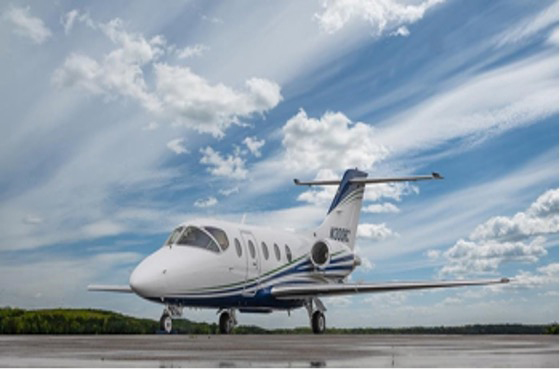 The Beechjet 400XPCastle is pleased to announce we have expanded our passenger charter segment with the addition of a Beechjet 400XP to the fleet. Our private jet charter is now open for booking!

Our Beechjet 400XP was outfitted with a new interior and exterior in September 2021 by Elliott Aviation. The eight passenger configuration is finished in Dark Arctic leather. When entering the aircraft, forward of the main door are two aft-facing seats and a right hand slim-line refreshment center finished in Montana Walnut. Moving aft is a four place club with two pullout tables followed by two forward-facing seats and the left and right side. Aft of the cabin seating is the lavatory that includes one left hand belted toilet that immediately opposes a right hand baggage compartment.

In addition to the galley, refreshment bar, enclosed lavatory and accessible luggage section, the Beechjet 400XP creates a pleasant flight experience with additional amenities such as power outlets and on-board wifi.

Whether you're travelling with colleagues, solo, or with friends and loved ones; for business, or for pleasure— with top speeds of over 500 mph, we'll deliver you to your destination not only in comfort, but also with efficiency.