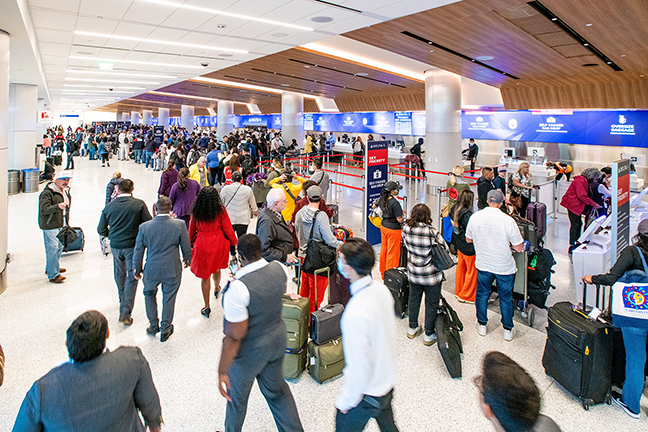 Delta Air Lines and Los Angeles World Airports have unveiled the final major phase of the $2.3 billion Delta Sky Way at LAX project, with Terminal 3 at Los Angeles International Airport now directly connected to the Tom Bradley International Terminal via moving airside walkways, officially eliminating the need for busing between terminals.
"This modern, state-of-the-art facility has been at the center of Delta's efforts to become the premier airline of Los Angeles, and now, as we as we celebrate this years-long project being finished much earlier than expected, we are better equipped than ever to provide Angelenos and all of our customers traveling through LA with the truly seamless and elevated experience that they deserve" said Scott Santoro, Vice President of Global Sales.
The airline's west headhouse and Delta One check-in area opened to customers in June, providing another entry point for check-in and security access. Self-service kiosks in the lobby area make dropping bags and printing boarding passes even easier. On the lower arrivals level of Terminal 3, the exclusive Delta One check-in area offers Delta One customers a private TSA screening lane, direct access to the Delta Sky Club, light food and beverages and white-glove assistance from Delta's Elite Service agents.
Delta's new Terminal 3, a 1.2-million-square-foot, 27-gate complex, debuted last April, featuring a centralized check-in lobby, expanded security checkpoint and baggage claim area, as well as a state-of-the-art Delta Sky Club, one of the largest in Delta's system. Nine additional new gates, new concessions and spacious seating areas opened to customers in October 2022.
"Having just celebrated the opening of LAX's Terminal 3 West Headhouse and already hearing an incredible amount of positive feedback on that aspect of the project, I know we can expect similar praise on the new Terminal 3 and Tom Bradley International Terminal post-security connector. This new passageway will significantly enhance the travel experience for millions of international and domestic guests," said Justin Erbacci, Chief Executive Officer, LAWA. "LAWA is thankful to its amazing partners Delta and Hensel Phelps and the entire LAWA team who rose to the occasion to deliver the Delta Sky Way project."
LAX serves as one of Delta's most important coastal hubs, operating over 155 peak-day flights to nearly 55 destinations across the globe, serving 19 of the top 20 markets for Los Angeles customers. The airline continues to add new and exciting destinations to its slate, with never-before-operated service launching to Auckland, New Zealand, (Oct. 30); Jackson Hole, Wyo.; and Vail, Colo. (Dec. 16).
Delta and its 4,000 Los Angeles-based employees are deeply ingrained in the community, supporting more than a dozen nonprofit organizations throughout the state of California. Additionally, the airline is proud to serve as the inaugural founding partner of the LA28 Olympic and Paralympic Games and the official airline of Team USA. The airline also serves as the as official carrier of Crypto.com Arena and the LA Kings.
Delta has invested more than $12 billion coast-to-coast in the last ten years, doubling down on its vision for the future of travel to build airports of the future that are comfortable, easy to navigate and part of an effortlessly connected journey.
DELTA SKY WAY AT LAX: A PROJECT TIMELINE
MAY 13, 2017: One of the largest terminal moves in commercial aviation history began in 2017 at Los Angeles International Airport, with Delta leading the charge. 
May 22, 2017: After just three nights of intense of work, Delta successfully completed the most challenging terminal move in commercial aviation history – shifting its hub operations from Los Angeles International Airport's Terminals 5 and 6 to 2 and 3.
May 31, 2018: Delta and Los Angeles World Airports formally kicked off the Delta Sky Way at LAX project — Delta's plan to modernize, upgrade and connect Terminals 2, 3 and the Tom Bradley International Terminal (Terminal B).
March 29, 2022: Delta and Los Angeles World Airports celebrated the completion of the first major phase of the Delta Sky Way at LAX.
April 20, 2022: On April 20, the first phase of the new Delta Sky Way at LAX officially opened to customers, along with the terminal's new, premier Delta Sky Club.
Sept. 29, 2022: Delta and Los Angeles World Airports completed another major phase of the Delta Sky Way at LAX: the brand-new T3 facility, featuring nine new gates and spacious seating areas, which opened to customers on Oct. 5, 2022.
May 31, 2023: Delta and Los Angeles World Airports finished the second-to-last major phase of the Delta Sky Way at LAX project, with Terminal 3 now offering another entry point via the west headhouse as well as a dedicated check-in area for its Delta One customers.