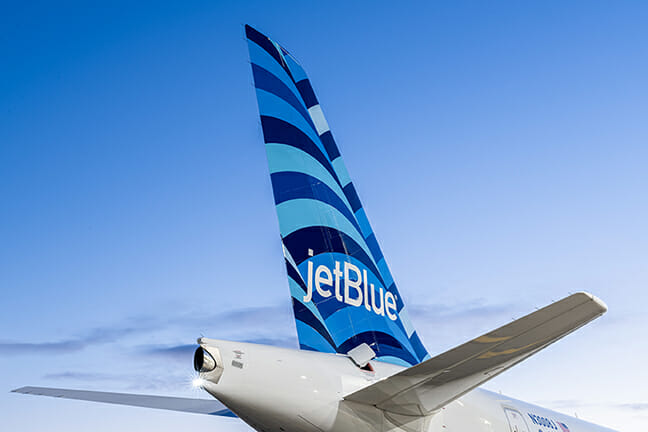 JetBlue Will Connect the State Capital and South Florida With Great Service and Everyday Low Fares Starting at $99
JetBlue (NASDAQ: JBLU) today announced that its new service between Fort Lauderdale-Hollywood International Airport (FLL) and Tallahassee International Airport (TLH) beginning on January 4, 2024 is available to book starting today. The new service furthers the airline's commitment to providing low-fare and high-value service to Florida customers.
Flights are on sale now at JetBlue.com at an everyday low fare starting at $99.
"This route has long suffered from high fares and regional plane service and the response in Florida to this much-needed connection between the state capital and South Florida has been incredible. Customers can now travel much more easily and frequently with JetBlue's low fares and award-winning experience." said Dave Clark, head of revenue and planning, JetBlue. "We've laid out an ambitious growth plan for Fort Lauderdale-Hollywood, enabled by our planned combination with Spirit. This combination will allow many more choices for air travel in and out of South Florida in the years to come."
Schedule between Fort Lauderdale (FLL) and Tallahassee (TLH)
Daily service starting January 4, 2024
| | | | |
| --- | --- | --- | --- |
| FLL-TLH Flight #2396 | | | TLH-FLL Flight #2397 |
| 7:00 a.m. – 8:30 a.m. | | | 9:15 a.m. – 10:45 a.m. |
Growth in South Florida
Since making Fort Lauderdale a focus city, JetBlue – known for the most legroom in coach (a), free seatback entertainment, free Fly-Fi high-speed internet (b), free snacks, and friendly service – was quickly positioned as a preferred carrier in South Florida.
In support of the Broward County's master plan to expand the airport's facilities, JetBlue expects to reach more than 250 daily departures by 2027 after completion of its planned combination with Spirit. This growth will position Fort Lauderdale-Hollywood an even more compelling choice for South Florida customers against the dominant legacy carrier in Miami. While both carriers have had success in Fort Lauderdale, the combination between JetBlue and Spirit will unlock long-term opportunities to add domestic and international markets and routes that would not be possible otherwise.