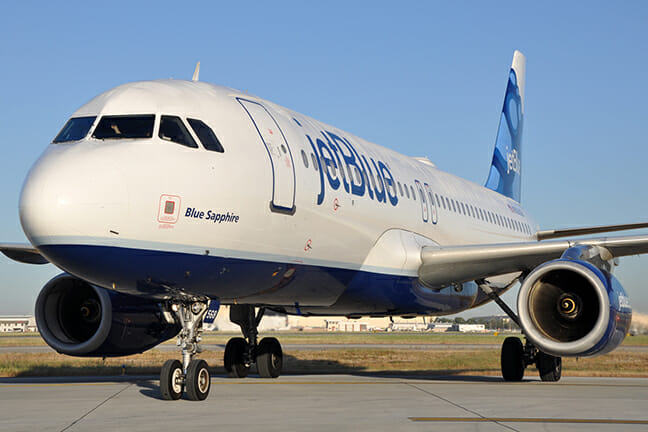 NEW YORK–(BUSINESS WIRE)– JetBlue (NASDAQ: JBLU) today announced its highly anticipated entrance to Continental Europe with nonstop service from New York's John F. Kennedy International Airport (JFK) to Paris Charles de Gaulle Airport (CDG) is available for sale starting today. Service will begin June 29, 2023. This marks JetBlue's second transatlantic market debut, following the airline's successful launch of London service in August 2021, including its highly acclaimed, reimagined Mint and core experiences. With the introduction of Paris, another long-requested and top destination, JetBlue will play a unique role in disrupting high-fare legacy carriers that have dominated this route for decades.
"Our successful London service proves customers can book low fares without compromising great service," said Robin Hayes, chief executive officer, JetBlue. "We are excited to continue disrupting the transatlantic market and offer business and leisure customers traveling to and from Paris an opportunity to experience our highly acclaimed Mint and core products in a market that has suffered from high fares by legacy carriers for far too long."
Schedule between New York (JFK) and Paris (CDG)
Daily service starting June 29, 2023 (Eastbound) & June 30 (Westbound)*all times local
JFK – CDG Flight #1407
CDG – JFK Flight #1408
5:09 p.m. – 6:55 a.m. (+1)
8:55 a.m. – 11:51 a.m.
Flights will operate daily on JetBlue's Airbus A321 Long Range (LR) aircraft with 24 redesigned Mint Suite® seats, 114 core seats and the sleek and spacious Airspace cabin interior. The A321 platform – offering the range of a wide-body but with the economics of a single-aisle aircraft — will allow JetBlue to effectively disrupt the market with the airline's award-winning service and low fares on flights between the U.S. and Paris.
Seats on the new Paris route are on sale starting today with low fares for U.S.-originating travelers starting at $479 roundtrip for the airline's award-winning core experience and starting at $1,899 for JetBlue's premium Mint experience, available on jetblue.com (a).
France-originating travelers can enjoy special introductory roundtrip fares starting at €399 for core and €1,299 for Mint when booked through their preferred travel agent or online travel provider.
Bienvenue, Charles de Gaulle
Located just 16 miles northeast of Paris, Charles de Gaulle airport is Europe's second busiest international airport, servicing more than 76 million travelers in 2019. JetBlue's presence at Charles de Gaulle gives the U.S.-based travel provider visibility at an iconic global hub to build a new base of travelers in France and beyond.
JetBlue will operate from Terminal 2B, which offers travelers a modern airport experience with dozens of shops, restaurants and easy access to a variety of convenient ground transportation options into the heart of Paris and other French regions.
L'Expérience JetBlue | The JetBlue Experience
JetBlue – currently the sixth largest airline in the U.S. – is known for having the most legroom in coach (b), live television and on-demand entertainment on every seatback, free and fast Fly-Fi broadband internet (c), complimentary snacks and soft drinks and great customer service. The airline's entrance into Paris will introduce a new era of customer-focused, low-fare travel for leisure and business travelers.
The airline's Mint premium experience – which first raised the bar on transcontinental travel in the U.S. and was reimagined for transatlantic flying – offers customers a fresh choice when flying between the U.S. and Europe. JetBlue Mint features 24 fully lie-flat private suites with a sliding door – including two Mint Studio® seats – and a custom-designed seat cushion developed by innovative mattress company Tuft & Needle. Its proprietary T&N Adaptive® foam with a breathable cover creates a cool and comfortable sleep experience unlike anything in the sky. Mint also boasts countless intuitive design touches that help every customer feel at home in the air. JetBlue has also introduced its latest innovation – the stunning Mint Studio – offering even more space in a premium experience (d).
JetBlue's industry-leading core experience was also reinvented for transatlantic flying and offers a new level of service to customers who generally fly "coach" but still want a great experience at an attractive fare. With just 114 core seats – including 24 Even More® Space Seats – customers enjoy a boutique-style experience no matter where they sit. All of the comforts JetBlue customers have come to expect are enhanced by the airline's partnership with New York-based restaurant group Dig, to bring its signature build-your-own dining concept to tray tables at 35,000 feet – JetBlue's complimentary meal in core. Core customers also enjoy a free selection of soft drinks, coffee, tea, beer, wine and liquor. The A321LR features new extra-large overhead bins, and all customers, regardless of fare type, may bring one carry-on, space permitting, and one personal item.
Customers in both core and Mint stay connected throughout the flight with unlimited, free high-speed wi-fi on every plane (b). Additionally, customers have access to a curated selection of live TV channels – focused on news and sports – and an extensive library of seatback entertainment, allowing customers to have a multiple screen experience onboard – just like they do at home.
For more details on JetBlue's plans for service to and from Europe, visit: https://www.jetblue.com/flying-with-us/uk-and-europe.