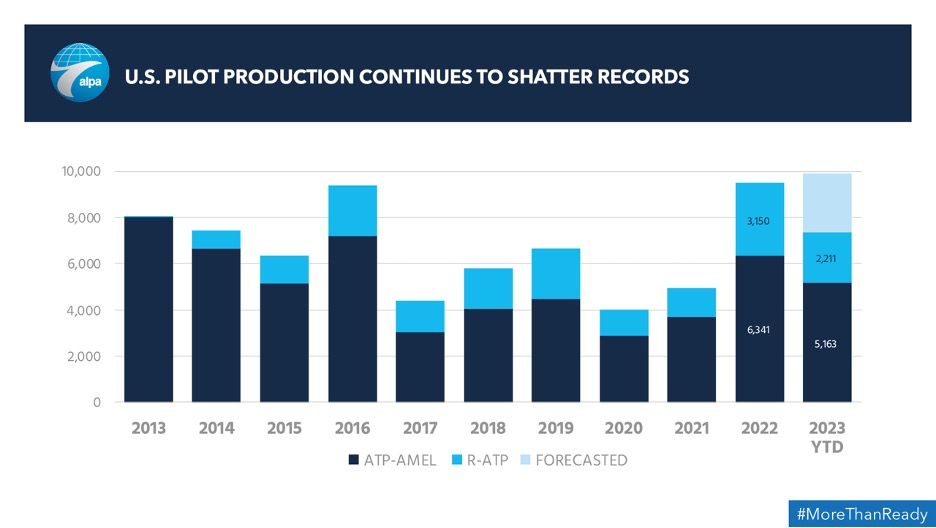 Despite Special-Interest Rhetoric, America Producing More Pilots Than Ever
As special interests in Washington continue their campaign of misinformation about pilot supply, the Federal Aviation Administration (FAA) has released its latest pilot-production data showing that the United States is outperforming last year's record-breaking year with 10,091 new airline pilots certificated in the past 12 months. More than 1,200 new pilots were produced in August alone of this year, the largest monthly number ever. Overall, there are 6,500 more pilots today compared to before the pandemic according to data from the Department of Transportation and airline filings with the Securities and Exchange Commission 
"This data-centered reality check comes at a critical time for anyone who cares about the safety of our skies because Congress is poised to introduce more risk into America's aviation system, the safest in the world," said Capt. Jason Ambrosi, ALPA president. "The special interests pushing these changes hang their hat on the false premise that America isn't producing enough pilots to meet demand, but the FAA's data proves their claim is flat-out wrong. In fact, the United States is shattering records when it comes to pilot production," continued Ambrosi.
Currently, some special interests are lobbying Congress to make changes to U.S. aviation safety laws, including weakening rigorous pilot-training requirements and arbitrarily raising the mandatory retirement age without first studying the safety implications of such a move. Since passage of the Airline Safety and Federal Aviation Administration Extension Act of 2010, which established the global aviation gold standard for safety, the United States has seen a 99.8 percent reduction in airline passenger fatalities.
"Pilot production is up, the passenger fatality rate is down, and our skies are the safest in the world The current production of pilots is outpacing U.S. airline hiring needs, so there's no need to change a law that has been proven to save lives," added Ambrosi.