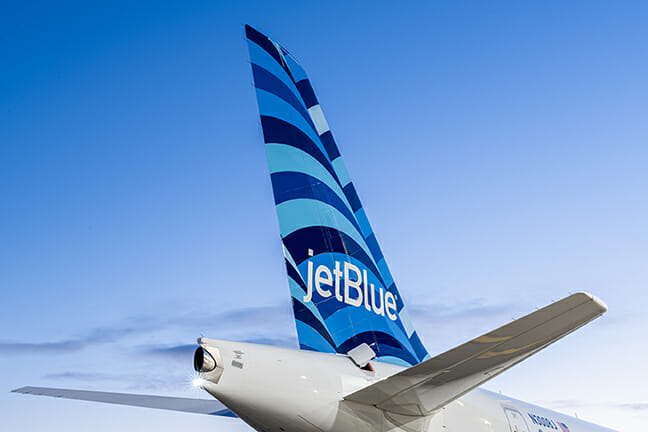 JetBlue Travel Products Opens Its Homegrown Travel Booking Website to More Travelers Looking to Save on Their Next Trip
JetBlue Travel Products, a subsidiary of JetBlue (NASDAQ: JBLU), today announced it has opened access to its travel booking platform Paisly to all travelers – with a focus on TrueBlue members. Paisly was previously available only to those booked on a JetBlue flight, but starting today, all travelers can use Paisly to book cars, stays and activities, all while earning TrueBlue points—even if they're taking different means of transportation to get to their destination. Giving all travelers the ability to book other travel components all in one place, with a 24/7 dedicated phone line to Paisly's helpful humans and one-point-of-contact for all their purchases, further positions JetBlue as a provider of high-quality travel options across the entire travel journey.
"Customers love the JetBlue brand for low fares and great service, and more and more are trusting us with other aspects of their travel experience," said Andres Barry, President, JetBlue Travel Products. "No airline has ever built a travel booking platform like Paisly before. We've built a curated network of high-quality partners, providing the level of service JetBlue customers know and love. We want to be the company travelers go to when they book a trip, whether they choose to fly, drive, train or boat to their destination. At the same time, we know loyalty is more important than ever, which is why we continue to reward our most loyal customers, just for being TrueBlue members."
Launched in 2021, Paisly was designed to use a customer's flight information to unlock exclusive deals for cars, stays, and activities, offering JetBlue's signature customer service that goes above and beyond what customers expect from a typical travel website. Now, even TrueBlue members without a flight itinerary can access exclusive savings and points on Paisly, allowing them to earn rewards on the rest of their trip, even when they're not flying JetBlue. For TrueBlue members and customers with upcoming JetBlue flight itineraries, the amount of the discount they are offered on Paisly varies:
Customers with an upcoming JetBlue flight can save up to 20% off hotels and up to 35% off car rentals.
TrueBlue members without a JetBlue flight will still have access to up to 15% off hotels as well as discount offers on car rentals.
The more ways customers interact with JetBlue, the more TrueBlue points and perks they can earn, whether it's for flights, hotels, cruises, vacation packages, car rentals and more. As part of JetBlue's refreshed and enhanced TrueBlue® Loyalty Program, which launches this spring, TrueBlue members will also earn tiles (the new way to track and measure progress toward Mosaic status, JetBlue's most loyal group of travelers) based on their combination of eligible travel spend and credit card spend, not just one or the other.
About JetBlue Travel Products
JetBlue Travel Products is a wholly owned subsidiary of JetBlue Airways Corporation, which consists of the JetBlue Vacations brand (offering flight + hotel and flight + cruise packages) and other non-air travel products including Paisly, JetBlue's homegrown travel website that gives travelers access to exclusive savings and points on cars, stays and activities. Headquartered in Fort Lauderdale, Florida with a fully dedicated team of more than 300 crewmembers, JetBlue Travel Products builds on the JetBlue brand and brings to market innovative, quality products for customers, while infusing humanity into every step of the travel experience. For more information, visit jetbluevacations.com or paisly.com.