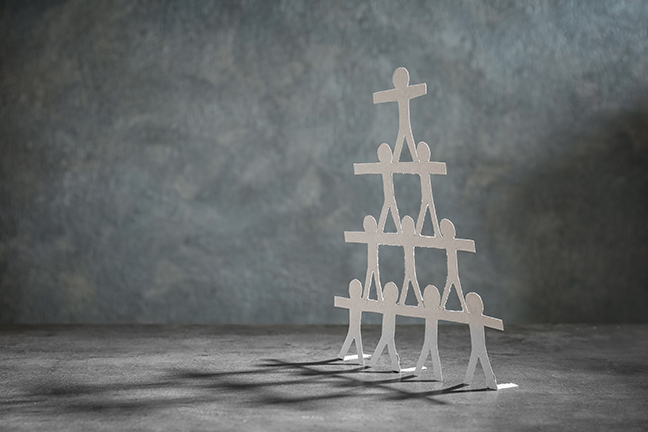 How are unions structured?
Hello and welcome to the concluding article for this overview series on unions – what they are, what they do, and how they are structured to support the professional airline pilot. In this month's article, we will break down the democratically based structure that provides service and support to their respective members, and briefly review some of the unions for the U.S. airline industry.
First, think of the union as a pyramid. Starting at the base of this pyramid, we have the general membership – all the members (pilots, in this case) represented by a given union and responsible for electing (usually every two years) their local representatives to include a chairperson, vice chairperson, and secretary-treasurer ("local reps", or shop stewards in the Teamsters). These three individuals represent all the pilots at a base or domicile, which is referred to as the local council or simply "the local." In the Air Line Pilots Association (ALPA) structure, this is the Local Executive Committee, or LEC for short.
The next level of the pyramid is the executive council, made up of each local council's chair and vice chair, plus three or four executive officers elected (also every two years) by these local reps. The executive officers include a chairperson, vice chairperson, secretary and treasurer, or a president and vice president such as in the Teamsters and Allied Pilots Association.
In ALPA, this group is the Master Executive Council or MEC, and they represent their airline's entire pilot group to the national union as well as to the airline's management group. The MEC is responsible for managing the extensive committee structure in place to support their members, as well as negotiating on behalf of the pilots at their airline.
At the top of the pyramid are the national officers, usually consisting of a president and vice president, along with leaders of various national committees. In ALPA, these include a president, first vice president, vice president of administration, and vice president of finance, elected every four years by the MEC representatives of each member airline.
At the top of the pyramid, national officers take direction from the executive councils, who in turn take direction from the local councils, who receive their input and direction from the members at the base. In this way, the democratic organization is driven from the bottom up.
Although each union strives to deliver the best possible service to its members, each of the following U.S. airline industry unions has a unique history, structure, and philosophy on member support. While not a complete list, the following snapshots provide a glimpse at the size and general scope of representation:
Air Line Pilots Association – ALPA is the world's largest airline pilot union as well as non-governmental safety organization, representing more than 67,000 pilots at 40 U.S. and Canadian airlines.
Allied Pilots Association – APA represents the 15,000 pilots who fly for American Airlines.
Independent Pilots Association – IPA represents 2,800 pilots flying for UPS. Rather than charging members standard dues like other unions, the IPA operates from member donations, and is registered as a 501(c)(3).
International Brotherhood of Teamsters, Airline Division – IBT represents 80,000 airline industry workers, including mechanics, customer service and ramp agents, stock clerks, dispatch personnel, flight attendants and pilots.
Southwest Airlines Pilots Association – SWAPA represents more than 9,400 pilots at Southwest Airlines.
Association of Flight Attendants – The AFA-CWA (Communications Workers of America) is the world's largest flight-attendant union, representing nearly 50,000 flight attendants at 20 airlines.
International Association of Machinists and Aerospace Workers – The IAM is one of the largest and most diverse labor unions in North America representing approximately 650,000 workers in more than 200 industries with most of its membership in the U.S. and Canada.
Professional Airline Flight Control Association – PAFCA represents more than 1,300 FAA-certificated aircraft dispatchers and operations specialists at American, Delta, Spirit, and United Airlines.
National Air Traffic Controllers Association – NATCA is a public-sector union within the Federal Aviation Administration representing nearly 20,000 air traffic controllers, engineers, and other safety-related professionals in the U.S.
This is all very general of course and I highly encourage a deeper dive into what your union structure is, how it works, and what you can do to be a more active participant in the organized labor process, thereby getting the most out of your union membership.
I hoped you have enjoyed this high-level overview of unions in the U.S. airline industry.