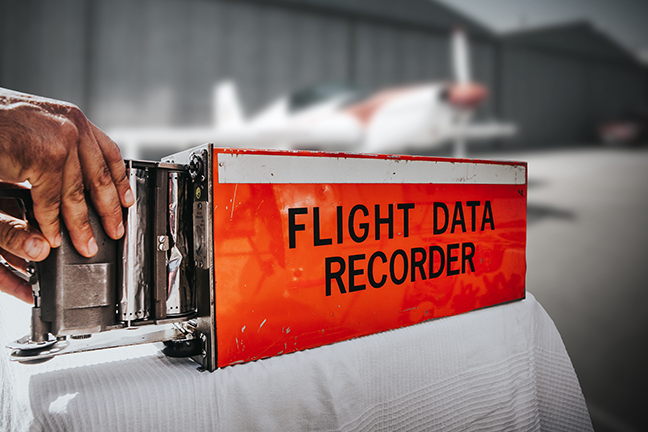 Data mining the, Part 5
In the initial installment of this safety data-mining series, we talked about required safety and occurrence reports, then moved on to the nature and value of voluntary safety reporting programs. In this final installment, we are looking at flight recorders and the essential data they provide in the wake of an accident for understanding the event and making operational and regulatory changes in order to improve operational safety. The two types of recorders are the Cockpit Voice Recorder (CVR) and the Flight Data Recorder (FDR), and regulations heavily restrict their access and usage.
The CVR and FDR are automatic data collectors and begin recording their respective parameters when certain flight deck conditions are met, such as turning on the aircraft's beacon and starting the engines. Moreover, they are critical components of the safety data system in that the information provided following an accident can help reconstruct what happened during the course of the flight, ultimately assisting in the prevention of future accidents.
The concept for FDRs and CVRs has been around since the late 1930s, with the first FDR being a French design that took pictures of airspeed, altitude, attitude, and heading utilizing a scrolling roll of film. During WWII, the Allies further developed CVR and FDR equipment for flight testing and post-crash investigation purposes (alongside other super-secret technology such as radio, radar, and electronic navigation). Still in use from this period is the term "black box" referring to the black, non-reflective metal boxes used to house these units. However, modern shockproof, fireproof, waterproof CVR/FDR units are of course bright orange for ease of identification within the vast debris field of a destroyed aircraft.
Required in the U.S. since 1965 and housed in the aircraft's tail section as the most crash survivable location, each recorder is equipped with an underwater beacon to aid in locating it in the event of a water accident. When immersed in water, a beacon transmits an acoustic signal on 37.5 KHz detectable down to 20,000 feet for up to 30-days. Once secured, whether on land or in water, recorders are immediately removed from the accident site and transported to National Safety Transportation Board (NTSB) headquarters in Washington D.C. for processing. The NTSB tightly controls access to these devices, with only a small group of technicians ever allowed to review the data, and each must sign a nondisclosure agreement beforehand.
CVR data provides contextual clues regarding the cause or contributing factors to an accident, providing transcripts of conversations, radio calls, as well as flight deck warning sounds and alerts that can assist in reconstructing what happened during the flight. Early CVRs were analog recordings, replaced later by magnetic tape. Modern CVR systems utilize a solid-state digital data disk recording system, and depending on system type, is over-written every two to 25 hours.
The FDR, much like FOQA data, records multiple channels of information, with a minimum of 88 specific ones required by the FAA – and some units can record more than 1,000 in-flight parameters. Similar to the CVR, coded information is stored on a retrievable disk providing investigators with environmental conditions and aircraft configuration, along flight automation and systems statuses up to the accident.
Future integrated CVR-FDR units (CVDRs) will not only include extended underwater depth and beacon detection time (up to 90-days as predicated on the disappearance of MH370), but also recording in real-time to the cloud – although data security must be guaranteed in order to maintain the trust, veracity and functionality of the present system.
I hope you have enjoyed this series' succinct review of required, voluntary, and automatic safety programs that provide data-mining opportunities for creating an even safer air transportation industry.
Editor's note: Grey Matter will bring you a new series starting with the January issue. Follow Andrew Ross' journey as he dealt with disaster while on the road. But don't skip the column next month with Andrew revisiting three type ratings.