Help for service members transitioning from active duty into the aviation industry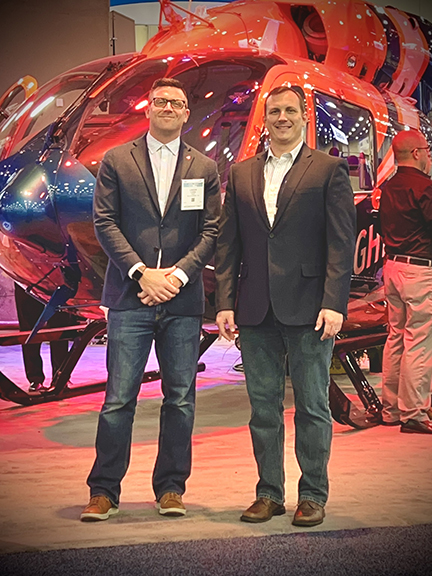 "How do we connect with more veterans?" This question has been asked internally by aviation companies for a long time. Now that the industry is recovering to pre-Covid levels, the question is being yelled while talent-acquisition teams reel as they try to meet their companies' hiring demands. Every company with growth plans needs an ever increasing flow of pilots, maintainers, dispatchers, and the list goes on. Veterans have always been integral to the industry and are needed even more now. SkyBridge LLC has developed a unique program to provide a pipeline of qualified service members who are welcomed into the pipeline up to six months before leaving active duty. The best part is that SkyBridge is able to work with the Department of Defense (DoD) SkillBridge program that provides salary to the service members through transition. Therefore, there is no financial burden upon the company providing the position during that time, nor is there any cost to the transitioning veteran. It's a win-win-win!
As RTAG Executive Vice President of Communications put it, "SkyBridge is helping bridge the gap between transitioning service members and their future careers in the aviation industry by creating DoD SkillBridge pathways with top aviation-industry organizations that want nothing but the best for our nation's service men and women."
Co-founders Austin Roth and Landon Cheben began formulating a way to help their fellow veterans as they became increasingly frustrated with their own transitions from active-duty to civil aviation. While there are ever more opportunities in civil aviation, many service members experienced a gap in time and income between when they left the military to when they started their new jobs. This gap takes an already stressful time for these veterans and their families and compounds it. Organizations like RTAG – The Veteran Aviation Charity have done a tremendous job ensuring that the opportunities will be there for veterans, however there is always more work to be done. Landon and Austin recognized that a DoD program that was being used across America in other industries was being underused in aviation. Their vision was to see how many qualified pilots, maintainers, flight school students, and dispatchers they could help get a foot in the door before even leaving the military.
Enter the DoD SkillBridge program. The DoD SkillBridge program allows service members the opportunity to spend up to the last 180 days working with industry partners with the goal of providing a "high probability of post-service employment."[1] This can be in the form of apprenticeships, education, on-the-job training, job shadowing, and certificate programs. The best part is that DoD continues to provide all pay, benefits, and insurance for service members while they are on the program but partner companies cannot pay them! The service member gains an edge in being employed after their service ends and companies gain salary savings.
SkillBridge began as a pilot program authorized in 2008, put into action in 2011, and was officially launched in 2014. Since then, nearly 2,900 companies have received authorization to participate. The growth of the program in other sectors and the corresponding rise in the level of requests for authorization meant that by early 2022, approvals had nearly reached a stand still. Even without the bottleneck of applications, the process is bureaucratic, so many companies simply abandon the process after 9 to 18 months of no response from the DoD after having submitted a request.
Until early 2022, service members could apply for "individual internship" approval. This increased the level of scrutiny for approval but it was possible. Between February and April 2022, all of the branches (except the Army) changed their policies and demanded that service members only use DoD-approved providers. The Army's SkillBridge, called the Career Skills Program (CSP), is unique in that it still allows for individual internships, though some local coordinators deny them outright.
Third-party model. Austin and Landon recognized SkillBridge for everything that it could be to aviation but they realized the stall in responsiveness was happening at a time that may reflect the most critical labor shortages the aviation industry has ever known. Early in the process, Austin was introduced to Kristin Scott, a retired Navy crypto linguist who had been working in the SkillBridge space for the preceding five years. She introduced the concept of a third-party SkillBridge provider. These organizations operate much like temporary labor agencies. Ultimately, they are responsible for the management of the service members' SkillBridge. The DoD authorizes those entities to partner with companies thereby not having to be approved themselves. This means that hiring companies avoid having to navigate the bureaucracy nor do they wait the 9 to 18 months for approval. In fact, almost half of all SkillBridge opportunities are managed by third-party providers, though before SkyBridge, none were focused on aviation.
Speaking different languages. So why were Amazon, John Deere, and Johnson & Johnson using SkillBridge but hardly any aviation companies were? The answer is pretty simple. No one speaks the same language. In order to have a program approved, you have to be able to articulate certain things to the DoD and the people who are approvers don't speak aviation nor do they have time to learn. This leaves aviation companies having to speak DoD SkillBridge's language but they don't have the time to learn. For Amazon, for example, it was easy enough to explain how they already use interns and that this is just another internship program. It is pretty difficult to explain to the DoD that a commercial pilot isn't really a commercial pilot in the way they are thinking, and that despite being a commercial pilot in one sense, the individual isn't actually a commercial pilot who can fly airliners and needs additional training or experience. When you start tossing around terms like CMEL, ATP-CTP, RTP, A&P, etc. it becomes impossible. Adding to the confusion is that military aviation and civil aviation have their own languages and a lot gets lost in translation. To wrap this whole thing into a messily tied DoD SkillBridge bow, companies also have to rearticulate to each individual branch, base, and unit how this particular SkillBridge benefits each individual soldier, sailor, airman, or marine in order for their commanders to approve their paperwork. It's exhausting. Any one complication can be enough to cause some aviation companies to steer clear. Aggregated, it sometimes becomes impossible.
SkyBridge is born. Third-party-providers do not focus on one industry, instead, they try to place as many service members as possible wherever they can. One of them may have over 1,500 different opportunities listed. It became clear that the lack of specialization meant that the third-party model didn't translate well into aviation and aviation had nuances already that made it difficult to translate to DoD SkillBridge. At one point, Kristin suggested that what was needed was an aviation-specific, third-party provider — an organization that could speak all the different languages fluently. In hindsight, this was an unsurprising suggestion coming from a crypto linguist. While a novel concept in the world of third-party providers, it was seen as a necessary one to serve the world of aviation. The benefits of SkillBridge are obvious (early access to talent with no salary burden) in a time when stressed talent-acquisition teams are already spread thin. The last thing most of them want or need is another program to manage. The timing couldn't have been any better. SkyBridge received DoD approval in March 2022, just in time for the DoD to make individual internships a thing of the past.
Today, SkyBridge is able to provide immediate access to the DoD program and take on the duties of a program management team. Because of their narrow focus, SkyBridge is able to do something else that service members need, especially in aviation. SkyBridge employs a team of veteran counselors who have successfully made the transition from the military to civil aviation. These counselors spend hours on the phone giving professional guidance and advice during a critical stage in our veterans' lives and careers. They are all commercial pilots and many of them are dual-rated in both helicopters and airplanes.
The military mandates that service members begin transition classes, known as the Transition Assistance Program (TAP), within two years of exiting the service. SkyBridge further suggests that service members who are currently in aviation or aspire to be, make contact 12 to 24 months prior to leaving the military. There is a lot that can be done before SkillBridge and it is never too early to start preparing for the transition. Last year, SkyBridge connected with over 700 service members and for 2023, they expect to connect with over 1,200. These individuals come from all walks of military life; everything from an infantry marine aspiring toward flight training to a 4,000-hour Navy 737 instructor pilot.
What kind of experience will service members have with SkyBridge? Service members typically connect with SkyBridge via its website, SkyBridgeVets.com. They will need to fill out some basic information on the "Service Members Connect" page to link them with a member of the SkyBridge Counseling Team. The counselor will help the service member with everything from goal setting for their new career to how to use the GI Bill for training expenses. The counselor will also begin narrowing down what SkillBridge opportunities the service member is qualified for, interested in, or could qualify for by the time they become eligible to start their SkillBridge. Sometimes the goal is getting a service member to what will hopefully be their last company. Sometimes it is getting them to a company that will help get them set up for after SkillBridge.
Alex Trujillo is a classic example. Alex was a Navy MH-60R Sea Hawk pilot who had been in a non-flying position for the last couple of years. He had over 1,500 total hours, however he only had around 100 pilot-in-command hours leaving him about 150 hours short of his Airline Transport Pilot certificate. He desperately wanted a home-based Part 135 job, but without meeting unrestricted ATP minimums, his applications were not gaining any traction. SkyBridge was able to partner with a local Part 135 company, Outer Banks Aviation (OBXA), that operates a variety of aircraft in the Outer Banks, area of North Carolina. They were able to put him to work flying one of their Piper Saratogas. This experience did exactly what Alex needed and OBXA benefited from having a seasoned, professional military aviator flying for their charter operation. Alex said:
"When I was facing a transition out of the Navy and a desire to enter the commercial aviation world, I didn't know where to start. Luckily, I was made aware of SkyBridge and my experience with them was nothing short of fantastic. They supported me 'from the word go' to get me into a fantastic SkillBridge which allowed me the opportunity to build some phenomenal time and experience during my time there. Because of the expertise, effort, and experience SkyBridge was able to provide for me, I ultimately interviewed with multiple companies and had my top choice of who I wanted to work for. I can point to SkyBridge as a key reason for my successful transition out of the Navy and I will be forever thankful."
Alex is now off SkillBridge and flying for one of the world's largest fractional operators. He is also a SkyBridge counselor now having seen how beneficial SkyBridge can be to his fellow service members.
Another success story is Matt Sanders who was offered a job with his host company, Metro Aviation, to continue flying Helicopter Air Ambulance:
"I am very thankful for the opportunity that SkyBridge has afforded me. I know that leaving the Coast Guard was going to have its fair share of anxiety, mostly of the unknown, but they have eased that anxiety tremendously. This past November, I was starting the process of looking to that next chapter in life — knowing retirement was approaching very quickly. SkyBridge has given me a soft place to land. I cannot thank them enough."
SkyBridge is currently partnered with three of the top 12 charter/fractional companies.[2] They also work with flight and A&P schools, helicopter air ambulance companies, part 135 and 91 operators, and expect to bring on several part 121 companies in 2023.
How can you connect with SkyBridge?
Service members: The best way is to go to skybridgevets.com and fill out the information on the "Service Member Connect" page. Prospective partners: Email SkyBridge at ops@skybridgevets.com or complete the information on the "Become a Partner" page at skybridgevets.com. The SkyBridge team will contact you and will advise how they could be leveraging the program. ShyBridge provides free consultation services on the initial call which will detail what the program is and how it could be used to help fill positions in your company. They have experience helping flight schools, helicopter EMS, part 135/91, part 121, and everything in between. They are SkillBridge's aviation experts, after all.
---
[1] chrome-extension://efaidnbmnnnibpcajpcglclefindmkaj/https://skillbridge.osd.mil/docs/SkillBridge_opportunity_types.pdf
[2] https://privatejetcardcomparisons.com/2023/02/05/2022s-30-biggest-charter-fractional-private-jet-companies-ranked/