Last month, Women in Aviation International, Inc. held their annual conference in Nashville, Tenn. at the Opryland Gaylord Resort and Conference Center. The 2021 conference was held virtually owed to the pandemic, and I must say it was great to be back in person! I absolutely love going to aviation conferences. – from the networking and meeting new people to the night life and WAI's conference is among the very best. Oh, and let's not forget the free swag you can pick up! I must admit, this year I did limit what I grabbed, but the best item I managed to score was a lunch cooler bag (aka golf beer cooler bag) from RAA. RAA's was one of the very first booths as you walked into the exhibit hall.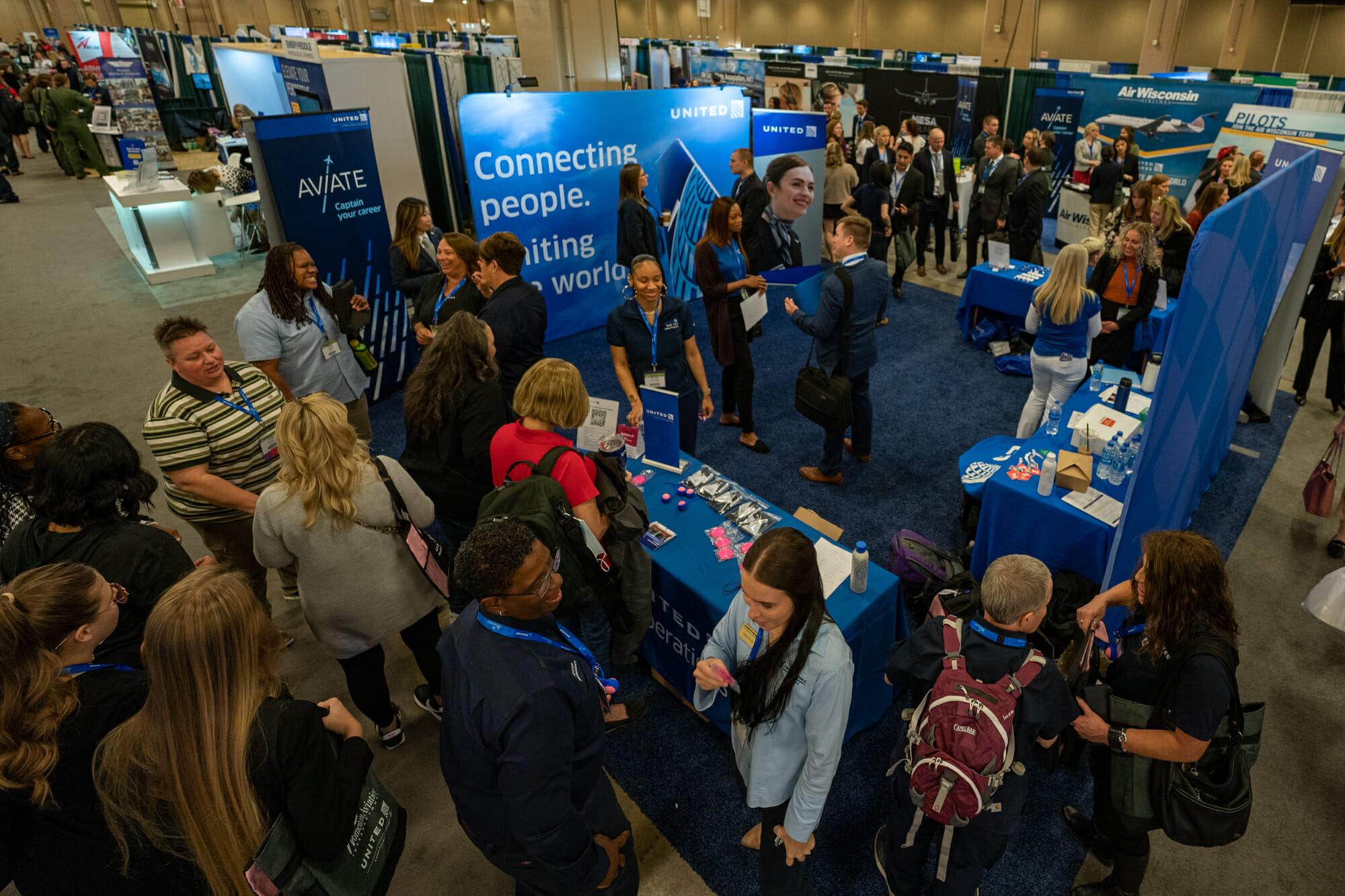 This year, my approach to working the floor was to capture as many photos as possible of people at their booths. (If I missed you at your booth, I deeply apologize. I'll catch you next year.) I'm glad to be able to share photos of some of the amazing people whom I was able to meet last month. If you've never gone to a WAI Conference, you need to put it on your bucket list. Contrary to what you may think, there are many men who are members of WAI and many more who have found this to be a very worthwhile conference.
I wasn't sure what to expect this year since the last in-person WAI Conference was literally days before the pandemic lockdowns started and the world around us started to fall apart. At the 2020 conference we were aware of the virus but it was just starting to blossom in the U.S. We weren't sure if we should shake hands, bump elbows or just wave from afar. This year handshakes were the norm and I think I only had a handful of fist bumps. Hand sanitizers were a popular swag item to grab. Masks were seen on a few but generally, we saw people's entire faces. The near normalcy felt good.
All U.S. airlines and charter outfits represented were in serious recruiting and hiring mode which was an amazing change from just a year ago when thousands of pilots and crew members faced furlough. Some airlines offered on-site interviews providing CJOs for a few lucky candidates. Unfortunately, we don't have exact numbers to share with you as airlines tend to keep that data secret. We can tell you that United Airlines, Delta Air Lines, American Airlines, Southwest, UPS, and FedEx all had long lines of pilots seeking jobs.
I had the pleasure of speaking with a few of these applicants and most were first officers with low time looking to advance their careers with the major airlines. A few claimed their employer airline was "…going to run out of captains within seven months," meaning they would not have any first officers qualified to be captain. To be captain at a Part 121 airline, a pilot must have flown 1,000 hours as a Part 121 first officer. While Aero Crew News cannot verify this information, if this is true, we are facing some very interesting times ahead. The major airlines may not be feeling that pinch yet but their regional counterparts definitely are. Aero Crew News is not in the business of spreading rumors, but I did hear this from several sources at the conference.
As I have said for years, if you have not yet experienced this conference, you should make the time to attend. In addition to the busy exhibit hall, there were several world-class speakers providing education seminars on varying topics from Military Women in Space to Career Opportunities in the Business/Corporate Aviation Industry and Job Crafting: Proactive Steps to Redesign Your Work. The comprehensive list of sessions was broadly appealing and impressive. While some topics were specifically aimed at women, the majority provided information for anyone and everyone with an interest in any aspect of our aviation/aerospace industry.
Among WAI's core missions is to provide scholarship opportunities. This year 103 scholarships were awarded for successful applicants seeking to advance their aviation educations. As a testament to the organization's success, more and more scholarships are awarded and the conference attendance grows year to year.
"The strength of WAI lies in the celebration of so many like-minded women who come together to share their passion for aviation and aerospace, support each other, learn from each other, and foster the next generation in aviation." said WAI CEO Allison McKay. "We hosted dozens of networking and education sessions, assembled another extraordinary group of keynote speakers, honored three trailblazing pioneers during our annual Pioneer Hall of Fame induction, and presented more than $473,000 in scholarships to deserving WAI members. Thanks to the generous support of our sponsors, our passionate members and impressive collection of exhibitors, WAI 2022 was an amazing venue to commemorate Women's History month and advance our mission to connect, engage and inspire our current and future workforce of diverse and accomplished members," she added.
A highlight of every conference is the induction of women into WAI's International Pioneer Hall of Fame at a touching ceremony and celebration dinner. This year's inductees include Cornelia Clark Fort, who in 1943 was the first female pilot in American history to die in active duty; Capt. Rosemary Bryant Mariner, U.S. Navy (ret.), a member of the first group of eight women to train as naval aviators in 1973; Col. Peggy A. Phillips, U.S. Air Force (ret.), the first woman selected by the 702ndMilitary Airlift Squadron to attend undergraduate pilot training.
Visits to the sold-out exhibit hall were coupled with general sessions held on Friday and Saturday mornings. Plus, dozens of break-out education sessions, professional development seminars and workshops were held Thursday through Saturday where attendees chose which sessions best suited their career goals and personal interests.
During the WAI membership meeting, Kathy Yodice was approved as a new board member, and Linda Markham, Rhonda Larance, and Shannon Weidenkamp were re-elected to the WAI Board of Directors. At the conclusion, Linda Markham's term as board chair ended and Capt. Deborah Hecker, American Airlines' Senior Manager of Flight Operations-Policy and Procedures, became the new chair of the WAI Board.
New this year, WAI unveiled Conference Replay, a virtual opportunity to view selected sessions from this year's event. Details on how to access will be provided in the April 2022 WAI Connect eNewsletter.
Girls in Aviation Day Nashville
On Saturday, March 19, over 200 school-aged girls along with their chaperones were hosted by more than 100 WAI volunteers at Girls in Aviation Day, concurrently held at the Nashville Gaylord Opryland Resort and Convention Center. The girls, aged 8-17, visited 21 activity stations followed by a career panel featuring seven aviation professionals representing different occupations. They also enjoyed lunch with Sara Langberg, an aeromechanical engineer and one of the designers of the Ingenuity Mars Helicopter. The attendees had opportunities to engage with other aviation role models and had fun while they learned about the diversity of fields within our industry. Later, the older girls had the opportunity to meet with college representatives, including those from the U.S. Air Force Academy, Embry-Riddle Aeronautical University, Liberty University, Ohio University, St. Louis University, University of North Dakota, and more. Each participant earned a WAI Aviation Girl Fun Patch.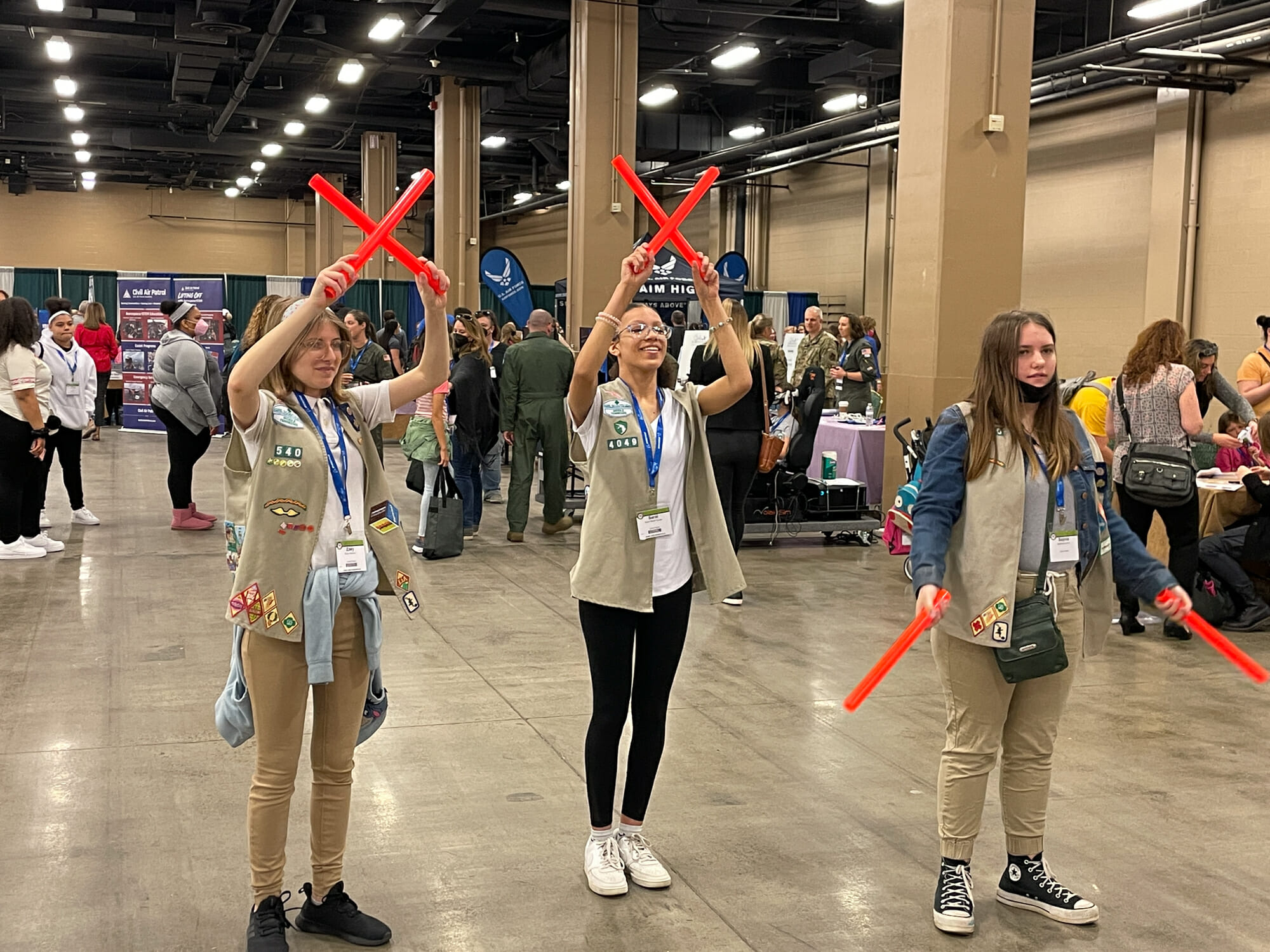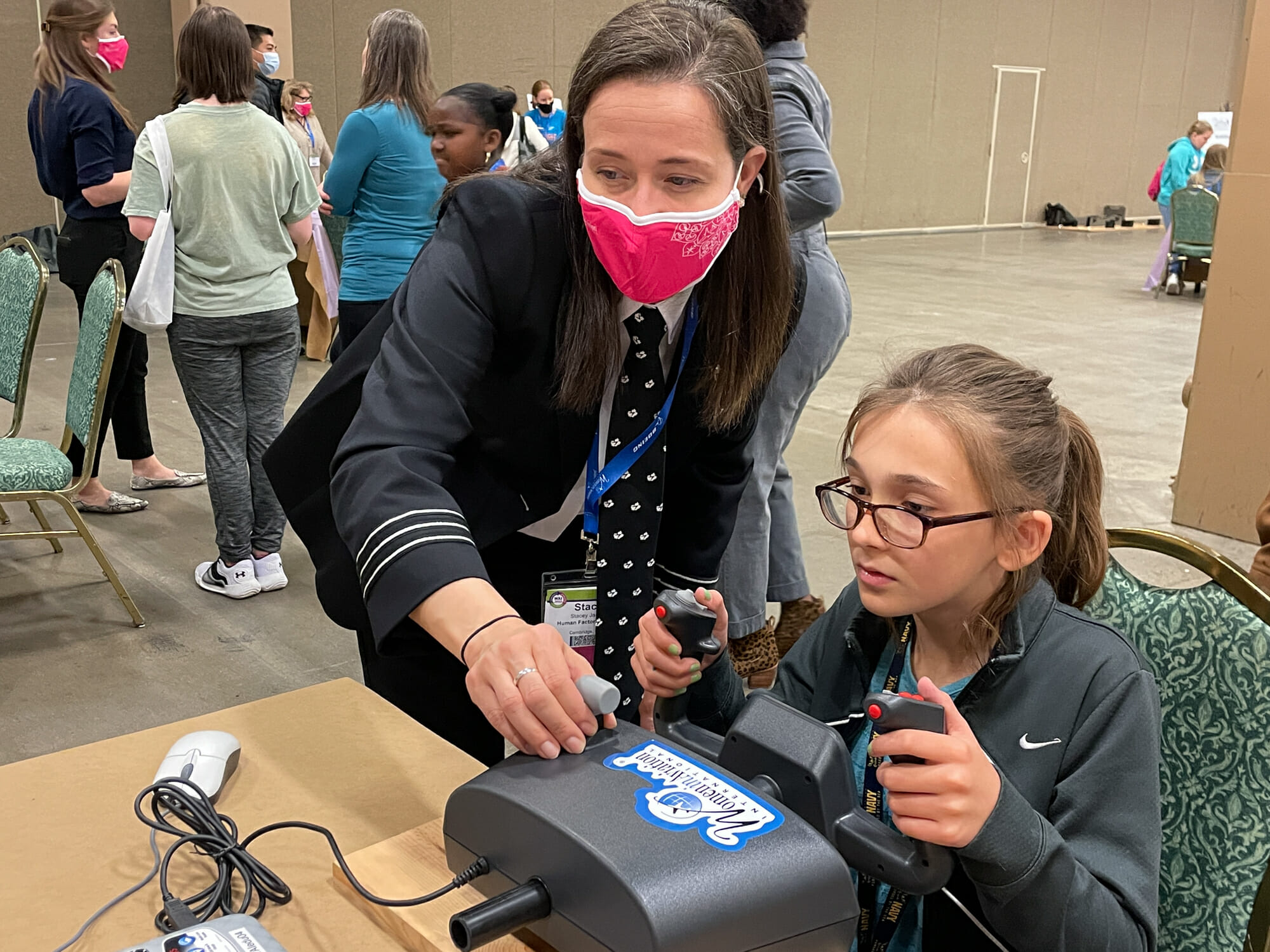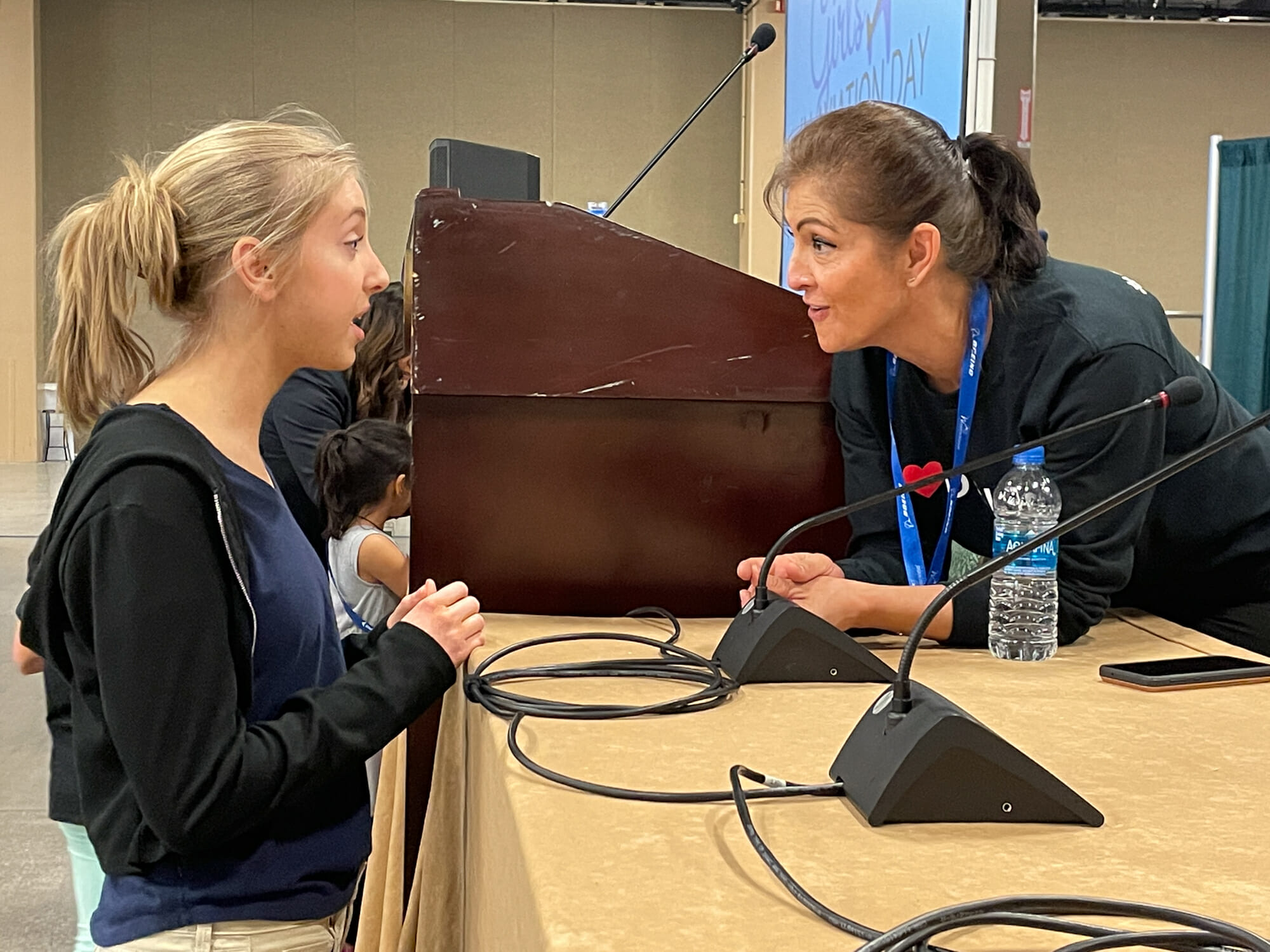 Facts and figures:
Total attendance of more than 4,500 included 65 international representatives from 16 countries: among them, Canada, Ghana, Nigeria, Zimbabwe, Ireland, Brazil, Germany, Singapore, Belize, and the United Kingdom.
Gender distribution was 68% women and 32% men.
The exhibit hall hosted 176 companies and organizations representing all aspects of the aviation community, including the unmanned sector.
103 scholarships were distributed to WAI members at every stage of life for academic pursuits, lifestyle enhancement and flight training, including type ratings. Over $473,000 in scholarships were awarded. To date, the total scholarships awarded since 1995 by WAI exceeds $14.5 million.
There was a special tribute to Wally Funk, WAI Lifetime Member #26, for her trailblazing trip to space aboard Blue Origin's New Shepard, and for receiving NAA's 2021 Katherine and Marjorie Stinson Trophy.
WAI and the Civil Air Patrol signed a new partnership agreement for joint efforts to foster interest in aviation, share aerospace education resources and provide opportunities for youth to experience flight.
The WAI chapter network has reached 153 global chapters in 22 countries.
Booth Photos in alphabetical order:
The Abingdon Company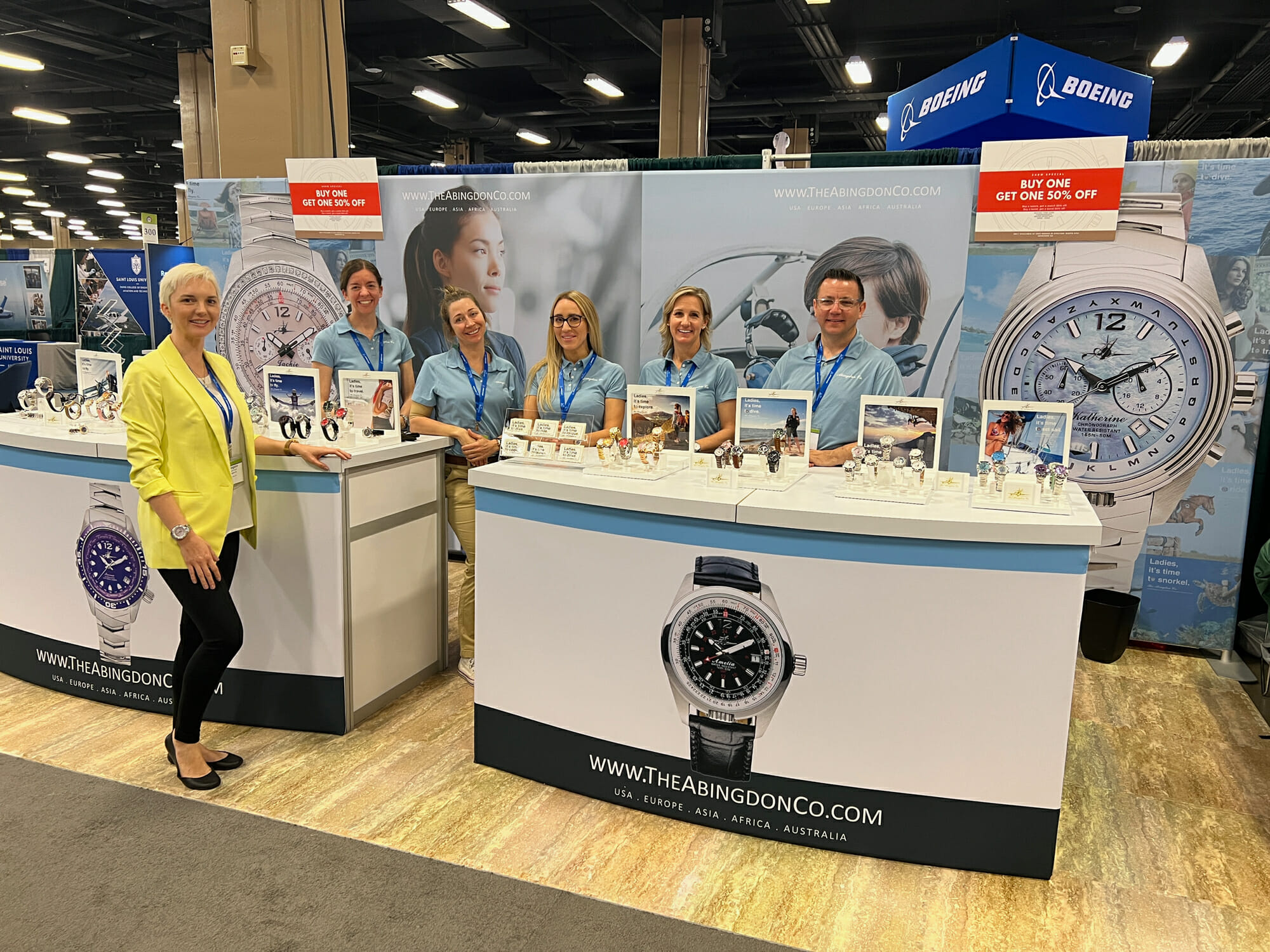 AirWisconsin Airlines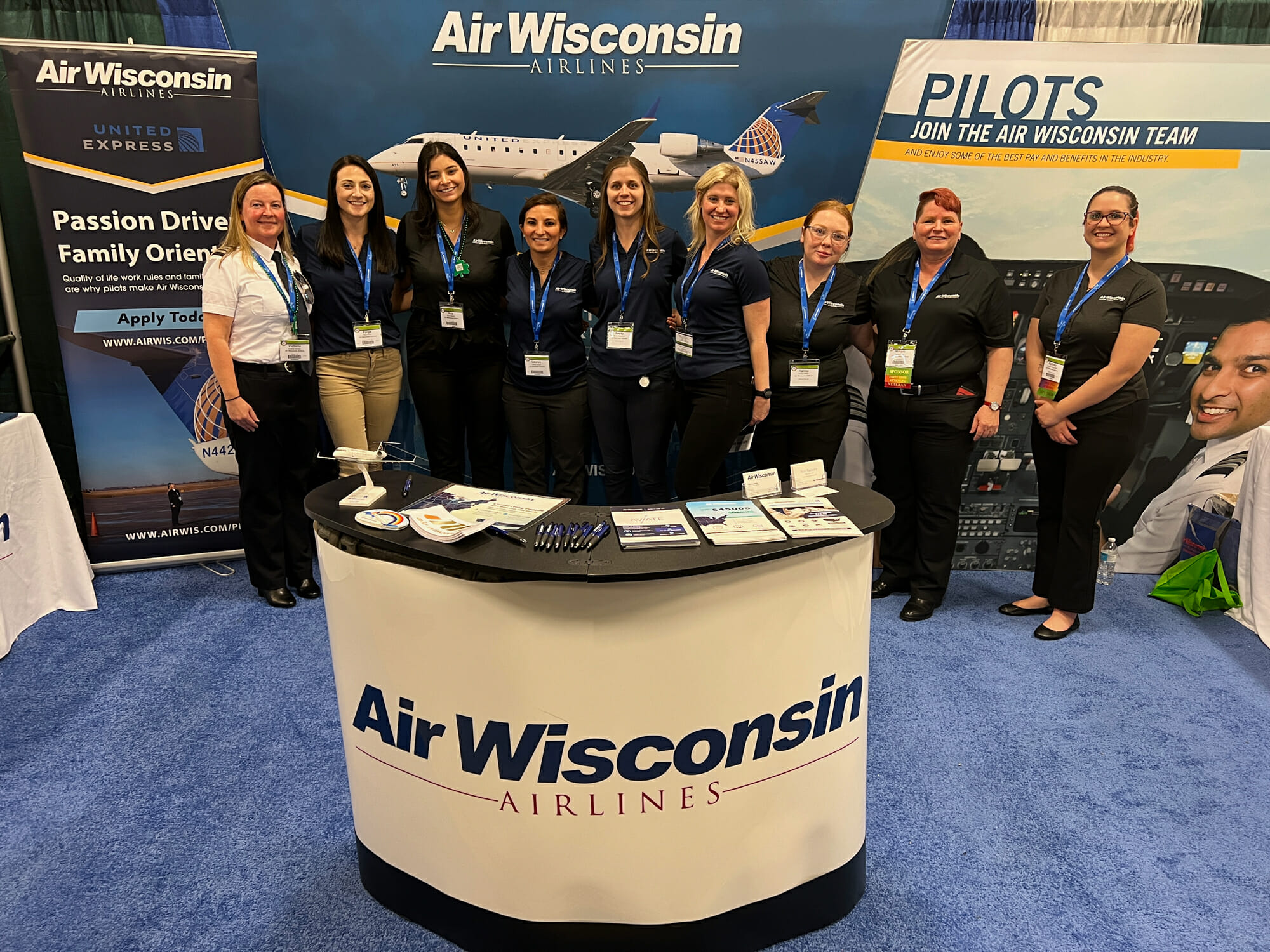 Avelo Air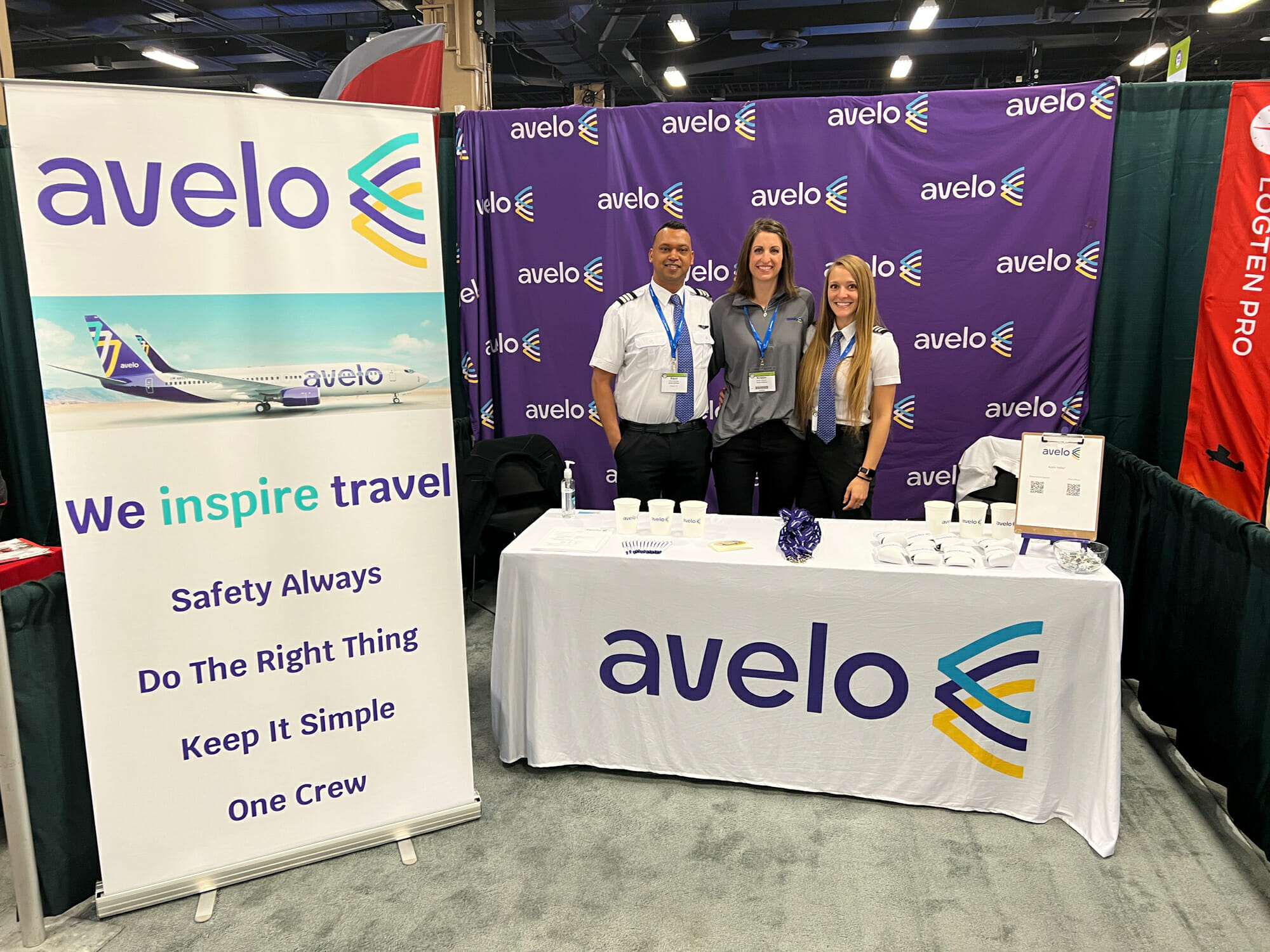 Castle Aviation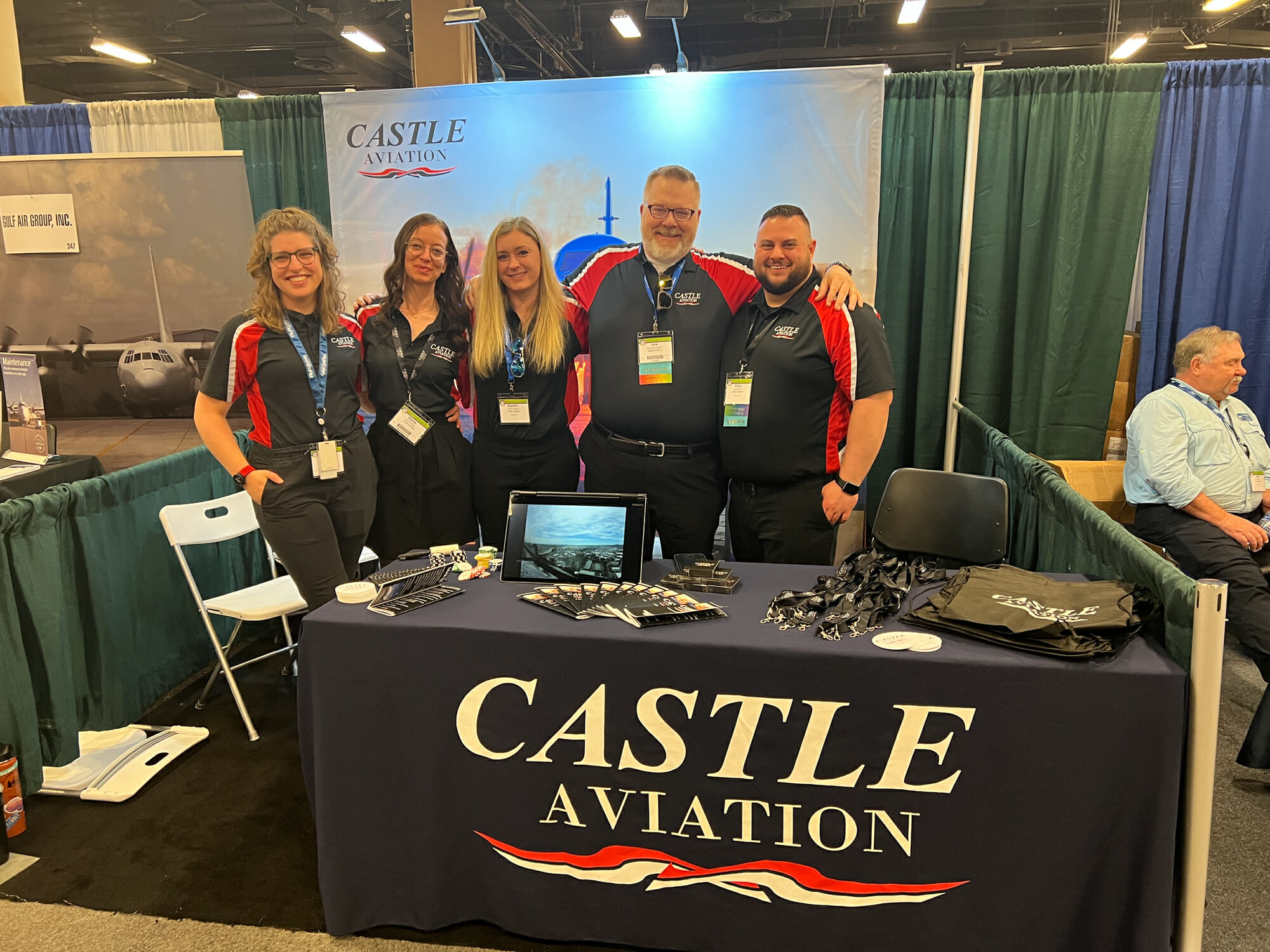 Cirrus Aircraft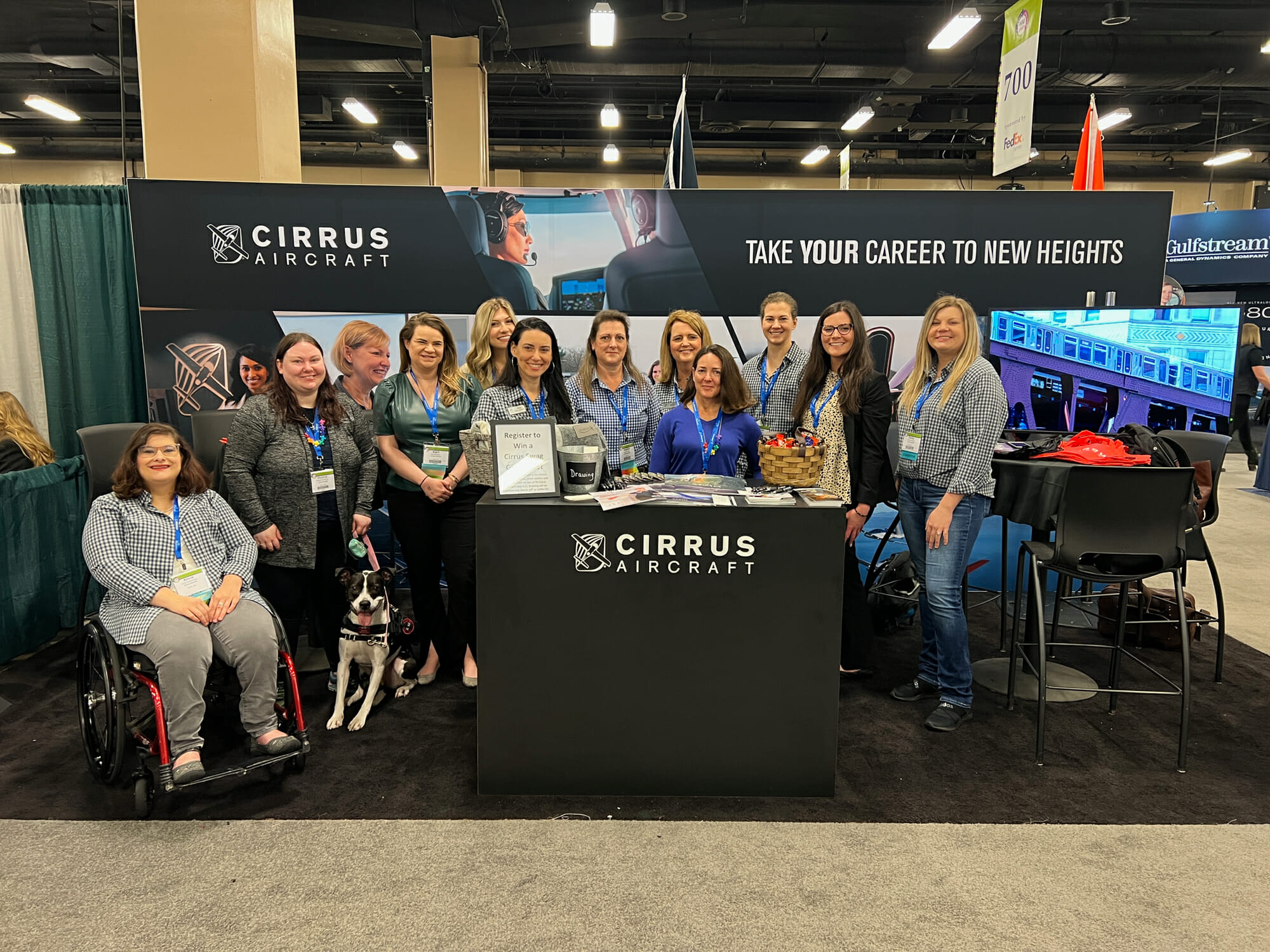 CommutAir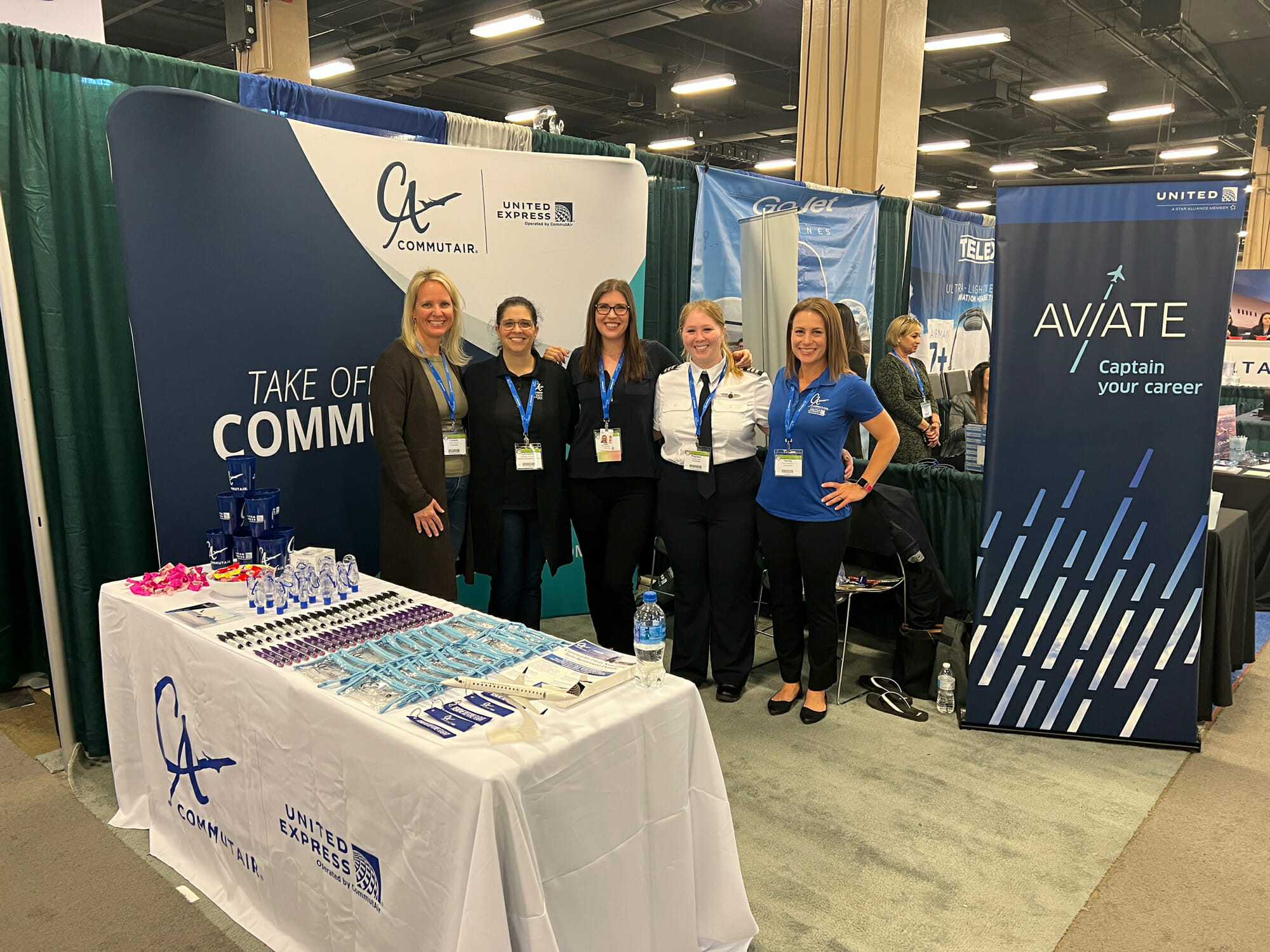 Delta Air Lines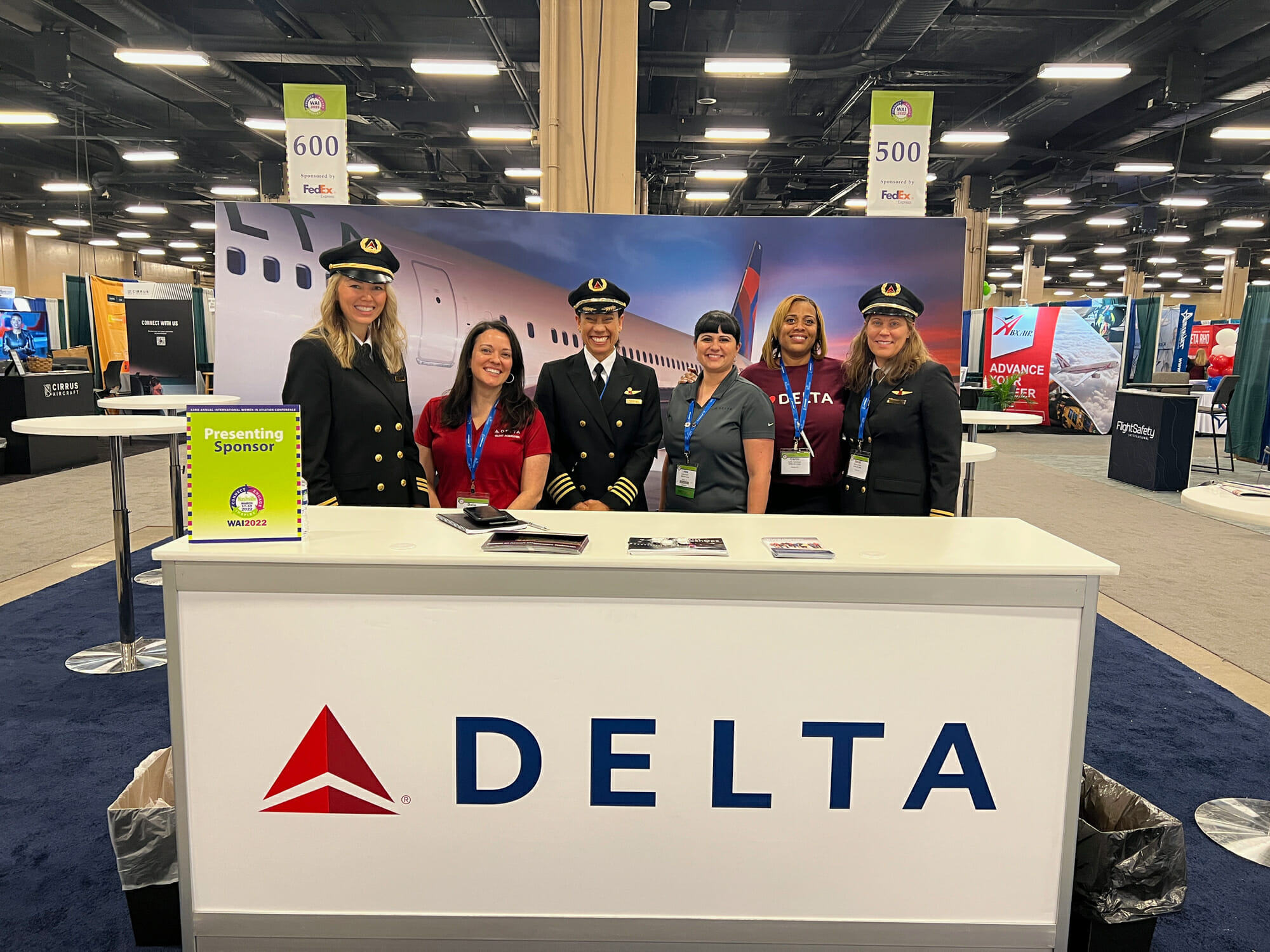 Envoy Air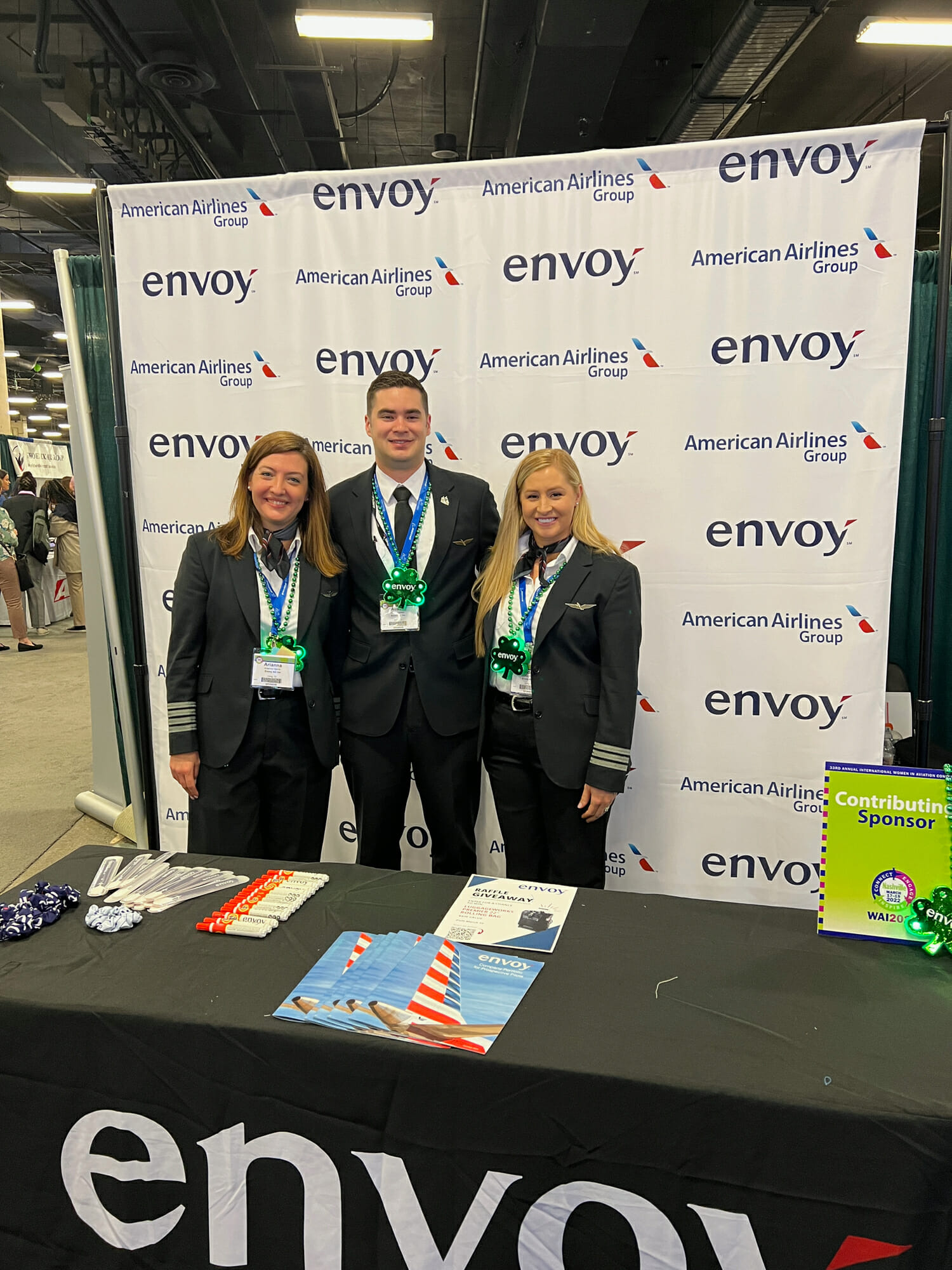 Embry-Riddle Aeronautical University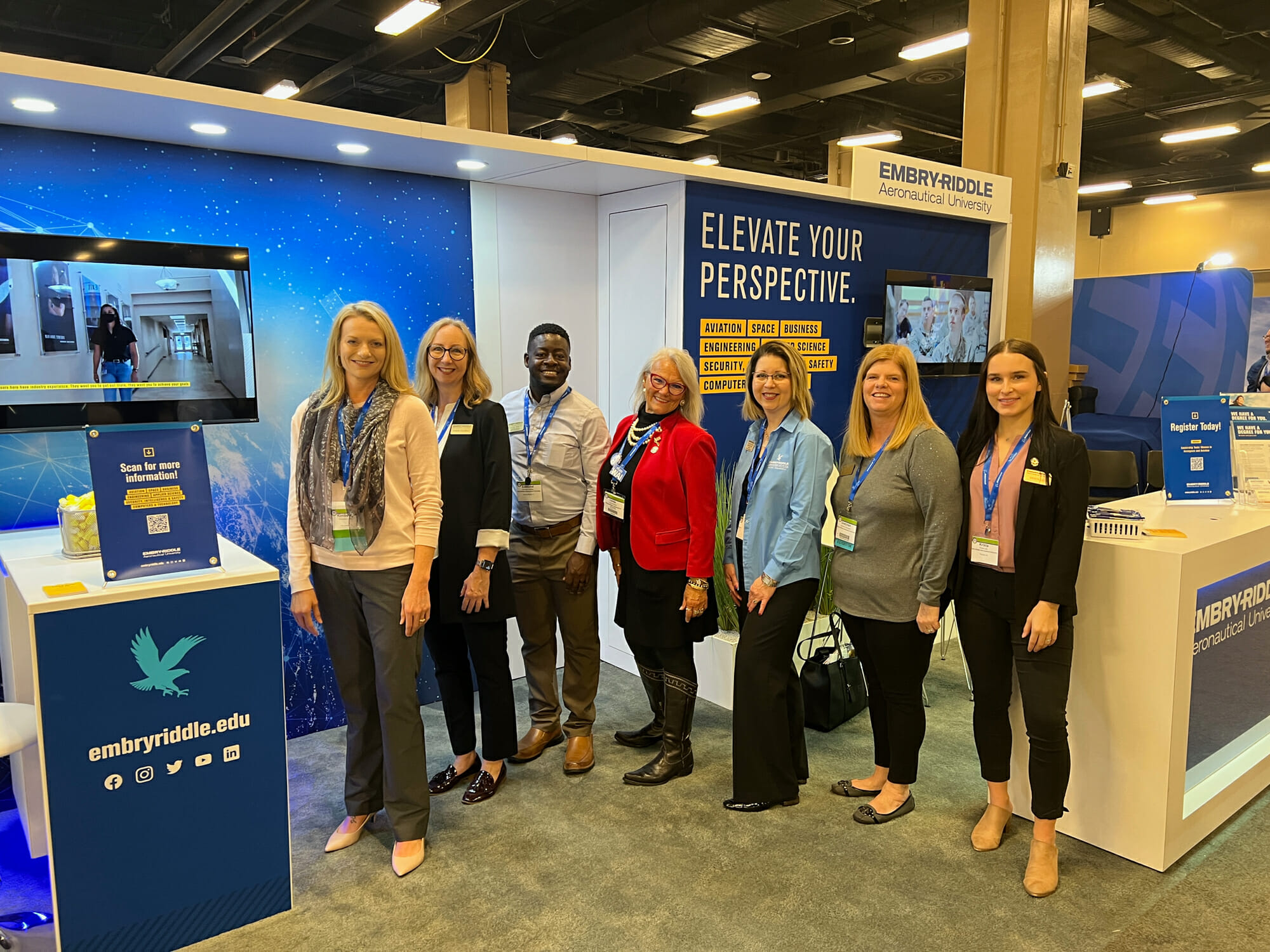 FlightSafety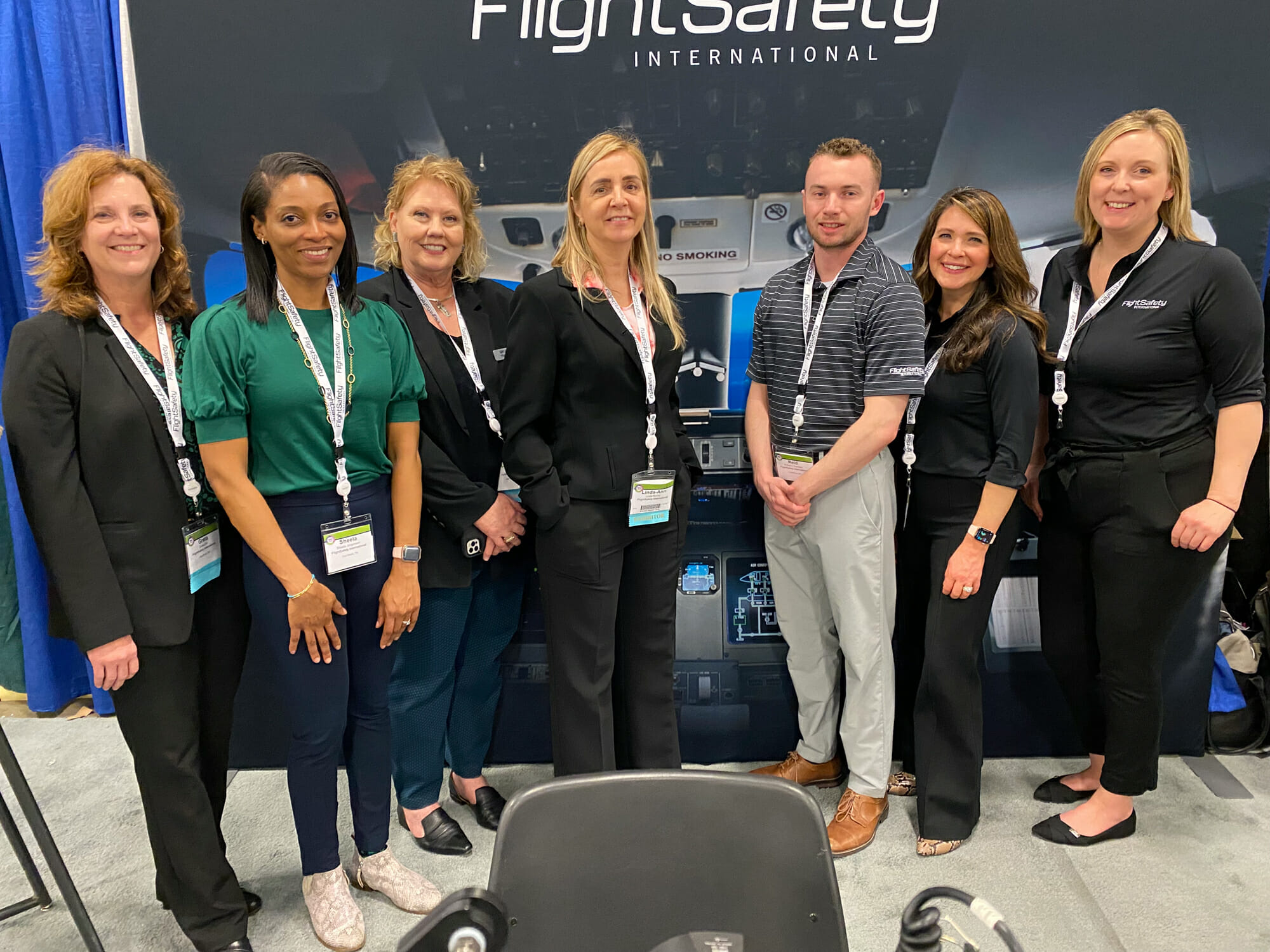 FlyExclusive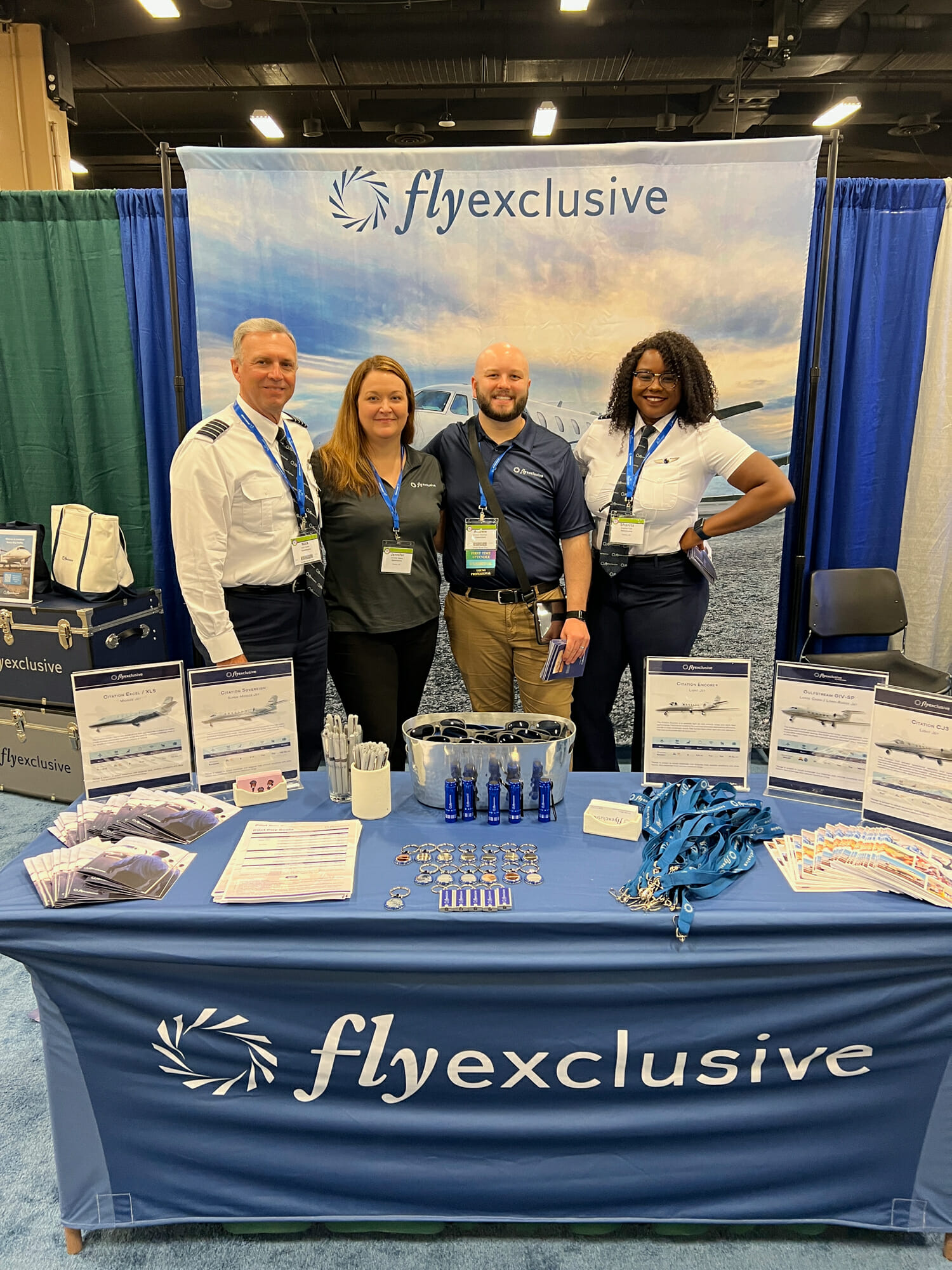 Frontier Airlines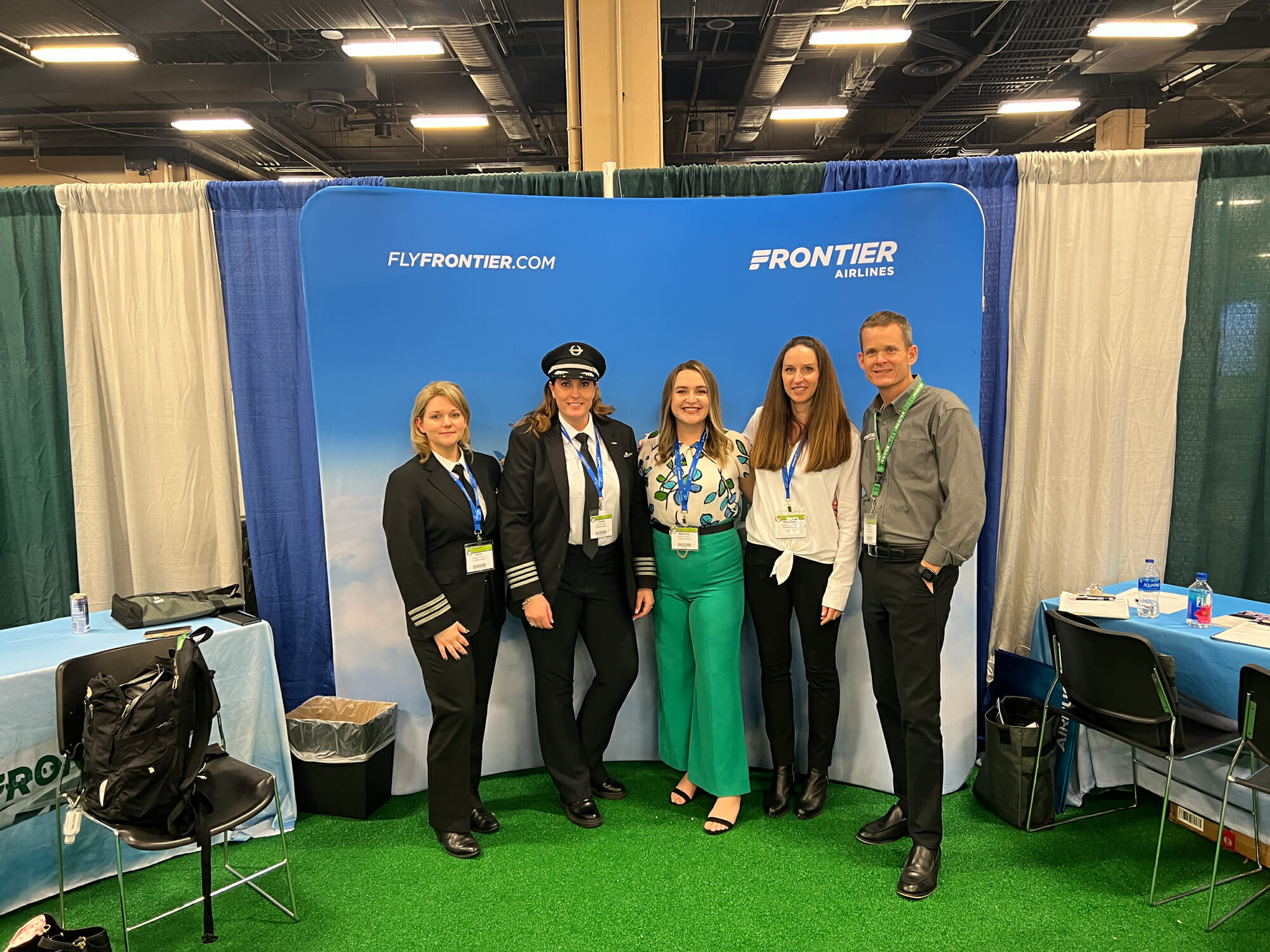 GoJet Airlines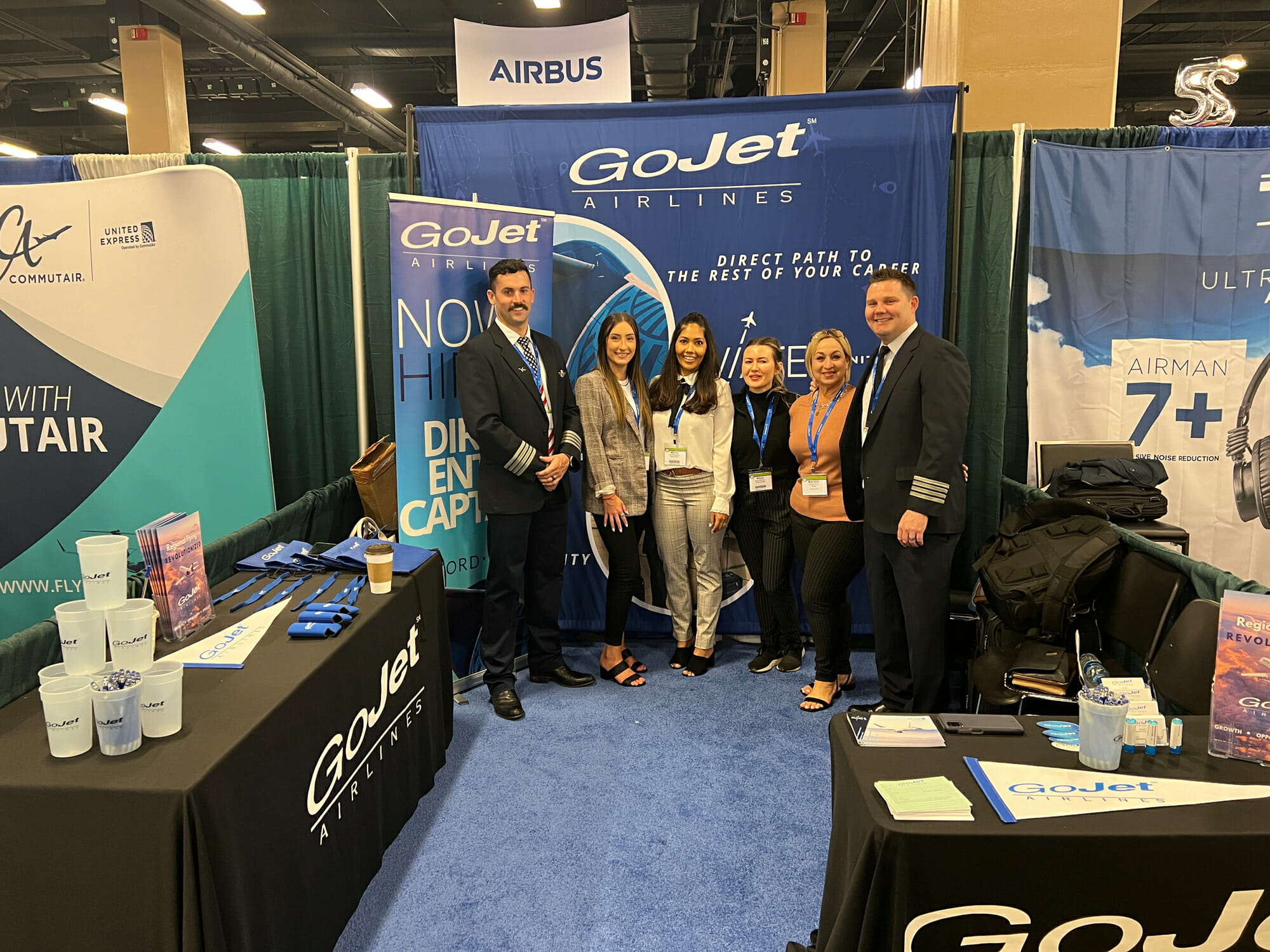 Grandview Aviation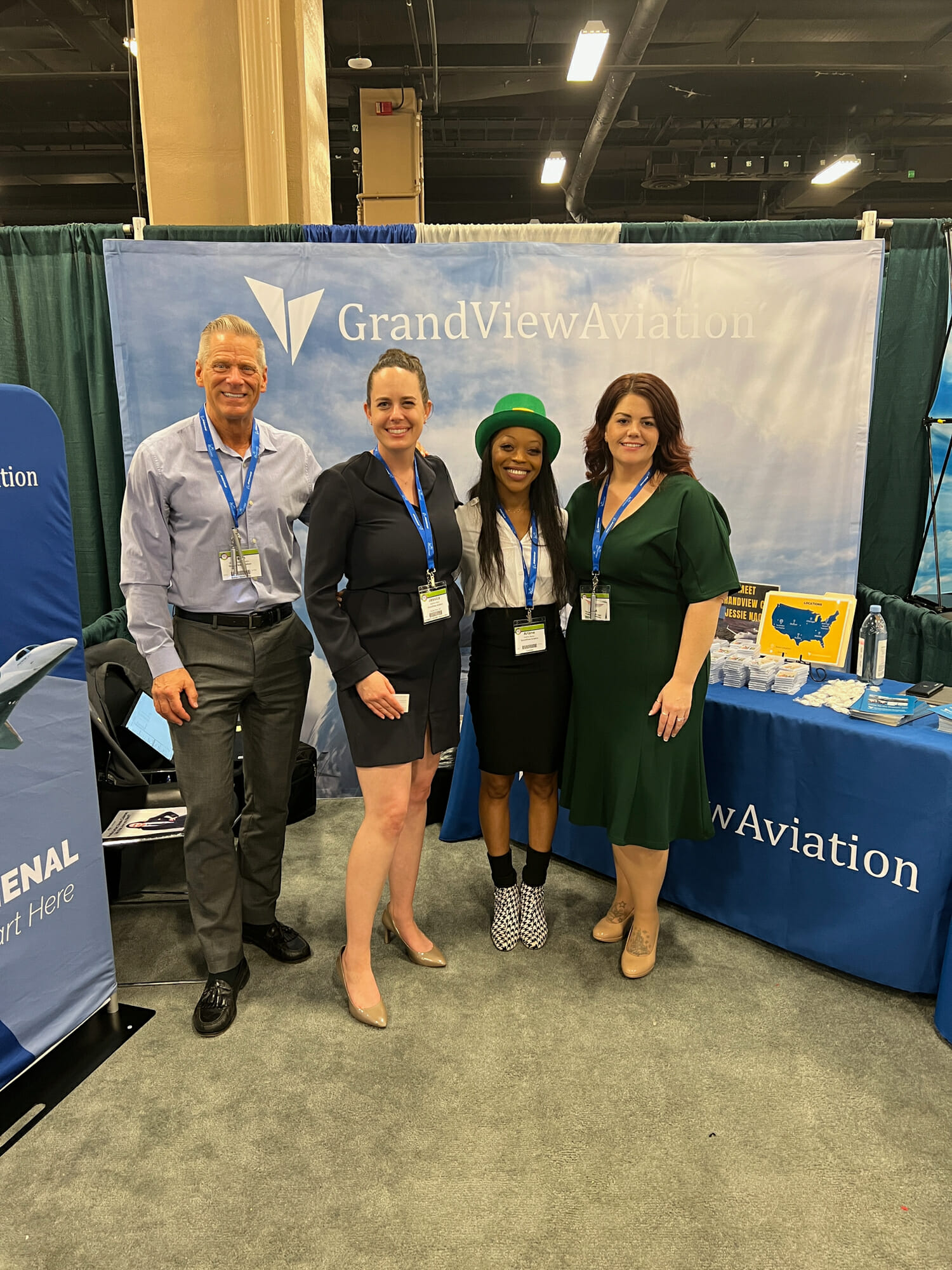 Guardian Flight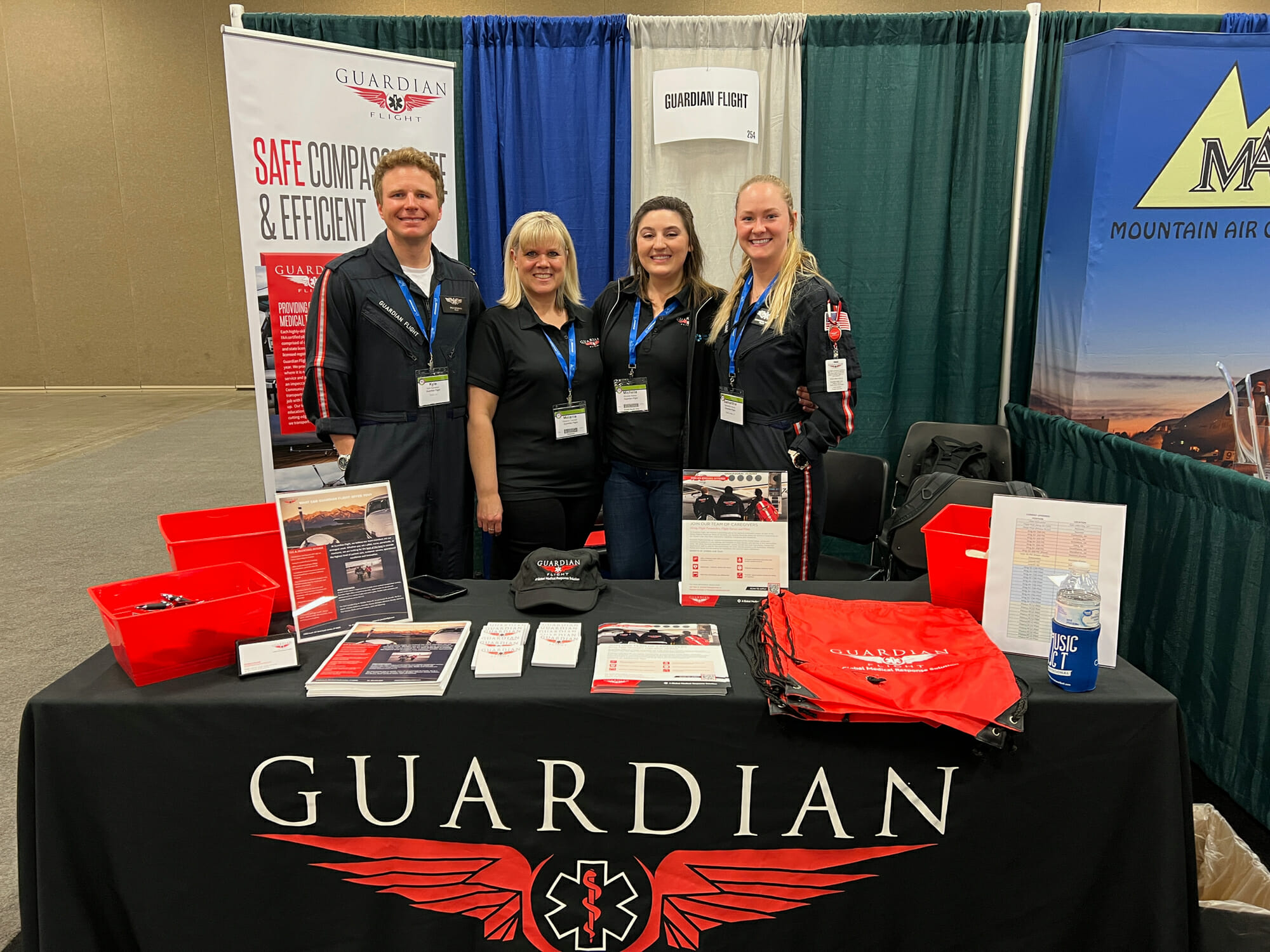 JetLinx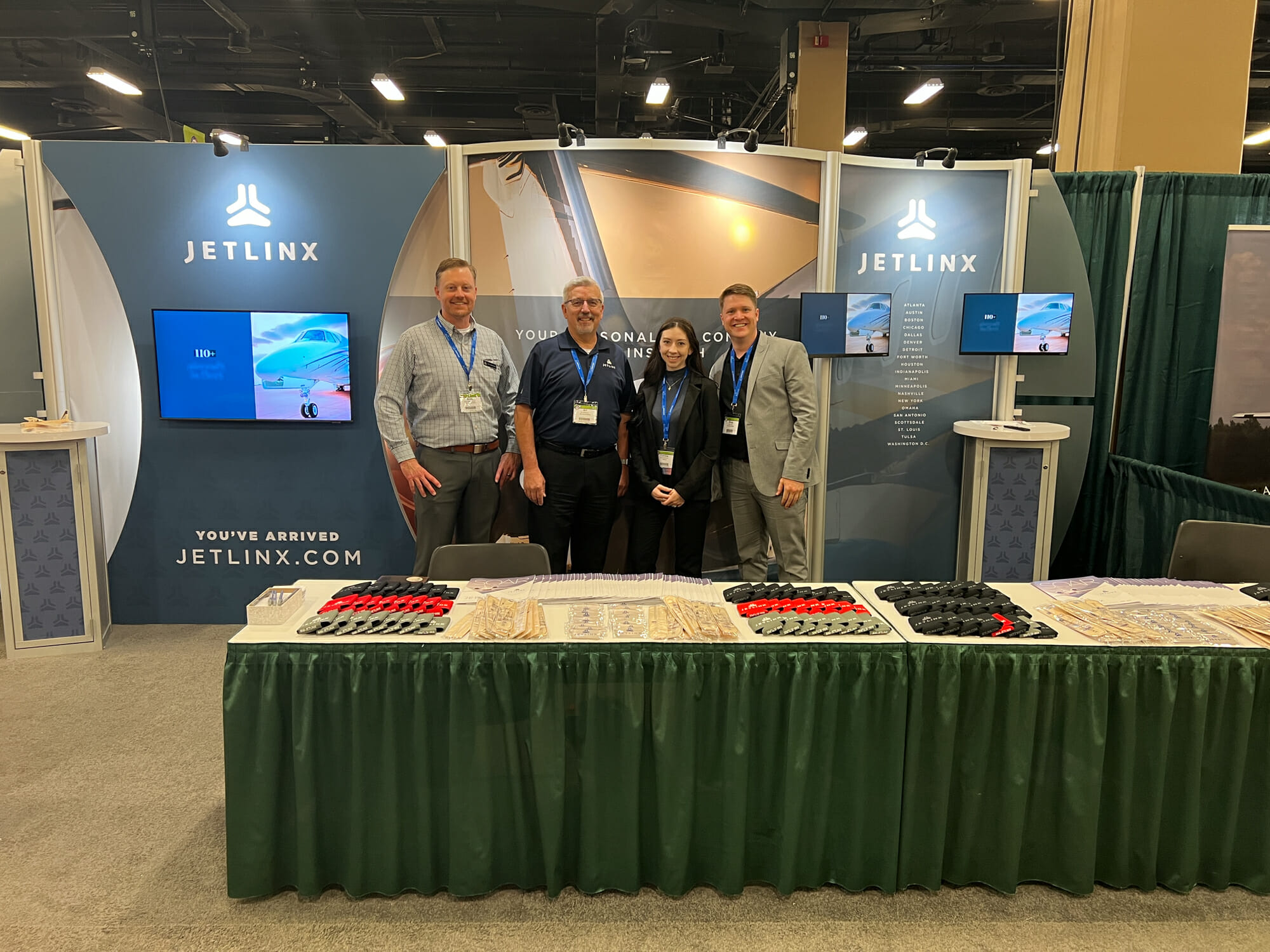 JSX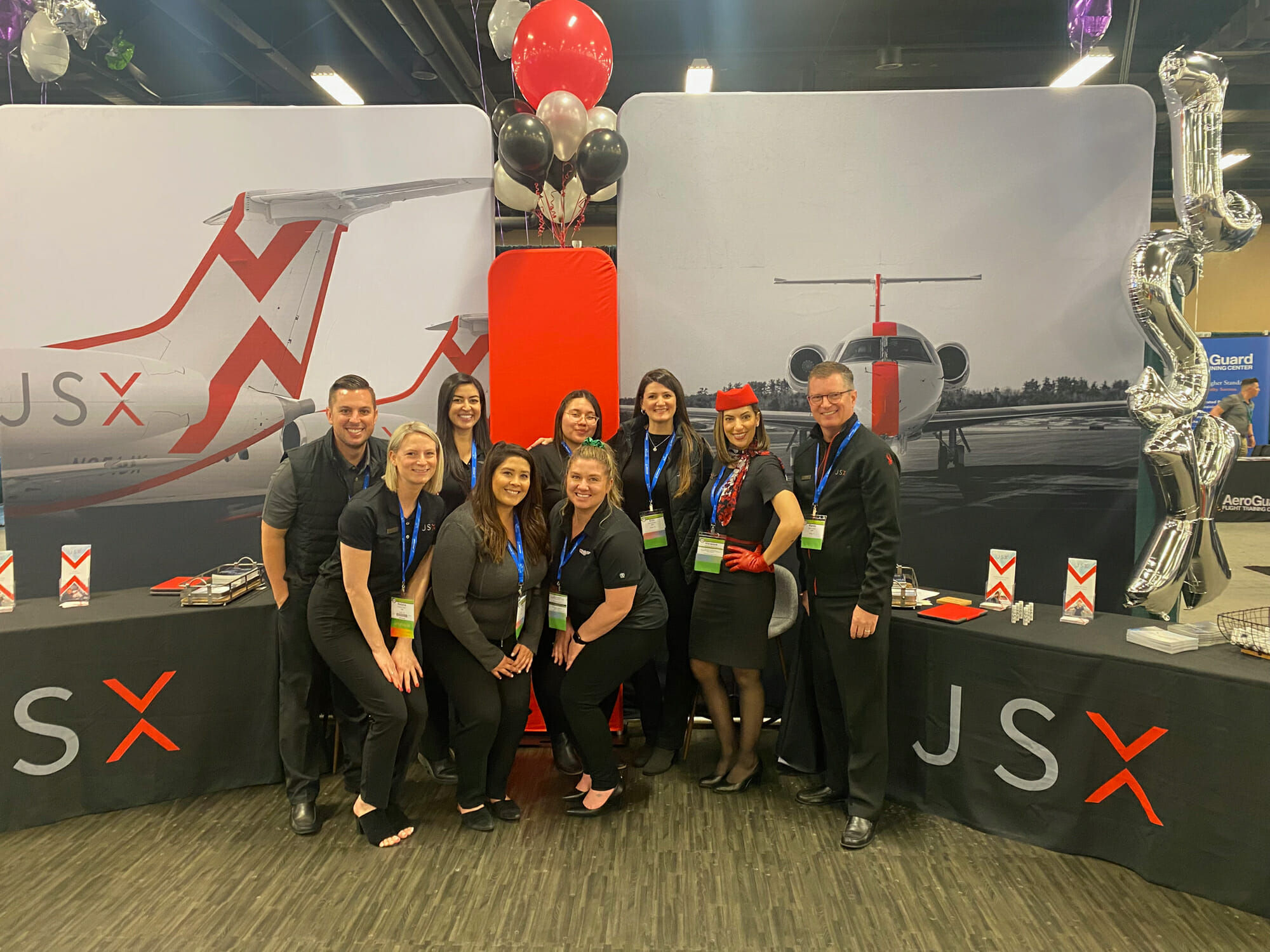 MAC – Mountain Air Cargo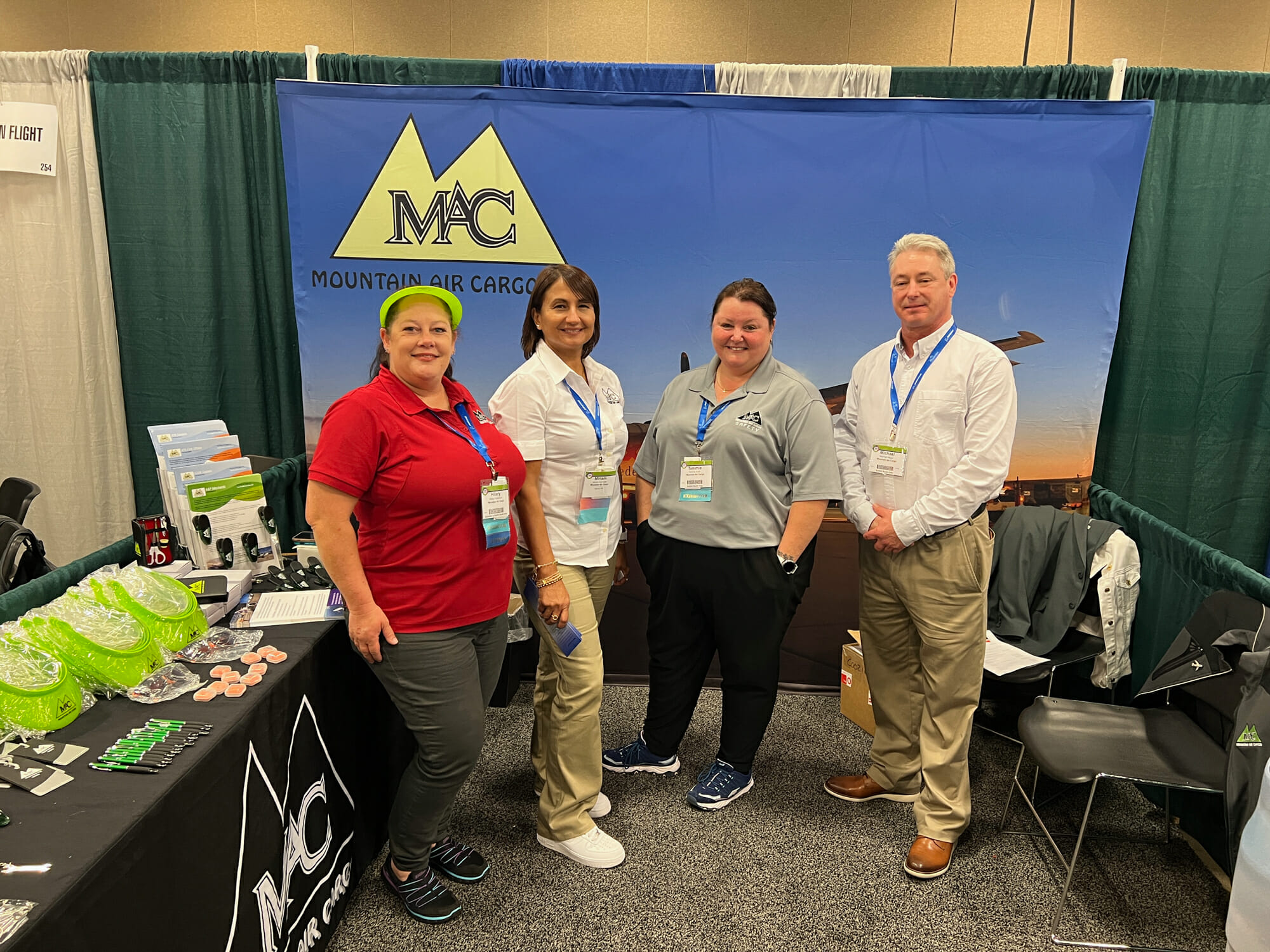 Mesa Airlines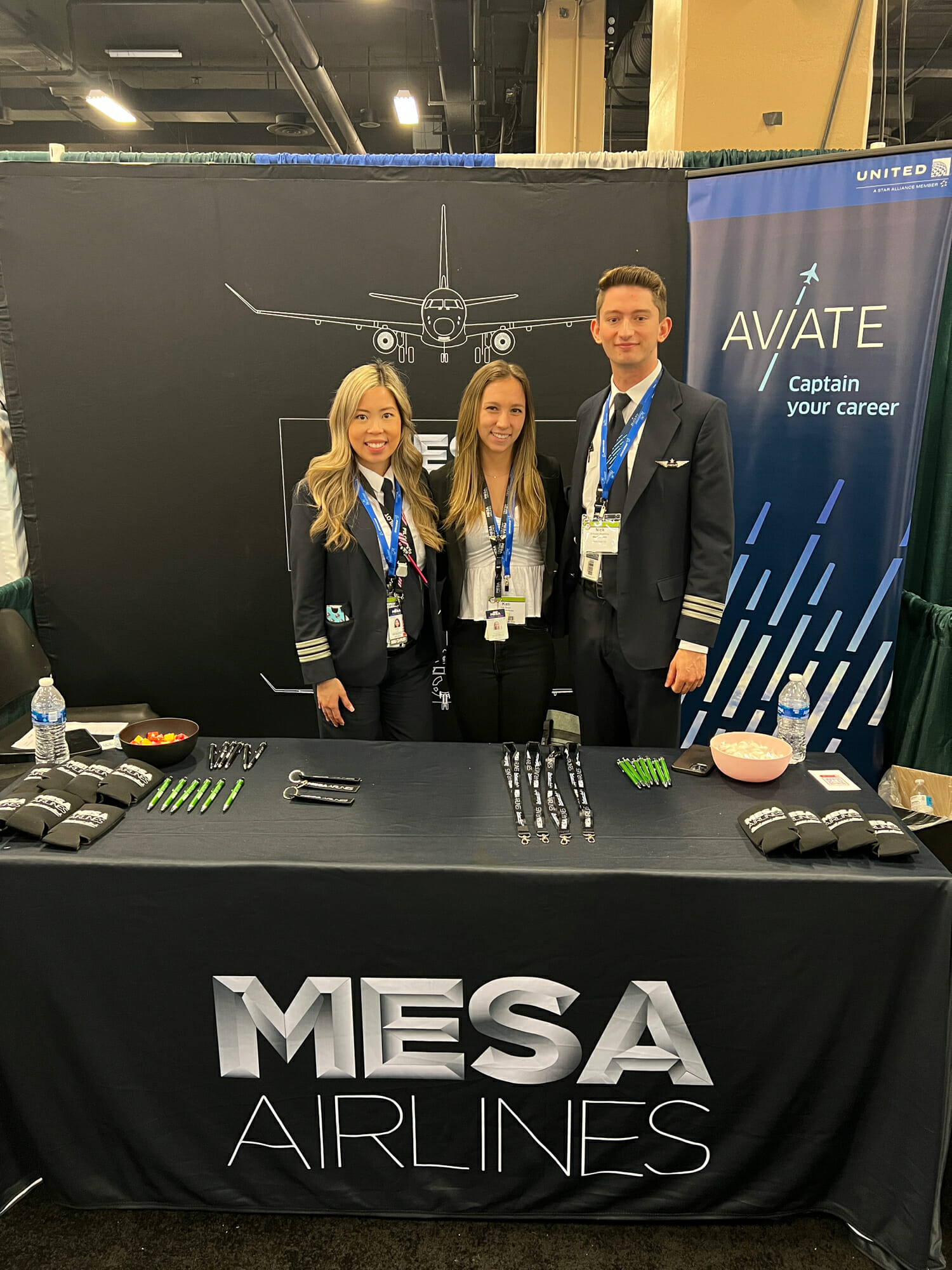 Piedmont Airlines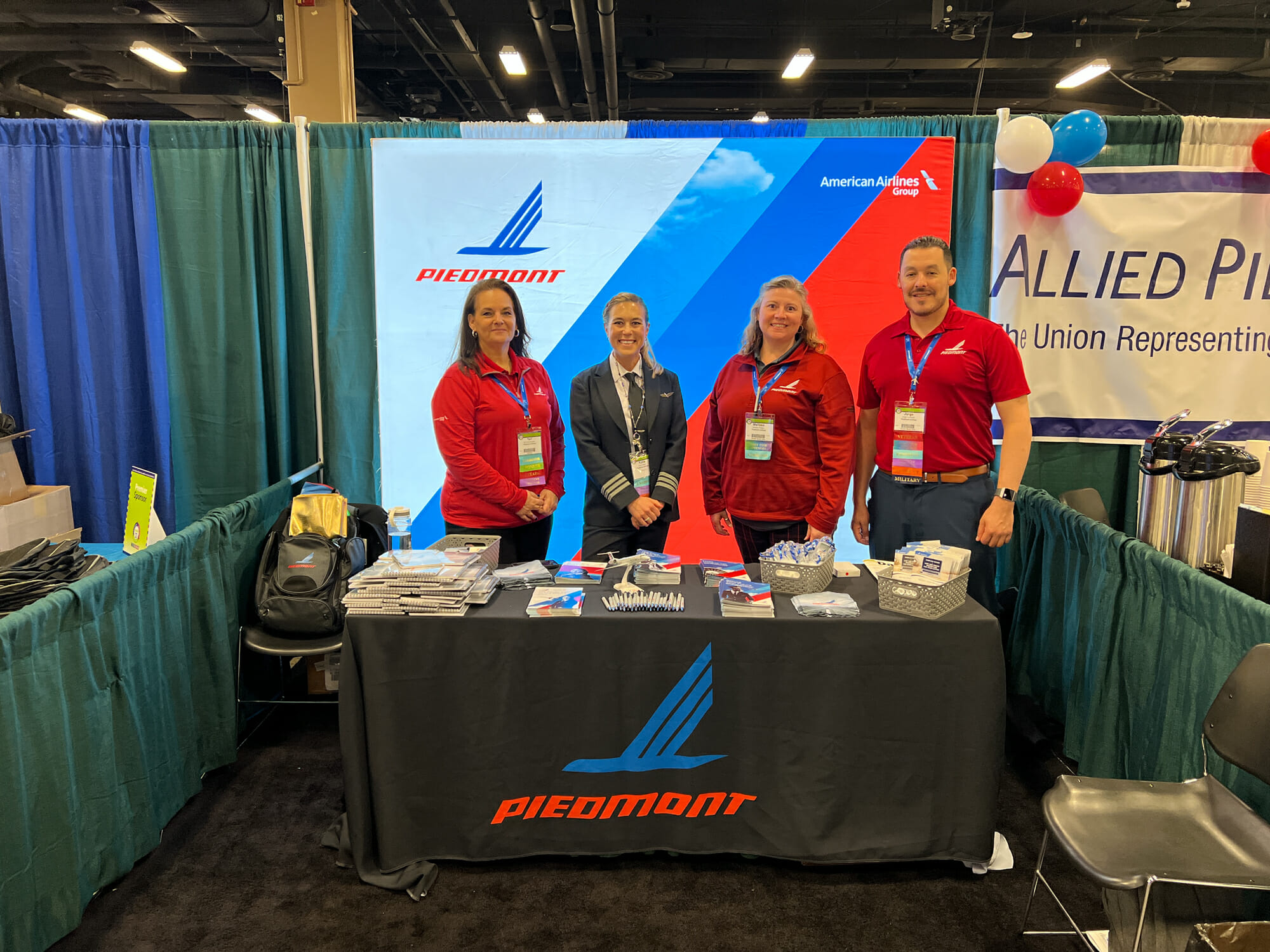 PSA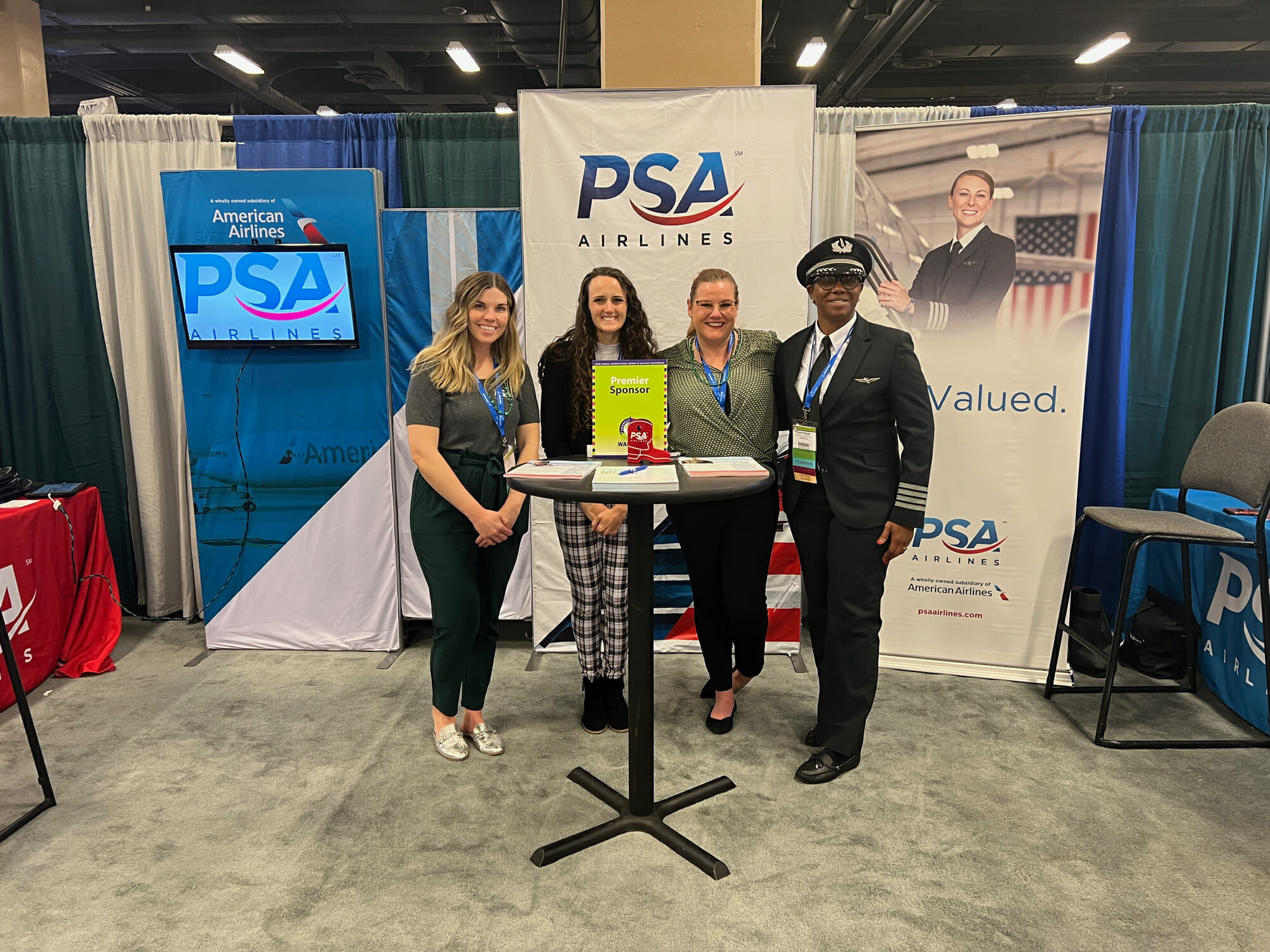 RAA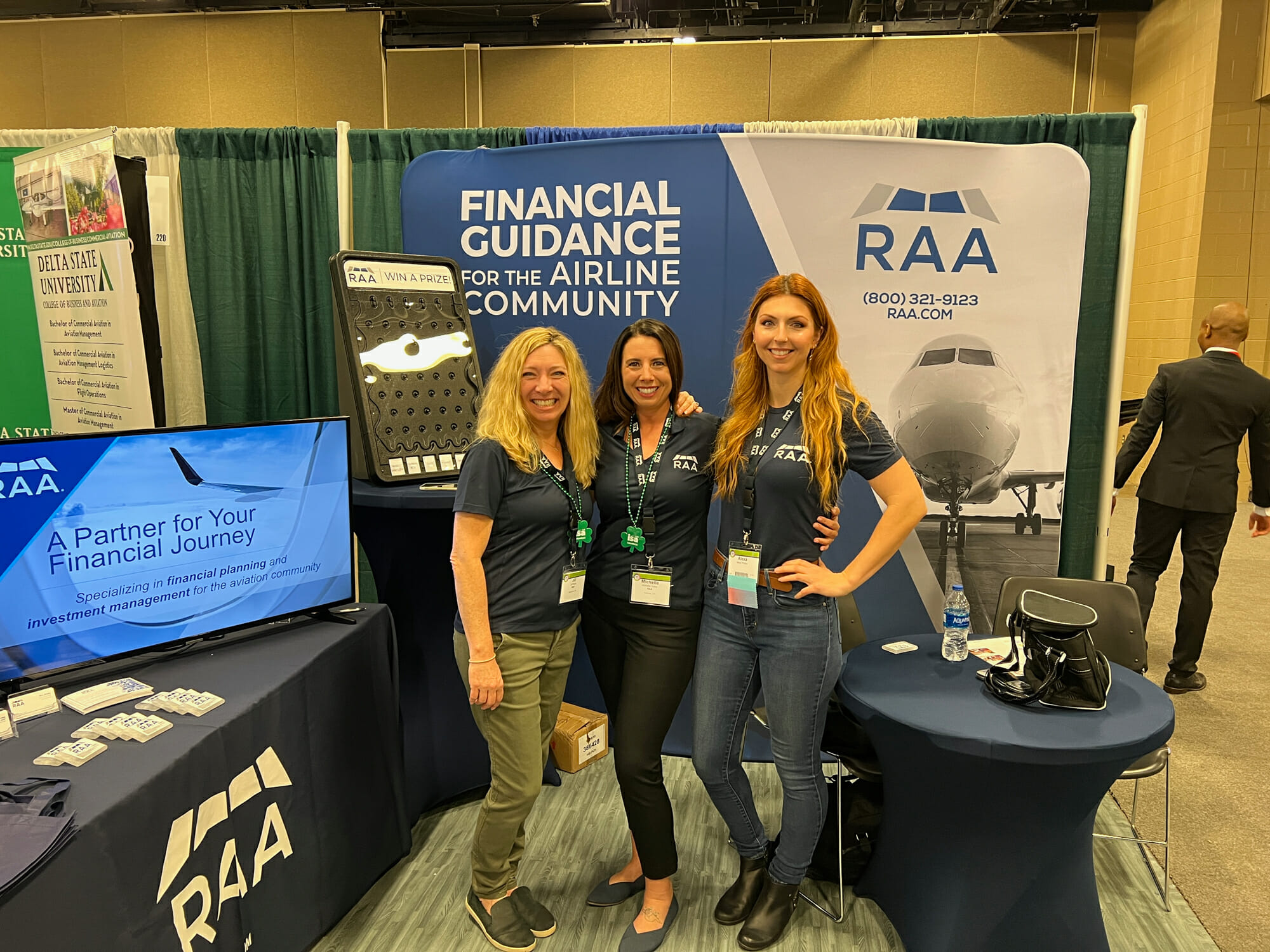 Silver Airways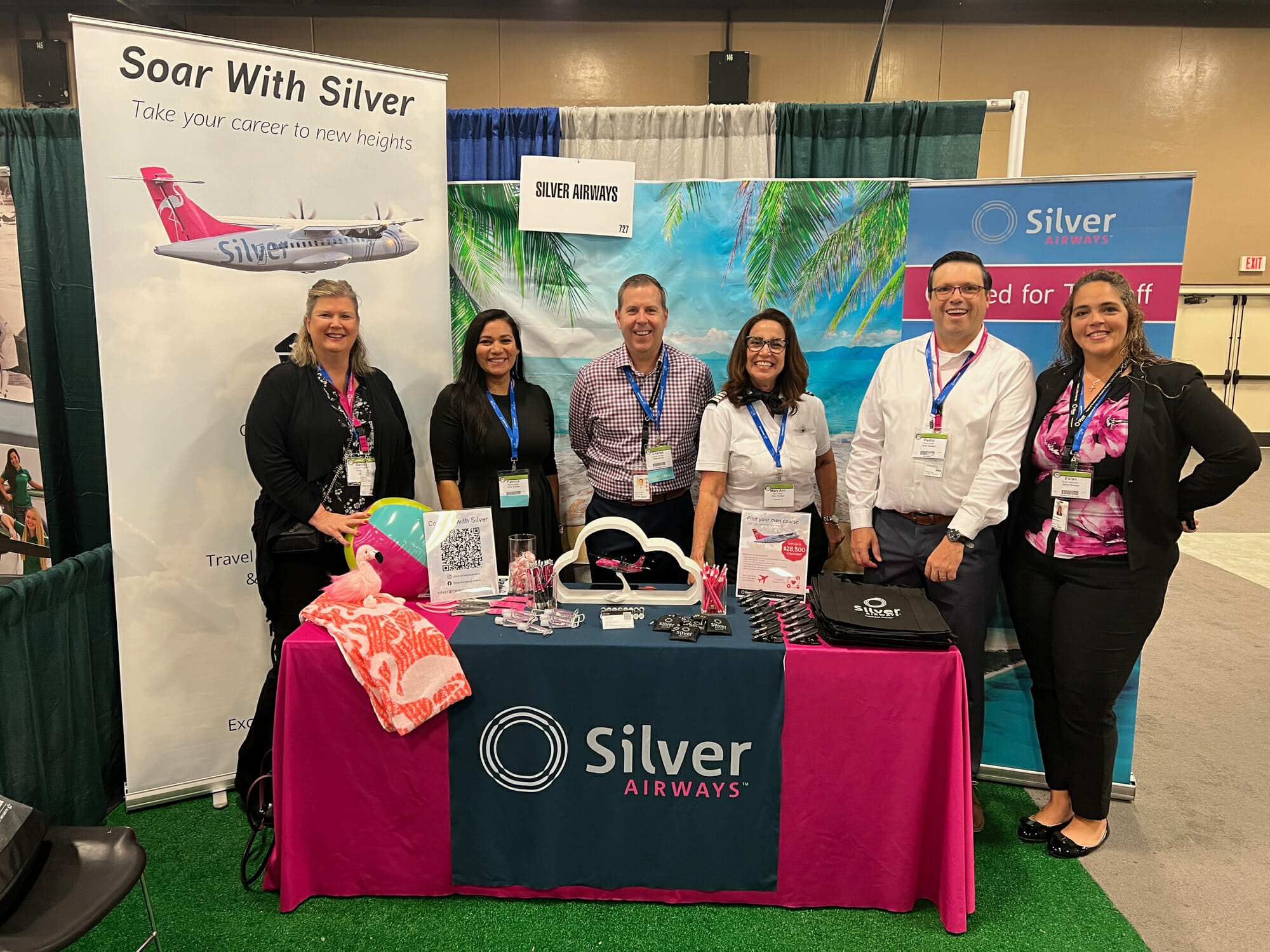 Skywest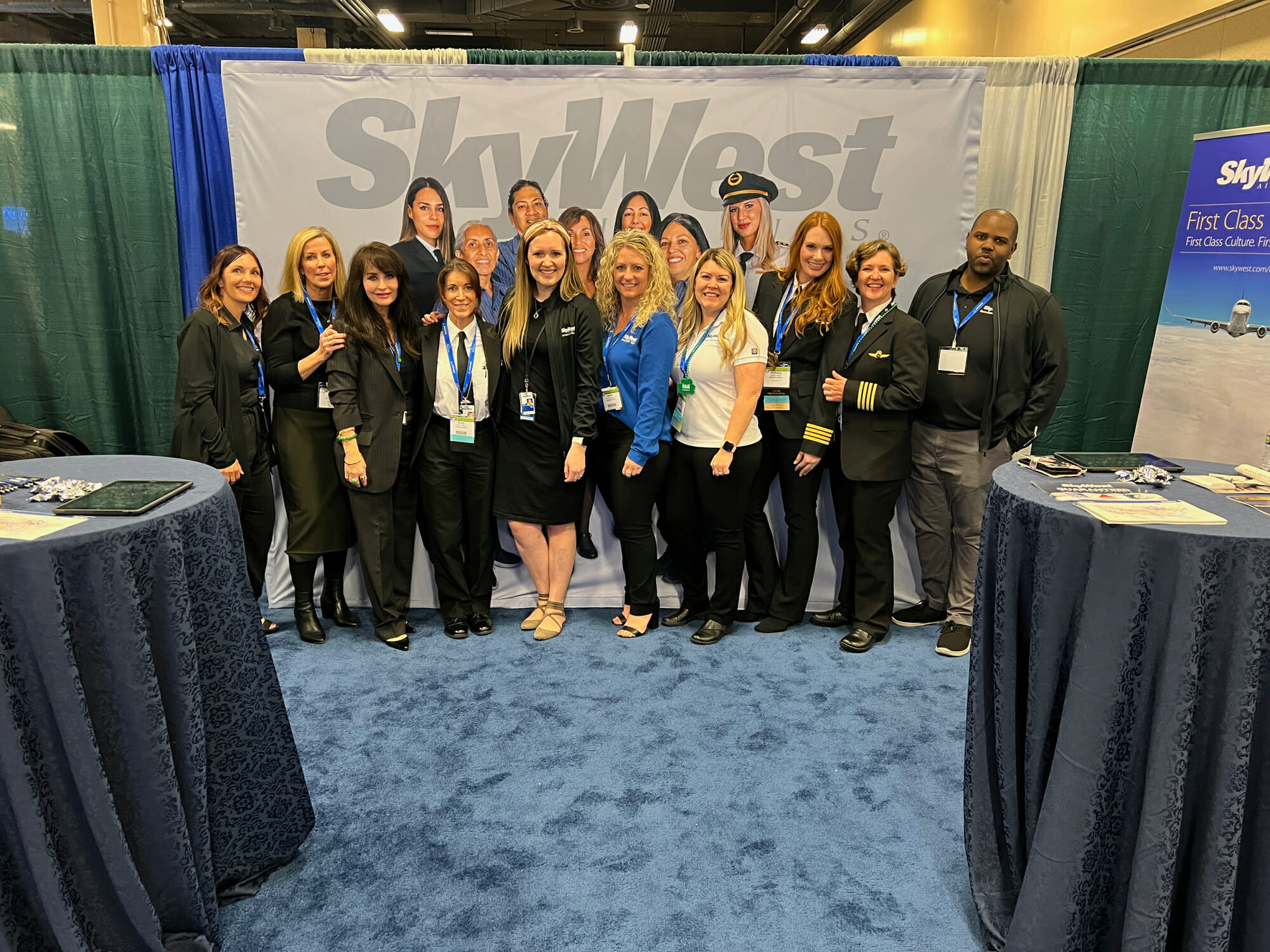 Southwest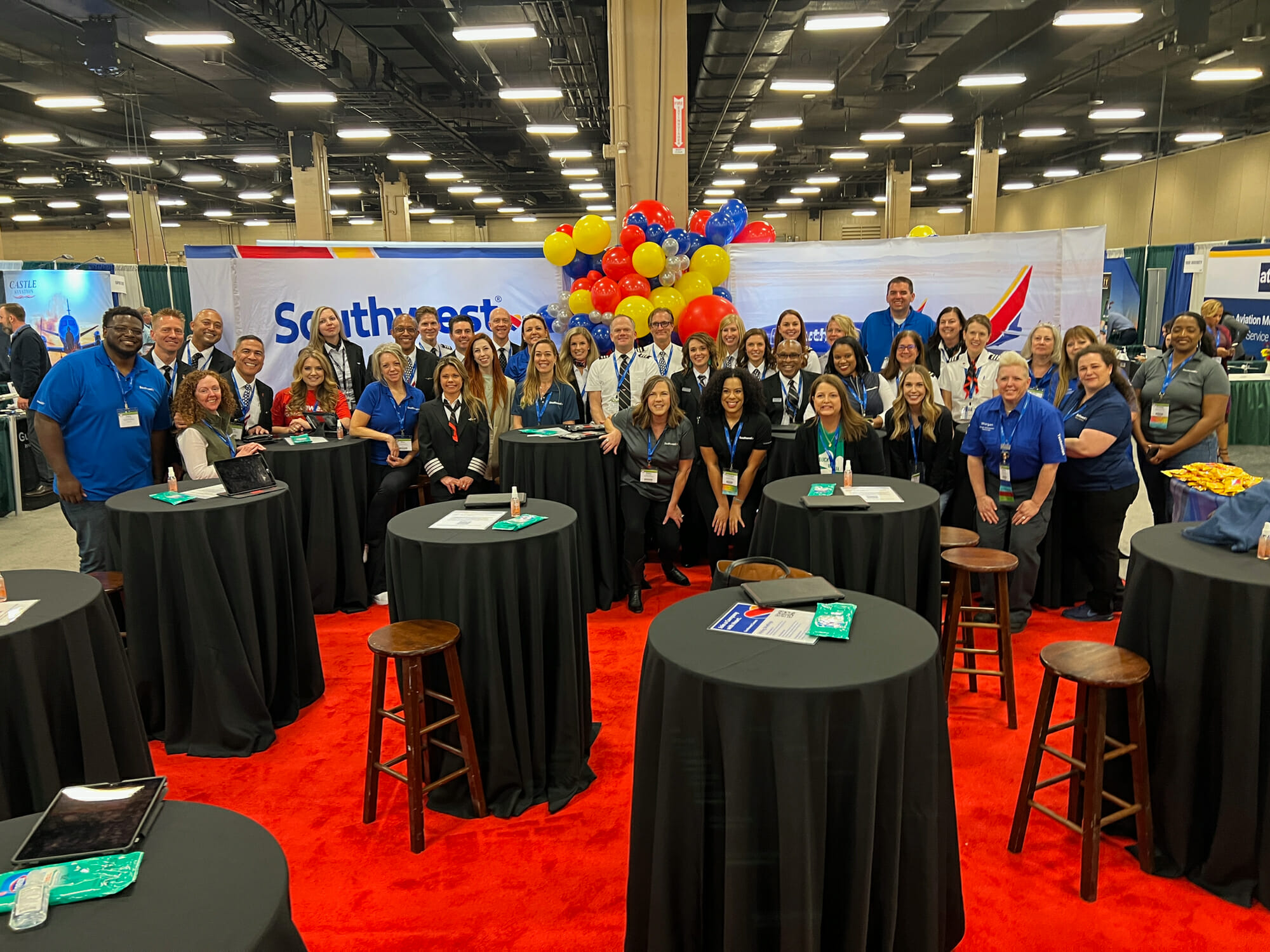 Spirit Airlines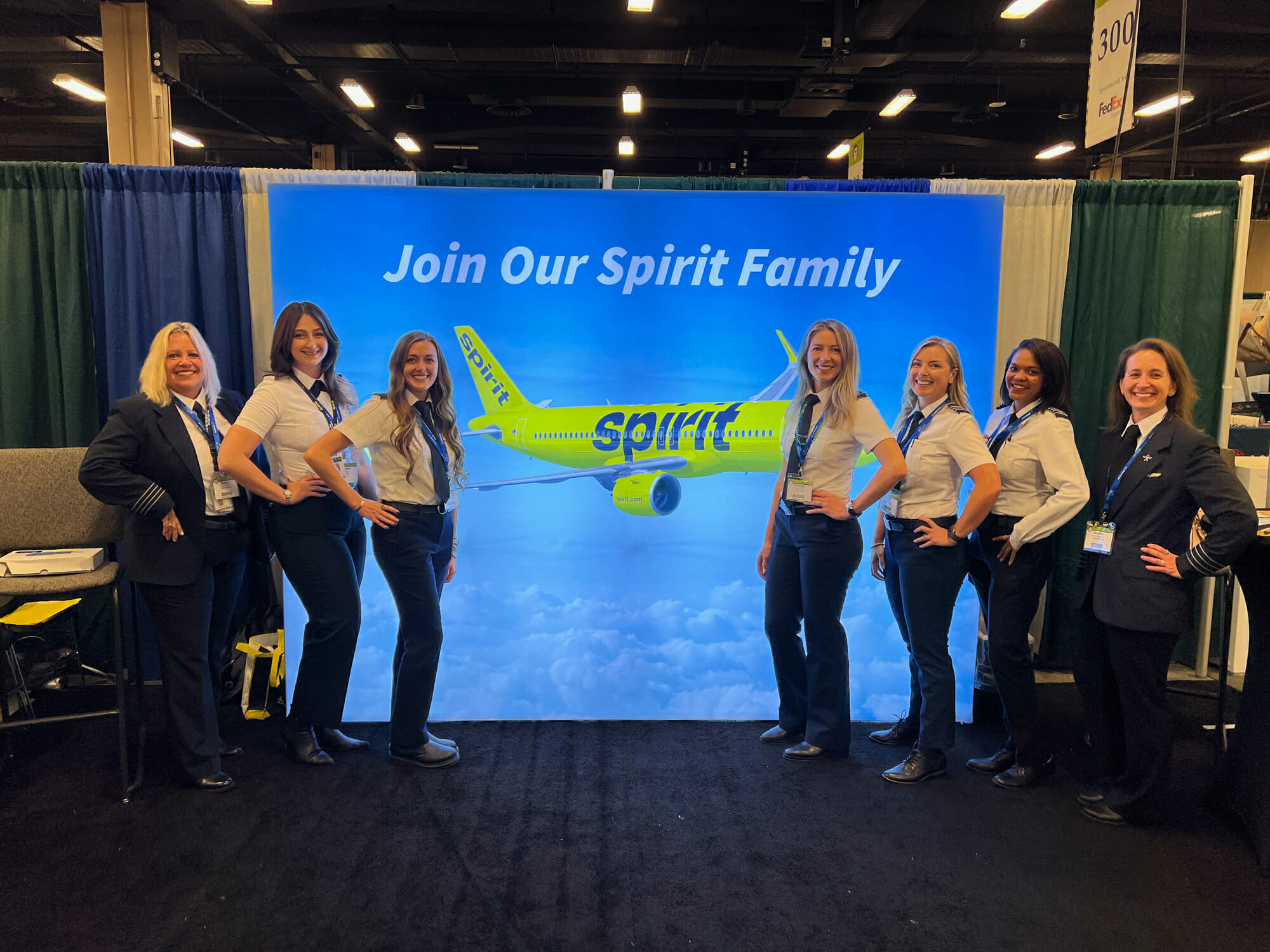 United Airlines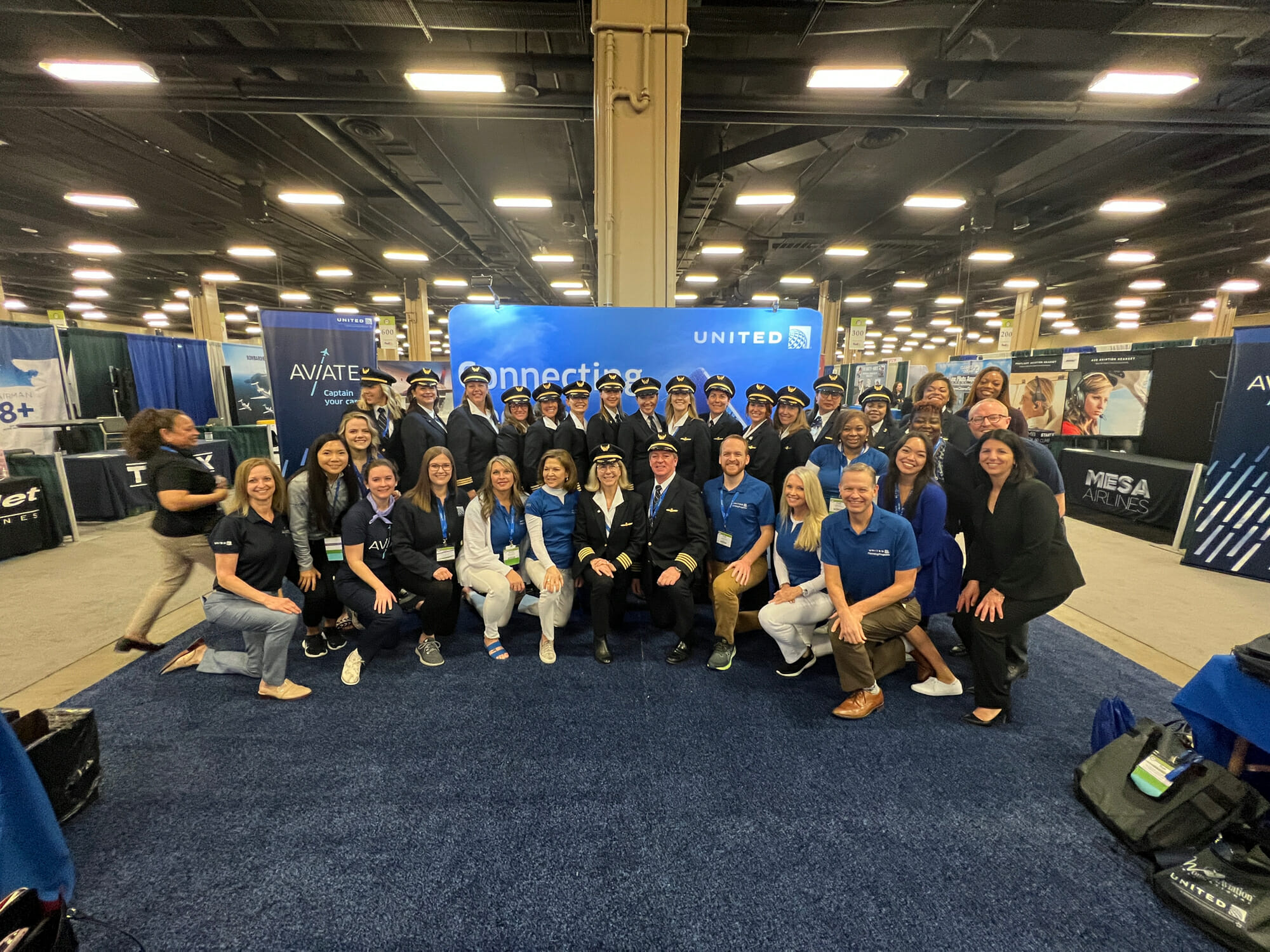 USAA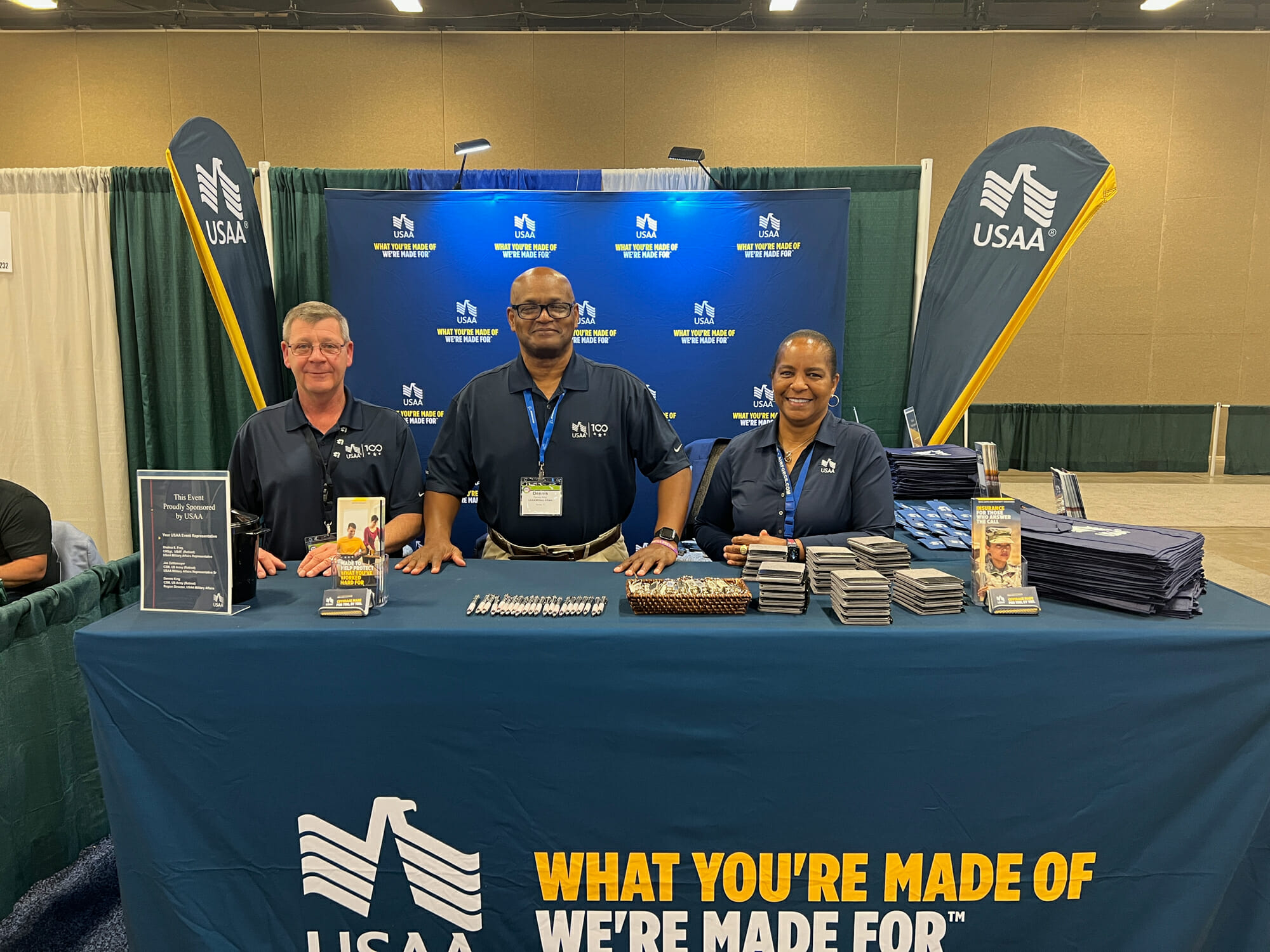 WesternAircraft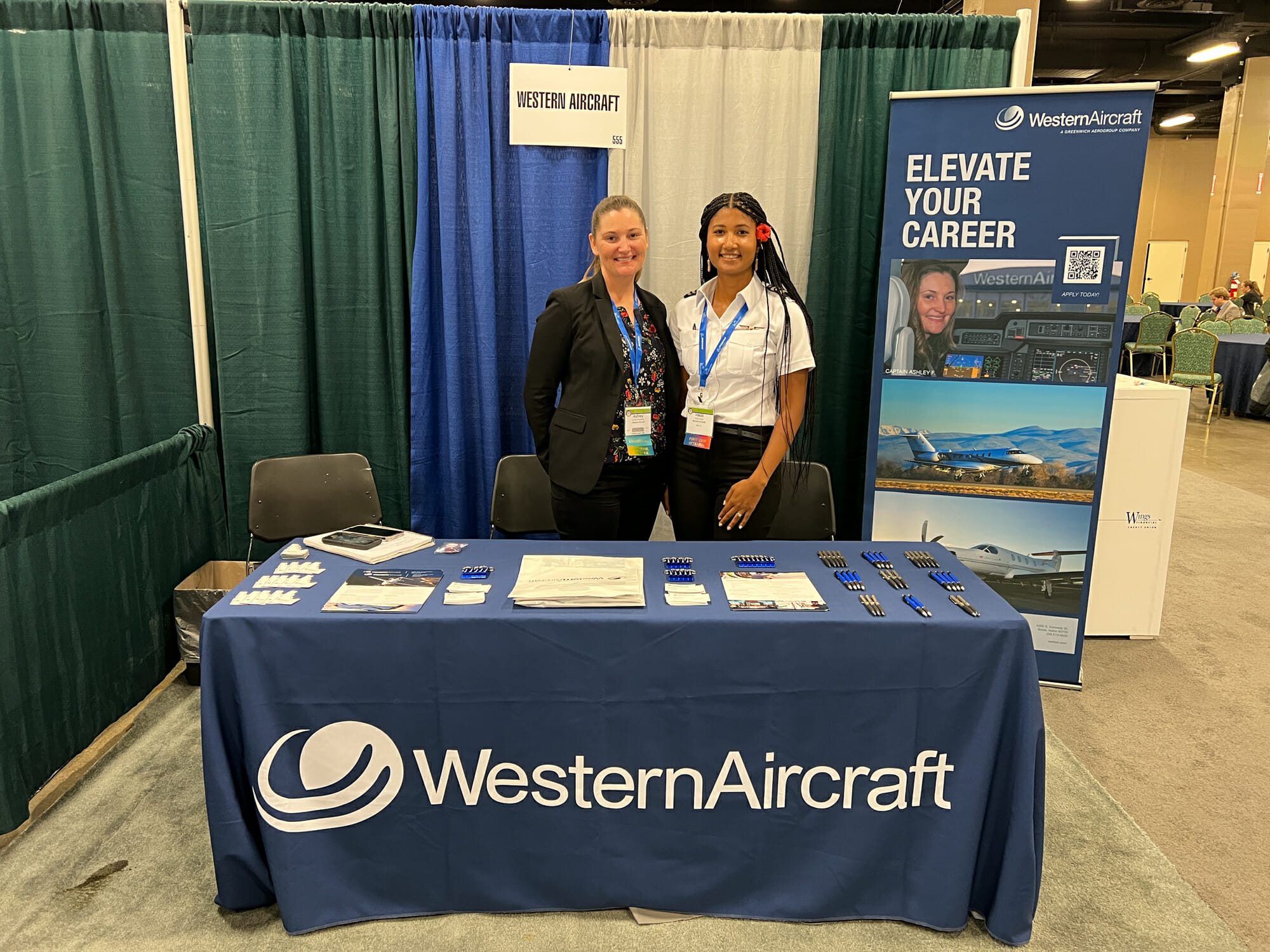 WheelsUp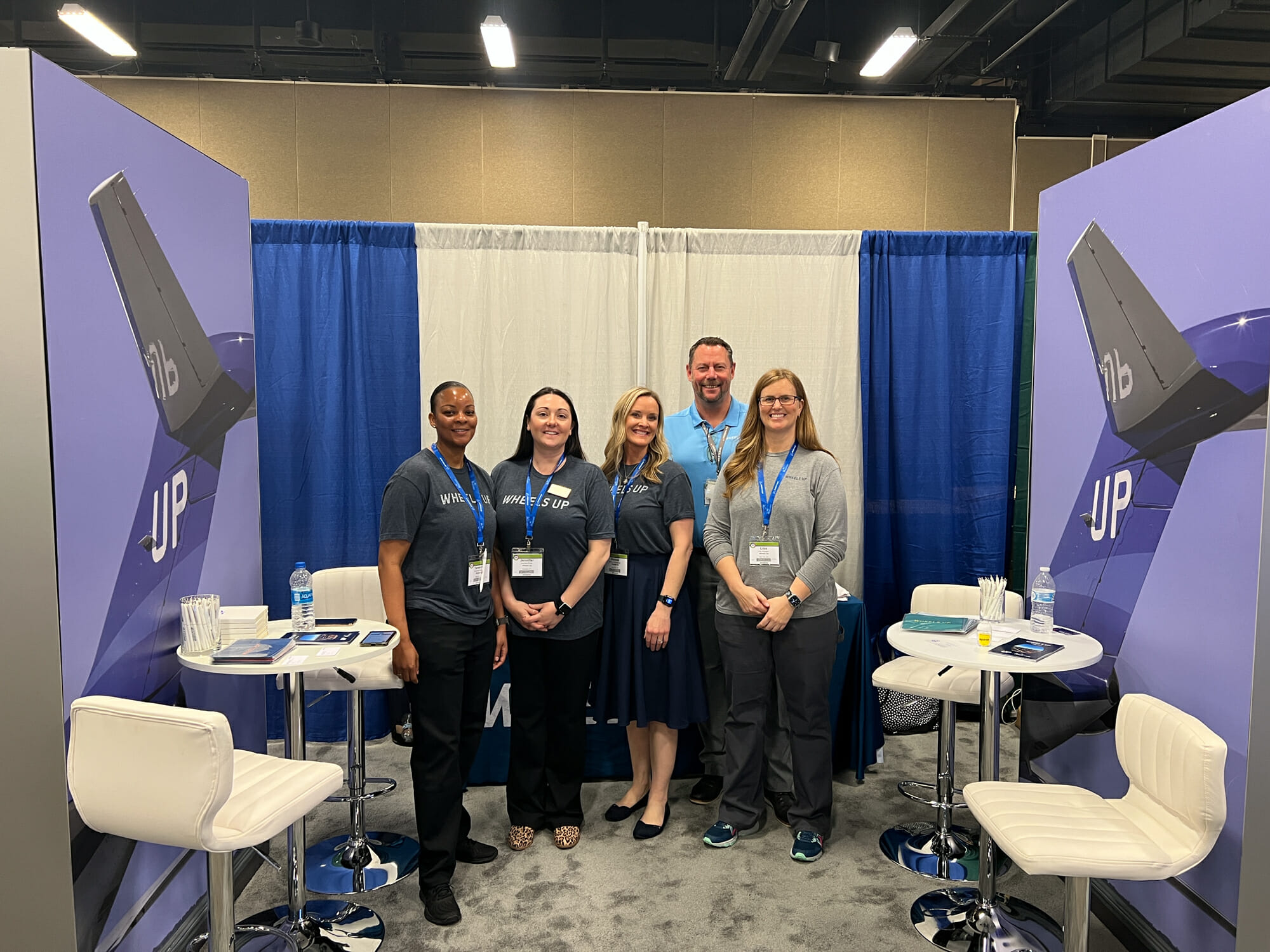 XOJet