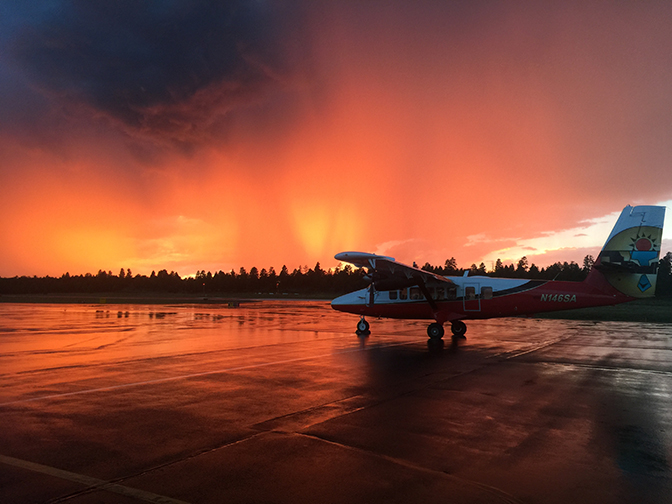 Grand Prize Winner
Twin Otter – Jon B.
Taken at Grand Canyon National airport after a tour over the Canyon. The image is merely point and shoot with no filter.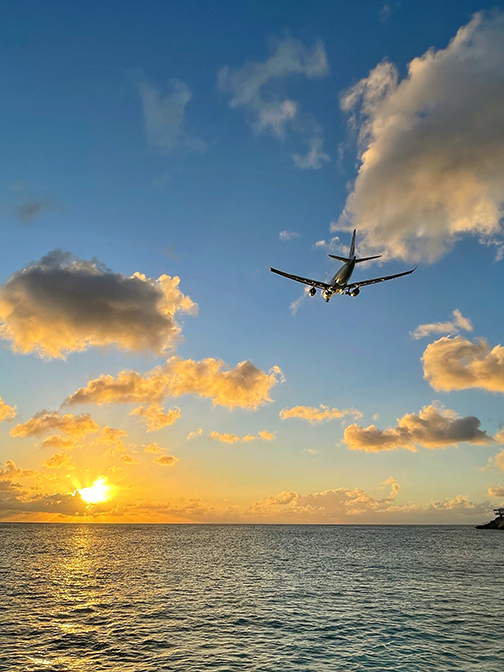 2nd
Air France Departing SXM – CJ S.
Bound for Paris, an Air France A330 departing SXM in the evening sunlight over Maho Beach.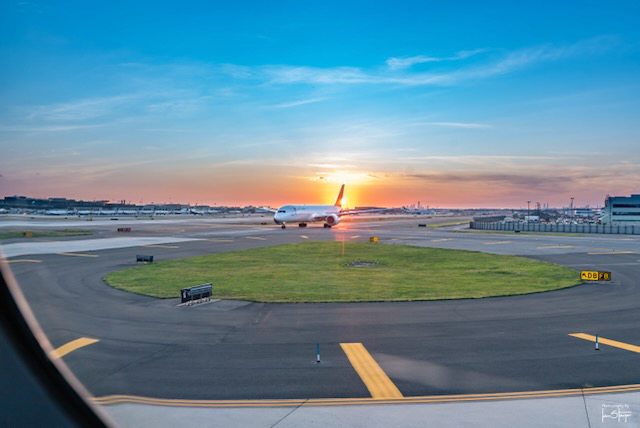 3rd
Sun Behind – Ian S.
I was on the left side cockpit seat waiting the clearance for RWY 22R when I saw this Latam B787. As it happened, the captain of that flight is a friend of mine.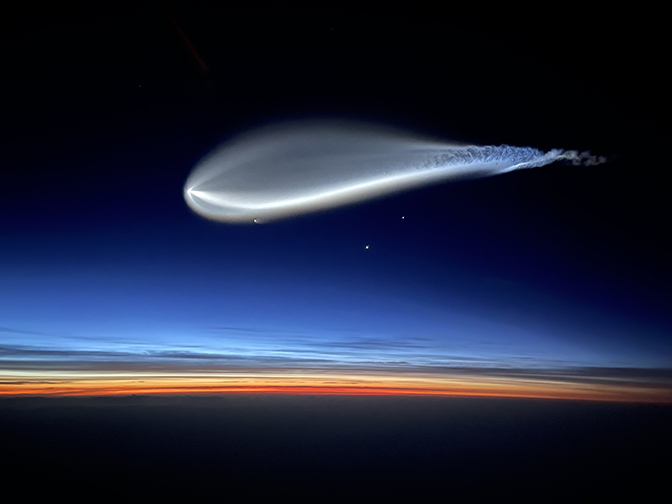 SpaceX Sunrise – Hank B.
I shot this photo of the SpaceX Falcon 9 launch at sunrise from the cockpit of a 747 enroute from SDF to SJU. It was photographed on my Apple iPhone 12X-Pro.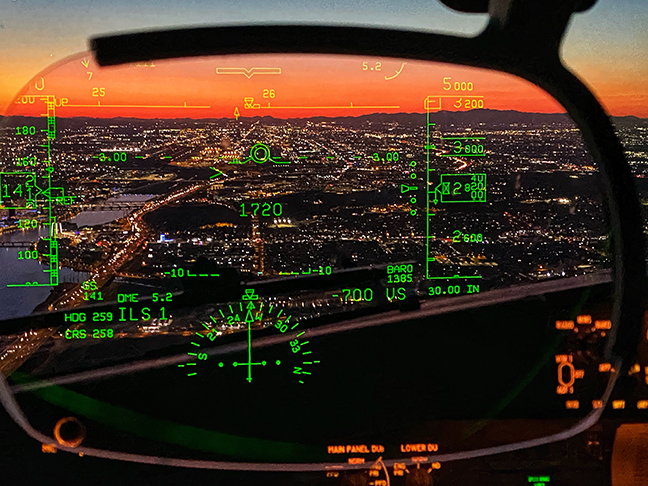 PHX Sunset – Ruben A.
Arrival into PHX as the pilot monitoring. Captured the sunset though my HUD. I had been waiting a few months to capture a sunset HUD picture.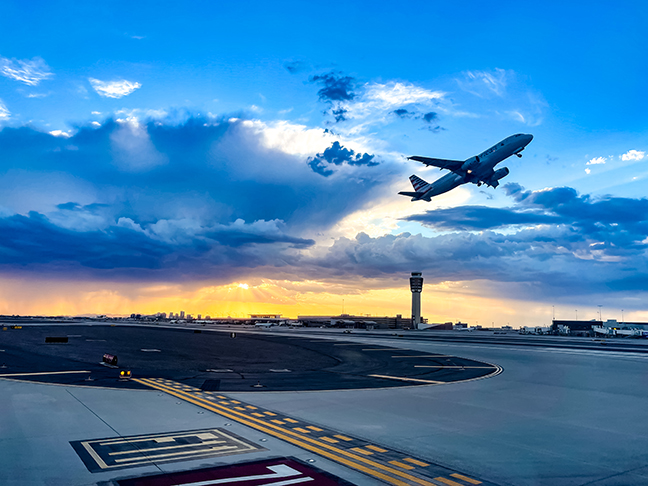 Monsoon Takeoff – David H.
Snapped a fast photo at the right time as a monsoon storm was approaching PHX.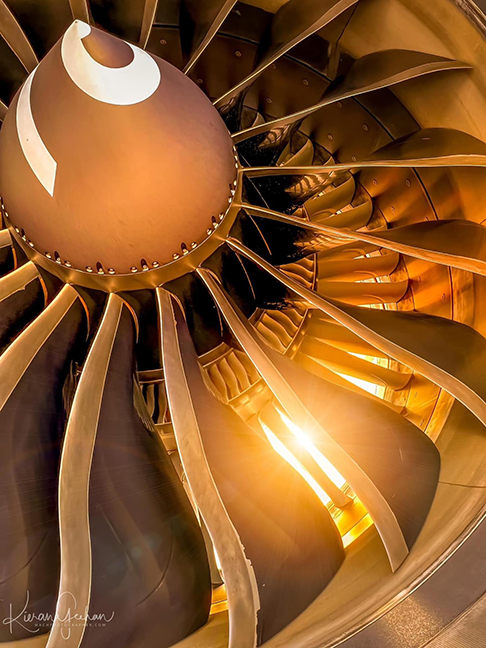 The Glow of a GEnx Engine at Sunset – Kieran G.
Captured as the sun was setting during a walkaround of a B787-9 in PPT (Tahiti).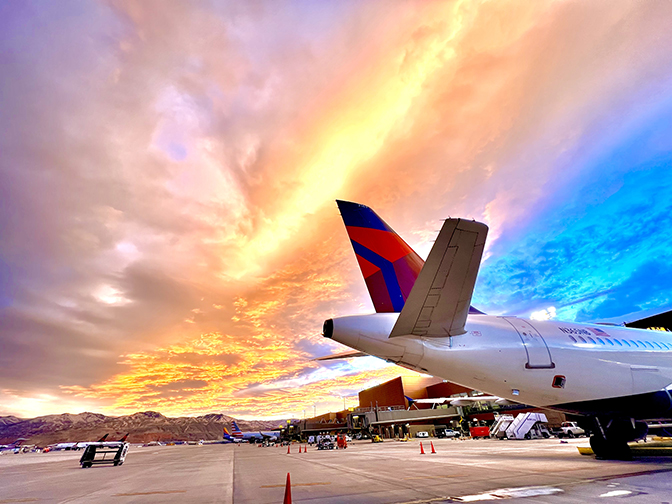 Sunrise at the Salt Lake – Sky P.
 After weeks of really cold weather with preflights where I spent the minimum time outside, we had a warmer morning. My first walkaround was in the dark but we were delayed so as the sun came up. I went out again to see what the sunrise looked like. The clouds were reflecting the light downward perfectly. A wonderful reprieve from the gloomy, cold weeks prior. And we didn't de-ice that day!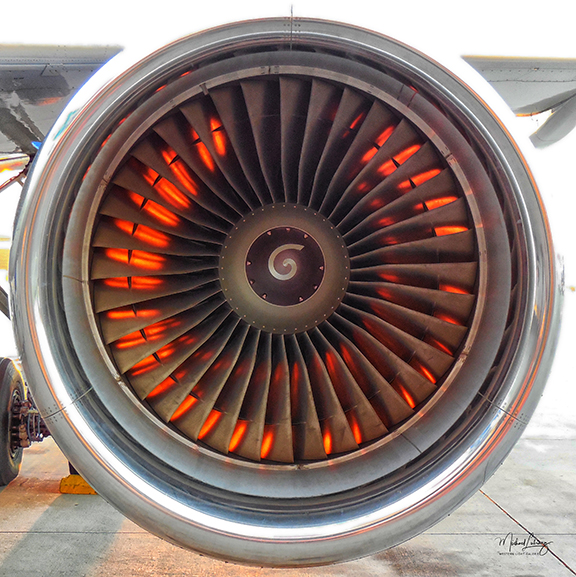 CFM56 Morning Sunrise – Michael L.
 This image was taken on an early November morning in KLAS. There is a short period of days in November in Las Vegas, just as the sun peeks up over the horizon it is reflected by one of the hotels on the Strip. If you happened to be parked at gate A19, the #1 engine gets lit up from behind. I captured this image on my walkaround. The phenomenon only lasts about seven minutes before this special alignment of light disappears.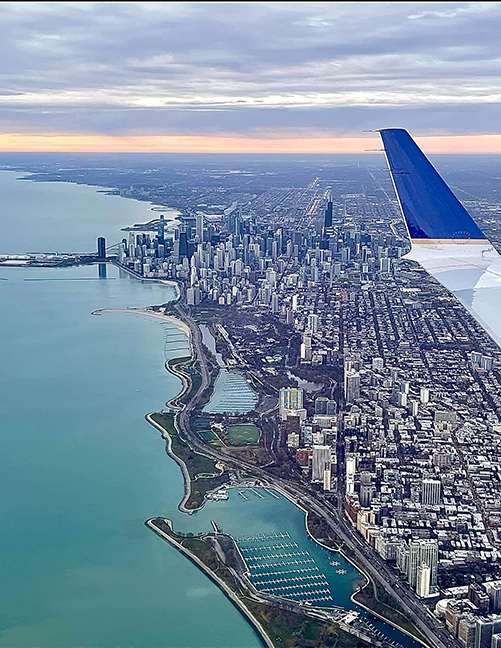 Sweet Home Chicago – Lori T.
 On our final approach to land at ORD, the view of the lake and skyline were simply breathtaking. The color of the lake was so brilliant. I'm so proud to call Chicago my home and I never tire of our lakefront and skyline. The view that beautiful, sunny day took my breath away.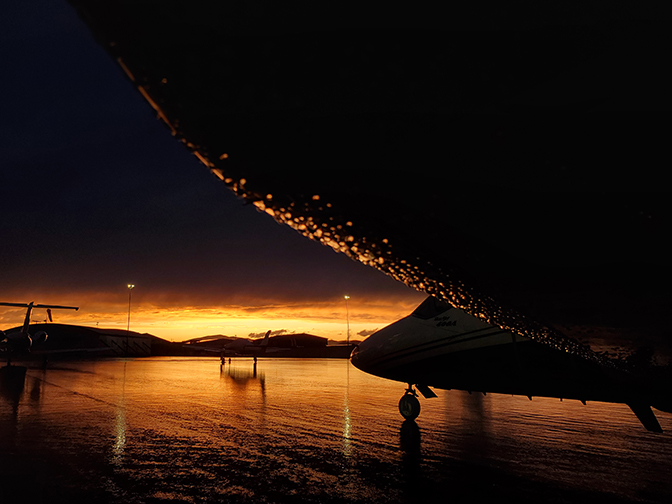 Evening Rain on a Summer Night – Thomas R.
This image was captured while working the line at KHLN (Helena, Mont.). During a drought, this was the first rain in at least a month. Soaked from head to toe, as I was fueling a plane when the rain hit, I noticed the bright orange sky and the water droplets that were hanging onto the planes. I played with many angles to get the best picture which resulted in this photo.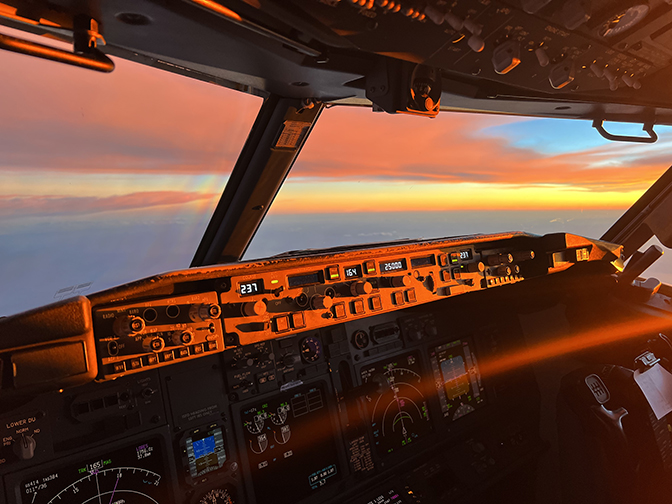 Sunset over the Mediterranean – Janice M.
This great sunset was taken over the Mediterranean Sea flying home to Aberdeen.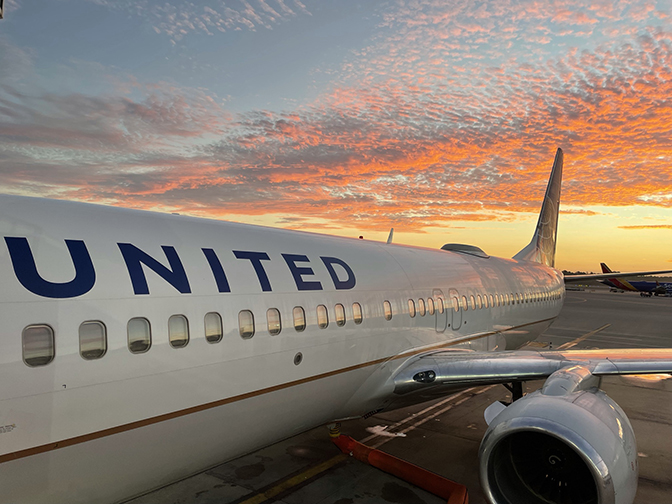 Sunrise in Fort Myers – Dennis S.
This was an early show in RSW and I captured this image as I walked out to do the walkaround.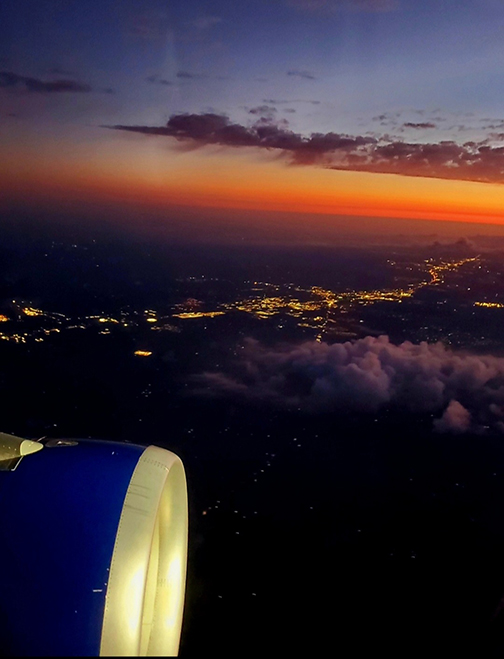 New Dawn – New Beginning – Carla D.
Although I am not a pilot but a technical writer/QA auditor for an aerospace/MRO company earlier this year, I captured this beautiful photo departing from Mexico City in the early morning. The beautiful vibrant sky was magical which set the tone as my husband and I traveled back to the U.S. This image speaks volumes to me every time I gaze at it. It says peace, serenity, a new dawn, a new beginning.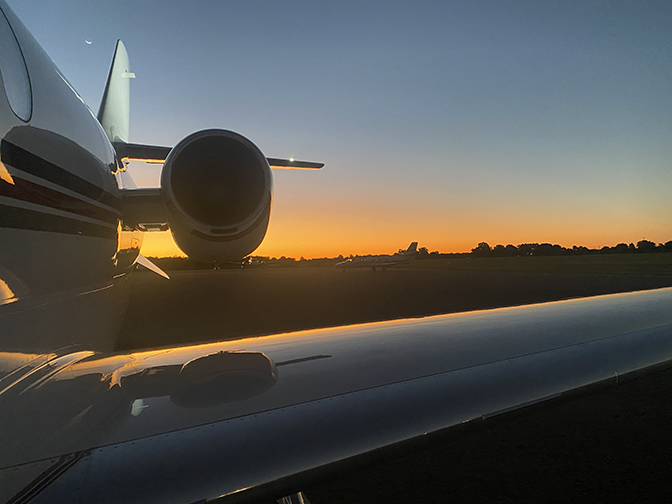 Latitude at Sunrise – Todd M.
Picture taken at sunrise at PBI before our takeoff.