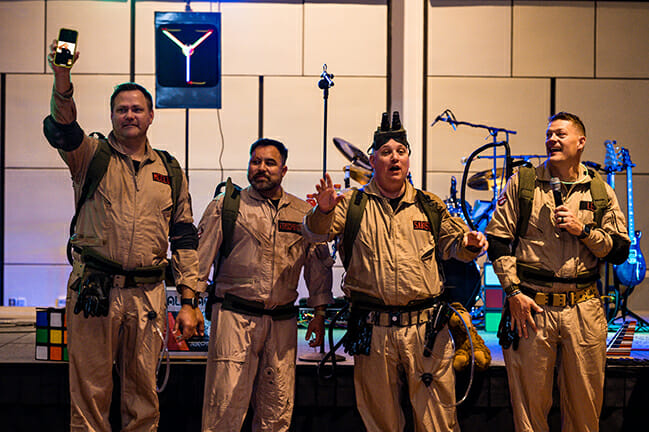 Serving those who have served
Rotary to Airline Group, or RTAG, began as a campaign to address the national pilot shortage with both professional and experienced rotary-wing aviators. This movement has since evolved, now endeavoring to place veterans in the airline industry, regardless of their experience. Our airline partners recognize the value of our veterans, not only placing them behind the controls, but hiring them across the industry.
Since the beginning, RTAG has made education and mentorship a priority. RTAG's convention information sessions are moderated by industry experts, with topics ranging from financial planning, résumé prep, Department of Veterans Affairs (VA) benefits, airline recruiter briefings, spouse education. and more.
RTAG has developed several scholarships to aid transitioning veterans. If you're interested in changing the life of a veteran forever, consider joining their family of sponsors.
RTAG consults with aviation industry leaders on how to reach this massive pool of talent. The organization has developed innovative hiring and training solutions for many airlines and companies. Some of these offer significant tax breaks to its partners, as well as the satisfaction of giving back to those who've risked everything for our nation. Please contact RTAG to learn how they can customize and accelerate your veteran-hiring process while saving you vast sums of money.
The Veteran Aviation Charity
RTAG is the largest charity of its kind in the world, helping all veterans, regardless of experience, to jumpstart their post-military careers in the world of aviation. They also help their corporate partners tap into the largest community of skilled aviation professionals in the United States, giving them direct access to pilots, maintainers, technicians, dispatchers and more.
RTAG Fort Worth, Texas
This year, the RTAG annual convention was held in Fort Worth, Texas at the convention center which has plenty of space and room for the convention to grow! With 5,124 people in attendance, along with 121 vendors, 14 helicopter companies, and even SpaceX, the two-day event was a huge success! The ribbon cutting and opening ceremony were performed by American Airlines' Russ Moore, VP of Flight Operations, co-founder of RTAG, Erik Sabiston and the Texas Christian University Army ROTC Color Guard.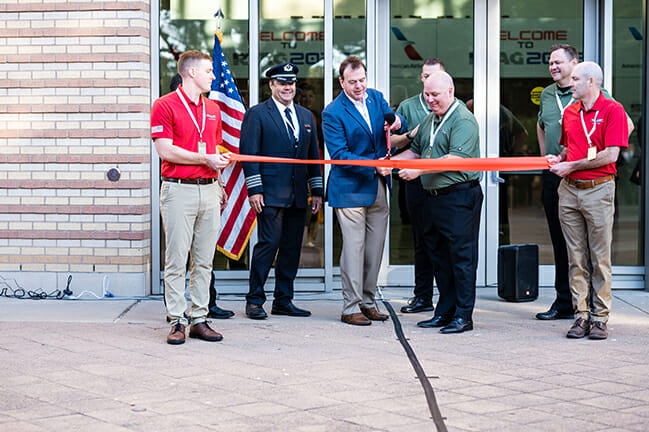 During the two-day event, well over 150 CJO's were delivered with American Airlines providing 62 alone. Still today, the founders are receiving reports of new ones being delivered as a result of RTAG's efforts.
On the Saturday night of the convention, RTAG hosted a 1980s party where over 800 people attended and nine scholarships totaling $100,000 were awarded. RTAG's Board of Directors, all of whom are unpaid volunteers, matched each of the $5,000 scholarships from funds from RTAG's foundation which resulted in no one receiving less than $10,000. American Airlines partnered with RTAG for the largest scholarship of $20,000 which went to a Navy Seal who attended via FaceTime because he was literally being deployed the following morning. There are still four aviation-maintenance scholarships yet to be awarded.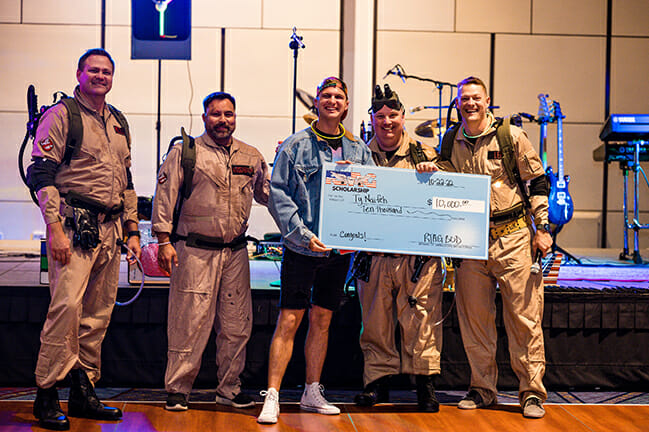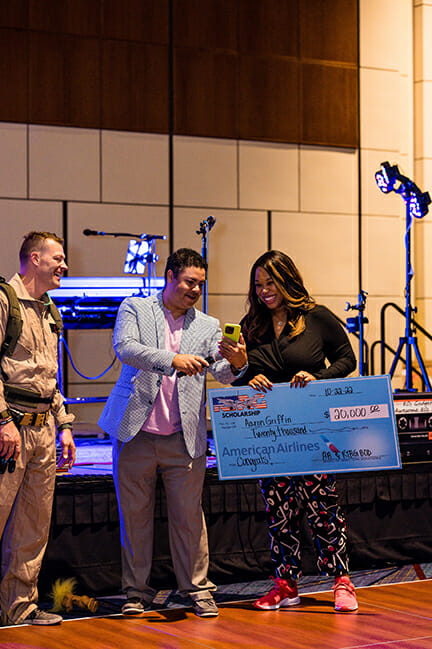 Following are the 2022 scholarship winners:
Tom Streit, $5,000, presented by Envoy and $5,000 matched by RTAG.
Ryan Forto, $5,000, presented by Envoy and $5,000 matched by RTAG.
Nick Lahr, $5,000, presented by United and $5,000 matched by RTAG.
Andrea Bowers, $10,000, presented by RTAG's Board of Directors.
Daniel Borisov, $10,000, presented by RTAG's Board of Directors.
Ty Neifeh, $10,000 presented by RTAG's Board of Directors.
Andreas Lorenz, $10,000 presented by RTAG's Board of Directors.
Tad Stuart, Chris Bedzis Memorial Scholarship of $10,000, presented by RTAG's Board of Directors.
Aaron Griffin, $20,000, presented by American Airlines and RTAG's Board of Directors.
How to Apply for a Scholarship
Obtain an aviation medical certificate (1st class required).
Obtain a copy of your DD 214 (discharged veterans) or ORB/ERB (current servicemembers).

Please ensure social security numbers are removed or blacked out on all supporting documents.

Write a professional one-page résumé.
Provide an explanation of financial need.
Provide a detailed explanation of volunteer service outside of the military with at least one reference.
Submit an essay (minimum of 300 words, maximum of 500 words) with details addressing the following questions:

How you become interested in aviation?
What was your job while in the military?
Why do you want to be a commercial pilot?
How do you plan to use the scholarship to fund your flight training?

Submit your completed application with supporting documents through the following link: http://Rtag.org/scholarships
RTAG also provides a great video recap of previous years on their YouTube channel. Check it out at https://www.youtube.com/rtagnation.
The next convention will be held back in Fort Worth, Texas in October 2023.