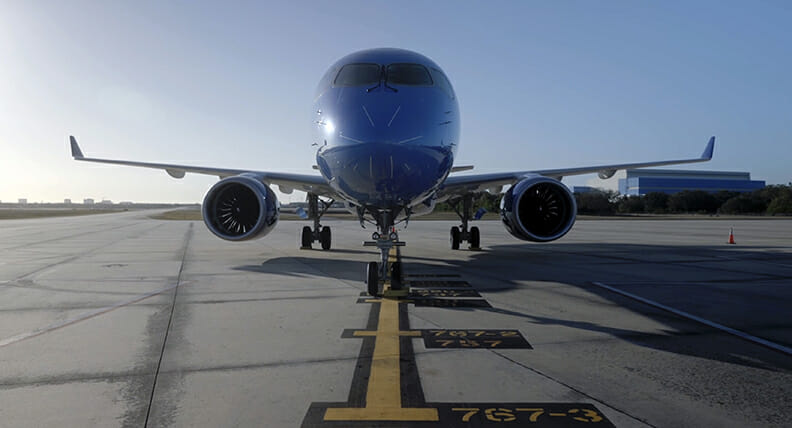 Nicest Bundle on Sale for Only $1 More than Nicer, Available on Every Airbus A220 Route Nationally
Breeze Airways, the Seriously Nice™ low-fare airline, is offering The Nicest Black Friday Sale across every Airbus A220 route nationally. Starting Friday, November 25, Guests can purchase the Nicest fare bundle for only $1 more* than Nicer and enjoy additional perks including a First Class seat, more BreezePoints, and a second checked bag.
Guests flying on Breeze choose from three fare bundles that are offered as Nice, Nicer, and Nicest. The Nicest bundle is only available on flights operated with an Airbus A220-300 and includes a First Class-style seat in a two-by-two configuration. Guests also have an a la carte option where they can choose a Nice or Nicer bundle and add a First Class seat to it.
The promotion runs from November 25 to 27, for travel between November 27 and May 16, 2023. The Nicest bundle includes an additional checked bag, priority boarding, 6% BreezePoints earned, and a complimentary snack and beverage, making it the perfect choice and best value for Guests seeking to go "all in" on their travel experience.
"Buying a low fare doesn't have to mean sacrificing comfort," said Tom Doxey, Breeze's President. "Breeze is changing the game with affordable, nonstop flights from underserved markets. And this Black Friday weekend, Guests can now purchase Nicest for just one dollar more than Nicer!"
Seat pitch for a Standard Economy seat is 30inches on the A220s and 31 inches on the E-195s, while seat pitch for Extra Legroom is 32 incheson the A220s and between 34 and 39 inches on the E-195s, depending on the row selected. First Class seats feature 39 inches of seat pitch, 20.5 inches of seat width, and special features, such as a footrest, for added comfort, and in-seat AC power and USB/C ports.
Breeze's business model, which focuses on providing fast, efficient and affordable air service between underserved city pairs, has continued to expand its footprint across the U.S. using mid-sized aircraft, such as the A220-300. The airline doesn't charge change or cancellation fees up to 15 minutes prior to departure and offers other benefits such as free family seating and a la carte pricing and upgrades including premium seating options.
With seamless booking and customized flight features delivered via a sleek and simple app, Breeze makes it easy to buy and easy to fly. Flights are now on sale at www.flybreeze.com and via the Breeze app.
###
*$1 Nicest Black Friday promotion is only available when booking a new reservation on a nonstop flight, on select routes. Promotion must be purchased by November 27, 2022 (11:59 pm ET) for travel from November 27, 2022 through May 16, 2023. Price displayed includes taxes and government fees. Fare prices, rules, routes and schedules are subject to change without notice. Restrictions and blackout dates may apply.