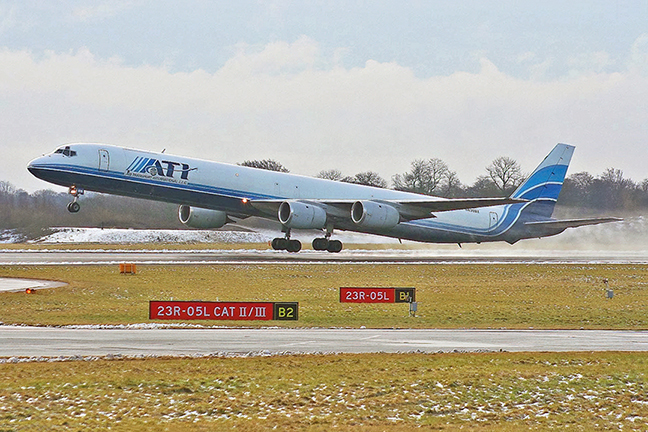 After 1,000 days in negotiations, the ATI pilots, represented by the Air Line Pilots Association, Int'l (ALPA), have asked for a federal mediator to help move their contract talks forward, stating that ATI refuses to offer its pilots industry-standard terms while the airline and parent company Air Transport Services Group Inc. (ATSG) make record profits.
ALPA filed a joint mediation request with the National Mediation Board (NMB) on March 16. Once the NMB approves the request, a federal mediator will take control of the bargaining schedule and oversee negotiations going forward. The two sides have been in negotiations since June 2020.
This move comes shortly after ATSG released its final earnings report for 2022. ATSG brought in a record $2 billion in revenue. ATSG also reported that pretax earnings from its aircraft, crew, maintenance, and insurance (ACMI) services doubled in 2022 as compared to 2021. Negotiations for a new pilot contract that reflects the current economic environment have stalled over key sections including compensation and retirement.
"ATI pilots' commitment to delivering superior reliability and service has earned record-breaking profits for ATI and ATSG, yet management is unwilling to invest these profits in the professional pilots who make their success possible. We must secure a contract that reflects the value of ATI pilots," commented Capt. Mike Sterling, chair of the ATI unit of ALPA.
Along with record earnings, ATI experienced record levels of attrition in 2022. One hundred and twenty-six pilots left ATI in 2022, and that trend has continued into 2023. An additional 32 pilots left ATI in just the first two months of 2023.
"It's not surprising that ATI is having trouble attracting and retaining pilots. Poor crew planning, poor treatment of pilots, poor working conditions, an outdated contract, and an inability to support flight operations due to overworked and underpaid ATI staff across the board have all contributed to a significant number of pilots leaving. We've shared a consistent message with the Company over the last three years: the only way to retain the exceptional pilots who have generated this record growth is a next level contract. ALPA remains committed to achieving that goal," added Sterling.