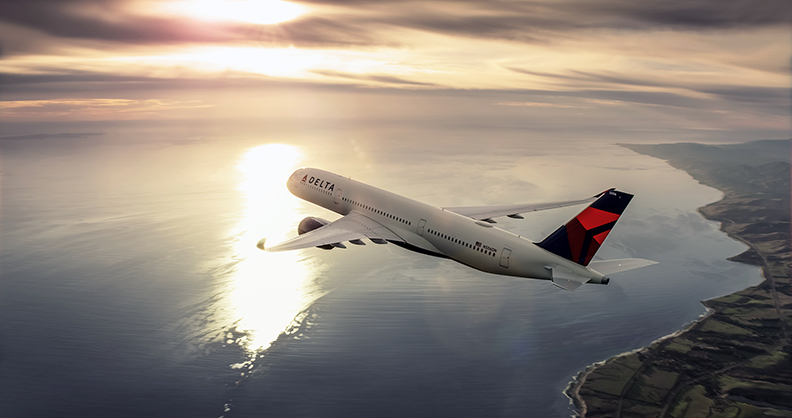 From pursuing sustainable aviation fuels and more efficient aircraft to reducing single-use plastics and encouraging a net-zero supply chain, Delta announced its roadmap to more sustainable travel and net-zero emissions by 2050. The strategy and goals are inspired by what is good for the planet, communities and Delta people, and driven by a recognition that sustainability is a business imperative.
Delta Chief Sustainability Officer Pam Fletcher first shared the strategy with the airline's more than 90,000 employees in late February. It's focused on two pillars: embedding sustainability in everything the airline does and eliminating the company's climate impact from flying.
"Delta people are known for doing difficult things well," Fletcher said in an email to all employees on Feb. 28. "As we reshape the fundamentals of aviation, we are as dedicated to making immediate progress as we are to investing wisely in disruptive solutions."
INTERACTIVE | Path to sustainability
The reduction of fossil fuels and an evolution to Sustainable Aviation Fuel (SAF) is at the forefront of Fletcher's mid-term strategy. After all, the fuel that powers jets accounts for around 98% of an airline's carbon footprint.
Delta's sustainability strategy also accounts for near-term goals, including minimizing Delta's impact from single-use plastic, transitioning to electric ground service equipment, and encouraging vendors in its supply chain on their own sustainability plans.
Fletcher, a well-known leader in the transportation sector, joined Delta in 2022. Her outlined sustainability strategy builds on the company's ongoing progress and affirms its commitment to setting goals aligned and informed by science and proven metrics to ensure accountability and transparency.
Delta has outlined bold aspirational goals for 2050 as well as a series of incremental milestones to measure its progress along the way.
"We've already achieved significant results, like reducing single-use onboard plastics by nearly five million pounds annually and saving 10 million gallons of fuel last year thanks to the work of Delta's Carbon Council," Fletcher said. "Our foundation is strong. Now we accelerate."
SUSTAINABILITY IN ACTION TODAY
Starting with the most visible aspects of Delta's business, Fletcher shared how the airline is embedding sustainability in everything Delta does by focusing on three key areas:
​​​​​​The Travel Experience. From curb to claim, the airline is doubling down on getting as close to eliminating single-use plastics as possible while diverting waste from landfills. For example, artisan-made amenity kits from Mexico-based brand Someone Somewhere are eliminating five single-use plastic items on board, reducing Delta's annual plastic use by up to 90,000 pounds. Ongoing efforts also include partnerships with airports, regulators and others to increase investments in composting and recycling while identifying more sustainable products that elevate the customer experience.
| | | | |
| --- | --- | --- | --- |
| As of 2022 | 2025 | 2035 | 2050 |
| Eliminated 4.9M pounds of single-use plastics | Minimize single-use plastics onboard | 65% waste diversion from landfill* | 100% waste diversion from landfill* |
*Relating to our customer onboard and in-airport travel experience; other airline operations (e.g., maintenance) are excluded.
Supply Chain. Delta is driving industry-wide change by encouraging its thousands of vendors to develop their own path to net-zero. It is the first U.S. airline to partner with EcoVadis, a provider of business sustainability ratings, to increase the transparency of its supply chain processes and ensure suppliers' values and ethics are aligned with Delta's.
| | | | |
| --- | --- | --- | --- |
| As of 2022 | 2025 | 2030 | 2050 |
| 50+% of largest vendors in EcoVadis | 100% of preferred vendors on carbon tracking system | 100% of preferred vendors w/ net-zero plans | 100% net-zero supply chain |
Ground Operations & Facilities. Delta ground equipment electrification is well underway, including nearly 100% electrification at Boston Logan International Airport (BOS) and Salt Lake City International Airport (SLC). Meanwhile, Delta is including LEED standards in its facility transformations and offering more sustainable supplies for its offices and cafeterias.
As of 2022
2025
2035
2050
25% GSE electrified; Nearly 100% electric baggage tractors and belt loaders in BOS & SLC
50% GSE** electrified;
5 hubs at 100% core fleet*
100% GSE** electrified at hubs and renewable energy powered operations
100% net-zero operations
*Core fleet consists of baggage tractors, belt loaders and aircraft tow tractors
**All eligible core & critical fleets necessary to turn an aircraft
THE FUTURE OF FLYING
While high-quality carbon offsets were considered a valuable tool in the past, Delta's sustainability vision today is much broader and centered on advancing sustainable solutions that can decarbonize the industry with the urgency required. Fletcher described a long-term strategy of decarbonization centered on eliminating the company's climate impact from flying through investments in:
​​​​Efficient Aircraft Operations. Delta will continue reducing fuel consumption, advocating for more efficient air traffic control coordination and innovating new technologies with partners like Aero Design Labs to lower fuel burn. Through a collaboration with MIT, the airline is also studying contrails that trap heat in the earth's atmosphere.
| | | | |
| --- | --- | --- | --- |
| As of 2022 | 2025 | 2035 | 2050 |
| Carbon Council actions saved 10M+ gallons of fuel; launched MIT contrails collaboration | 45M gal or 1% fuel burn savings† from operational improvements | 3% operational fuel savings†, worth 1.1B cumulative gal vs. 2019;80% reduction of addressable warming contrails* | 5% operational fuel savings†;100% reduction in addressable warming contrails* |
*Subject to successful completion of MIT contrails study, and provided that contrail avoidance can be done in a way that is consistent with Delta's ops, economic and environmental objectives
†Compared to 2019
Clean Fuel. Sustainable aviation fuel (SAF) is the most promising lever known today to accelerate progress toward a net zero future – it can use the existing fuel infrastructure to get it to airports and is safe to use in current aircraft engines. Unfortunately, there isn't enough SAF today to fuel an airline Delta's size for a single day. Delta is working to build demand, attract investment and encourage incentives to scale the market so all airlines can access more sustainable fuels. To date, the company has secured 200 million gallons of SAF offtakes and has approximately 50 corporate customers signed on to their sustainable fuel agreements.
| | | | |
| --- | --- | --- | --- |
| As of 2022 | 2030 | 2035 | 2050 |
| Committed to 200M gallons of SAF offtakes; approximately 50 corporate customer SAF agreements signed | 10% SAF usage by end of 2030 | 35% SAF usage | 95+% SAF |
Revolutionary Fleet. Though a fully sustainable long-haul aircraft has yet to be invented, Delta — with its world-class technical expertise and financial investments — is uniquely positioned to partner with aviation innovators to forge the path for the next century of flight. Delta's partnership with Airbus, for example, is focused on the potential for hydrogen-powered aircraft. Its efforts toward electric flight with partner Joby Aviation to provide home-to-airport transportation services reflect the disruptive innovation needed to revolutionize the industry.
| | | | |
| --- | --- | --- | --- |
| As of 2022 | 2025 | 2035 | 2050 |
| Partnership with Airbus ZEROe to explore hydrogen propulsion | 10+% fuel efficiency gains†;5 partnerships with revolutionary tech players | 20+% fuel efficiency gains†;First operation of mainline revolutionary tech | 40+% fuel efficiency gains†;25% of fleet made up of revolutionary aircraft |
†Compared to 2019
The magnitude of this challenge means that no single company can do it alone, noted Fletcher. It will take Delta people, partners, industry stakeholders, regulators and others working together to advance environmentally friendly programs and services — all while elevating the travel experience. The vital "spirit of collaboration" will be on display at the Delta Sustainable Skies Lab, which will showcase progress while inspiring the next generation of innovation, she said.
"I am excited about our journey ahead," said Fletcher. "There's no better team on the planet to drive the more sustainable future of flying."
Statements herein that are not historical facts, including statements regarding our expectations and goals, should be considered "forward-looking statements" under the federal securities laws and involve a number of risks and uncertainties that could cause actual results to differ materially from the expectations and goals. These risks and uncertainties include, but are not limited to, those described in our filings with the Securities and Exchange Commission. We undertake no obligation to update any forward-looking statements except to the extent required by law.