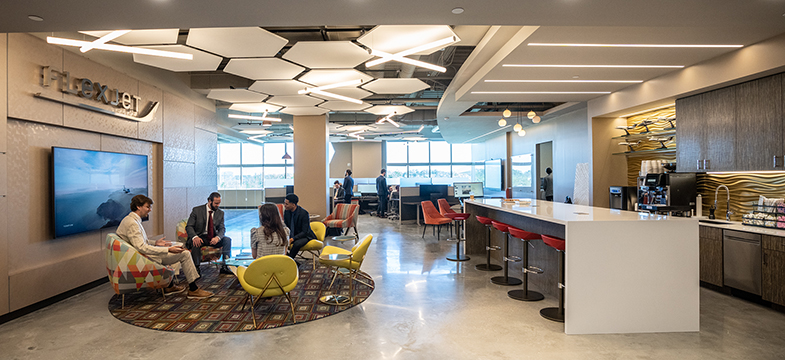 Expanded Flexjet Innovation and Career Center Will Provide Educational Support for Students and Introduce Them to Opportunities in Business Aviation
Embry-Riddle Students Have Gone On To Work For Flexjet And Its Sister Companies
Flexjet, a global leader in subscription-based private aviation, today announced the opening of the expanded Flexjet Innovation and Career Center at Embry-Riddle Aeronautical University's Research Park in Daytona Beach, Florida. The new facilities will house Flexjet-sponsored internships, offer conference space for student meetings and introduce students to career opportunities in the rapidly growing business aviation sector.
"In the past, those interested in aviation careers have looked to the airlines and the military. However, business aviation employs more individuals than the U.S. airlines, the Air Force and the Air National Guard combined, and offer a wide range of opportunities to build challenging and fulfilling careers," said Flexjet Chairman Kenn Ricci, who joined students, faculty and administrators at the opening. "Through the Flexjet Innovation and Career Center, we hope to offer educational and training opportunities to students at one of America's leading aeronautical academic programs while informing them about careers in business aviation." 
The expansion of the Flexjet Innovation and Career Center in the John Mica Engineering and Aerospace Innovation Complex (MicaPlex) extends a partnership with Embry-Riddle that began in 2017. The new facilities, located in the MicaPlex, expand nearly five-fold the space devoted to Flexjet's business aviation activities, to 3,000 square feet.
The enlarged space will house office and research space, meeting areas for student organizations and clubs; and a student lounge and coffee bar to promote collaboration and introduce students to the business aviation industry.
The center also will serve as the base for Flexjet-sponsored internship programs currently focused on management information systems-related positions that will be enhanced to encompass flight, safety, maintenance and operations. Although Flexjet still requires unrestricted Airline Transport Pilot (ATP) minimums before hire, other operators in our sector now allow new pilots to operate as co-pilots with a restricted ATP certification. The recent restricted ATP certification now allows graduate pilots from Embry Riddle an easier path to build their flight hours to achieve unrestricted ATP, and eventually become Captains in our aircraft.
"Embry-Riddle is honored to partner with Flexjet to provide students with real-world learning opportunities and introduce them to exciting new career possibilities," said university President Dr. P. Barry Butler. "Flexjet's expansion within our Research Park sets the stage for transformational thinking and innovation, and enhances the educational experience for our students."
Past interns have worked on projects such as artificial intelligence algorithms related to advanced demand modeling, and Embry-Riddle interns have gone on to work for Flexjet and its sister companies.
"The dramatic growth in private jet travel during the past several years has increased the need for well-educated, highly trained professionals. At Flexjet alone, we plan to hire 350 pilots and another 400 aviation professionals this year," said Flexjet Chief Administrative Officer Robert Sullivan. "Partnerships such as the one we have with Embry-Riddle will give us the superior workforce we need and offer students the opportunity to step into rewarding careers in a dynamic industry that literally has no ceiling."
Business aviation, including private jet travel, represents approximately $150 billion of U.S. economic output and employs more than 1.2 million Americans. Business aviation has a far larger footprint nationally than the commercial airlines, accessing more than 5,000 airports compared to the approximately 500 airports served by airlines, according to the National Business Aviation Association.