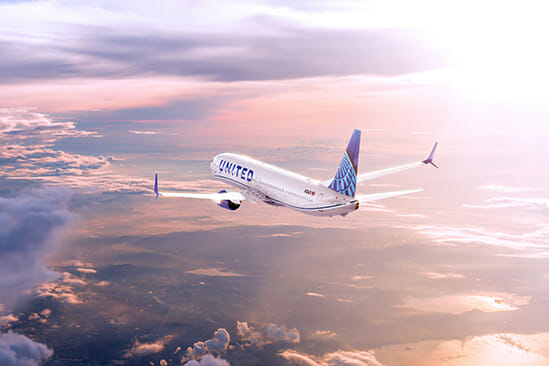 Q4 2022 pre-tax margin exceeded 2019 and vaulted United to an industry-leading position
The changes United made to increase staffing and resources and invest in technology and infrastructure created strong operations and allowed United to recover quickly after winter storm Elliott
Remains confident in hitting its 2023 financial performance targets fueled by United Next progress
United Airlines (UAL) today reported fourth-quarter and full-year 2022 financial results. The company exceeded adjusted operating margin1 guidance in the fourth quarter reporting a 11.1% operating margin; 11.2% operating margin on an adjusted basis1. Additionally the company reported a 9.1% pre-tax margin on a GAAP basis and 9.0% on an adjusted basis1, achieving its 2023 target ahead of schedule. The company grew operating revenue by 14% and TRASM (total revenue per available seat mile) by 26%, both versus fourth quarter 2019. The company remains confident in the 2023 United Next adjusted pre-tax margin1 target of about 9%.
United was able to recover quickly from significant irregular operations in December as a result of winter storm Elliott. During the key holiday travel days between December 21 and 26, nearly 36% of all United flights were exposed to severe weather. Despite that impact, 90% of United customers made it to their destination within 4 hours of their scheduled arrival time. The company credits significant investment in its people, resources, technology and infrastructure over the past few years with its ability to recover from significant weather events.
"Thank you to the United team that, last month, managed through one of the worst weather events in my career to deliver for so many of our customers and get them home for the holidays," said United Airlines CEO Scott Kirby. "Our dedicated team used our state-of-the-art tools to prepare for the bad weather, take care of our customers and quickly recover once the worst of the weather had passed. Over the last three years, United has made critical investments in tools, infrastructure and our people – all of which are essential investments in our future. That's why we've got a big head start, and we're now poised to accelerate in 2023 as our United Next strategy becomes a reality."
Fourth-Quarter Financial Results
Net income of $843 million, adjusted net income1 of $811 million.
Capacity down 9% compared to fourth-quarter 2019.
Total operating revenue of $12.4 billion, up 14% compared to fourth-quarter 2019.
TRASM of up 26% compared to fourth-quarter 2019.
CASM of up 21%, and CASM-ex1 of up 11%, compared to fourth-quarter 2019.
Operating margin of 11.1%, adjusted operating margin1 of 11.2%, both up over 2 pts. compared to fourth-quarter 2019.
Pre-tax margin of 9.1%, adjusted pre-tax margin1 of 9.0%, both up and around 1 pt. compared to fourth-quarter 2019.
Average fuel price per gallon of $3.54.
Full-Year Financial Results
Net income of $737 million, adjusted net income1 of $831 million.
Operating margin of 5.2%, adjusted operating margin1 of 5.5%.
Pre-tax margin of 2.2%, adjusted pre-tax margin1 of 2.5%.
Ending available liquidity2 of $18.2 billion.
Key Highlights
Announced the largest widebody order by a U.S. carrier in commercial aviation history: 100 Boeing 787 Dreamliners with options to purchase 100 more. Also added 100 additional Boeing 737 MAX aircraft by exercising 44 options and adding 56 new firm orders. This historic purchase is the next chapter in the ambitious United Next plan and will bolster the airline's leadership role in global travel for years to come.
Officially opened the United Aviate Academy, the only major U.S. airline to own a flight training school, with a historic inaugural pilot class of 80% women or people of color.
Launched Calibrate, an in-house apprenticeship program that will help grow and diversify its pipeline of Aircraft Maintenance Technicians.
Launched a new, national advertising campaign – "Good Leads The Way" – that tells the story of United's leadership in areas like customer service, diversity and sustainability, and captures the optimism fueling the airline's large ambitions at a time of unprecedented demand in air travel.
Announced and began the expansion of its Flight Training Center in Denver, already the largest facility of its kind in the world.
Announced a historic commercial agreement with Emirates that will enhance each airline's network and give customers easier access to hundreds of destinations around the world. Also announced a new direct flight between Newark/New York and Dubai beginning in March 2023, subject to government approval.
Appointed by Department of Homeland Security Secretary Alejandro Mayorkas, United Chief Executive Officer Scott Kirby served as the Co-Chair of the Homeland Security Advisory Council and also served on the Board of Directors of the Business Roundtable as the Chairman of the Education and Workforce Committee.
Hosted the first Eco-Skies Alliance Summit, bringing together leaders, corporate customers, and senior U.S. government officials for important discussions on sustainable aviation fuel, best practices of how to reduce carbon emissions from flying and how to collaborate on future sustainability solutions.
Operational Performance
In the fourth quarter, on-time arrival performance (arrival within 14 minutes of schedule) was at 80%, the best quarterly performance of 2022.
United finished first among network carriers for on-time departures and completion at its three largest hubs – Denver, O'Hare and Houston – for the fourth-quarter and full-year 2022.
In 2022, over 650,000 passenger connections were saved with ConnectionSaver, resulting in United achieving the lowest misconnect rate ever for the fourth quarter and full year (excluding 2020/2021).
In the fourth quarter, Inflight Service, Check-In and Club Satisfaction beat their record from last quarter and ended with their highest quarterly performance since the launch of the NPS (Net Promoter Score) survey in 2020.
Customer Experience
In 2022, 80% of domestic departures were operated on a dual-cabin aircraft, up from 67% in 2019.
Despite the severe operating conditions during winter storm Elliott, 43% of our customer surveys included a compliment for something a United employee did to help them.
Debuted free "bag drop shortcut" – a simple way for customers at United's U.S. hubs to skip the line, check their bag in a minute or less on average, and get to their flight.
Began offering eligible T-Mobile customers free in-flight Wi-Fi and streaming where available on select domestic and short-haul international flights.
United, with Jaguar North America, launched the first gate-to-gate airport transfer service powered by an all-electric fleet in the U.S. at Chicago O'Hare International Airport.
Announced the return of kids' meals on board on select United flights where complimentary meals are served.
Announced the opening of United Club FlySM, a new club concept for a U.S. airline at DenverInternational Airport.
Opened the new United ClubSM location at Newark Liberty International Airport, a 30,000-square-foot space offering travelers a modern design, enhanced amenities and culinary offerings.
Debuted new custom amenity kits for United Polaris® from Away ahead of summer travel.
Debuted new plant-based menu items from Impossible Foods as part of United's goal to add more vegan and vegetarian options to its culinary lineup amidst growing demand for plant-based meat.
Network
Announced the 2023 summer schedule that includes adding new service to three cities – Malaga, Spain; Stockholm, Sweden; and Dubai, United Arab Emirates – United will be the No. 1 airline to Europe, Africa, India and the Middle East next summer with service to 37 cities, more destinations than all other U.S. airlines combined.
Launched a new alliance partnership with Virgin Australia, began year-round, nonstop service between San Francisco and Brisbane, Australia and became the largest carrier between the United States and Australia.
Began year-round, nonstop service between Washington, D.C., and Cape Town, South Africaand expanded to year-round nonstop service between New York/Newark and Cape Town, South Africa.
Expanded the airline's codeshare agreement with Star Alliance member Singapore Airlines, making it easier for customers to travel to more cities in the United States, Southeast Asia and other destinations in the Asia-Pacific region.
Announced a joint business agreement with Air Canada for the Canada-U.S. transborder market, building on the companies' long-standing alliance, that will give more flight options and better flight schedules to customers traveling between the two countries.
Environmental, Social and Governance (ESG)
In the fourth quarter, over 7,700 volunteer hours were served by more than 1,000 employee volunteers.
In the fourth quarter, nearly 13 million miles were donated to 40 participating nonprofit organizations during United's Giving Tuesday 2022 campaign by over 700 donors, including nearly 2 million miles matched by United.
In the fourth quarter, more than 4 million miles and over $111,000 were raised for Hurricane Fiona and Hurricane Ian relief efforts.
In 2022, through a combination of cargo-only flights and passenger flights, United transported over 1 billion pounds of cargo, including approximately 121 million pounds of medical shipments and approximately 10,500 pounds of military shipments.
United Airlines Ventures announced a strategic investment in NEXT Renewable Fuels (NEXT), which is acquiring a permit for a flagship biofuel refinery in Port Westward, Oregon, with expected production beginning in 2026.
Announced a $15 million investment in Eve Air Mobility and a conditional purchase agreement for 200 four-seat electric aircraft with options to purchase 200 more, expecting the first deliveries as early as 2026.
Launched United for Business Blueprint™, a new platform that will allow corporate customers to fully customize their business travel program contracts with United.
United Airlines Ventures and Oxy Low Carbon Ventures announced a collaboration with Cemvita Factory to commercialize the production of sustainable aviation fuel intended to be developed through a revolutionary new process using carbon dioxide and synthetic microbes.
Announced a strategic equity investment in Natron Energy, a battery manufacturer whose sodium-ion batteries have the potential to help United electrify its airport ground equipment like pushback tractors and operations at the gate.
U.S. President Joe Biden appointed United President Brett Hart to the Board of Advisors on Historically Black Colleges and Universities.
Along with the PGA TOUR, announced that it will award 51 golf teams at Historically Black Colleges and Universities with more than half a million dollars in grants to fund travel for golf tournaments and recruiting efforts.
Announced a new collaboration with OneTen, a coalition committed to upskill, hire and advance Black talent into family-sustaining careers over the next 10 years.
United Airlines Ventures announced an investment in and commercial agreement with Dimensional Energy, another step forward to reaching United's pledge to become 100% green by achieving net-zero greenhouse gas emissions by 2050, without relying on the use of traditional carbon offsets.
Became the first U.S. airline to sign an agreement with Neste to purchase sustainable aviation fuel overseas.
Over 42 million miles and more than $400,000 donated to World Central Kitchen, Airlink, American Red Cross, and Americares in support of Ukraine relief efforts by United's customers, with an additional 5 million miles and $100,000 matched by United.
Earned a top score of 100% on the 2022 Disability Equality Index for the seventh consecutive year and was recognized as a "Best Place to Work" for Disability Inclusion.
Hosted more than 100 volunteer events for United's 2nd Annual September of Service with more than 1,600 United employees volunteering 6,500 hours.
Became the first airline to donate flights in support of the White House's Operation Fly Formula and transported Kendamil formula free of charge from Heathrow Airport in London to its Washington Dulles hub.