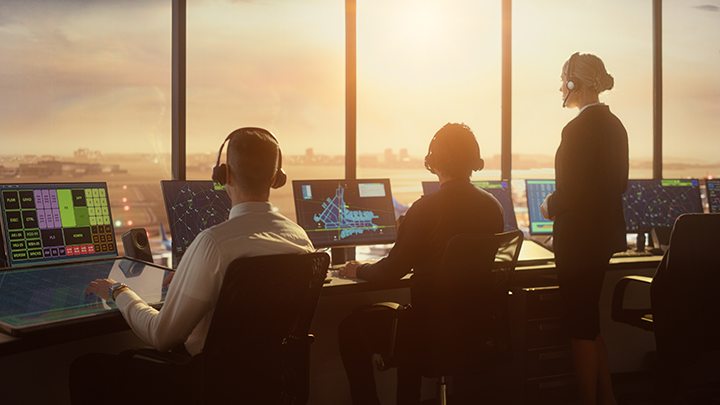 Holding patterns can be assigned by ATC to facilitate traffic flow or when a clearance limit is reached. Similarly, a pilot may request a hold when the weather conditions at the destination airport are not favorable. If sufficient fuel is available, holding may avoid a diversion and lead to a successful landing at the originally intended point of landing.
Unlike VFR traffic pattern entry direction, standard holding-pattern turns are made to the right. Non-standard holding-pattern turns are made to the left. Below 14,000 feet MSL, a holding pattern usually takes four minutes and consists of two standard-rate 180 degree turns, separated by one-minute straight segments (legs). Each circuit begins and ends at the holding fix. The holding fix may be an intersection, a GPS waypoint, a navaid, or a DME distance. Pilots must take into account the effect of wind and apply appropriate wind-correction techniques while flying a holding procedure. The most common technique for calculating a wind-correction angle is known as bracketing, which consists of a trial-and-error process, commencing upon entering the hold and continuously perfecting as the hold progresses. The size of holding patterns is directly proportional to the speed of the airplane. The maximum holding speeds for civil aircraft are:
200 KIAS at 6000 feet MSL and below
230 KIAS from 6001 MSL through 14000 MSL
265 KIAS above 6001 feet MSL
The FAA recommends three standard holding entry procedures: direct, teardrop, and parallel. Although these entries are only recommended, they are intended to ensure the aircraft remains clear of terrain and obstacles, within the protected airspace. Upon passing the holding fix, mandatory ATC reporting requirements apply. When no delay is expected, the controller should issue a clearance beyond the fix as soon as possible and, whenever possible, at least five minutes before the aircraft reaches the clearance limit.
In the event of loss of communications, if the pilot is unable to obtain holding instructions prior to reaching the clearance limit, enter the holding pattern on the course the aircraft is approaching the fix. Under such circumstances, the altitude/flight level of the aircraft at the clearance limit will be protected so that separation will be provided as required.
Technologically advanced aircraft may be capable of RNAV procedures, defining holding legs by a specific DME, rather than time. Leg length is thereby displayed on published standard instrument departures, standard terminal arrival routes, and approach charts. The holding protected airspace is based on the assumption that the aircraft will fly over the holding fix upon initial entry. RNAV (GPS) systems may perform a "fly-by" turn when approaching the holding fix prior to entry. A "fly-by" turn during a direct entry from the holding pattern side of holding course may result in excursions beyond protected airspace, especially as the intercept angle and ground speed increase. Likewise, pilots must pay particular attention to lateral corrections (reduced bank angles, as an example) during RNAV holds, in order to ensure a minimum of a 25-degree bank is executed for all turns, unless aircraft operating limitations specify otherwise and the pilot advises ATC.
Holding patterns are procedures used under IFR for a variety of circumstances, whether initiated by a pilot or by air traffic control. Within the protected holding airspace, an aircraft is guaranteed adequate traffic, as well as obstacle and terrain separation. Visualization is key to ensure the holding entry is performed safely. Maintaining situational awareness of the fuel status is paramount as well. Once a minimum fuel is reached, a request must be promptly made to divert to an alternate field. Be sure to be proactive, plan ahead, and communicate with ATC clearly about any alternative plans. Finally, when operating in multi-crew environments, work collaboratively, delegating duties and responsibilities, while incorporating the aid of external resources such as dispatch.