SkyWest Airlines is celebrating 45 years of flying in 2017, a noteworthy milestone from humble beginnings to today's stability, success and growth. In September, the company announced new flying contracts for 25 new Embraer jets – 15 to fly for Delta Air Lines and 10 for Alaska Airlines. The E-jets will join SkyWest's current fleet of 415 aircraft, including 104 E175 aircraft from previous orders. This recent growth is unparalleled in the regional airline industry; couple it with the airline's culture, stability and success, and there's never been a better time to join the SkyWest team.
Pilots coming to SkyWest can expect a strong culture of professionalism and teamwork. It's a culture highly sought after by aviation professionals and one that stands the test of time at SkyWest. No matter the change within and across the industry, SkyWest has continually evolved to remain a top career destination for pilots. This is a result of the airline's unmatched team of aviation professionals at SkyWest. One example of this is SkyWest's maintenance reliability record across our fleet, with 12 maintenance hangars that provide exceptional support for the fleet and an over 99.8 percent reliability that only continues to improve. Together, SkyWest and its people strive to be the best and offer the best – to each other, to their airline partners, and to their passengers, and that's part of what attracts and keeps the industry's best professionals here.
This enviable blend of quality, efficiency and stability helps SkyWest give pilots more opportunities than any other regional airline can provide. No matter what your career goals are, SkyWest will support, train and help you grow and reach your goals. With four major airline partners – Delta Air Lines, United Airlines, American Airlines and Alaska Airlines – SkyWest pilots have more exposure and experience than any other regional pilot. The flight training program at SkyWest is well regarded as one of the top programs in the industry, making SkyWest pilots highly respected and sought after.
By choosing SkyWest, pilots are truly able to Take Control of Their Careers.
SkyWest pilots have an exceptional quality of life, including access to 17 domiciles, upgrade times in two years, and a growing fleet of new aircraft. In addition, SkyWest pilots have great benefits, like industry leading 401(k) matching (up to 10 percent, 100 percent vested), excellent insurance, including loss of medical insurance, and travel privileges. Pilots also have great pay in addition to unparalleled pilot profit sharing and multiple bonus programs based on financial and operational performance. Plus, SkyWest has exceptional work rules for pilots like 100 percent deadhead and cancellation pay, an easy system to pick up additional flying at increased pay and a new Industry Experience Credit program where FAR Part 121 flying experience is counted year-for-year for pay credit. By choosing SkyWest, pilots are truly able to Take Control of Their Careers.
Now is a great time to join the SkyWest team. SkyWest operates over 2,000 flights each day to more than 220 destinations throughout North America. But it doesn't stop there – SkyWest is currently hiring pilots to support the company's growth and to operate new aircraft. The application process is simple and streamlined, making it easier than ever to apply. SkyWest interviews are known to be thorough, and SkyWest Airlines has also been ranked by Glassdoor as one of the best companies to interview. Apply today and see why! Go to skywest.com/pilot and a SkyWest recruiter will reach out to you to set up a convenient time for your interview.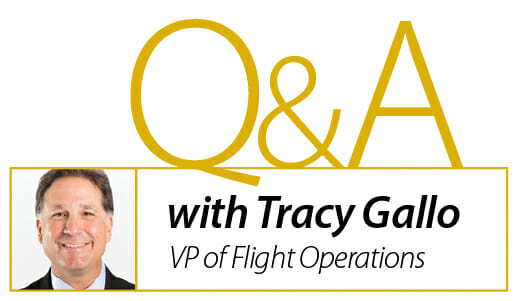 Q&A with Tracy Gallo:
For a better idea of why SkyWest is the top choice for pilots and how to prepare as a candidate, we talked with Tracy Gallo, vice president of Flight Operations at SkyWest:
What are you looking for in a pilot candidate?
SkyWest pilots are top-tier and experience some of the best training in the industry. We look for professionals with great work ethic who are looking to join an exceptional team. Once a pilot fills out the online application for the first officer position, we evaluate their qualifications, ensure they are within three to four months of having their ATP or R-ATP hour requirements, and the team sets up an interview. In the interview, we're looking for the sharpest pilots who are knowledgeable and will represent SkyWest guiding principles like personal reliability, respect and teamwork, and personal integrity.
Once you've completed the interview process, we'll take care of your CTP course and help with whatever we can to make sure you're ready for ground school.
Can you talk me through a typical interview?
Sure! The interview is an important process for the pilot and for SkyWest. We really want to get to know the applicant and test their knowledge about safely operating an aircraft in a 121 environment. Candidates can expect a few hours for an interview. Right before the interview starts, we give candidates a brief introduction, talk about SkyWest, answer questions and let them know what to expect in their interview. Then in the interview, we spend time going through a CRM scenario, we go over Jeppsen knowledge, we discuss aircraft systems, we review FARs, and then general HR questions. We end up covering 121 rules, approach procedures, en-route chart knowledge, symbology, jet aerodynamics and high-speed flight characters and similar topics. After the interview, we immediately debrief and let the candidate know how they did.
When do you tell applicants if they're hired?
Typically, we are very quick. If the candidate is exceptional, they can receive an offer on the spot. At most, you'll hear back within a few days of the interview.
What is training like at SkyWest?
SkyWest is known for having one of the best pilot training programs in the industry. It's something we're pretty passionate about. A pilot's first contact with our training may be in our ATP CTP course. It's taught by our SkyWest pilots (we don't outsource any of our training) and is a great introduction to training here.
For our classes, our CRJ pilots go through ground school in Salt Lake City, Utah, and our ERJ pilots go through ground school in Denver, Colorado. We use AQP curriculum, and we focus on professionalism and proficiency for every pilot. Like I said before, our instructors are all SkyWest pilots who know what it's like to fly the line, and they are our best. I'd be so bold to say that we have the best training team in the industry — regional and mainline. Many pilots who come to SkyWest have aspirations to fly for a mainline airline, and we support that; we want them to fulfill their dreams. Some come with that goal and make the decision to maintain this quality of life and end up staying for their careers. Whatever the career objective, SkyWest positions our pilots with the best opportunity from any angle, including professionalism and proficiency.
Why should pilots choose to come to SkyWest Airlines?
If you're accepted at SkyWest with a job offer, you're welcomed into the SkyWest family. It's joining a team of 4,300 pilots – as well as 8,000-plus aviation professionals — who are all taking care of and looking out for each other. And in addition to that great culture, there's no better place for quality of life. We have 17 domiciles, two-year upgrades and top-tier pay, benefits and bonus programs. We're currently offering a $7,500 bonus to any new pilot who comes to SkyWest with a type rating for a turbojet aircraft or who has military flying experience, as well as year-for-year pay credit for pilots who have FAR 121 experience. We have some incredible growth coming our way, which means it might just be the best time in history to join the SkyWest team. There are many great opportunities at SkyWest for pilots who want the best possible aviation career. I could go on forever listing reasons why people come to SkyWest, but for me, it really comes down to the great team forming a company with 45 years of teamwork and success.
SkyWest Cadet Program:
Still building your hours? Check out our SkyWest Pilot Pathway Program! Becoming a SkyWest Cadet through the SkyWest Pilot Pathway Program provides a direct path for exceptional pilots. Enhanced seniority, a guaranteed final interview and access to pilot mentors are just a few of the upgrades students get by becoming cadets.
Unlike an internship, the Pilot Pathway Program allows students to remain at their campus to complete their flight training until they meet the Airline Transport Pilot standards necessary to fly at SkyWest. Each cadet is individually mentored by SkyWest pilots to help them as smoothly as possible in their transition to becoming commercial airline pilots.
Learn more and apply online for the program at skywest.com/careers.
New SkyWest Announcements:
New Aircraft Announcements
On Sept. 6, SkyWest announced flying agreements for 25 new aircraft. SkyWest will receive 15 E175 SC aircraft to fly as Delta Connection and 10 E175s to fly for Alaska Airlines in 2018.
Follow @SkyWestAirlines on Twitter, Like the SkyWest Airlines Pilot Recruitment page on Facebook, or follow SkyWest Airlines on LinkedIn to be the first to hear more announcements like this one.
Industry Experience Credit
Have experience with an FAR Part 121 Carrier? Upgrade Your Career and get paid for your experience with SkyWest's new Industry Experience Credit Program. Join SkyWest's team of professional aviators and don't worry about pay – we will start your pay at a year-for-year match! That means that every year you have worked at an FAR Part 121 carrier counts towards your compensation and benefits (up to 10 years). Plus, we're offering a $7,500 bonus for current RJ-type rated pilots.
Credit will apply to pilot pay (up to 10 years), 401(k) match, profit sharing and user/vacation accrual. Credit does not apply to seat, bidding or travel seniority. Proof of eligibility is required and must be approved through screening processes. The same application and rigorous interview process applies.