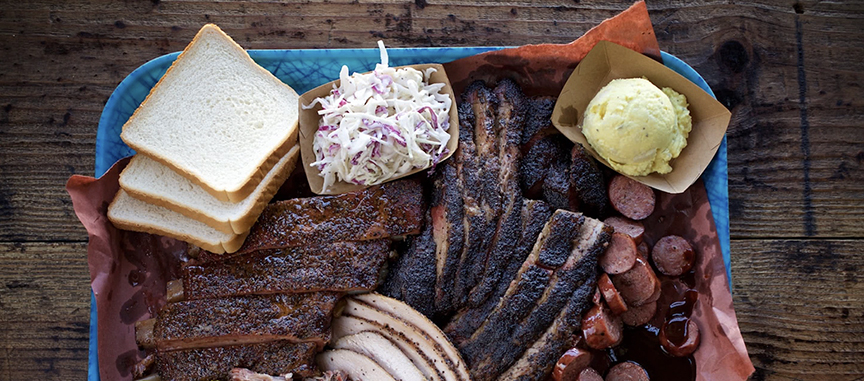 Brisket magic where they keep it weird ­– Austin
I finally made it to the mecca of brisket, Franklin's BBQ! Located in Austin, Texas, BBQ foodies from all over the country know that Aaron Franklin has mastered the art of cooking brisket. So, when I saw that I scored a long overnight that coincided with the operating hours of the restaurant, I was excited! This promised to be a huge deal for me and I did not want to mess up this opportunity. I began researching the restaurant as if it were for a doctoral thesis.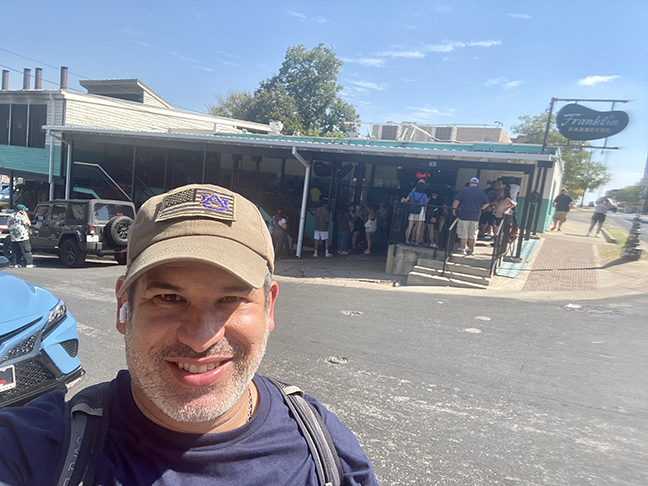 You may be questioning what is there to research about going to a restaurant. Well, let me tell you, if you grew up watching Seinfeld as I did, you remember what happens if you mess up the unspoken etiquette at legendary restaurants. The last thing I need in my life is for Aaron to yell across the counter, "No brisket for you, one year!"
Here is what I learned: Determine your level of enthusiasm for eating at this location. The early lines in the day are long. The restaurant will run out of certain meats shortly after opening at 11:00 am. The line starts forming around 5:30 am! I performed sophisticated calculus and determined that an 8:00 am showtime would ensure I would get the perfect slice of lean yet fatty brisket, as well as some of those deliciously yummy brisket burnt ends. You can skip the line and order ahead online (as far as two to four weeks in advance), or you can just show up around the 1:00 pm mark, if you don't want to wake up early. Fair warning though, should you take such a risk, go in knowing you'll get what you get and you can't pitch a fit. Usually, they sell out of everything around 2 or 3 pm. Their website cites their hours, "11am to Sold Out." (And I don't want to fail to mention that they ship nationwide!)
When you show up to wait in the tailgate-style queue, I suggest you bring some of your favorite beverages, regular or adult. If you want a chair, you can grab one from the community pile of lawn chairs other customers have left behind. The restaurant doesn't start serving lunch until 11:00 am, so I used my long wait time as an opportunity to meet some new people and just hang out. On this day I met one tourist who came all the way from Ireland on a BBQ tour across America. He had been waiting at the front of the line since 5:30 am! Later, I sat in line with a fellow well-seasoned BBQ fan who had traveled with his uncle up from San Antonio just to see if it was worth the hype. He and his uncle provided beers for me since my extensive research did not include this little fun fact. We listened to music and chatted all morning in this magical tailgate line. Why not enjoy the wait? Communing with others made for an even better experience while waiting for this well-known BBQ perfection! It was a cultural experience.
Now, let's get into the food. I ordered brisket, pulled pork, a slice of turkey, and was able to score the last beef rib. They had only made 18 that day and I had the honor of eating the last one. To say this is fantastic BBQ is an understatement, most definitely. Point of fact, you don't need any sauce – the meat speaks for itself. Everything is well seasoned, done to perfection, perfectly pulled, and moist. In the interest of this article, I did sample some sauces on the side. I really enjoyed the flavor of the espresso BBQ sauce. It has the perfect blend of tangy with a touch of coffee. Franklin did not disappoint. Everything was delicious, and best of all, I had enough to stuff in Ziploc® bags for my flight the next day.
The staff and the customers made this a wonderful experience and I will undoubtedly go again. When you leave, they will direct you to wrap your food with butcher paper. This is important to reheat your meat for the next day. Be sure to keep it in the paper as you place it in the aircraft oven. Reheat at 350 degrees for 10-15 minutes. I tried this method and my leftovers came alive, just like eating it fresh all over again. I am sure a microwave will do, but I would cook it no more than one minute at a time for fear of drying it out. You wouldn't want to ruin that leftover perfection!
In my opinion, Franklin's BBQ (900 E. 11th Austin, Texas, 78702 www.franklinbbq.com) merits the hype and was most worthy of all the effort! I will be going back to Austin next month and am looking forward to trying another foodie location in a city known for them. If you're from the Austin area, I welcome recommendations, please! Send your suggestions to me (for restaurants anywhere) to info@aerocrewnews.com.