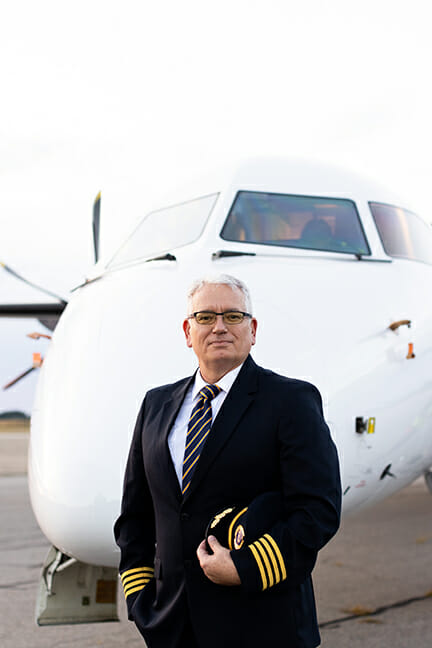 Connect Airlines is looking for captains and first officers who want to seize a smarter, more profitable career opportunity that removes their shackles from the traditional-airlines' broken, crew-scheduling system while fostering growth as a pilot and a person.
Connect is building a smarter airline during unprecedented times and business conditions. It is seeking pilots who want to participate directly in how that airline works and grows. The new crew will join a team comprised of aviation leaders who share a common passion to work and fly smarter. With Billy Bishop Toronto City Airport (YTZ) as a destination hub, initially, Connect will provide scheduled passenger service on Dash 8 400 turboprops from both Philadelphia and Chicago O'Hare (ORD) airports beginning in the first quarter of 2023. Other major U.S. cities in the northeast and Midwest will soon follow as originating stations. Along with its transborder turboprop service, Connect is following a clear path to becoming the first U.S. zero-emission airline that will also launch a narrow body, non-regional jet network.
Connect recognizes the hiring challenges the industry is facing with today's pilot-demand reality and that it must compete for talent by offering pilots economic security, quality-of-life and career opportunities that cannot be beat.
It starts with compensation. Connect is offering significant cash bonuses and salaries that are considerably higher than most other U.S. regional airlines and low-cost carriers. Last summer, Connect launched its Smart Start Captain recruitment program that disrupted the pilot-pay model. The program offers industry-leading, pay-protected salary of $180,000 per year for up to thirty highly qualified, direct entry U.S. Captains. In addition, pilots receive monthly travel stipends, annual 401K contributions, profit sharing, an annual retention bonus for the initial three years, an LCP override guarantee, and numerous other benefits. That salary level remains near the top of the scale.
Connect's first-officer compensation is also industry competitive with an annual starting salary of $85,000 with the same bonuses and benefits as captains. "We recognize the hiring challenges the industry is facing and are taking these unprecedented steps to meet the business objectives of our startup airline while offering pilots economic security and quality-of-life opportunities," said John Thomas, CEO, Connect Airlines. While top-level pay is key, Connect's growing pool of pilots is choosing Connect for a variety of additional reasons that will provide career fulfillment.
As Connect is still new and has a small but growing crew roster, its pilots are breaking free of the traditional seniority model with incumbent airlines. In this model, when pilots are upgraded they are moved over to be slotted in with their new peers, but these pilots come with their seniority date which most often relegates them to years of poor, schedule-bidding options. While an upgrade is at first a welcome opportunity, it places an unnecessary burden on pilots across the industry to choose between higher pay, more responsibility and advancement, or a better quality of life. The traditional model places a scheduling penalty on pilots in order to gain seniority in the left seat.
As a startup, captains coming to Connect from other airlines or career paths will get into the left seat without having to sit at the bottom of a seniority list, as they would if they moved to a different legacy carrier.
"We won't have a captain sitting as a first officer who rejected a promotion for quality-of-life reasons," said John Thomas, CEO, Connect Airlines.
Connect is building its roster of pilots with those who see it as a career destination not a steppingstone. Getting a seniority number now will extend through all growth and future fleets of the airline.
"For pilots who are tired of the typical commercial airline system and whose seniority has them locked into an unfavorable career path, we have the solution," said Chris Chapman, Chief Pilot, Connect Airlines. "Connect will be able to give our front-end pilots, both captains and first officers, the ability to manage their life around multiple hybrid lines built by the company for industry-leading QOL. These options will better suit their personal needs."
Most lines of flying are based on a four-on, three-off schedules with overnights most often in the pilot's home base. Pilot bases initially include Philadelphia and Chicago and Connect pilots receive a $2000 per month stipend to offset commuting expenses to and from their assigned base.
By partnering with, instead of competing against, existing major carriers, Connect provides its team members with unique opportunities. With potential flow options to several major airlines, as well as Connect's own narrow-body, lower emissions jets arriving in a few years, Connect pilots will have multiple options to advance their careers and compensation.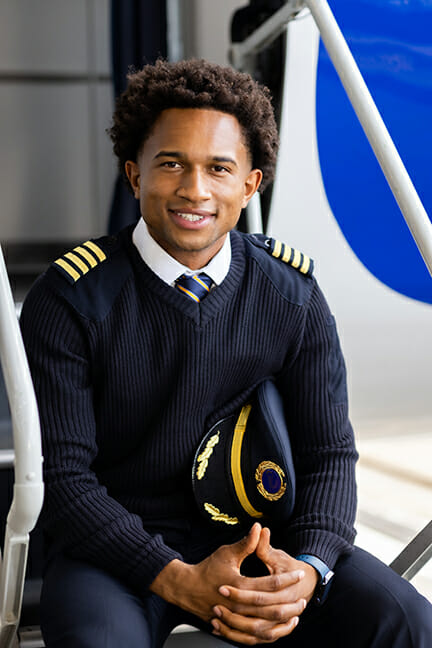 But Connect believes its model will encourage its captains and first officers to remain committed to a career as a Connect Airlines pilot. Connect is recruiting U.S. captains who have at least 2500 hours of Part 121 or Part 135 flying time. Pilots with this level of experience have been through the industry's ebbs and flows, have spent too much of their life away from family, friends, and events, so they are looking for a better work-life balance.
"Connect's culture promotes an environment of comradery, flexibility, safety, and meaningful care for one another," said Chris Chapman, Chief Pilot, Connect Airlines. "The captains we are hiring aren't here for the logbook, the opportunity they see is to earn the rewards from their many years of service, continue a career they love and give back to the newer generation of pilots."
Connect is also hiring captains who are excellent and experienced leaders with a desire to serve as mentors to incoming first officers. For Connect's first officers, the opportunity to learn from this experience, the level of pay, and the seniority number carry-over, are all part of the bigger picture.
"I see the vision of what Connect wants. There is a visible passion seen in every employee I have come in contact with that is focused on making Connect successful," said Alex Doerstling, First Officer, Connect Airlines. "Connect is going to be cutting edge but doing it in such a different and smarter way than other airlines."

By flying turboprops, Connect is offering all its pilots the opportunity to fly a high-performance aircraft while also playing a leading role in dramatically reducing aviation's carbon footprint and helping the U.S. reach its climate goals.
Connect is passionate about a more sustainable tomorrow and is on the leading edge of smarter, greener travel with zero-emissions and zero-carbon technology adoption. From the beginning, Connect's turboprop aircraft will generate up to 40% less carbon emissions than the existing U.S. regional jets they compete against, while at the same time providing superior passenger experiences.
Connect has committed to becoming the world's first true zero-emission airline and the only way to accomplish this in the near term is with hydrogen. Connect plans to be the first zero-emission passenger airline in the U.S. through its recently announced order with Universal Hydrogen for hydrogen-powered aircraft beginning in 2025. The first flight of Universal Hydrogen's hydrogen-powered regional test aircraft is only weeks away. This will be the first airline category aircraft flown on hydrogen. And while the 'in-service' timeline is still a few years away Connect is proud to be immediately setting the bar high while contributing to a greener future with a lower environmental footprint.
Diversity
Connect was conceived with one core principle, doing things smarter and that includes how and who we hire. Although the pilot pool is small, we are working every day to provide opportunities to the most qualified and most diverse candidates across all dimensions of diversity including race, gender, socioeconomic status, and sexual orientation. Connect cares for its team members and welcomes candidates that will care for its guests. Connect is fortunate to be attracting people who care and want to make an impact in the way commercial airplanes fly.
Connect Airlines' mission includes a smarter way to promote diversity, equity, and inclusion. It is a work in progress, but by sponsoring and recruiting pilots at a variety of diversity-focused events, Connect is building a stronger and more diverse team.
In the coming months, Connect is a corporate sponsor of the National Gay Pilots Association (NGPA) Industry Expo, the second-largest pilot-recruiting and aviation-networking event in the U.S., Women in Aviation International's (WAI) 34th Annual International Conference, the Professional Asian Pilots Association (PAPA) conference, and the Organization of Black Aerospace Professionals' (OBAP) 47th Annual Conference.
Connect recruiters will be there and they pride themselves on giving every applicant the personal attention needed. Connect reviews every résumé without automation. Connect recruiters are scheduled to attend the following events in 2023:
NGPA Industry Expo February 9-10th, Palm Springs, CA
WIA Conference February 23-25th, Long Beach, CA
TPNx April 21-22nd, Orlando FL
PAPA Conference May 18th-19th, Las Vegas, NV
OBAP August 9th-11th, New Orleans, LA
For pilots looking to enhance their careers, now is the time to apply. Seize a smarter, more profitable career opportunity that removes the shackles of traditional airlines' broken crew-scheduling system while fostering growth in the pilot and person.
As Captain Frank Cartier said, "The thought of being a part of an airline startup appealed directly to that sense of adventure, and so I am here."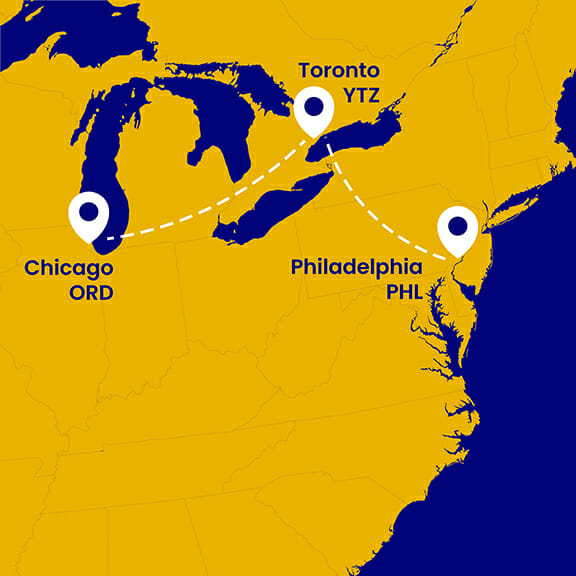 About Connect Airlines
Connect Airlines is an operating brand of Waltzing Matilda Airlines (WMA), a Boston-based FAA Part 135 charter operator currently adding FAA Part 121 scheduled, flag and non-scheduled services. WMA identified the need for a "smarter airline" and brought together aviation leaders with over 150 years' experience who share a common passion – to work and fly smarter. With the planes we fly, the technology we use, and the operations we run, Connect Airlines will deliver a quieter, cleaner, and healthier travel experience. Connect Airlines, the future of smarter, greener travel.