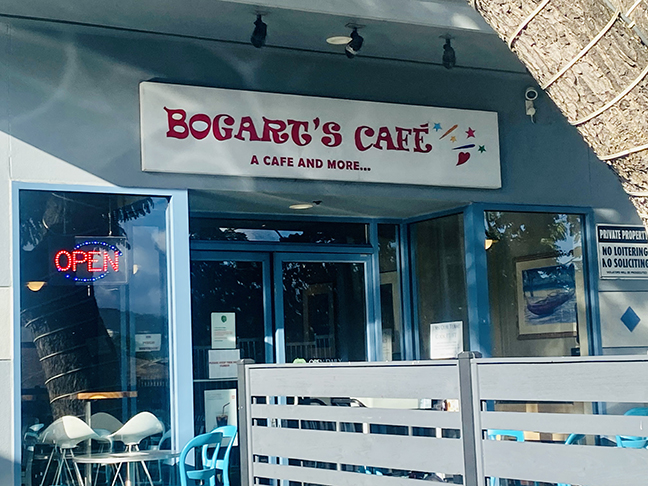 Breakfast for the sweet tooth
I've been fortunate enough to experience a few delightful overnights in the beautiful city of Honolulu, Hawaii. As a tourist destination, Waikiki offers an abundance of mouthwatering dining options. For crew members like me, time off the aircraft is incredibly valuable and wasting it on a mediocre meal is simply not an option. That's why I'm always on the lookout for hidden gems.
Another of the best parts of this job, aside from meeting new people during our layovers, is having the opportunity to share a meal with friends and family on the road. During my recent visit, for some local insight and great company, I reached out to my friend Jamie and his family, who are currently serving our great country in Hawaii. He enthusiastically recommended one of his family's favorite breakfast spots, Bogart's Cafe.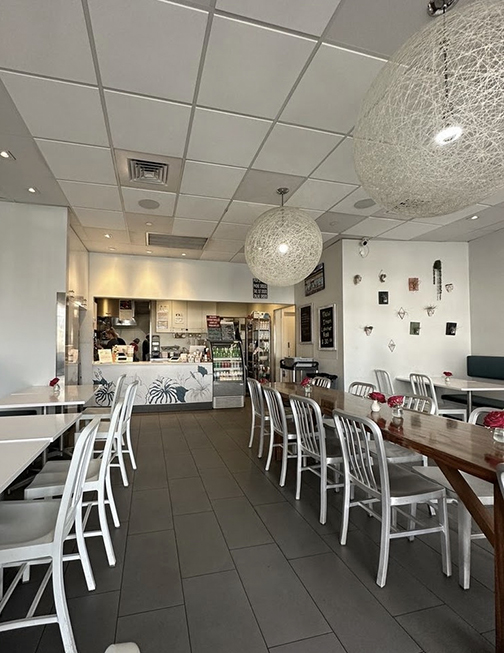 Though there were several options closer to the hotel, Bogart's stood out for a number of reasons. While it's just a short walk or bike ride from most hotels, it also happens to be conveniently located near the zoo and enroute to Diamond Head, a must-visit spot for adventurous hikers seeking breathtaking views of the island.
Bogart's may not catch your eye at first glance, but don't be fooled by its unassuming exterior. Their diverse breakfast and lunch menus will exceed your expectations. From açaí bowls and bagels to waffles, sandwiches, seafood, and an entire section dedicated to egg-based dishes, there's something for everyone. Personally, I usually go for the Hawaiian favorite, Loco Moco (rice and a hamburger patty, a fried egg with brown gravy), but this time, I decided to try their Hawaiian Waffle.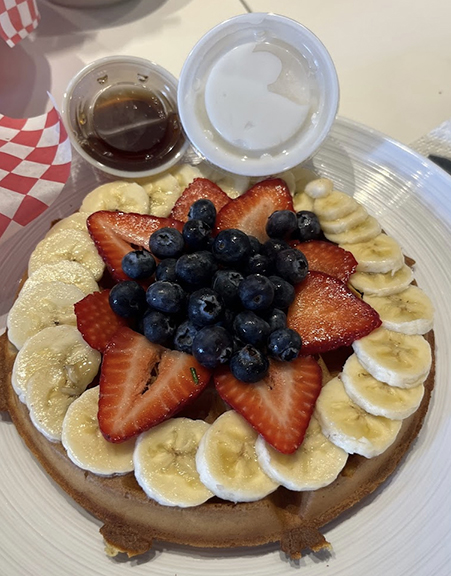 This culinary masterpiece consisted of a perfectly cooked Belgian waffle – crispy on the outside and fluffy on the inside. Stacked atop were slices of ripe bananas, juicy strawberries, and plump blueberries, all generously smothered in haupia sauce, a popular coconut pudding found on the island. Here, it was transformed into a delightful syrup that left me kicking myself for not discovering it sooner. As much as I love leftovers, this delectable waffle disappeared from my plate without even a trace. But fret not, my friends, on my next trip I won't leave the island with any regrets.
On my next trip to Honolulu, I have a plan. I'll start my morning with a leisurely walk to Bogart's, treating myself to a protein shake or a simple açaí bowl, and then continue to hike Diamond Head. It's not just about the breathtaking views, but more importantly, it's about working off breakfast so that I can fully indulge in a delicious lunch at Bogart's on my way back, with the Loco Moco tempting me from the menu.
I invite you to please share your recommendations (in the comments section) for other hidden gems in Waikiki, because after a five-hour flight from California, this hungry traveler is ready to explore and savor all the culinary delights this vibrant city has to offer. Recommendations for memorable meals in other cities are welcomed, too.
Bogart's Cafe
3045 Monserrat Ave
Honolulu, HI, 96815