Combining brews, foods and riverside ambiance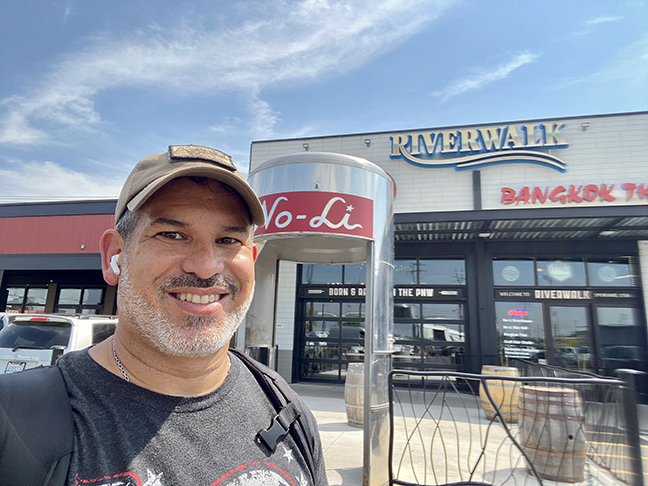 This month I found myself blessed with an overnight that granted me ample time to explore around the crew hotel in Spokane, Washington. After a quick web search, my compass pointed me to No-Li Brewhouse. A pleasant walk along the river from the hotel, I discovered a hospitable local Brewhouse nestled beside the tranquil Spokane River. No-Li, a family-owned and operated gem since 2012, left quite an impression.
The warm ambiance greeted me, and the staff made me feel at home instantly. The expansive space accommodates indoor games like skee ball and cornhole to expand the experience. There's ample room for all, both indoors and at a serene patio by the river, that beckon for friendly conversations over sudsy delights.
During your visit, be sure to tip your hat to Victoria at the bar. She epitomizes top-tier customer service. Not only does she bear a splendid name, but she's also your guide through the menu and beer galaxy, ensuring you find precisely what your palate desires.
I divulged my interest in savoring a flight of the top 6 brews. In front of me appeared an artful array of malts, hops, yeast, and the brewmaster's secret enchantments. This ensemble included Cascade Fog, Wrecking Ball, Born & Raised, Red White & Hazy, Jet Juiced, and Corner Coast. At my bidding, she added Porch Glow Amber, aligning with the request of my palate at that moment.
As I embarked on this liquid-gold journey, a gentleman stopped to offer counsel on the optimal sequence to experience the beers. It was later revealed that he is the owner.) I had intended to describe each brew's character, but the menu paints a vivid portrait to which I could not do justice. Allow me, however, to spotlight the top 3, in no particular order.
First, the Wrecking Ball — an exceptional stout, sending my thoughts into a realm of potential food pairings and marinades with its notes of chocolate and coffee. Then, the Corner Coast, a stark contrast to the stout, a refreshingly simple golden brew with citrus that renovated my soul in the heat of the day. Finally, the Porch Glow Amber, the very equilibrium my expedition craved, was well balanced all around and the perfect culinary transition into my meal.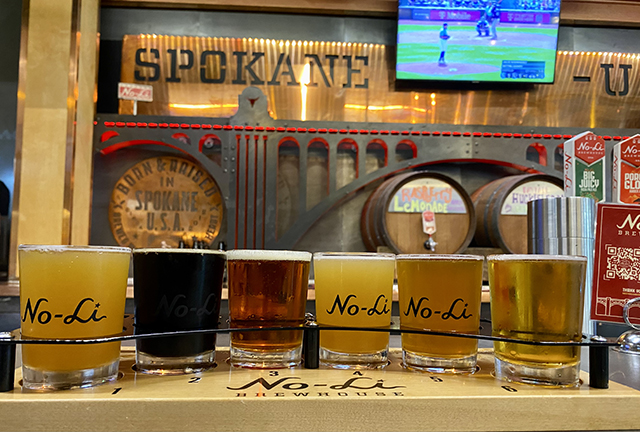 While I could talk about No-Li beer for ages, I must reserve a moment to highlight the fantastic meal Victoria suggested that the chef created. She steered me toward a local favorite, the Philly Cheesesteak, crafted from locally sourced, thinly sliced ribeye. Skillfully sautéed with onions, mushrooms, and jalapeños, topped with velvety white American cheese, it sent my taste buds into a virtual rave. From her strong recommendation, I had the garlic-parmesan fries, a revelation of crisp perfection. And just when I thought it couldn't get better, the fry sauce graced my palate, elevating the entire experience to stratospheric levels.
Essentially, my rendezvous with No-Li Brewhouse in Spokane, Washington, was more than a mere culinary exploration; it was an encounter with craftsmanship, community, and culinary artistry. The fusion of top-notch brews, guided by the insightful Victoria, and the unforgettable feast she recommended, showcased a commitment to excellence that resonates far beyond the glasses and plates. Next time you are in Spokane, you really should swing by No-Li Brewhouse, to enjoy great brew, fabulous food and its riverside charm.
I am looking forward to discovering more hidden gems in Spokane in the future. Anyone have any recommendations (for Spokane or elsewhere)?
nolibrewhouse.com
1003 East Trent Avenue #170
Spokane, Washington 99202