Written by: Kathleen Giblin
Overview
United, the only major U.S. airline to own a flight training school, officially opened United Aviate Academy (UAA) in January 2022. Located at Phoenix Goodyear Airport (GYR), United Aviate Academy boasts a 340,000 square-foot facility and a fleet of 25 late-model Cirrus TRAC SR20 series single-engine aircraft, with 25 additional on order and the option to purchase up to 50 more. United Aviate Academy's year-long training program sets up students for a career that reflects United's high standard of professionalism and deep commitment to delivering a safe, caring, dependable and efficient travel experience. After completing training at the academy, students can build flight and leadership experience while working within the Aviate pilot development ecosystem at partner universities, professional flight training organizations, Part 135 operators and United Express® carriers on their way to becoming United pilots.
United Aviate Academy expects to train around 500 students annually as part of United's goal to hire approximately 10,000 new pilots by 2030. This unprecedented training commitment will dramatically expand access to this lucrative and rewarding career while upholding United's world-class safety standards.
United Aviate Academy represents a significant investment in the United pilot training program that will create additional pathways to the flight deck for underrepresented groups of aspiring aviators. This initiative supports United's goal of diversifying the flight deck, better reflecting the groups of people that the company serves. United Aviate Academy is breaking down barriers so the pilot population can be open to a much more diverse pool of candidates.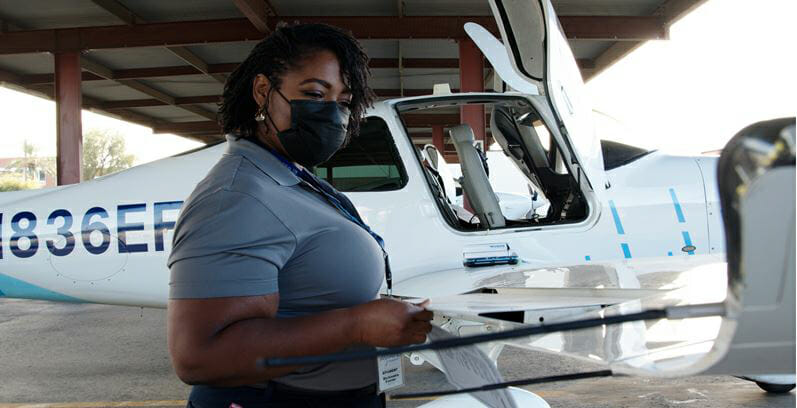 Featured UAA Student Ricki Foster
United Aviate Academy is breaking down barriers for aspiring pilots who previously would not have thought this career possible. Ricki Foster, a 38-year-old former flight attendant, is one of these aspiring pilots, whose future has been paved by the opportunities presented to her at United Aviate Academy. After a pilot friend introduced her to the career and she took her first discovery flight, Foster was hooked on the idea of becoming a pilot. Not until mentors encouraged Ricki Foster to pursue this opportunity had she ever thought about it. "I enjoyed being a flight attendant, but I didn't aspire to be a pilot, because at that point, it's not something I thought was feasible. I did not see many female pilots, definitely not many black female pilots around, so it wasn't an open door to me," Ricki said. Nonetheless, Ricki pursued flying at a local flight school when she found out about United Aviate Academy and she did her own research before applying.
When asked why she chose United Aviate Academy, Foster stated: "The initiative of United Airlines actively working to diversify the flight deck was a big pull for me; that was so admirable, so well overdue, and it really just felt like something no one else was doing." Ricki saw this unprecedented training option as an opportunity to be an active part of the change that's forthcoming. Ricki describes her journey from the time she submitted her application to now training for her Instrument Pilot Certificate as "seamless up to this point."
Ricki shares some of her hopes for the future development of the flight deck, stating that "any office, any industry, it's not supposed to look one way; we should strive to look like the demographic we serve. Representation matters!" United Aviate Academy helps Ricki and other students realize their potential and train at the highest standards, so that one day in the very near future the United Airlines flight deck can better reflect the diverse communities served.
Aircraft
In response to a surge of over 17,000 applicants to United Aviate Academy since its opening announcement in April 2021, the academy aims to potentially quadruple the size of its fleet of training aircraft. The academy already has a fleet of 25 Cirrus TRAC SR20 series, with 25 more on order and the purchase rights for up to 50 additional. Its integrated Garmin® Perspective+ flight deck includes features found on advanced airliners such as two large flight displays, a Flight Management System keypad controller, an Electronic Stability and Protection system as well as integrated engine indication and crew alerting/warning systems.
Its durable all-composite airframe with the signature Cirrus Airframe Parachute System® makes the TRAC Series one of the safest and most versatile training airplanes available today. United Aviate Academy is also the launch partner for a significant expansion of CirrusIQ™, which allows for monitoring of flight data, enabling United Aviate Academy students and instructors to do enhanced debriefings after each lesson. Additionally, because United Aviate Academy has these state-of-the-art aircraft, instructors teach upset recovery training, which is more aligned with military aviation training over the traditional flight school environment.
United Aviate Academy also recently purchased seven state-of-the-art FRASCA simulators, including some with 220-degree wraparound displays, with the first of these brand-new flight simulators delivered in April. These high-quality flight simulators feature hardware and software that operates exactly like the aircraft, for maximum effectiveness for students. Paired with the advanced technology of the aircraft and simulators on campus, students also benefit from the close proximity to many auxiliary airfields in the Phoenix area and favorable weather for year-round flight training.
Financing
Earning a commercial pilot's license in the U.S. can cost about $100,000 and becoming an Airline Transport Pilot requires 1,500 hours of flight time, which involves a significant financial commitment. The cost of training at United Aviate Academy through graduation is roughly $70,000, which takes students from their instrument rating through to their multi-engine instructor rating. United covers the cost of the private pilot's license for successful applicants, though the written portion of the FAA private pilot test must be completed before acceptance to the academy.
United and JPMorgan Chase & Co. have renewed last year's commitment to fund nearly $2.4 million in scholarships for future aviators attending United Aviate Academy, opening the door to a lucrative career for people who previously didn't have the opportunity. United also works directly with the following organizations to educate prospects about the benefits of becoming a pilot and to identify candidates for scholarship opportunities:
Latino Pilots Association
National Gay Pilots Association
Organization of Black Aerospace Professionals
Professional Asian Pilots Association
Sisters of the Skies
Women in Aviation
The scholarship program offers a mix of full- and partial-tuition scholarships to reduce or eliminate the financial barrier. Students admitted to the academy are eligible to apply for scholarships and they will be disbursed as they progress through training. Loans are also available from loan partners, ZuntaFi and Sallie Mae.
How to Apply
Eligibility requirements for application to United Aviate Academy include students who:
Are at least 18 years old
Are a U.S. citizen or legal permanent resident (the academy is not sponsoring foreign visas at this time)
Have a high school diploma or GED
For applicants without a Private Pilot License (PPL), the academy conducts pre-recorded video interviews via a tool called Modern Hire. Candidates who pass the initial application will receive a link to complete their video interviews and submit them within seven days. For those applicants with a PPL, application submission is via Airline Apps and there will be an in-person interview as part of the selection process into United Aviate Academy and the Aviate program.
After the application is submitted, applicants will have a series of online assessments, that focus on strengths, thinking style, and work preferences. Successful applicants will first receive conditional acceptance. The conditions include achieving a score of least 80% on the FAA knowledge test (applicants with a PPL are exempt from this requirement) and holding a valid FAA medical certificate that was originally issued as a first-class medical certificate. Additional conditions of acceptance include passing background checks, passing a drug screening, providing physical proof of U.S. citizenship, and providing proof of COVID-19 vaccination.
Pathway to United Airlines Pilot
Upon official acceptance to United Aviate Academy, students will spend about two months completing their Private Pilot flight training hours. This program integrates computer-based instruction, ground training, and aircraft flight training. After completion of the Private Pilot License and successful appraisal from the Board of Review, students are accepted into Aviate, United's industry-leading pilot career development program.
After students are accepted into the Aviate program, they then complete the following ratings and certificates in these approximate timeframes:
Instrument rating – 2 months
Commercial SE initial – 3 months
Commercial ME add-on – 1 month
Certified flight instructor – 2 months
Certified flight instructor (instrument) – 1 month
Multi engine flight instructor – 1 month
At this point, students have officially completed their flight training at United Aviate Academy. Students must then work toward their ATP hour requirement, where they have the opportunity to instruct as a CFI at United Aviate Academy or at one of Aviate's partner schools and Part 135 operators. While the United Aviate program has many quality partners where students can work toward building ATP hours, students can also work as a commercial pilot at another operator, instruct at a local airport, or build hours by any other manner.
After earning their ATP, students can gain invaluable experience flying with a United Express Aviate partner, which include Air Wisconsin, CommutAir, GoJet Airlines, and Mesa Airlines. The minimum service requirements are 24 months and 2,000 flight hours for First Officers, or 1,500 flight hours for Captains, with a United Express Aviate partner. Upon completion of the minimum transition requirements with United Express, candidates are eligible to transition to United as a First Officer. When a First Officer position opens with United and candidates are at the top of the priority list, they'll receive a class date at United. Finally, upon joining United as a First Officer, pilots begin the dream career toward the left seat as a United Captain.
Interested in learning more?
Find out more about United Aviate Academy or the United Aviate Program at unitedaviate.com. 
Sign up on this site with your email address to get the most up-to-date information on Aviate news and events.